I absolutely adore everything Juicy Couture, from their skinny jeans and cute tees to their fab handbags and sleek belts, and everything in between. I especially love their accessories, because they're so colorful and chic. I've just found a treasure trove of cute Juicy Couture accessories at Saks, and I have to share them with you! Here are 8 hot Juicy Couture accessories… I want them all!
---
1

Juicy Couture Jelly Rubber Laptop Sleeve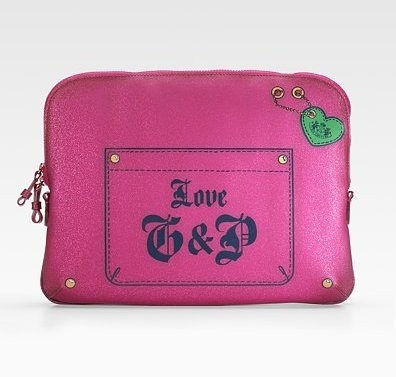 Price: $98.00 at saksfifthavenue.com
It's sleek, it's pink, it's Juicy, and it's useful! What more could a girl ask for? This bright pink laptop sleeve in made of squishy rubber with a rubber lining, ideal for protecting your computer, and it's also very stylish, keeping your reputation as a fashionistas intact. I love the little heart-shaped key ring attached to the front, too!
---
2

Juicy Couture Leopard-Print Case for IPhone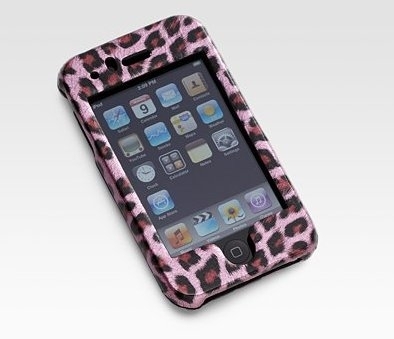 Price: $28.00 at saksfifthavenue.com
Keep your iPhone safe and stylish with this adorable leopard-print case. It's made of hard plastic and measures 3 inches wide by 5 inches tall and a quarter-inch deep. It has the cut-outs for the buttons and camera, so you'll never want or need to take it off.
---
3

Juicy Couture Lively Strap Watch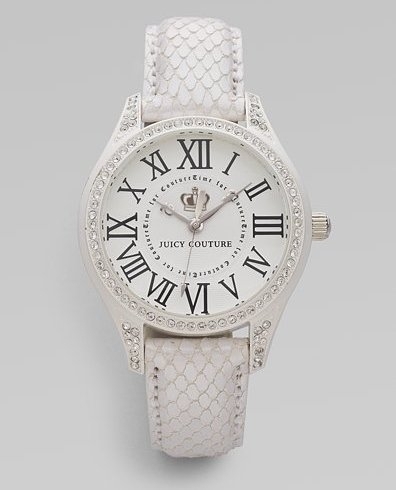 Price: $250.00 at saksfifthavenue.com
What a cute spring-time and summer-time watch! It features a white face, bevel, and snake-embossed strap with black roman numerals and the Juicy signature. There are lots and lots of glittery, sparkling Swarovski crystals around the bevel and on the case, and it's water resistant up to 3 ATM… not that I plan to dive in a watch like this!
---
4

Juicy Couture Rose Cluster Ring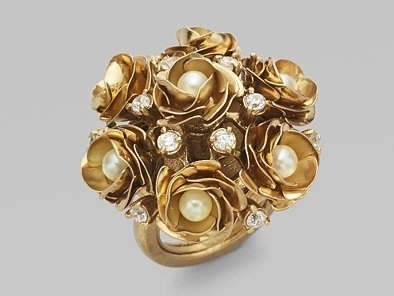 Price: $88.00 at saksfifthavenue.com
What a gorgeous statement ring! This is one of my favorite Juicy Couture accessories this season. It's made of 14-karat gold-plated brass shaped like tiny rosettes with faux pearls and faceted glass "diamonds" in their centers on an adjustable band. It's from the Nouveau Couture Collection… I wonder what other goodies are in this collection?
---
5

Juicy Couture Fringe Hoop Earrings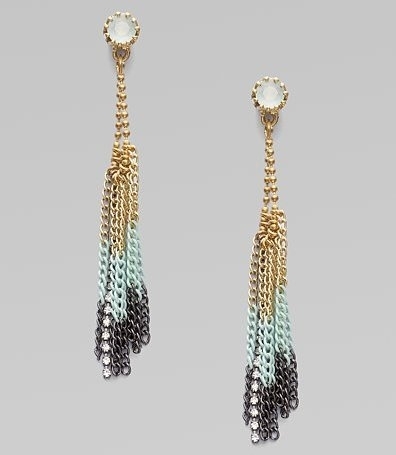 Price: $58.00 at saksfifthavenue.com
Oh my gosh, how gorgeous! These may look like straight-forward run-of-the-mill tassel earrings, but they're actually hoops with a blue and gold-tone fringe hanging down. They're chic and Boho… I love them! They're so unique!
---
6

Juicy Couture Pavé Star Wish Pendant Necklace/Gold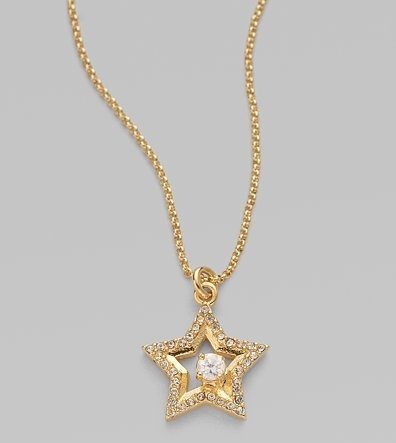 Price: $48.00 at saksfifthavenue.com
Twinkle, twinkle little star, how I wonder what I'd wear you with! This pretty glimmering pendant is shaped like a five-point star with one brilliant CZ tucked into a corner and a single row of sparkles all around the edges. The pendant measures about a half-inch cross and hangs on a 19-inch gold-plated brass chain.
---
7

Juicy Couture Bunny Mask Charm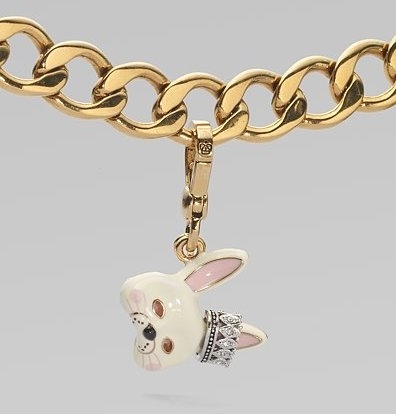 Price: $52.00 at saksfifthavenue.com
I want this to wear on Easter! It's so cute, and may just be my new favorite juicy Couture accessory! It's a tiny charm shaped like a bunny mask with a sparkling crown. It's made of glass, cubic zirconia, and gold and silver plated brass. It's so adorable!
---
8

Juicy Couture Eco Glam Bangle

Price: $88.00 at saksfifthavenue.com
These resin bracelets are from the Wanderlust Collection, available in coral or turquoise, and feature semi-precious stones and gold-plated brass detailing. I'd wear them together with a pretty floral-print sundress, or with a tunic and skinny jeans…

See what I mean? All of these Juicy Couture accessories are incredibly chic and hot… and I want them all, especially that bunny mask charm and those dangle hoop earrings. Which of these hot Juicy Couture accessories do you like best, and what would you wear it with? Please tell!
More
---
Popular
Recent