Floral Prints are divine but you have to know how to wear them. I distinctly remember flouncing about in the most ridiculous floral, cotton ball gown as a five-year old child. I'd matched it with a pair of white patent leather Mary Janes and a pair of white socks that featured a stunning corona of lace around the ankle. For a long time, that was the only memory I had of floral prints. I went through a period where I was convinced it was nothing more than a puerile pattern appropriate only for children. I've since come to realize that floral prints are an essential and adorable part of any well-rounded wardrobe. These 8 adorable floral prints should definitely be on your It List.
---
1

Bright Floral Crop Tee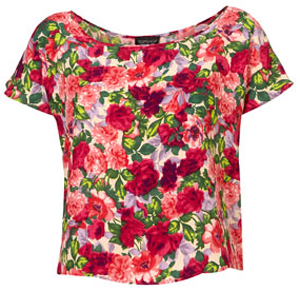 **Price: **$50.00 at us.topshop.com
Crop tops were hot this summer, and understandably so. Though they generally feature conservative necklines and sleeves, these shortened tees show off just enough skin above the belt to add an alluring hint to any outfit. Incorporating bright floral prints like this one counteracts that subtle sexiness by adding a demure touch. For those sensitive about their tummy, layer a tank underneath or pair with high-wasted grazers à la Urban Outfitters.
---
2

Floral Tie Back Dress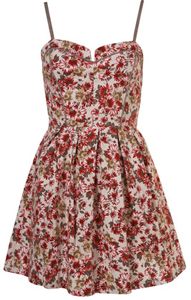 **Price: **$78.00 at us.topshop.com
The novelty of this dress is its pseudo-bustier bodice. Fitted from the waist up, this adorable shift is perfectly constructed to accentuate your womanly curves. Artsy piping adds a bit of glamour and sophistication, while its flared skirt mimics the hourglass shape coveted by many. Do it up with wedge espadrilles and a straw hat or go punk with studded black ankle boots and statement necklace of the rocker variety.
---
3

Floral Print Snood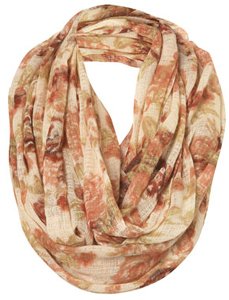 **Price: **$32.00 at us.topshop.com
Bright colors are not necessarily for everyone, and floral prints are often bright. I, for one, have been criticized for having a wardrobe that consists primarily of earth tones and beiges. If you're like me, you'll appreciate this understated snood from TopShop. Feminine flowers adorn this beige piece that provides both warmth and superb style.
---
4

Pleated Flower Trim Swing Top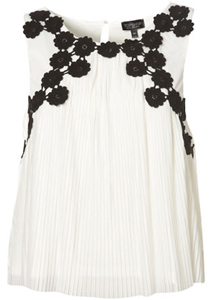 Price: $66.00 at us.topshop.com
There's something distinct about abstract art that makes it highly suitable for fashion. Perhaps it's the new postmodern fetish for shocking monochromes and asymmetry or just the mere novelty of art as clothing. This gorgeous blouse from TopShop achieves an avant-garde whimsy that brings floral print into the twenty-first century. Pair with a pair of dark denim jeans and silver flats for a sophisticated, elegant outfit.
---
5

Floral Bodycon Skirt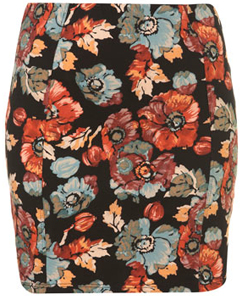 **Price: **$45.00 at us.topshop.com
Highly versatile, the bodycon skirt can be worn for a night out or paired up with leggings or tights for a more everyday, conservative look. I've seen it combined with everything from cowboy boots to sky-high pumps, and I almost always approve. Get a bit of hipster flair with this micromini splashed with bright floral prints. Add a pair of bright orange pumps or stick with a pair of classic flats and a blouse.
---
6

Floral Hoodie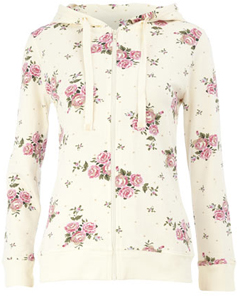 **Price: **$34.75 at dorothyperkins.com
I'm the kind of gal who generally abhors individuals who choose to wear sweatpants out of the house to locations other than the gym. My personal rule of thumb is that sweats should only be worn to the gym or when you're seriously ill with the flu. However, I recognize that not everyone has such little tolerance for fleecy gear. For those casual divas, here's a hoodie that combines comfort with trendiness. With a pair of cropped jeans, pale pink button up and bowed flats, this hoodie may just be work ready.
---
7

Floral Kidston Saddle Bag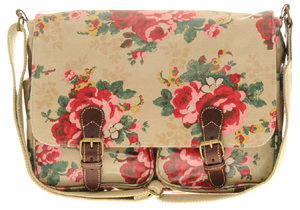 **Price: **$124.41 at us.asos.com
Floral prints can easily be overwhelming in an everyday outfit, so incorporating floral accessories is an excellent fix. This canvas saddle bag not only provides the perfect carry all for casual outings, but it adds a bit of personality to otherwise drab outfits. Envision this coveted clutch with a denim button down and white jeans or a black, fitted dress.
---
8

Floral Button Dress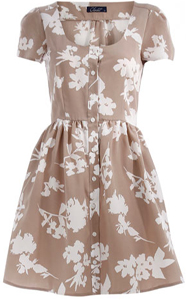 **Price: **$47.38 at dorothyperkins.com
Featuring white, printed flowers against stunning taupe fabric and complete with off-white buttons, this slightly flared shift combines a classic silhouette with casual wearability. Go preppy with a white cardigan and delicate pearls or get a bit edgy with a pair of cowboy boots, knee-high socks and cropped jean jacket. You definitely won't go wrong.
---
9

Floral Print Cami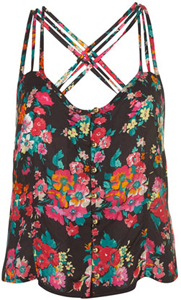 **Price: **$55.00 at us.topshop.com
When you want to go bold with your floral prints but don't want to get too ostentatious, looking for something on a black background is a perfect solution. This saucy cami would look great on its own with a pair of jeans and a hoodie or blazer. Pair it with the right skirt, however, and it becomes exquisitely flirty and feminine.
As we head into fall and winter, floral prints can help brighten the gloomy, cold days that lie ahead for many of us. Keep your wardrobe forever blooming with these amazing options. Floral prints are warm, inviting, and inherently feminine too. Sold on floral prints yet?
Top image source: 27.media.tumblr.com
More
---
Comments
Popular
Recent