COMMENT
Designer T-shirts can be worthwhile investment pieces for your wardrobe. The t-shirt is a wardrobe staple and the basis for so many outfit combinations. Really treat yourself and look for designer t-shirts made from superior cottons or silk blends. Interesting details and embellishments are also worthwhile splashing out on. Take a look at a few designer t-shirts below.
1. T by Alexander Wang Classic Jersey T-Shirt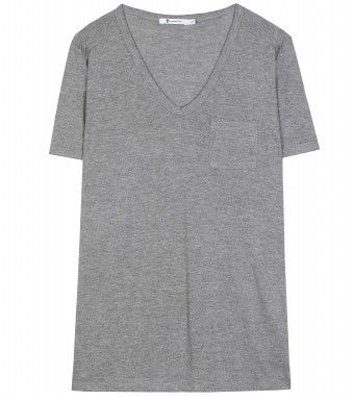 Much like black and white t-shirts, the grey t-shirt is a must-have wardrobe piece. This t-shirt has a flattering rounded v-neckline, short sleeves, and a front patch pocket. Dress up this sporty t-shirt with a pair of tailored shorts and a coloured blazer.
2. Theysken's Theory Fiona Cotton T-Shirt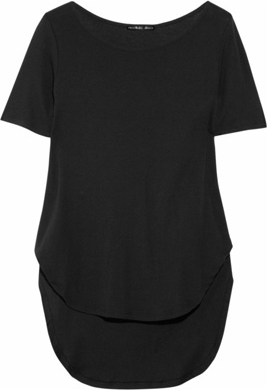 Keep an eye out for designer t-shirts with unique details such as this black cotton t-shirt. It has an on-trend curved hem, with a longer length hem at the back. Team this t-shirt with a chiffon maxi skirt and strappy flat sandals.
3. 3.1 Phillip Lim Silk Muscle Tee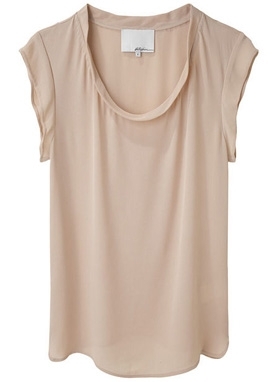 This silk muscle t-shirt is a sophisticated take on the classic t-shirt design. It is made from silk crepe de chine and has a scoop neck, cap sleeves, and curved hem. Tuck it into a high waisted skirt for a chic everyday look.
4. Lanvin Chinese Lamé T-Shirt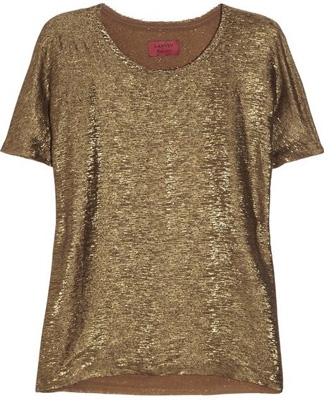 If you really want to splash out take a look at this gold lamé t-shirt. It's definitely a more glamorous interpretation of the humble t-shirt. The t-shirt has a round neck, cap sleeves, and raw trims. This shirt would look great with black skinny jeans and patent pumps.
5. Kain Washed Silk T-Shirt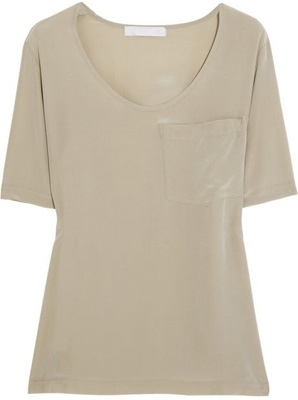 A taupe t-shirt is a great way of working this season's neutral colour palette. It is made from semi sheer washed silk and has a scoop neck, short sleeves, and single breast pocket. Pair it with some slim-fitting khakis and strappy heels for a chic off-duty look.
6. 3.1 Phillip Lim Chiffon Back Tee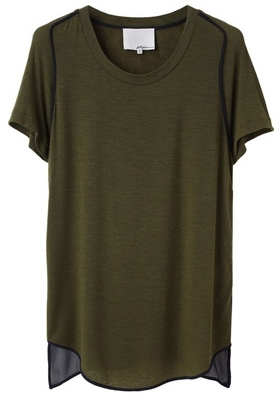 Military inspired pieces are proving to be popular this year. Designer t-shirts such as this one are a great way to incorporate the trend into your wardrobe. This shirt has a fairly basic front, but features a sheer chiffon back. Team it with black denim shorts and combat boots for a casual army-inspired look.
7. Acne Wonder T-Shirt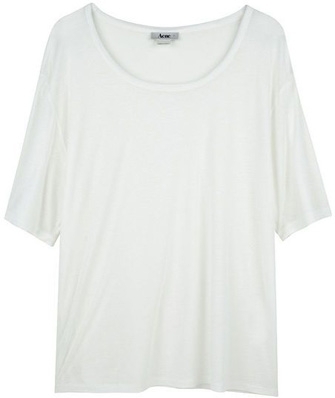 A plain white t-shirt is a must have in any wardrobe. This Acne t-shirt has a round boatneck, elbow-length sleeves, raw edge trims. It has a relaxed draped fit, which is perfect for working a slouchy aesthetic. Tuck it into a pair of coloured shorts for a breezy summer look.
8. James Perse Cotton Jersey T-Shirt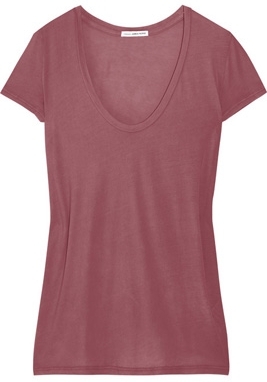 This cotton-jersey t-shirt is great for adding some subdued colour to your transeasonal wardrobe. It has a scoop neck, cap sleeves, and faded finish. For a casual weekend look, team it with a printed skirt, faded denim jacket, and leather brogues.
9. Theory Pencey Leather T-Shirt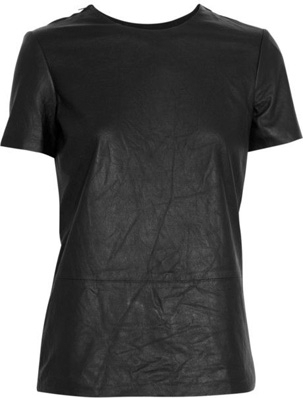 Leather t-shirts are a modern and more luxurious interpretation of a classic design. This black leather t-shirt has a high round neck and zip-detailed shoulders. This shirt would look quite chic paired with camel-coloured jeans and strappy heels.
From leather to lame, there are a range of designer t-shirts to choose from. A basic t-shirt design is a great wardrobe staple while added embellishments can add a fun twist. Which of these designer t-shirts do you like best?
23 Genius 💡 Fashion Tips 👗 for Women with Big Boobs 👙 ...