So if I told you I'd found some amazing sundresses under $25, you'd think it was a scam, right? Fortunately not. I've been hunting round for some gorgeous dresses that don't cost the earth, and I've found some surprisingly cheap offerings. They are both gorgeous and perfect for using on crazy days out. Check out these lovely dresses under $25, and let me know what you think!
---
1

The Chiffon Skater Dress…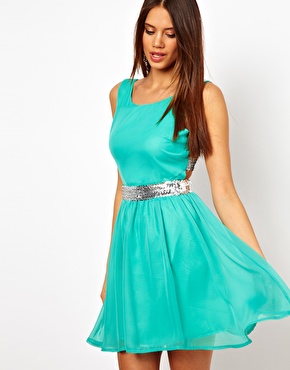 I love this dress. I love skater dresses anyway, as the shape is just so flattering, but this dress does it perfectly. The mint color is the perfect blend of pastels and bold, the sequin belt adds a touch of sparkle and I love the floaty chiffon material…everything about this dress is just right, and it's only $25. Oh yes: this is one of my favorite sundresses under $25. Just add strappy silver sandals and you'll be ready for a trip to the beach, a night out or a summer picnic.
---
2

The Printed Dress…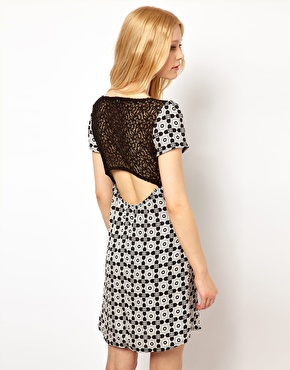 No Summer wardrobe is complete without a printed dress, and I love the beautiful tile style print on this one. It's perfect for rocking the geometric trend, and from a distance, the shapes look like daisies… It's got a loose fit that's perfect for keeping cool without being too big and unflattering, and the back features a cut-out section and some striking black lace. Just add some black sandals and you've totally owned daytime chic.
---
3

The Daisy Print Dress…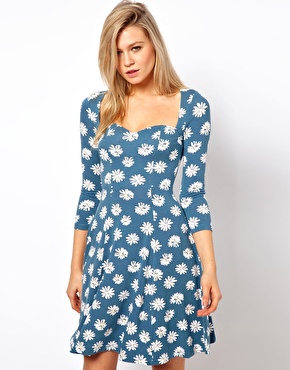 I own this exact dress, and I love it! The fabric is soft and easy to look after, the skirt is flared and beautiful, and I love the square sweetheart neckline. The blue color is perfect for brightening up pale skin, and daisy print is timeless…what's not to love?! For only $25, I'll be snapping up another one…I even wore it skiing.
---
4

The Ponte Dress…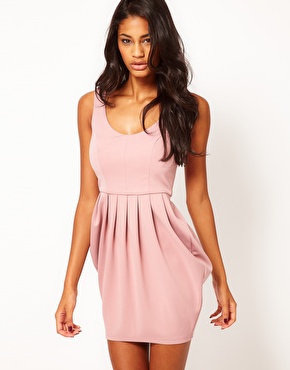 I love this summery Ponte dress, and for $25, it's a wardrobe essential. The jersey material is soft and warm, and the scoop neckline and high-waist are right on trend. I love the knife detailing to the skirt and the hip draping, and in pastel pink, it's a dress that will last all summer long. I'll be rocking mine with a floral blazer 'til it's warm enough to go sleeveless.
---
5

The Vintage Dress…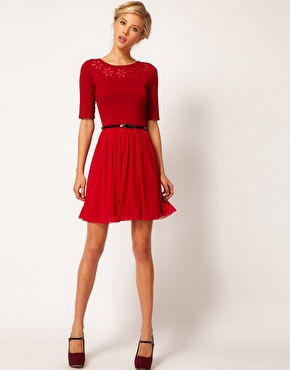 This is the perfect vintage inspired sundress… The loosely flared skirt, the elbow-length sleeves, the daisy-print neckline, the cute black belt…it's feminine, vintage and perfect for giving yourself a morning boost! Just add strappy sandals and you are ready for anything. It also looks really cute dressed up with a clutch and a lace throw…
---
6

The Midi Shirt Dress…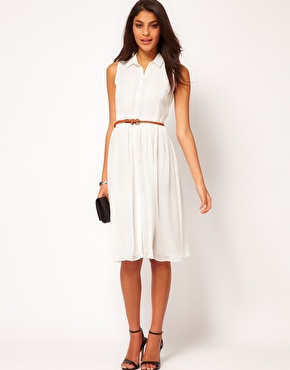 Looking for a midi dress that's utterly beautiful? Look no further. This striking shirt dress is understated enough to wear to any occasion, and in white, it's casual enough for everyday wear. Just add some nude wedges or sandals, a nude belt and a cute bag, and don't be afraid to ramp up the accessories to add some color to the look. I'll definitely be rocking a white shirt dress with my bright yellow heels!
---
7

The Swing Dress…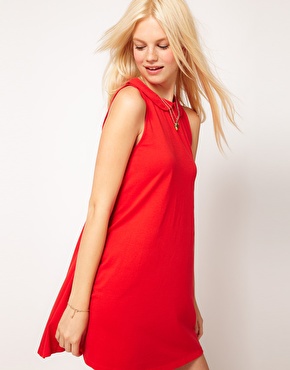 Okay, so swing dresses might not be everyone's style, but with sundresses under $25 you can afford to take a risk. I love the fluid shape and bright color of this dress, and the peter pan collar and cut-away keyhole back finish the look perfectly. It's ideal for throwing on over a bikini, or wearing on a family trip! Keep accessories to a minimum with the red dress. The navy version is perfect for work, or for more formal occasions.
I've totally loved digging out sundresses under $25, and you could rejuvenate your whole summer wardrobe without splashing too much cash! For most of these looks, it's all in the accessories. Have you found a great dress for less than $25? Let me know, I'd love to hear about your finds!
More
---
Comments
Popular
Recent