I'm sick and tired of spring dresses for plus sized ladies being shapeless and drab looking. I've never understood why plus size clothing isn't just a bigger version of average sized clothing. Why can't they make the same clothes with more material? Instead most of the clothes are incredibly gaudy or so dull I wouldn't want to put it on. These spring dresses for plus sized ladies happen to be just as gorgeous as you are and will make you feel fantastic!
1

Day Dress with Triple Tiered Chiffon and Lace Skirt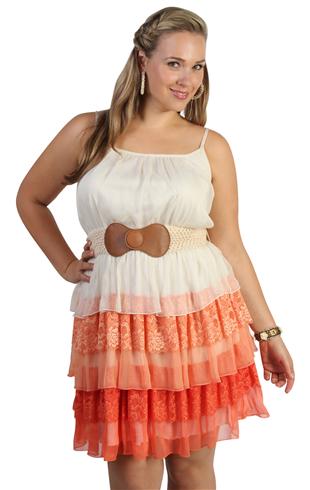 **
**
While I tend to stay away from belted dresses because I feel like they accentuate the wrong parts of my body, this is one of the spring dresses for plus sized ladies that I just had to put on my list. The soft feminine lace and chiffon of the tiers in this dress are so gorgeous that I had no choice but to fall in love with this dress the moment I laid eyes on it! Find it at DebShops.com in sizes 1X-3X for prices ranging between $31.60-$39.50.
2

Detachable Strap Maxi Dress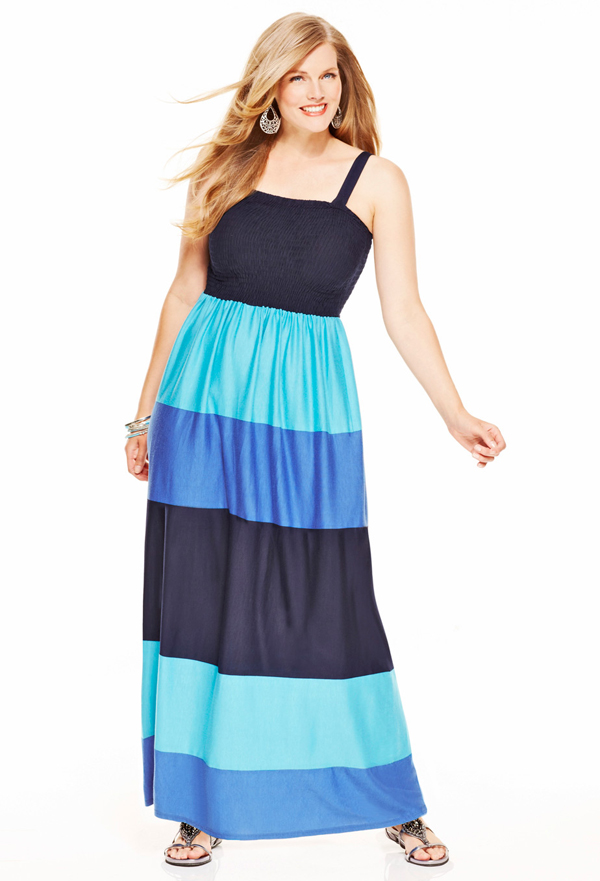 **
**
My husband tells me all the time that he loves my legs, but I hate them. Growing up I always refused to wear shorts in the summer because I thought I had the worst legs ever. Though I'm growing to embrace my muscular calves, I still see them as "fat" so I usually cover them up. This dress is just perfect if you want to hide your legs! It's bright and springy, with a smocked top and straps that are a bit sturdier than the traditional spaghetti straps and it goes right down to your ankles! Get it at Avenue in sizes 14-28 for $29.96.
3

Meetu Magic Floral Halter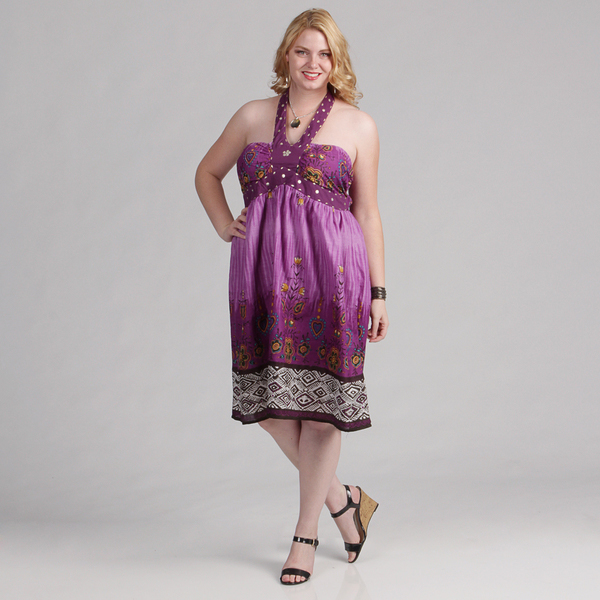 **
**
Purple has been my favorite color since I was a little girl and this dress caught my attention right away! The cotton halter dress is great with some strappy sandals for some evening activities or a pair of flip flops for day time get-togethers. Overstock has sizes 2X-3X for $31.49.
4

Knit Maxi Dress with Tie Waist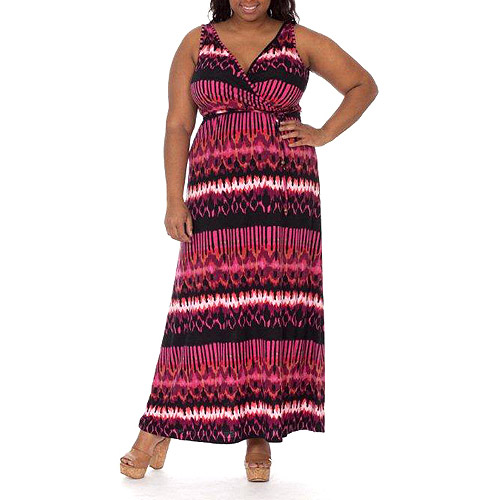 **
**
Us larger chested ladies know how frustrating it can be to try on a dress that would look and fit perfectly if it wasn't designed for women with a smaller cup size. I am usually forced to stay away from dresses and shirts that feature a particular area where your breasts should fit, but this dress has ample room and looks absolutely phenomenal on! It's $19.88 at Walmart and comes in sizes 1X-4X.
5

Sleeveless Smocked Dress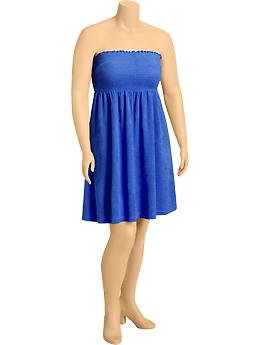 **
**
I'm a huge fan of these smocked dresses! They come in a very wide array of colors and they are so light and comfy to wear that I could spend my entire summer in them! At $20 a piece from Old Navy, it's almost impossible to keep yourself from buying one in every color! These are great for everyday wear or bathing suit cover ups! Double-Duty! They're available in sizes 1X-4X.
6

Floral Burst Maxi Dress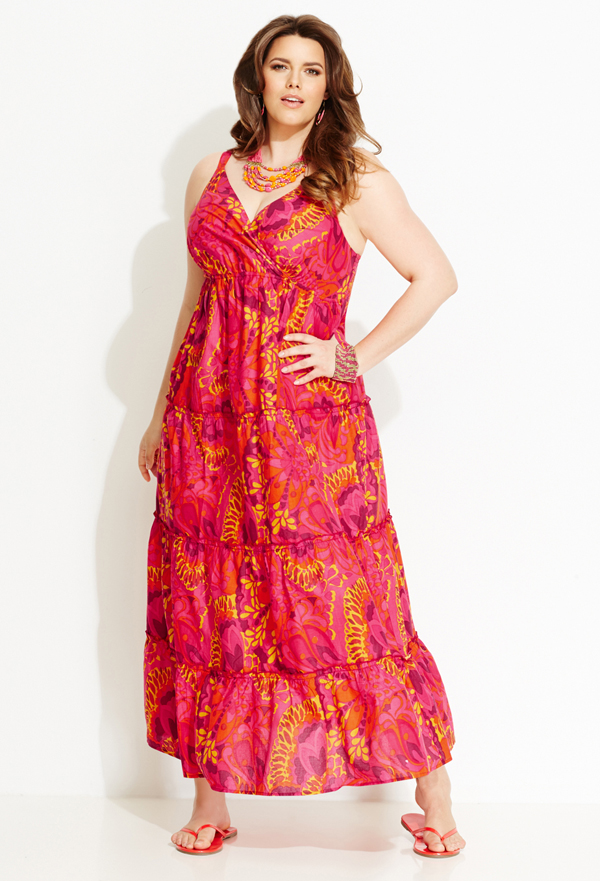 **
**
This dress features the perfect mix of pink and orange to give you that spring and summer feel! Just looking at this dress brightens my mood instantly! The cut is very slimming and I love the tiered design. OneStopPlus.com has sizes XL-4XL for $24.99.
7

Multi-Color Stripe Tube Dress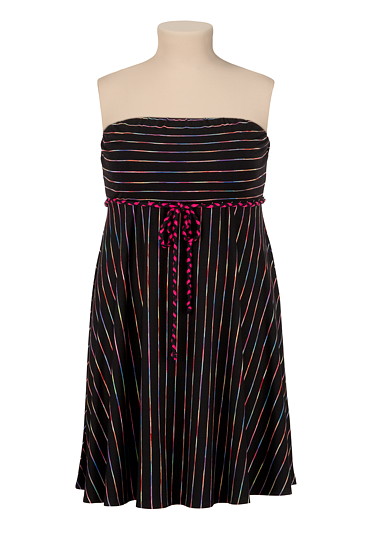 **
**
The picture doesn't do this dress justice! If you're like me and wear mostly black all of the time because it is known to be a slimming color, ease into some spring colors with this dress which features thin stripes in rainbow colors! I've never seen a dress like this and I just adore it! Get sizes XL-4XL from Maurices for $44.00.
If you are looking for some fabulous spring dresses for plus sized ladies, you can't go wrong with any of these pretty frocks! Show off those curves, girls! Which of these fantastic dresses is your favorite?