Did you see any of the dresses from Bridal fashion week?! I just love seeing what world-renowned designers come up with, and what all the brides will be wearing for the next 12 months. And let's face it, the models always look totally amazing floating down the aisle in an endless number of gorgeous dresses… so which of these dresses from Bridal fashion week is your favorite?
---
1

Monique Lhuillier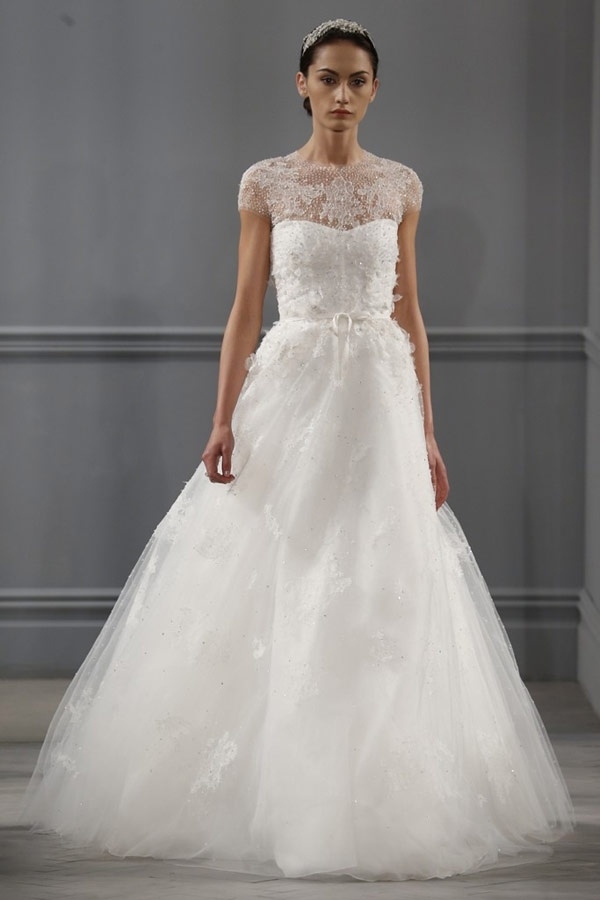 Monique definitely made some of the stand-out dresses from Bridal fashion week! This one, for example, has a definite touch of a fairy tale wedding to it – and with the detailed lace skirt and lace shoulders, it has more than a hint of Kate Middleton's Royal Wedding dress to it, too. The model rocked it with a low bun and headband, but it would look just as cute with loose curls and a tiara.
2

Yumi Katsura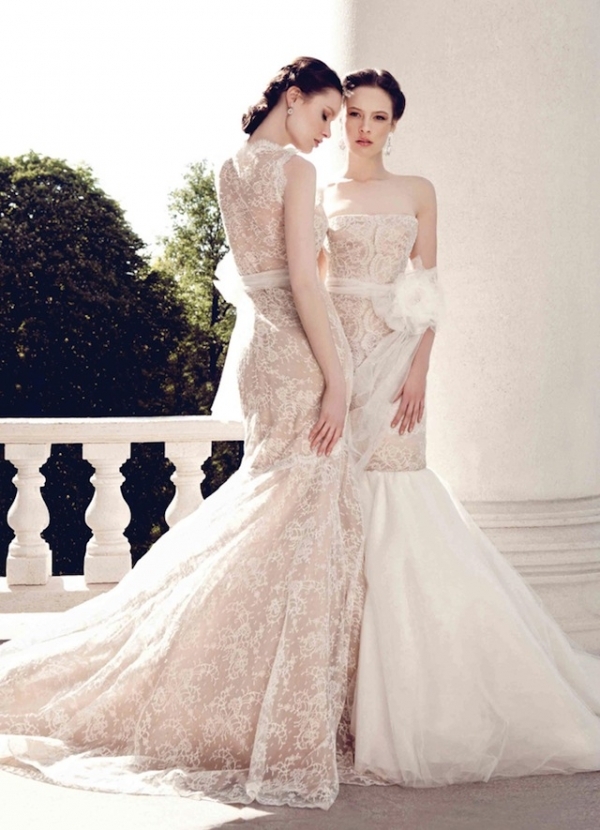 I absolutely love this! Yumi has given wedding dresses a sexy evening feel, with slim silhouettes and plenty of luscious lace. The skirts still have heavy trains that form perfect circles on the floor, ensuring you'll feel every inch the bride, and the detailed lace is just amazing to look at. If you want something a bit different, but by no means low key, this could be the dress for you.
---
3

Jenny Packham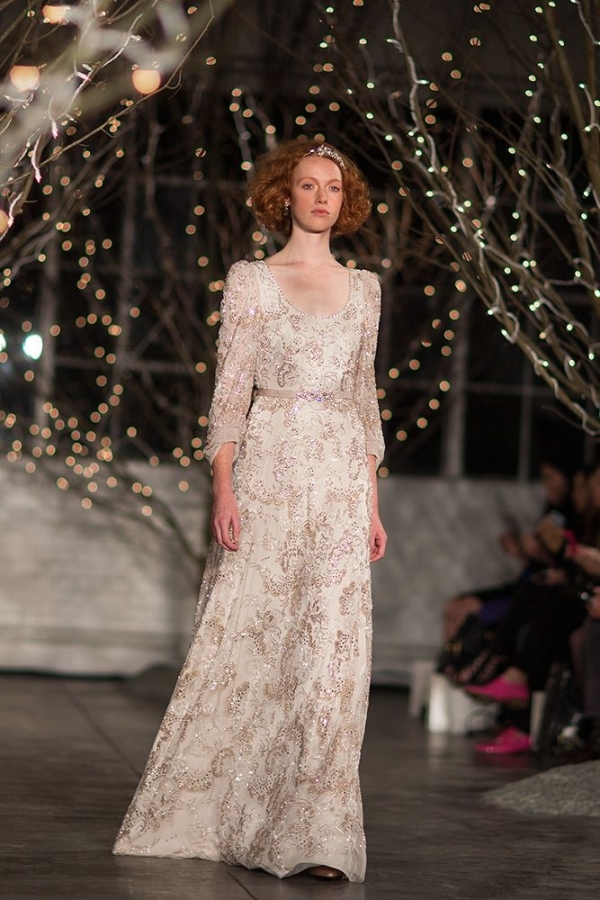 Jenny Packham has designed dresses that really play up to that vintage 1920s feel, and are sure to make you feel like a retro princess. This creamy gold number, for example, is covered in decadent sparkly decorations and long chiffon sleeves. The round neckline and slimming belt are great finishing touches. If you love retro style, this is the dress for you. It's just amazing.
---
4

Jyotsna Tiwari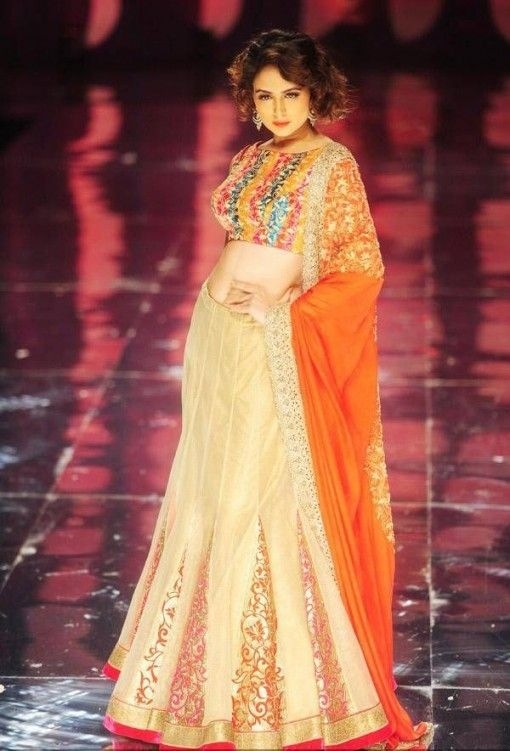 I love this colorful dress by Jyotsna! A bright and colorful striped top paired with a low-waisted light gold maxi skirt and gold-and-orange cover up create a vibrant wedding outfit, and it totally illuminated the model. If you've got the stomach for it, a dress like this will look totally gorgeous.
---
5

Naeem Khan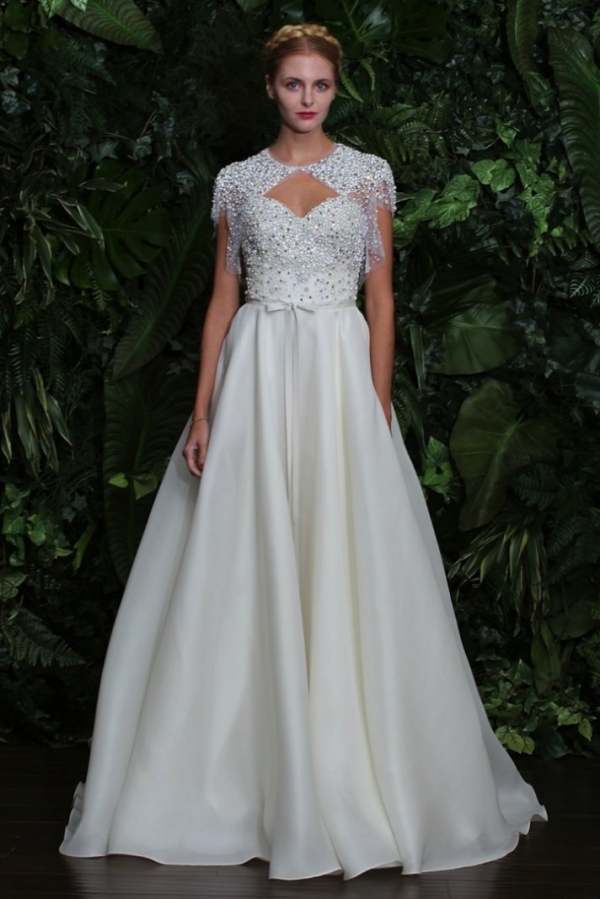 Want a mix of the modern and the traditional? Naeem's 2014 dresses do that perfectly. Big, traditional white skirts are teamed with glistening and modern tops, such as this jeweled bodice and netted cover up. The contrast looks great, especially worn with the models high plaits, and it's a dress that would look amazing at almost any type of wedding.
---
6

Angel Sanchez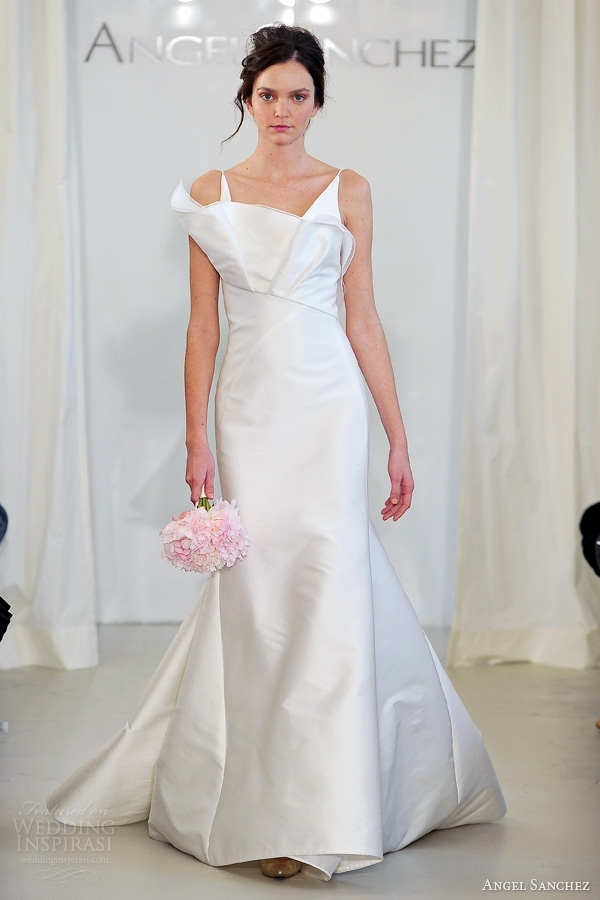 Angel Sanchez dresses are known for being a little different, and this collection doesn't disappoint. Along with the straight necklines and geometric shapes that look oh-so-modern, Angel makes wonderful use of draping, and many of his dresses feature intricate floral stitching. It's different and bold, without being too unusual, and it looks amazing in conjunction with the rest of the bridal details. Wear with a berry lip for the perfect winter wedding look.
---
7

Marchesa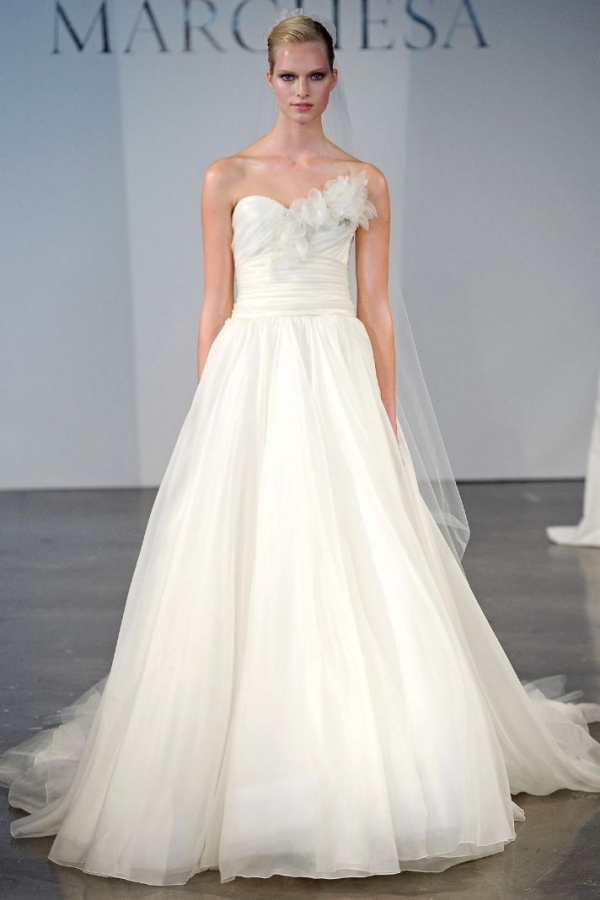 Of all the dresses from Bridal fashion week, my favorite was probably this one from Marchesa. There's no real reason why – it's just how beautifully big and bouncy and how so very Princess-y the dress seemed to be. Piles of chiffon and white and lace and trains and bodices. It's hard not to be drawn to something that looks like so much fun to wear!
So which of these dresses from Bridal fashion week would you choose? I'm utterly torn between wanting a huge Princess dress and something much sleeker and more modern. I have no idea how you are supposed to choose! What are you leaning towards – and why? Help me make my mind up!
---
Comments
Popular
Related
Recent