One of my favorite things about ordering dresses from Modcloth is the creative story behind each item. The first point you will notice is the enticing description, provided by talented and independent sellers. Modcloth boasts an extensive vintage clothing and accessories list, some of which may tend to range on the pricey side. However, the fact that these dresses from Modcloth are made with long lasting material more than makes up for the cost!
---
1

Red, White, and Cute Dress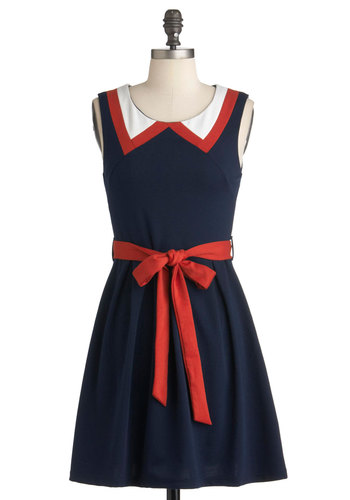 With the infusion of red, white and navy, this is one of my favorite dresses from Modcloth! Pairing these colors that both contrast and complement one another is the perfect way to show off your inner fashionista. Because of the neutral navy base color, this dress can be worn for a night on the town with friends or on a romantic summer date for two!
---
2

Vivacious and Vibrant Dress in Noir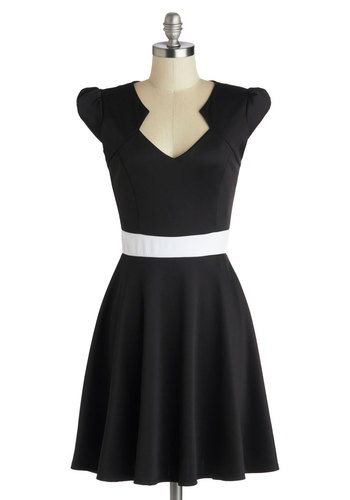 Most of the outfits hanging in my closet come in a combination of black and white. This showstopping dress is the perfect embodiment of the tastes of the girl who likes her style to be elegant, chic and sleek. The daring collar is simply stunning! I also love that this dress is offered in a variety of sizes; all women deserve to enjoy shopping!
---
3

Jazz and Dazzle Dress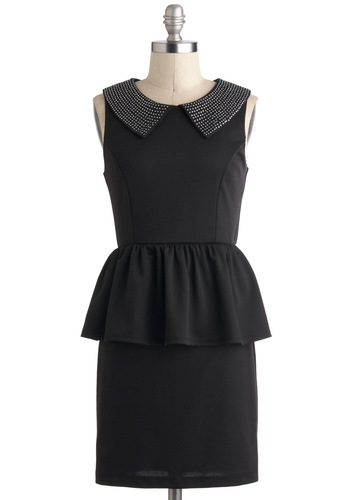 This dress combines the two of the most popular trends of the season, peplum skirts and jeweled peter pan collars. The style, shape and color of this dress make it fit for cocktails after a hard day at work. At the price of $25, this look will be right up your alley!
---
4

Creamery Cutie Dress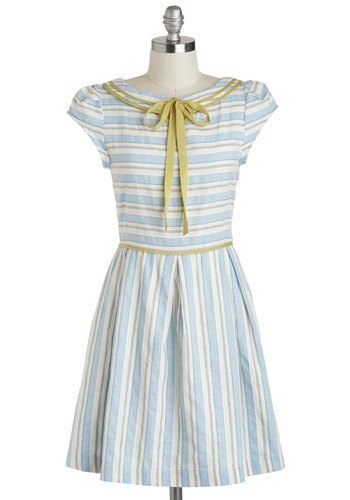 Originally spotted on Zooey Deschanel on "Who Do You Think You Are," the stripes on the 'Creamery Cutie Dress' are very flattering. The best part about this dress is the "yellow trim along the waistline and collar [which] adds a pop of color to your wardrobe, just like the rainbow sprinkles that jazz up your chocolate chip cone." The description provided can't get any better than that!
---
5

Symphonic Streams Dress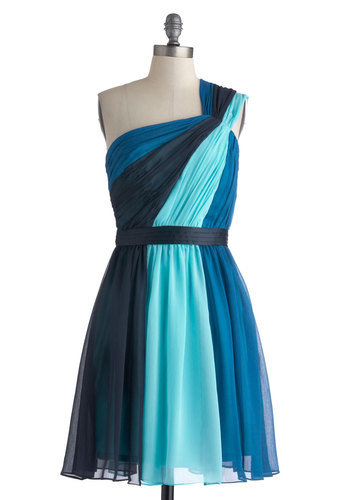 I can't be the only person mesmerized by the brilliant shades of blue in this dress! This strategic combination of colors and light material lends itself to a look that will be sure to dazzle the attendees of your high school senior prom or college formal. Whatever the occasion being celebrated, this elegant dress will leave guests speechless!
---
6

Sea and Santorini Dress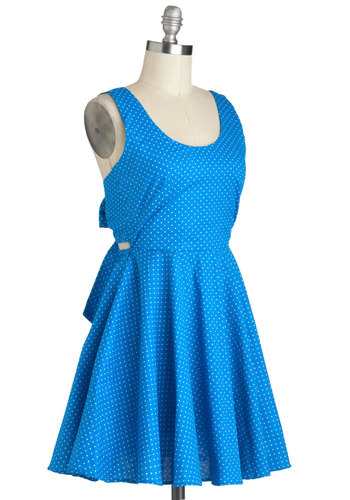 One of the greatest features of this dress is the accommodating bust area, a fact that had me sold the minute I saw it! You will love just how incredibly versatile the light blue hue makes it! Paired with canvas sneakers or boat shoes, it can be worn for a day out in the sun; conversely, a pair of t-strap heels will help you effortlessly add glamour to your look.
---
7

Style Guidepost Dress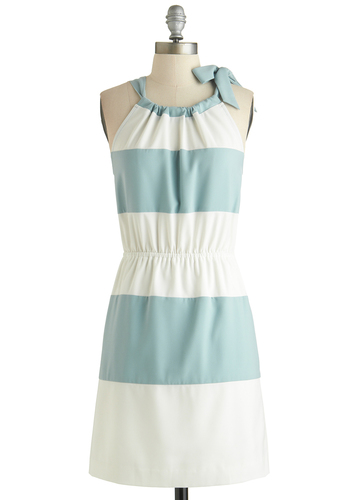 Fans of nautical-themed colors will love the "Style Guidepost Dress." The outline of this dress is very becoming, creating a long silhouette on the wearer. You will love how the light blue and white colors come together for a clean and 'summery' look.
---
8

You Look Fete-ching Dress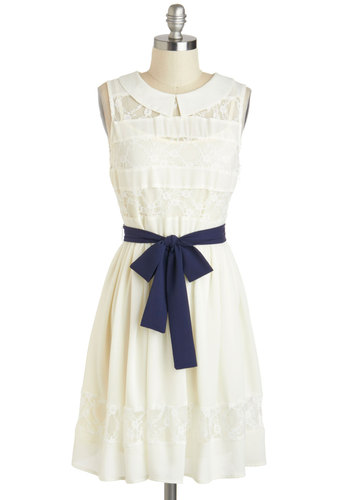 If you are planning to tie the knot with your loved one at city hall and are in dire need of an understated but magnificent dress, you may want to take a look at Modcloth's "You Look Fete-ching Dress." Modest in nature and fully lined, the simple design does nothing to take away from how dashing this frock looks. Swap the navy blue ribbon for a black one and this dress will certainly fit the bill!
---
9

Aisle Be There Dress in Lily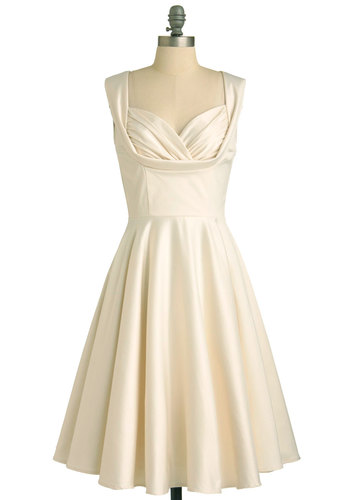 This has to be one of the sexiest silhouettes that I have ever seen on a dress! You will be in awe of this pearl-colored number that is carried in different sizes and features sleek and slender lines. Decked in satin, this creamy dress will definitely turn heads as you wear it with pride to a Hollywood event or your celestial wedding!
---
10

Aisle Be There Dress in Rose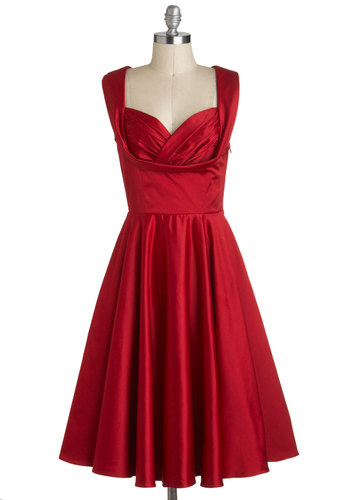 If you are looking for a dazzling red number, you will be happy to know that the "Aisle Be There" dress also comes in a lovely shade of rose! The shape of this silky dress will accent your figure and hit all the right places. I am a firm believer in the idea that every girl should own a beautiful gown in this power color. This striking shade of red alone will do wonders for your overall look!
---
11

Looking like a Million Dress in Blue Iris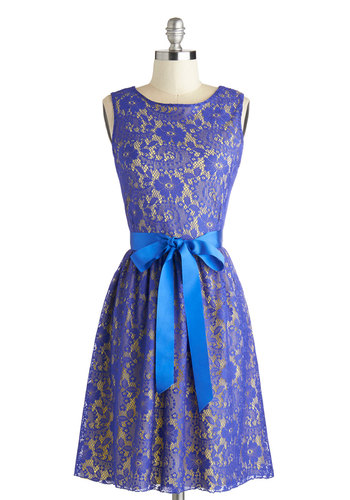 This dress comes in lovely hues of blue, one of the trending colors of the season. Wear this dress with matching pumps for a well-rounded look. The lacy design paired with a contrasting ribbon belt is also a nice touch!
The best kind of dresses to get are those that can be worn for any occasion. This makes it that much easier to get up and be on the go! Are there any other fabulous dresses from Modcloth that you need to have in your closet?
More
---
Comments
Popular
Recent