There is something so simple and yet so beautiful about black and white dresses. I love wearing black and white because of how classic the combination is. Sure, you could wear black and white as separates, but when the two are paired together in a dress as a pattern, with beading or with color blocking, black and white become much more sophisticated. Plus, black and white dresses look wonderful on everyone because there is no need to worry about a color that doesn't look right with your skin tone.
---
1

Dine and Dance Dress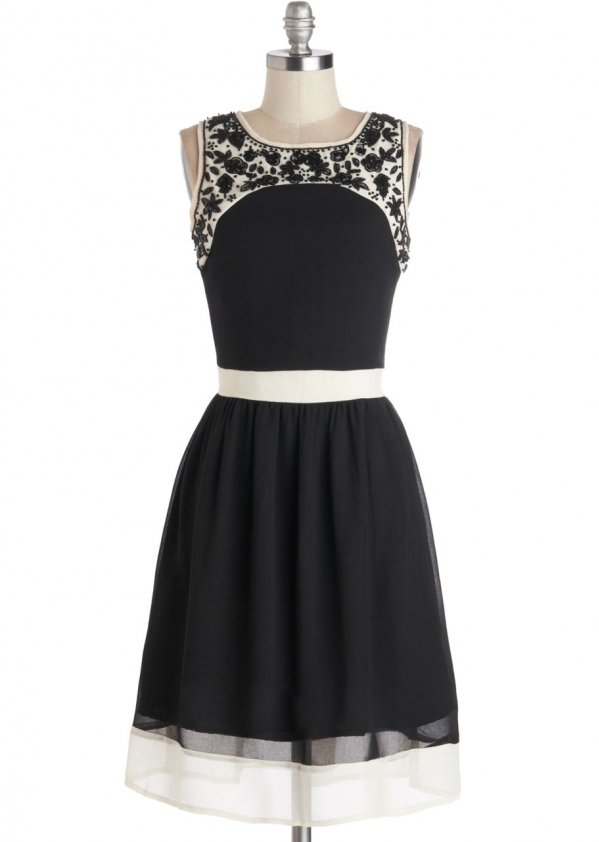 Beading always makes a dress look elegant, especially when placed on the neckline. The Dine and Dance Dress is really very aptly named. This dress is perfect for an evening of dancing with its sheer overlay that has a white band on the bottom. I also think the white band at the waist is a great touch. There is no need to wear a belt to define your waist. There are many black and white dresses to choose from, but if you have a romantic dinner planned this dress would be just perfect. Find it for $77.99 at modcloth.com.
---
2

It Girl Next Door Dress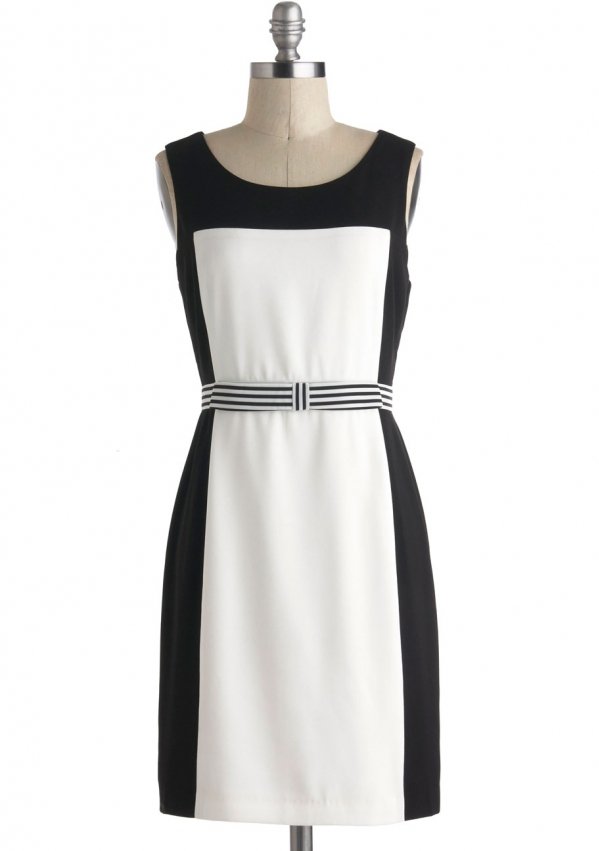 This basic dress will have you out the door and ready for a meeting in minutes. I think everyone has days when they need a dress that will make them feel polished and beautiful. This is just the dress for those days. The black sides are very slimming paired with the belt and front white panel. The simple sheath cut is wonderfully understated and lets you wear whatever accessories you want. In case you can't tell, I have a thing for fashion that makes a woman look beautiful while remaining simple and easy. You can get this at modcloth.com for $64.99.
Trendinig Stories
More Stories ...
3

Observation Decked out Dress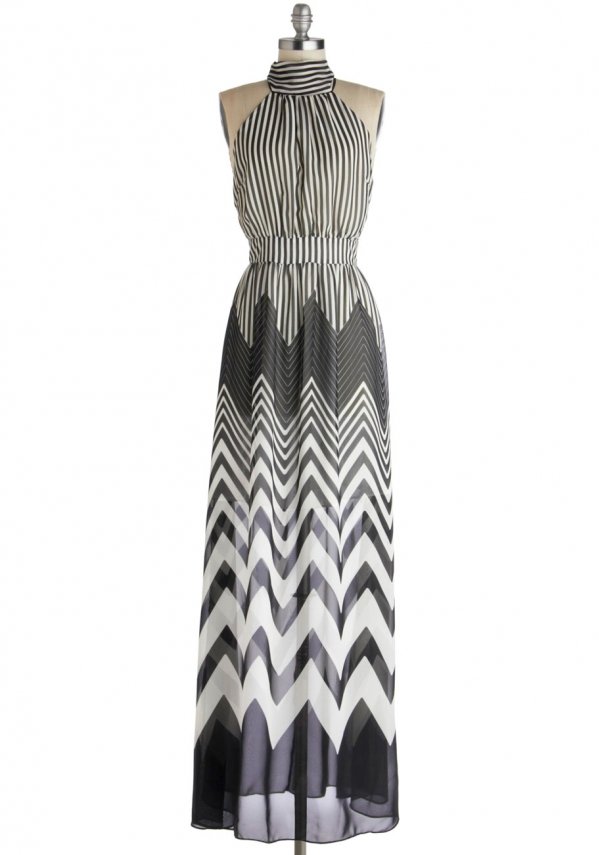 How great would this dress be for spring break in Miami? I just love the zigzag pattern on the bottom, but the halter neckline is what I adore most about this dress. I think halter necklines make almost everyone's shoulders look strong and beautiful. My only issue with this dress is it doesn't come in a petite. I am barely over 5 feet, so until this dress comes in a petite size, or I learn how to hem a dress, I have to just look at the picture and imagine myself wearing it somewhere warm. If length isn't a problem for you, this is all yours for $92.99 at modcloth.com.
---
4

The Frill and Lace Dress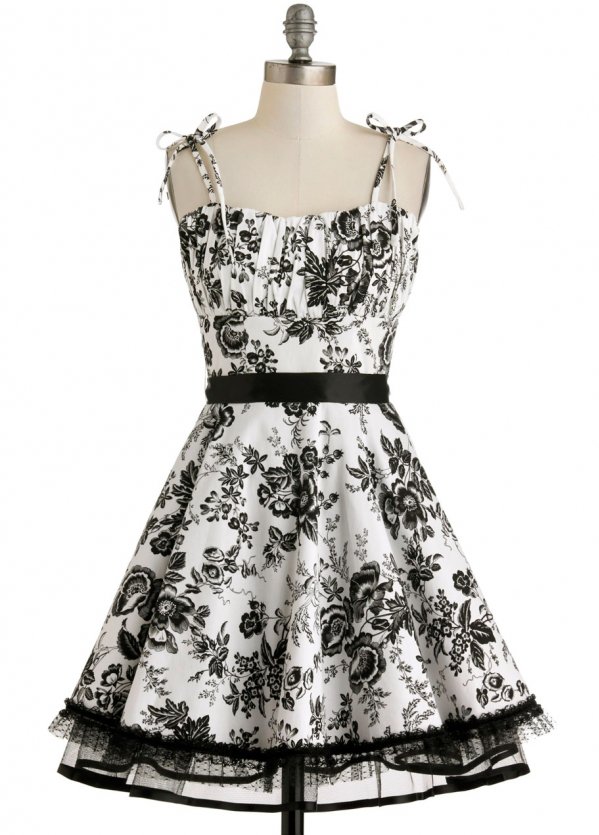 This is the ultimate girly-girl dress, and I love how unapologetically frilly this dress is. I would wear this dress to an outdoor summer wedding or graduation in a heartbeat, because although it is frilly, the black and white gives it just enough sophistication. However, I would keep all of my accessories very simple, and probably limit them to diamond studs and black heels. This dress really doesn't need any gussying up. Grab yours for $89.99 at modcloth.com.
---
5

Made to Border Dress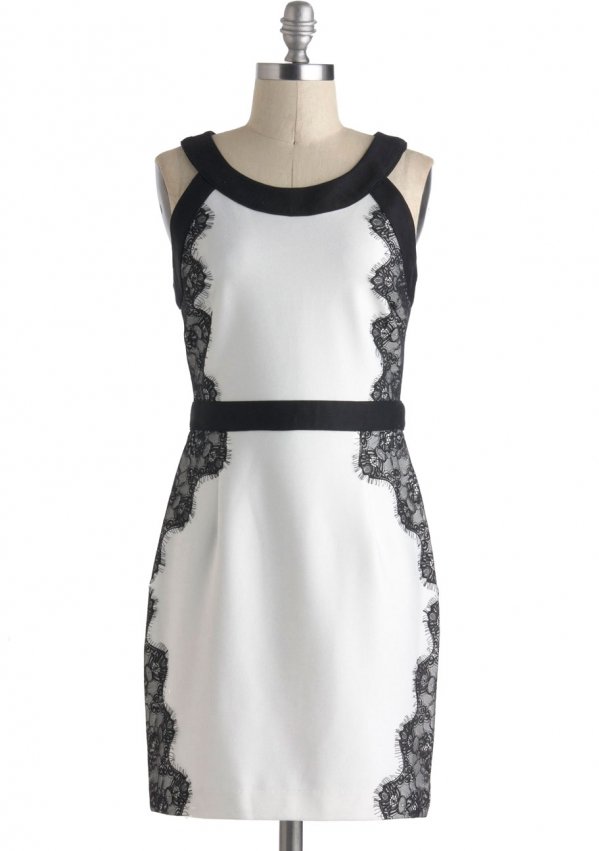 If the last dress was a little too frilly for you, this dress might be just your thing for that outdoor summer wedding or graduation. The sheath cut keeps it simple, while the black lace side panels make this dress special. Even though I like dresses with fuller skirts, I would wear this dress to any special occasion because it is so beautiful and would look great on anyone. I would just need to make sure to wear a slip underneath because the dress is not lined, but since the dress is so elegant I wouldn't mind wearing a slip. It's $79.99 at modcloth.com.
---
6

Fondant and Games Dress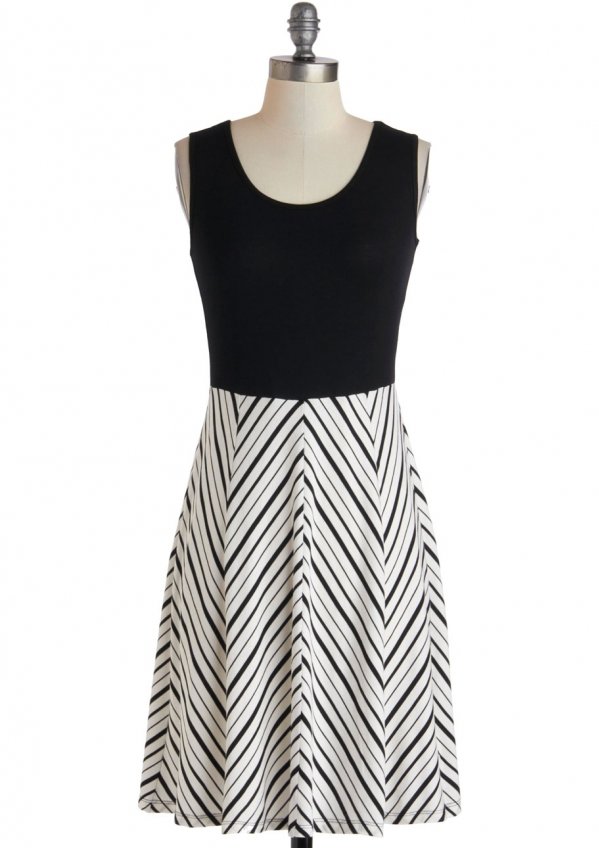 I think every woman needs a dress that can be thrown on for a casual day. This black and white dress is a great casual dress that would be very comfortable to wear. This dress will take you to the grocery store, the post office, the bank and have you looking cool and chic. The chevron pattern on the bottom is what really keeps this casual dress interesting. It is also perfect for wearing with flats, which is absolutely necessary on a casual day. Get it for $49.99 at modcloth.com.
---
7

What do You Clink? Dress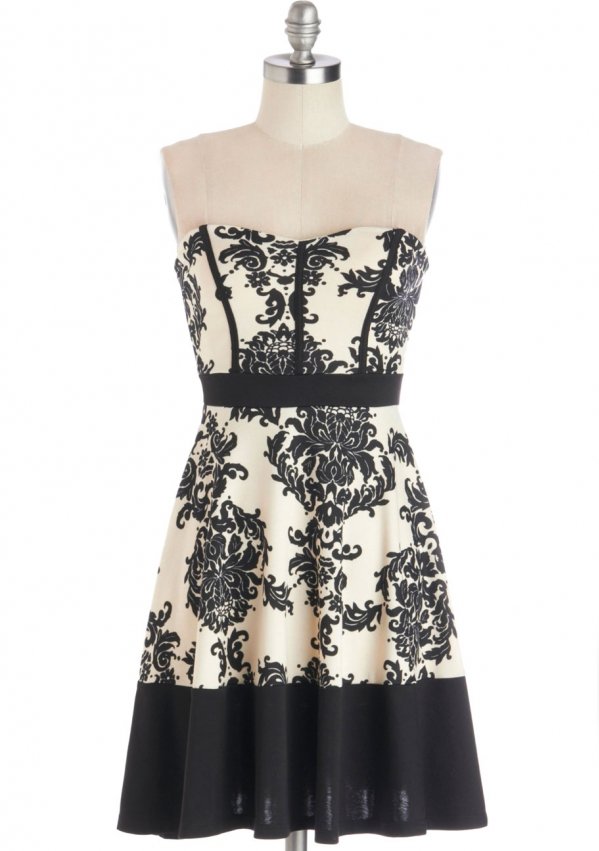 Obviously, this dress doesn't fall in the casual category, but I had to include it in this list of black and white dresses. I don't often wear strapless dresses, but I think they are very pretty. The pattern on this dress is so beautiful and makes me think of an evening walking in Paris. I have never been to Paris, but if I ever do I think I would wear a dress just like this. However, since we can't all pick up and go to Paris, this dress would be great for any special occasion. You can grab it up for $52.99 at modcloth.com.
Black and white dresses are timeless and elegant. They can be worn for any occasion and look fabulous on everyone. I think every woman needs to own at least one black and white dress. It is like a more interesting version of the little black dress. What is your favorite way to wear a black and white dress?
---
Comments
Popular
Related
Recent