You don't have to drive a Harley in order to wear one of the best moto jackets. No one will mess with you when you're looking so fine. These moto jackets will keep the girls jealous and get the guys' mouths watering. If your closet is lacking leather, you might need to purchase one of these best moto jackets.
---
1

BLK DNM Leather Motorcycle Jacket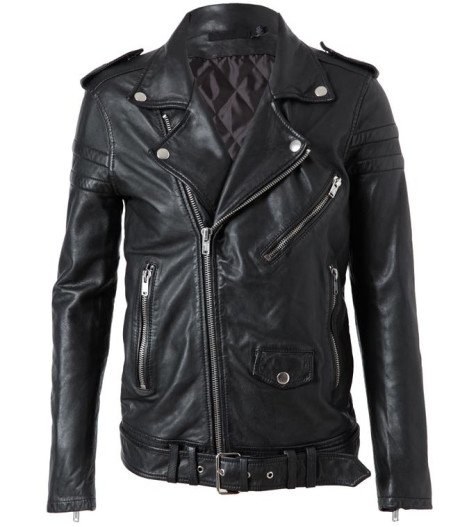 This is one of the best moto jackets around because you'll feel like a badass without actually being one. This jacket has a belt, decorative zippers, and lands above your waist. Wear it with black pants and a sexy pair of heels, and everyone will be watching you. Would you be able to look away from this fashion masterpiece? This is one of the nicest moto jackets around. If you can afford it, look no further.
Price: $795 at farfetch.com
---
2

BB Dakota Jasper Drape Front Jacket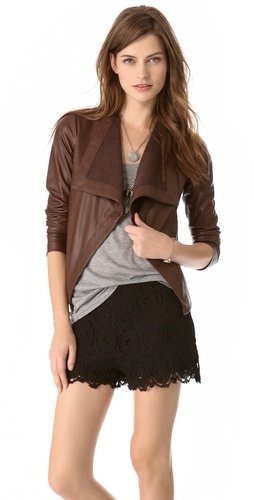 If fashion is more important than keeping warm, there's nothing wrong with this jacket. It has three-quarter sleeves and is collarless. Since your wrists will be bare, it's the perfect opportunity to wear a leather wrap bracelet. If you have a statement necklace, that would work well too. Just don't forget to use jewelry to your advantage! It can help spice up any outfit.
Price: $88 at shopbop.com
---
3

Marc by Marc Jacobs Sergeant Leather Biker Jacket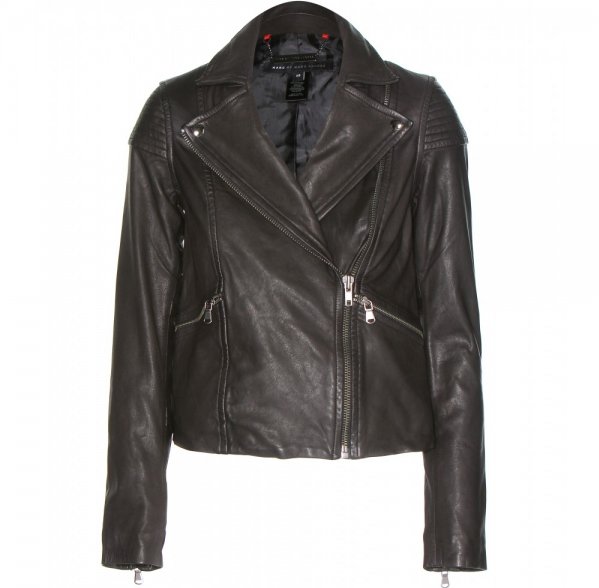 Were you born to be wild? You don't have to go on a crazy adventure in order to feel alive. Your outfit can make you feel like a completely different person. Pull this on and you can start living a new life. The clothes make the girl, after all.
Price: $858 at marcjacobs.com
---
4

3.1 Phillip Lim Felt Peplum Moto Jacket

Bored of basic black? This jacket combines two colors to create an interestingly bold style. It's meant to be unique. Even the zipper is asymmetrical. If you want to stand out from the crowd, this is the way to do so.
Price: $569 at barneys.com
---
5

IRO Han Leather Jacket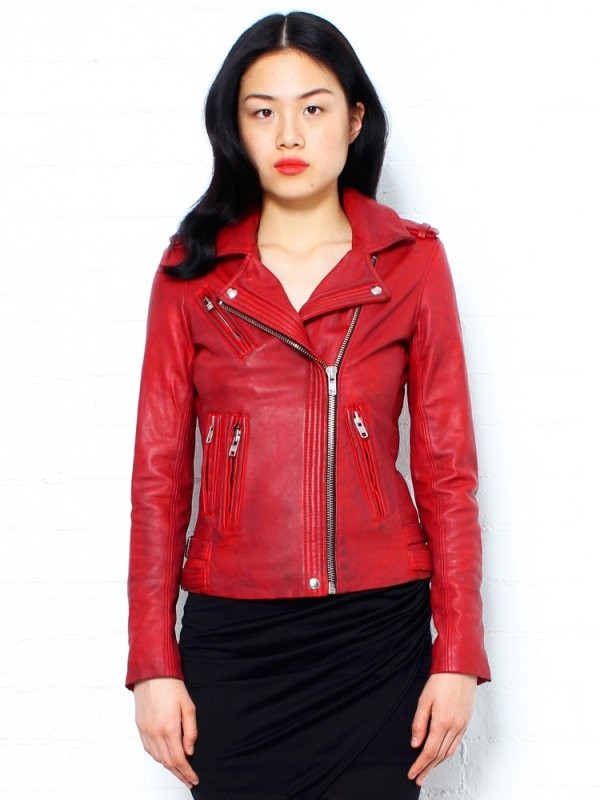 You'll feel like you're on fire when you wear this red hot jacket. It's perfect for any season. As long as Mother Nature doesn't raise or drop the temperature too drastically, you'll be wearing it year-round. Zippers adorn each side, and the cuffs are zipped as well. The little touches are what make this jacket fantastic!
Price: $990 at farfetch.com
---
6

Zara Motorcycle Jacket with Zips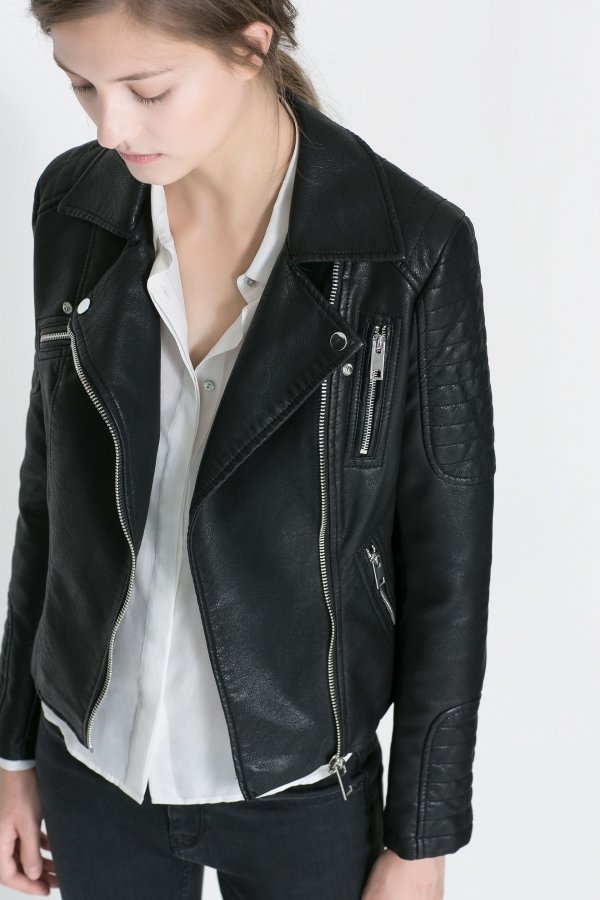 Be bold and beautiful in this well tailored jacket. Pair it with studded jeans if you're aiming to appear tough. Wear it with a miniskirt to achieve a sexy look. Put on a flowery dress to mix femininity with edginess. The choices are endless.
Price: $119 at zara.com
---
7

DOMA Vintage Zip out Hood Leather Jacket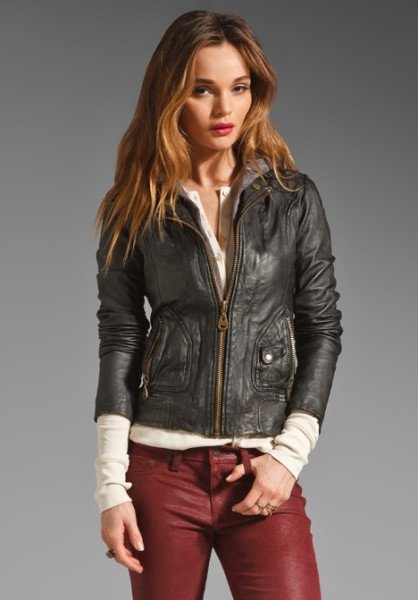 Day or night, this jacket does its job. It aims to keep you comfortable while making you look like a rockstar. It even comes with a detachable hood for when the paparazzi are out to get you. Of course, they'll never snap a bad picture when you're wearing this. It's just too darn cute!
Price: $635 at revolveclothing.com
---
8

HELMUT Helmut Lang Washed Leather Moto Jacket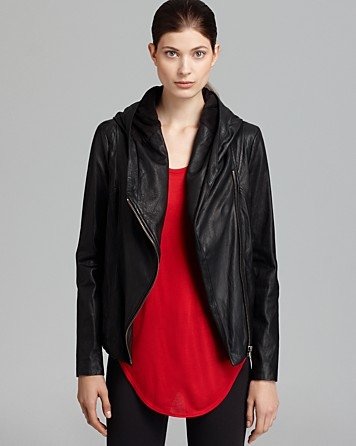 This casual jacket is great for hanging out with your girls. You can wear it every weekend, and you'll never get tired of it. It's too precious (and pricey) to stuff in your drawer. You'll want to get as much use out of it as possible .It even comes with a hood so you can hide yourself on your bad hair days.
Price: $995 at bloomingdales.com
---
9

Acne Studios Mape Jacket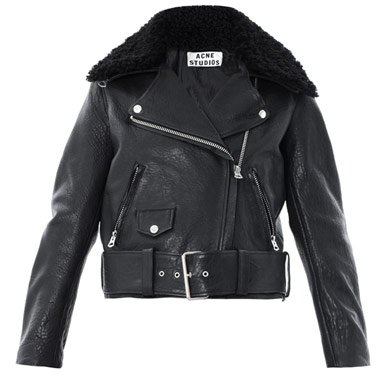 This jacket comes in black or white leather. Both are stunning, so you might have to flip a coin in order to decide which one you want. Both colors have an oversized belt that guarantees a perfect fit. Plus, the shearling collar overlay is detachable, so you can remove it during the hotter days. It gives you a bit of versatility that most outer clothes just don't have.
Price: $1950 at matchesfashion.com
---
10

Mackage Jimmie Distressed Biker Jacket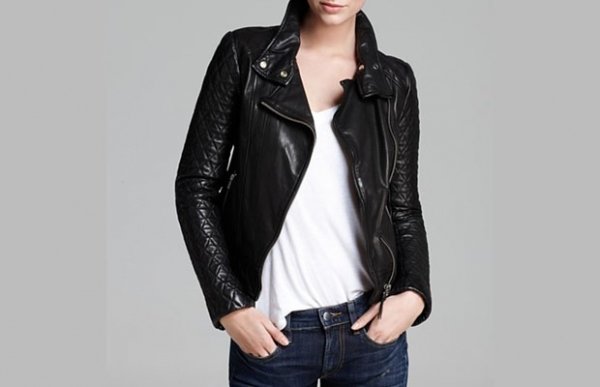 This material looks sleek and sexy. Any woman would like to try it on for size. The pattern on the arms gives it some flare, and the zippers add some decoration. Flip the collar up for some extra style. No one will badmouth you when you look that tough.
Price: $795 at bloomingdales.com
---
11

Nasty Gal Transformer Moto Jacket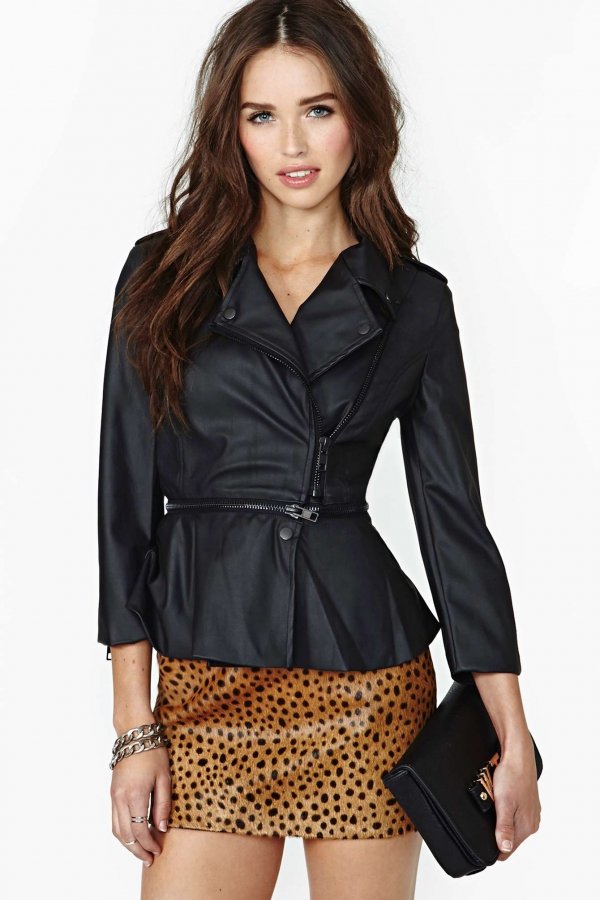 Are you ready to party? Before you head to a big bash, think about what you're going to wear over your dress. You might not have your jacket on for long, but people are definitely going to catch a glimpse of it. Instead of struggling to remove it as fast as you can, why not wear something that you want people to see? A jacket this cute won't come off as soon as you arrive. You're lucky if you take it off at all
Price: $111 at nastygal.com
---
12

Street-Femme Moto Jacket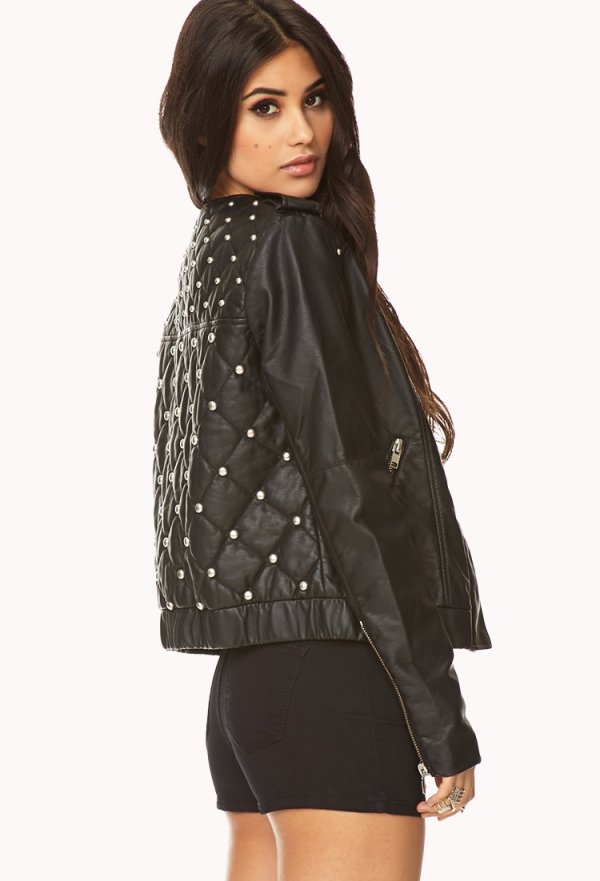 Want him to stare as you walk away? This jacket will ensure you look beautiful from the front and back. It has a studded and quilted back, which will make you look good from any angle. When you wear this to a party, don't be a wallflower. You want to mingle with the crowd, so everyone will see this gorgeous jacket.
Price: $50 at forever21.com
---
13

Shredded Biker Jacket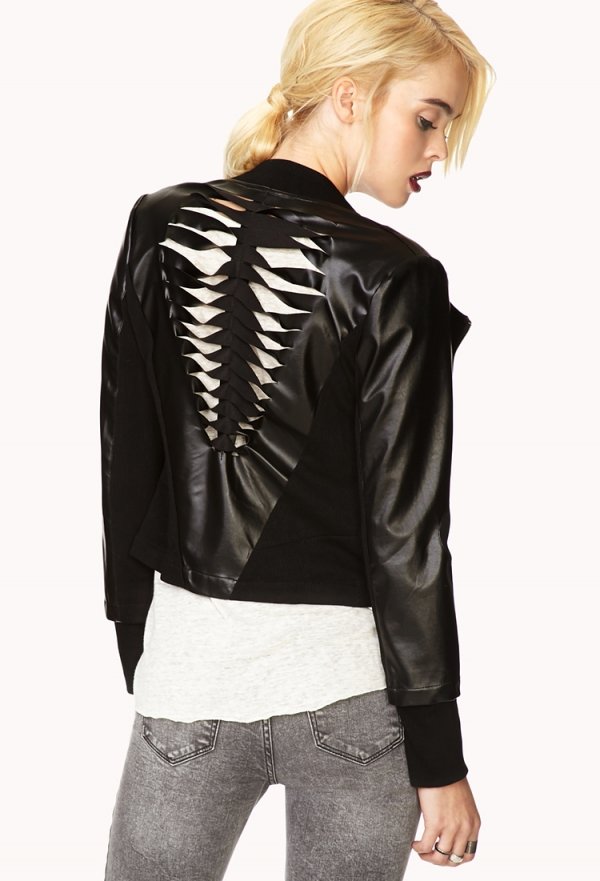 Here's another jacket that will make you want to strut your stuff. The back has an awesome shredded pattern that allows your shirt to be seen. So make sure you wear something cute underneath! Also, try to wear a cute updo. You don't want your hair to fall down and block the view of your stylish jacket.
Price: $35 at forever21.com
Even if you're as innocent as a lamb, you can pull off looking like a biker chick. You don't have to dress tough everyday, but it's fun to play dress up every once in a while. Which one of these jackets would you wear around town?
More
Comments
Popular
Recent