Fall signals the return of outerwear as our go-to essential this season and appeared in the shape of chic cape coats. Not only will this cool-weather must-have keep you warm during the crisp months, it also adds style and sophistication to even your simplest of looks this season. From tailored and traditional to bold and bright, chic cape coats are the cozy items to throw over your shoulder when the chill hits.
---
1

Belted Cape Coat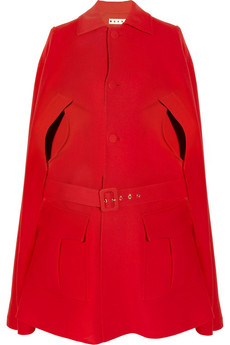 A bright pop of bold fiery red will set you apart from a sea of monochrome colour palettes this fall as the intense shade will standout when paired with any outfit. A belted cape coat will add shape and structure to this usually shapeless silhouette and will define your body in a way that is figure flattering. Pair a vivid belted coat with sleek and fitted pieces for a classic tailored edge.
---
2

Brown Cape Coat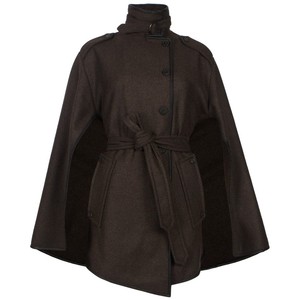 A high collared cape coat has military inspired edge with accented details like brass buckles and large epaulettes. A rich, warm brown shade is the perfect fall colour to cozy up to this season as this neutral tone can be worn with a variety of palettes and prints. Wear a brown cape coat with sleek leather accessories like a black buckle ankle bootie to reinforce that army worthy look.
3

Double-Breasted Cape Coat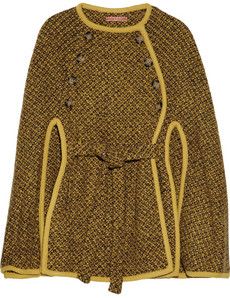 Double-breasted cut coats have a distinctive menswear vibe. This classic tailored cut is made modern with flared sleeves while stile remaining traditionally cool. A woolen fabric and geometric pattern give this cape coat inspiration a tweed-like textile look in a unique, earthy colour palette of saffron and brown.
---
4

Round Neck Cape Coat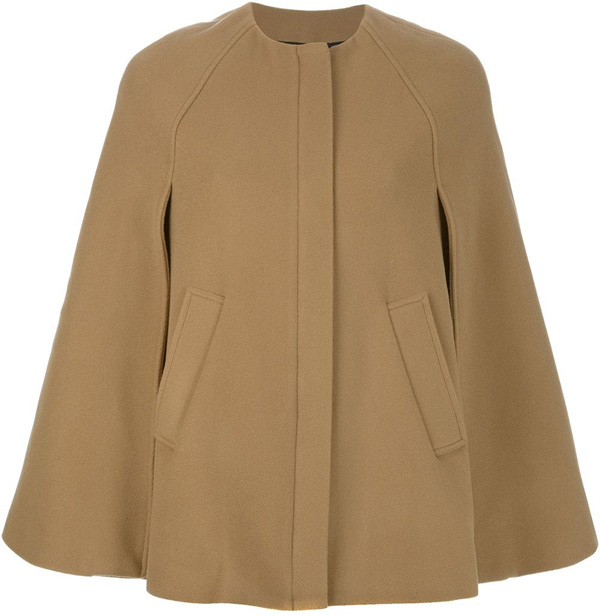 Shorter crew neck capes are perfect for petite figures, as the coat won't overwhelm their small frame. A shorter cape also allows for easier movement and less bulk, which can sometimes get in the way of everyday activities. Opting for a cape in a solid or neutral colour like tan or taupe allows you to get the most wear from your cape during the cooler months as you can mix and match this piece with anything.
---
5

Epaulette Cape Coat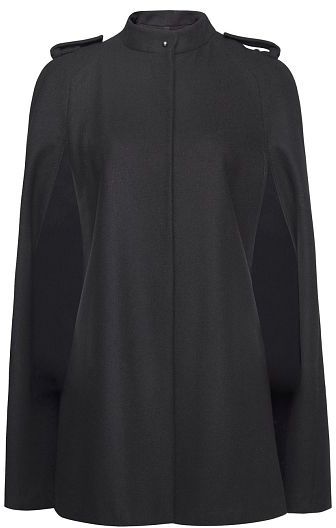 One classic black coat is essential in all wardrobes, regardless of style. For a contemporary update on black coats, a black cape is a chic way to sport this fall trend. Epaulette details create an edgy look that is muted and unadorned but still stylish. Pair this cape with all black pieces, including accessories to tap into the monochromatic trend this season.
---
6

Fur Collar Cape Coat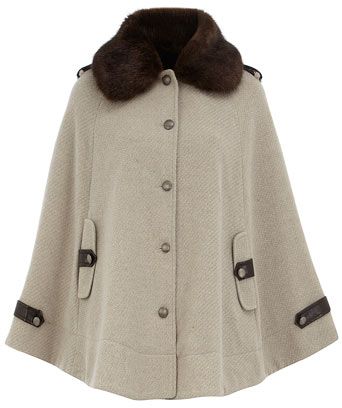 Plush fur accents or collars on a cape coat are an easy way to incorporate two very trendy items into one cozy chic piece. Opt for furs in opposite but complementing colours from the overall shade of the cape for a luxe contrasting pop. Fur is another effortless way to take your style from cool to high-fashion forward with just a small touch.
---
7

Wool Cape Coat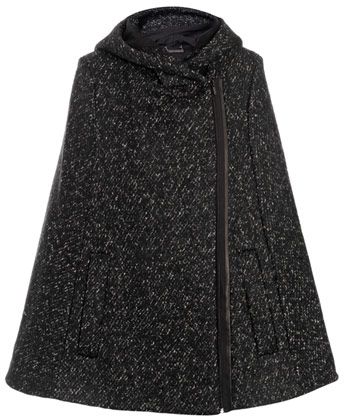 Speckled wool fabrics and textiles create added visual interest to an already interesting cut coat. A hooded cape makes this cool-weather cover-up a top choice when it comes to keeping warm and cozy and not to mention sheltered from the elements this season.
---
8

Tie Front Cape Coat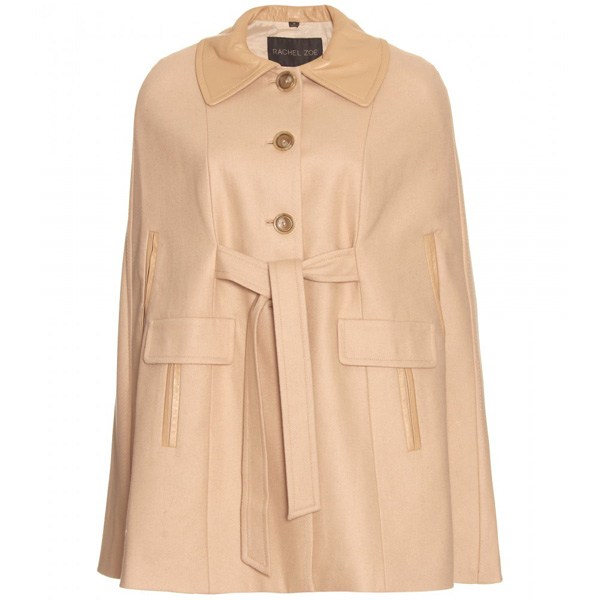 A trench coat style cape is a great alternative to the traditional cape cuts offered for fall. The trench coat design creates additional shape and structure to define an hourglass silhouette underneath all that material. Look for small details like defined darting and tie front belts to find a trench coat inspired cape. Accents like leather piping or trim add a luxe finishing touch for a contemporary cool style.
The cape comeback for fall proves to be nothing short of spectacular. Whether worn elegantly long, cropped short or large and loose, chic cape coats are the definite "it" item to keep you warm this season. This multitasking wardrobe piece will take you effortlessly from day to night for a look that is always versatile and chic. Will you don a chic cape coat for fall?
Top Image Source: cakenotcoke.com
---
Popular
Related
Recent