Trench Coats are not just warm pieces of outerwear but they are ideal fall accessories as well, which means you must choose wisely in order to get the one that fits you so good, you actually start feeling sorry every time you're about to take it off. Not all trench coats are the same, of course, which means you'll get to choose between many different styles and many different colors. Should it be white or off white, pastel or dark, classic, modern or something in between? Well, that's just something you'll have to decide for yourself but don't worry because finding a perfectly stylish trench to keep you warm this fall is easier than you think! Don't believe me? Well, check out this list of the best-looking trench coats available online!
---
1

London Fog Double Breasted Animal Print Trench Coat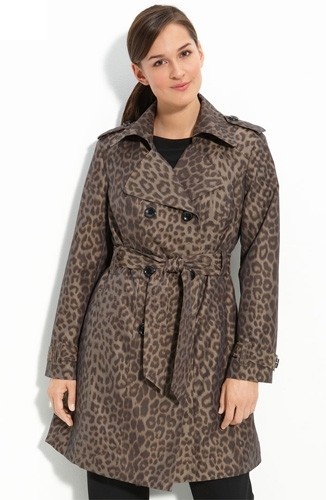 Price: $148.00 at shop.nordstrom.com
Animal prints can be very chic so think about adding printed trench coats to your fabulous fall attire! You see, a leopard print might seem like too much at first, but if you pay attention to the colors, you'll notice that this trench really isn't hard to match. I bet it would go great with an elegant white or black shirt/blouse and a pair of oh-so-trendy wide leg pants and that, my ladies, means you could easily be the best dressed girl in the office (if not even the whole building). But this stylish trench could prove itself very useful even outside the office and you'll soon realize how many fabulous fall & early spring evening outfits you could pull off without even trying very hard!
---
2

London Fog Double Breasted Trench Coat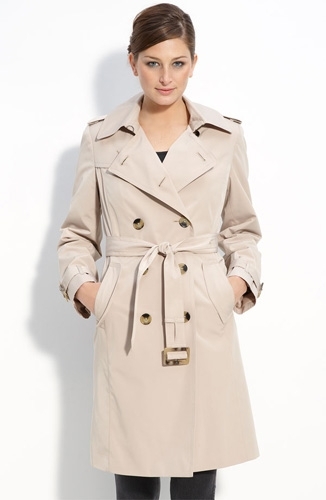 Price: $168.00 at shop.nordstrom.com
Classic trenches are always a good thing to have in your wardrobe because this style goes with pretty much anything. Business clothes, laid back outfits, heels, flats – you name it! Plus, it looks totally cool and you'll always get to feel like you're on a mission to collect clues and solve a crime! Black and khaki are two basic colors for a classic trench and, luckily, this model is available in both! I'd choose khaki – how about you?
---
3

Tahari Ruffle Trim Satin Trench Coat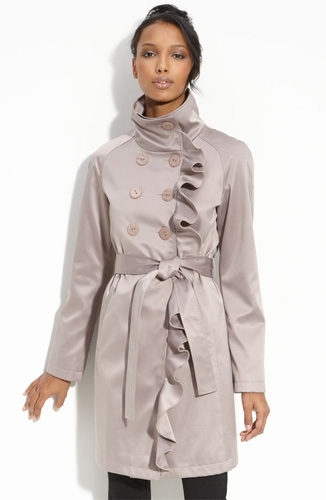 Price: $168.00 at shop.nordstrom.com
Ooh-la-la! Now this certainly puts the F into Fabulous! I love the style and I especially love the colors so if you're looking for something that won't make you go unnoticed, you simply can't go wrong with this one! It's not one of those trench coats you'll get to wear every day but it will compliment your glam evening attire perfectly!
---
4

Tahari "Evelyn" Satin Trench Coat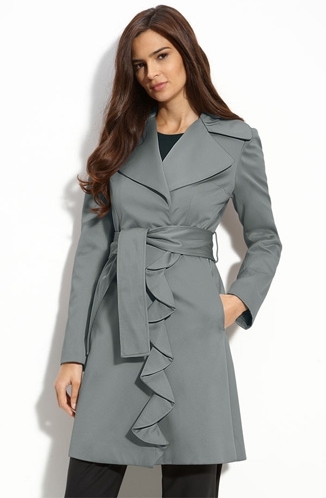 Price: $68. 90 at shop.nordstrom.com
Now, if you're not willing to spend 168 bucks on something you'll probably get to wear 2-3 times a year, but you love the idea of having a feminine, chic trench that doesn't look like any other trench you've seen before, take a good look at this one! It's perfect, absolutely gorgeous and ON SALE! What more could a girl ask for!
---
5

Guess Trench Coat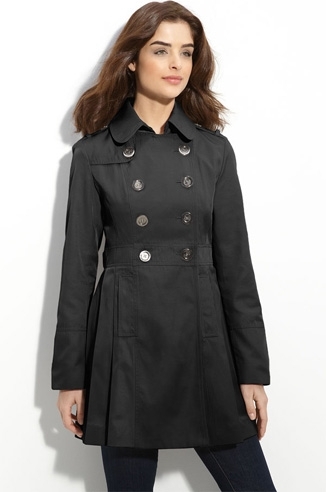 Price: $58.90 at shop.nordstrom.com
And here's one very interesting not to mention quite budget-friendly trench you'll really get to wear whenever and wherever you want! Guess is the brand, it's on sale (50% off) and there is still time to pick the right size! I'd choose the black one because I don't like steel, but hey – that's just me! Classic trench coats like this are so chic!
---
6

Volcom Stone Brigade Trench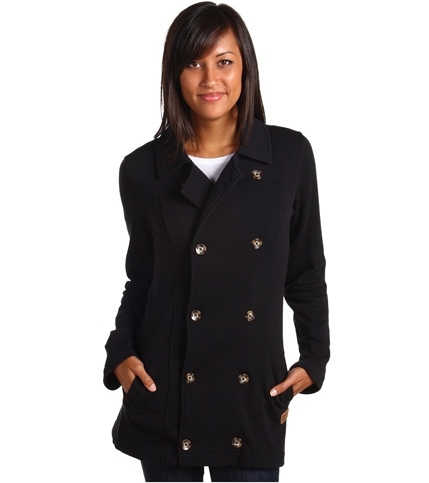 Price: $69.50 at zappos.com
Speaking about interesting trench coats, how about this one? It's not a classic long trench but more of a very cool mixture of a trench coat and a military jacket which, pretty much sounds like the best of both worlds to me. So, if you prefer casual clothes, flats and jeans, definitely check it out because this trench could be your pre-fall fabulous find.
---
7

Jessica Simpson Short Satin Trench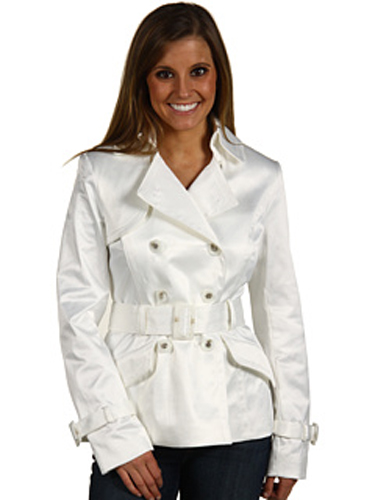 Price: $68.75 at zappos.com
I love, love, love sating trenches and if you love them too, consider this Jessica Simpson classic style. My vote goes to it because it's the most perfect silhouette for the fall and since it's actually pretty durable, you won't need to stop by the dry-cleaners so often. Definitely a keeper!
---
8

Michael by Michael Kors Sleeveless Trench Coat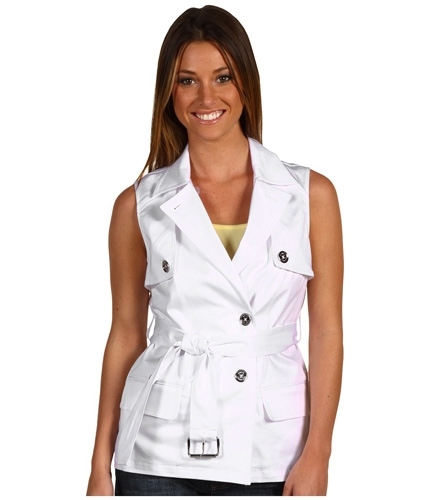 Price: $79.25 at zappos.com
But what do you do in case you don't need anything to keep you warm? Give up all those cool trench coats? Well, in case the sun always shines in your part of the globe, simply choose a style that can be worn even when the weather forecast predicts days and days of never-ending sunshine! Luckily Michael Kors has exactly what you need and that is a sleeveless trench style jacket (I'd wear it as a top by the way)!
You can love 'em or hate 'em, but trench coats are definitely here to stay. And you know how they say, "If you can beat them…. Join them!" Which one of these fab trench coats shown above has your name on it? I so, so, so WANT #3!! Actually, I have this sudden urge to start a collection of trench coats...
More
---
Popular
Recent