A cute skater dress makes any time of year feel like fun! As winter begins to wind down we move ever closer to that other fantastic time of year: spring! Skater dresses are cute, fun, and versatile. I love winter with all the comfort items and close company it encourages, but I always look forward to warmer weather. There are loads of fun dress styles for spring to choose from. As you prepare for the warmer weather this year consider adding a cute skater dress or two to your wardrobe.
---
1

American Apparel Point Sleeve Dress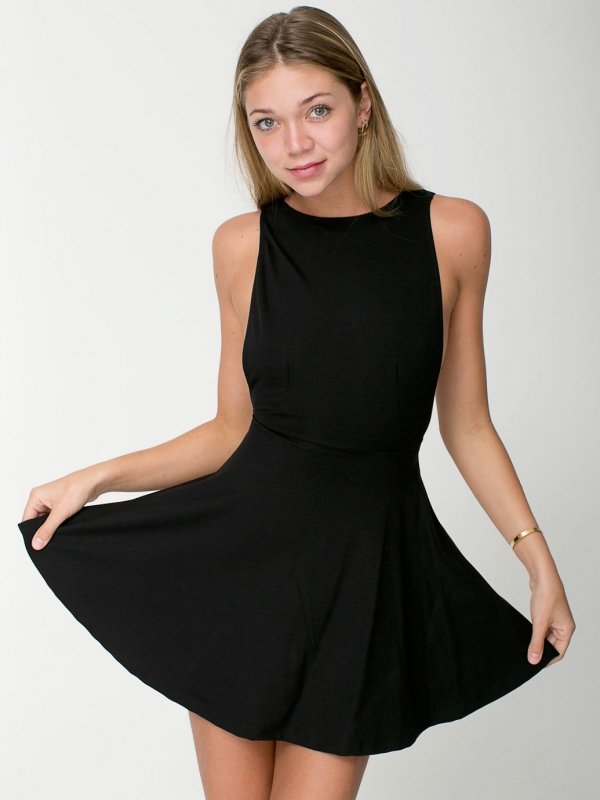 This Point Sleeve dress from American Apparel is a great example of a cute skater dress for spring. This dress has a simple A-line structure, fitted waist, deep scoop back, and deep side openings. I would wear this with a tank (or massive amounts of double-sided tape) to avoid the ever-scary nip-slip! Ha! Goodness knows we have seen that happen one too many times with celebrities. This dress is pictured in black but is also available in white, true red, peach, citron, syrah, lapis, and dark heather grey.
---
2

Forever 21 Bombshell Floral Skater Dress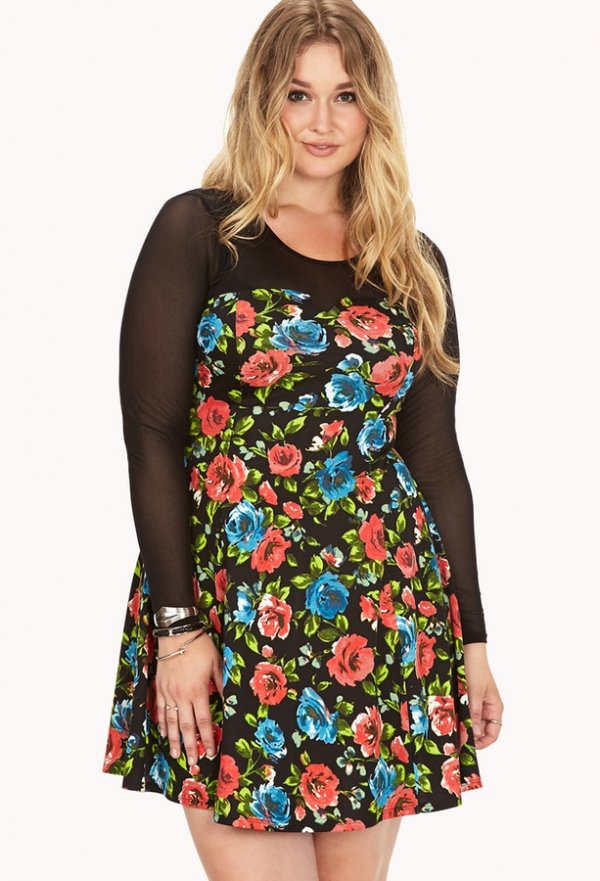 I love a pretty A-line dress and this one is quite fabulous! With a mesh front and back yoke, long sleeves, round neckline, pretty patterned bodice and skirt, this little skater dress will can take you from day to night if you like. I would change shoes and amp up the eye makeup to complete the change for a fun night out. This dress is available only in the lovely black/pink color and flower combination.
3

ASOS Wrap Front Skater Dress in Heart Print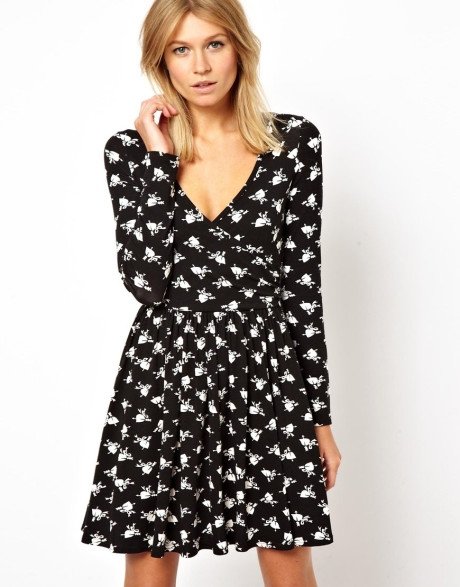 ASOS has an adorable selection of skater dresses to choose from but this one is my favorite. The heart print dress is available in only one color combination: black with white hearts, and it totally works! The material is light and stretchy and the hemline hits just above the knee – slightly higher for us taller ladies. The dress features a wrap front with deep v-neckline, long sleeves, and pleated skirt.
---
4

Lucky21 Add It up Belted Strapless Skater Dress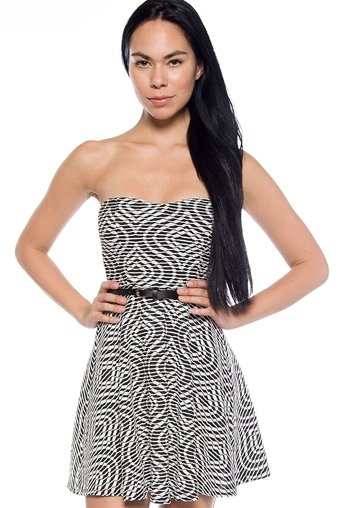 Get ready for spring with this cute little skater dress. I love the black and white pattern so much! The pattern is bold, unique, and eye-catching. This strapless number is a simple A-line – no pleats. It comes with a black faux leather skinny belt. I would add just a touch of red accessories like a ring or single necklace. With such a bold pattern you do not need to add much to enhance this look.
---
5

Nasty Gal Mesh Skater Dress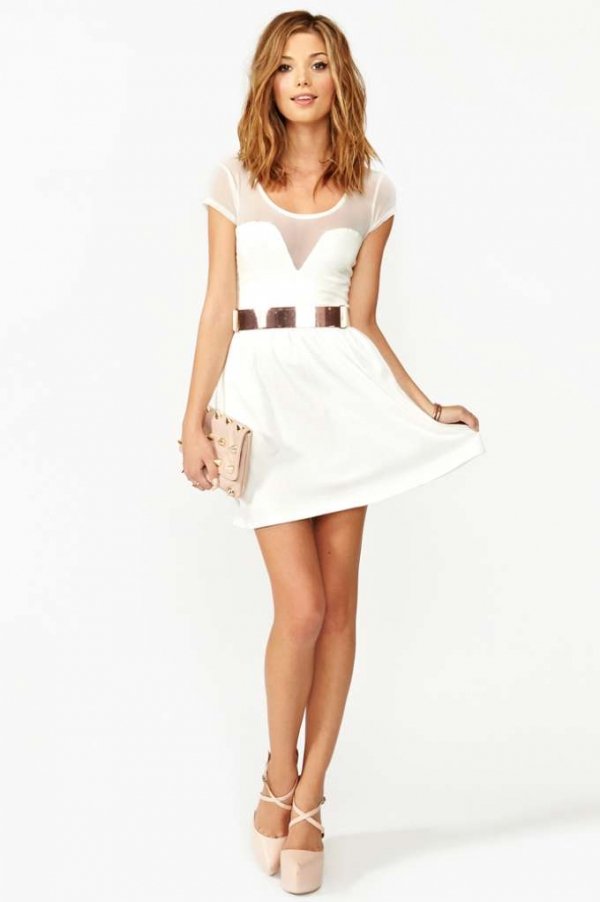 I like the Nasty Gal; it has a great selection of marvelous dresses and accessories. This little white number from their skater dress collection is just fabulous. If you are up for a bit of fun then try this mesh/solid combo dress. With a plunging sweetheart neckline, sheer mesh shoulder details, and soft A-line shape, this dress will help you accomplish that goal. It even has side pockets!
---
6

USTrendy Black Strapless Skater Dress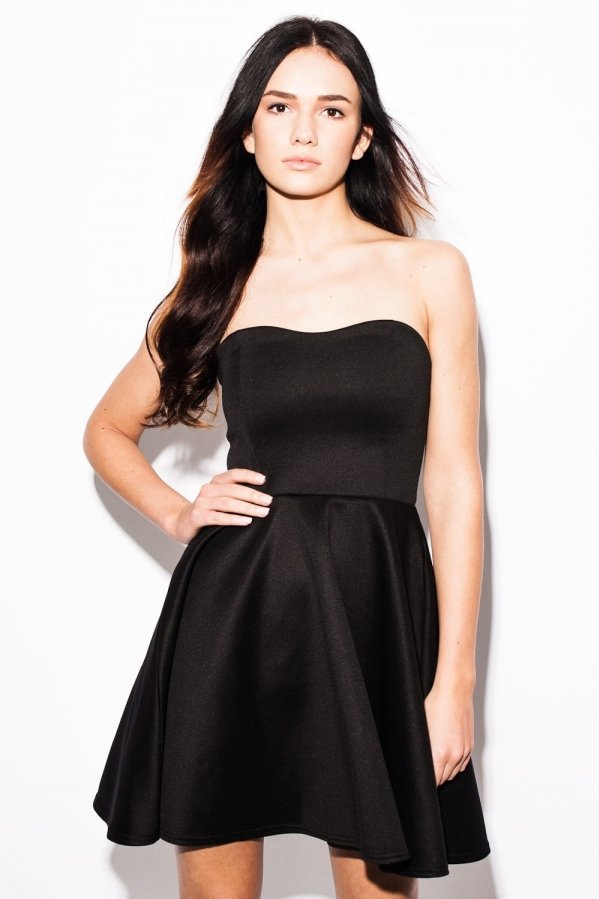 The little black dress has been a suggested wardrobe staple for a long time over many blogs, style sites, movies, books, and magazines. And we can see why! Who doesn't love a little black dress? Especially when your LBD is this cute! This strapless number from USTrendy is glam-perfect for spring and summer. It is also wonderfully versatile. Dress it up with a cute pair of heels and bold jewelry or throw on Converse and a cardigan for street style chic. However you decide to wear it, wear it well with great makeup and loads of confidence!
---
7

AXParis Abstract Printed Skater Dress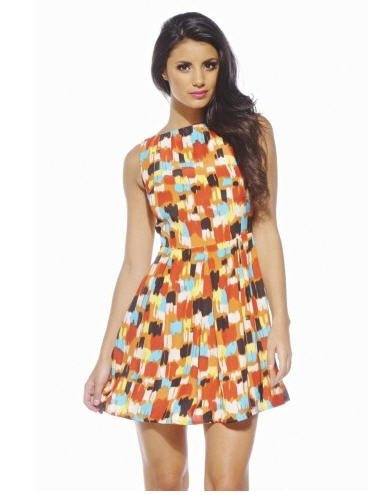 The colors on this dress are both cool and warm. The color combination reminds me of a Klempt painting: sultry, elegant, and fun all in one. The interesting color combination will carry you from spring to summer. This sleeveless dress features the all over abstract print, slit opening neckline, pleat skirt, and zippered back. I would wear this dress with a bright pair of shoes and fantastic makeup.
These are just a few of the large selection of skater dresses out there. They are available in a variety of colors, patters, embellishment, and sleeve options. And most are super cute! What is your favorite warm weather style? Do you like skater dresses? Please, share with us in the comments.
---
Comments
Popular
Related
Recent