I adore floral prints, and I love maxi dresses, so when I can find a floral-print maxi dress, I'm in sartorial bliss. But they're not always easy to find, so I did a little searching and put together this helpful one-stop-shop list. Here are 7 gorgeous floral print maxis.
---
1

Saturday Market Dress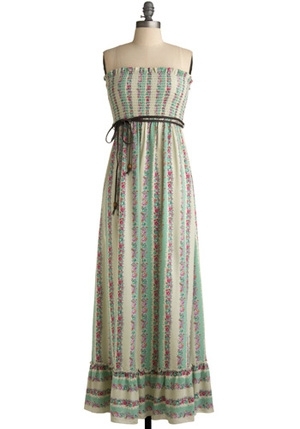 Price: $59.99 at modcloth.com
Is there any easier summer chic than throwing on a floral print maxi, adding a pair of gladiator sandals, and heading out the door? This strapless maxi is the perfect example of that, ruched and elastic at the top, with a vintage-inspired flowers and dots in tidy rows down the front.
---
2

Return of the Maxi Dress

Price: $59.99 at modcloth.com
Go a little Boho this summer in this light and lovely floral print maxi. The rust, yellow, and cream color scheme is flattering and clearly 70s inspired. All you need to add is a floppy sun hat, strappy brown thong sandals, and vintage silver bracelet.
Trendinig Stories
More Stories ...
3

Modern Maiden Dress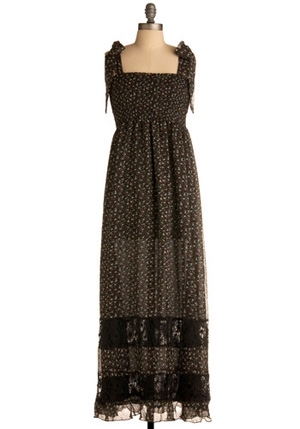 Price: $59.99 at modcloth.com
You're a thoroughly modern girl, but you yearn for simpler days, when maids wore dresses and men were well-tailored. But why travel back in time when women weren't allowed to vote or drive? Rather, opt to wear this vintage-inspired floral-print maxi dress instead, and revel in its feminine details, like the bows at the shoulders and the layers of lace.
---
4

Serenity Wow Dress

Price: $57.99 at modcloth.com
This maxi dress offers so much, for so little! It's light-weight and breezy, fully lined with a sheer over-dress. The spaghetti straps are adjustable, for a perfect fit, and there are sweet ruffles at the neckline for a little extra girly-ness.
---
5

Floor-al Length Dress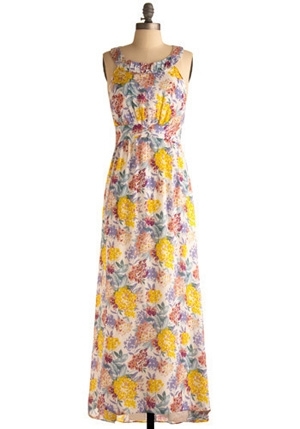 Price: $69.99 at modcloth.com
This is my favorite-ever floral print maxi dress, for so many reasons —the brighter-than-sunshine color scheme, the ruffle at the neckline, the cut-out helter back. All I'd need to add would be a pretty pair of wedges and an armload of wooden bangles.
---
6

Fresh Flowers Dress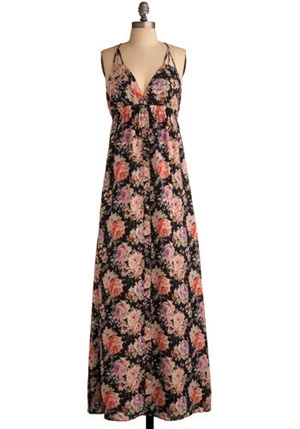 Price: $74.99 at modcloth.com
This maxi is sort of a twist on an LBD, with rose-colored flowers scattered across a sleek black background. The back of this dress is so interesting, too, with three narrows strands from the halter neck to the natural waist. Pair with black sandals and a slouchy bag for an afternoon of shopping in the sunshine.
---
7

Basket of Petals Dress

Price: $54.99 at modcloth.com
This season, neutrals are nifty, and one peek at this floral maxi will tell you why! It's easy to match (black, cream, brown) and accessorize (wedges, a fitted cardi, something denim), so why not?

Now I've gone from not enough floral print maxis, to floral print maxi overload… I can't decide which of these dresses I like best! Is it the tiered one I posted last? Or the long yellow one? I may just have to get them both… hmm… which of these gorgeous floral print maxis do you like best, and why? Do tell… you might help me make my decision!
---
Popular
Related
Recent