It's not just the Olympics that have hilarious wardrobe malfunctions. Celebrities have been hitting the headlines for the wrong reasons for years, but it seems that the stylists never learn – or perhaps the celebs just think it won't happen to them?! If you need a laugh, or you're tempted to step outside without underwear on, check out these hilarious wardrobe malfunctions – and then make sure you're wearing suitable underwear!
---
1

Paris Hilton…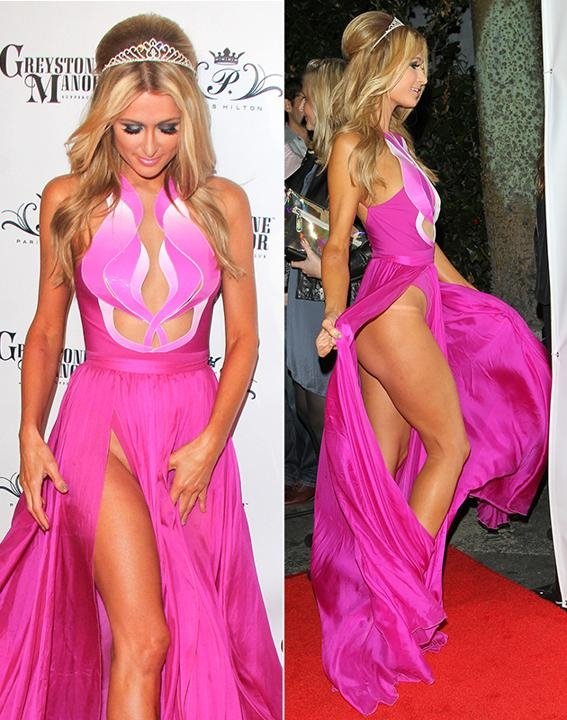 Paris might be dressed like a Princess, but that hasn't stopped her being involved in some hilarious wardrobe malfunctions. A ladylike floor-length gown and tiara sounds like such a glamorous look, and she almost pulled it off – I especially love the low-cut neckline, which features modesty-covering strips – but Paris lost all her dignity when she flashed her undercarriage while walking. Rule number one: wear underwear. Rule number two: learn how to walk with a thigh-high split BEFORE attempting it in public.
---
2

Lady GaGa…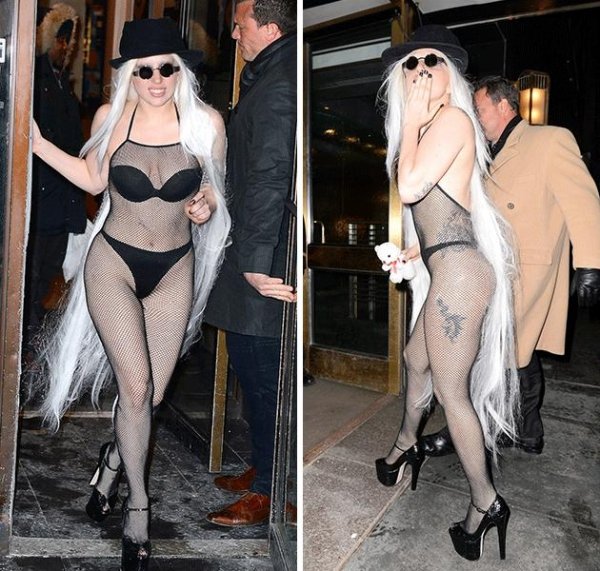 Okay, so Lady Gaga totally intended to step out in an almost-see-through outfit to get attention. Slipping into a risqué fishnet body suit is almost guaranteed to get you papped! What she didn't count on, though, was just how unflattering it would be. With the glare of the lights and the zoom on media cameras, viewers could see every inch of Gaga – including her badly fitting bra. That hat-and-glasses disguise can't help you now, Gaga.
---
3

Mutya…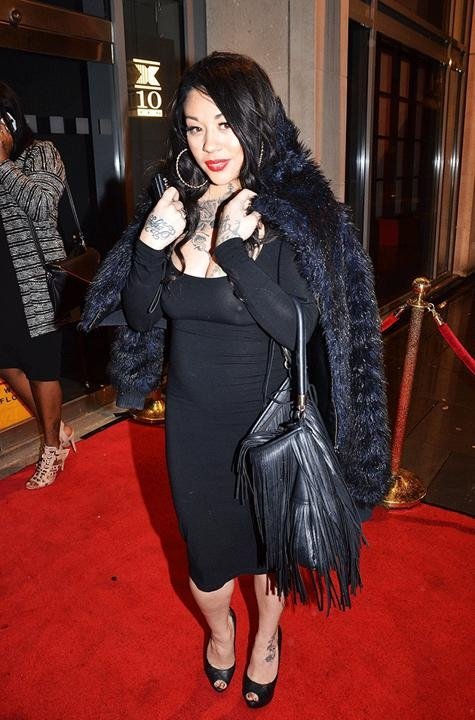 Mutya went for an ultra-glamorous black dress and faux fur throw combo for her dinner date, and I love the addition of an ultra on-trend tasseled bag. Even her red lips and hoop earrings look cute. The one thing that's missing? A bra. Once the camera flashes started clicking, Mutya revealed a lot more than she'd been planning. She's not the only one, either. Carmen Electra and Kelly Brook have also dared to bare without a bra, only to have their nipples exposed to the world. Buy a bra, ladies.
---
4

Lizzie Cundy…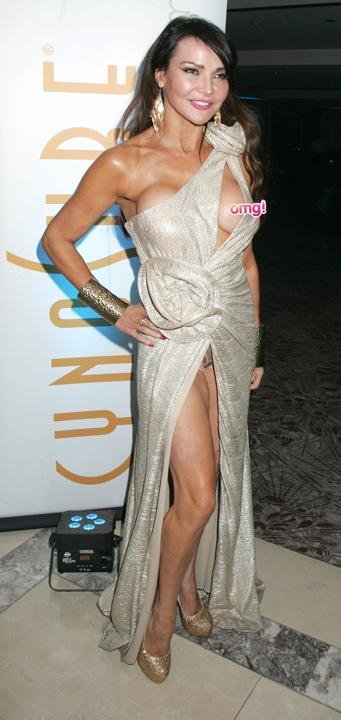 Lizzy suffered a wardrobe malfunction of epic proportions in this dress. Not only is it really not great to start with – I mean, how good can a one-shouldered dress held together with a fabric rose and a thigh-high split really look?! – but aligned incorrectly, and it exposed far too much. Lizzie posed completely unaware that one of her boobs had escaped through the revealing split, and showed far too much of her undercarriage, too. Her shoes, on the other hand, look amazing. Bra and pants, Lizzie.
---
5

Nicki Minaj…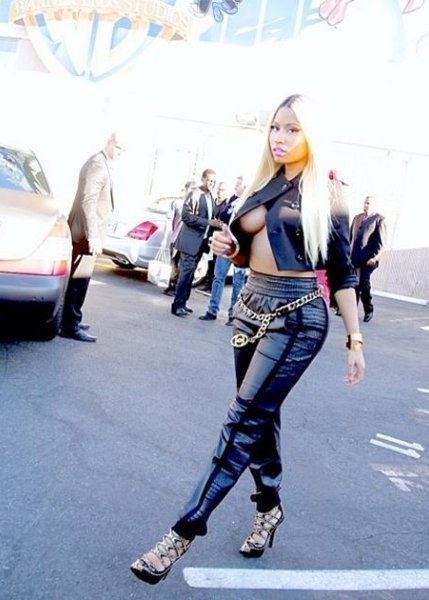 Check your angles before you go out! Nicki showed off her fashion edge (and supreme confidence!) in this look, which combined sky-high strappy shoes with high-waisted leather trousers, a cropped leather cape and a big gold chain belt. Worn with her bleached blonde hair and bright pink lipstick, it looks edgy and daring. Nicki didn't count on the photographers kneeling down, though – which revealed a lot more than she'd intended. While we'd always recommend using a stick-on bra to completely maintain your modesty, definitely make sure that you aren't showing too much from any particular angle.
---
6

Miranda Kerr…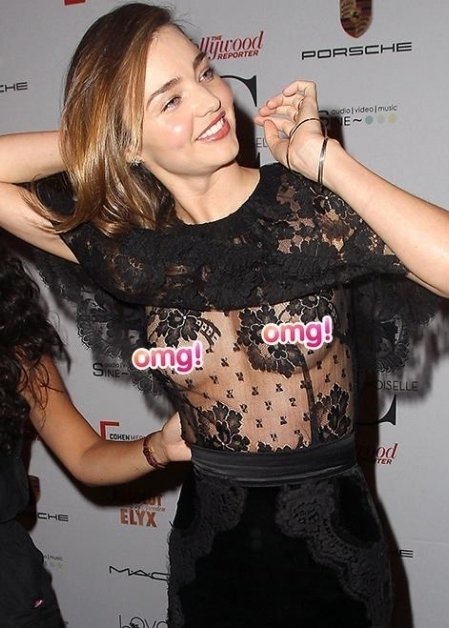 Miranda is usually a style sensation, but even she has her bad days. The model had a mortifying wardrobe malfunction at a movie premiere, where she lifted up her arms – and therefore her bolero – and exposed her chest, covered by nothing more than some black lace. Miss Kerr didn't even notice the error, and a friend had to cover her up quickly instead. The lesson here? Take a great friend to be on watch for you, and do the same for them. Also, make sure that you can move well, without anything ripping/lifting up/breaking. Especially if you're wearing a cape or bolero that can easily move out of position.
---
7

Kelly Osbourne…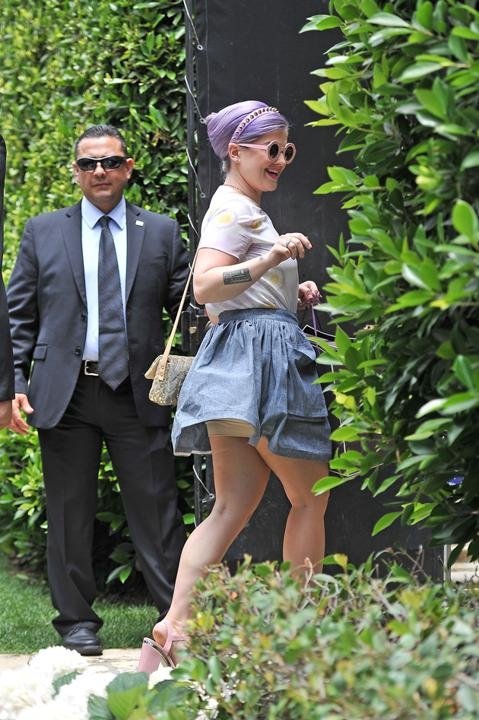 If you believe the media, the most hilarious wardrobe malfunctions aren't about exposing body parts – they're all about exposing control underwear. From Kelly Osbourne's Spanx, which were totally visible under her flared denim skirt, to Alexandra Burke's compression tights under THAT black leather bodysuit and Mollie King's padded pants under a mini, there seems to always be a camera lurking for those moments when we're feeling under confident. That doesn't mean that you should avoid control underwear. It can be invaluable for making sure that you look your best, and keeping everything smooth. Just make sure that the outfit you choose fits the control underwear. If there's any risk of showing it off, try using body tape, or picking different underwear.
Nobody is immune to hilarious wardrobe malfunctions. From Kim Kardashian to Kate Middleton, everyone has been snapped looking less-than-perfect at least once. The weird thing? They are all making the same mistakes. Learn from them, and save yourself the mortification! Have you ever experienced a wardrobe malfunction?
More
Comments
Popular
Recent