Holy Chic: the 7 Best Online Christian Fashion Stores ...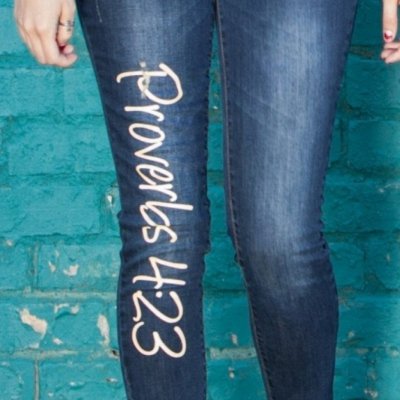 For many Christian women, wearing clothing that blatantly expresses their beliefs is a bit scary. Those who don't share your beliefs often give you strange looks, and you feel like you're being judged. But you can look holy AND chic by wearing your faith on your sleeve — literally — when you mix up your favorite wardrobe staples with pieces from the coolest online Christian fashion stores. Check out these 7 places to get your daily dose of Jesus, in style.
1.

JCLU FOREVER

For the Christian woman who loves graphic tees, this online shop is perfect. Get your grace on by combining one of the tees with a feminine spring skirt. The paradox of casual and girly will make sporting your Savior gear much more comfortable.
2.

Not of This World (NOTW)

This online store offers Christian fashion finds for men and women, including jewelry and accessories. The casual tops make a great addition to any jeans ensemble. They have a nice selection of spring colored items to add to your seasonal collection.
3.

SonGear

Even though this online store is not exclusively for clothing, it has some fun Christian fashion items. Many of the tees have sayings with a sense of humor, which makes wearing Christian clothing a little easier. The store also sells jewelry and accessories like scarves.
4.

CoveredntheWORD

This clothing store not only sells Christian clothing, it also gives back! For every order placed, a charity is selected at random (a full list of recipients is available on the website) to receive a donation. Now you can hit that yoga class in spiritual style, and know that you helped make a difference in the lives of others.
5.

Active Faith Sports

For the sporty Jesus lovin' lady, this online store has a great selection of Christian athletic gear. You can be a Godly gym girl in one of their racerback tanks, which have built-in bras for added support. Can I get an AMEN?!
6.

Sport Your Faith

Another place for fitness minded females who want to sport (no pun intended) some Christian clothing is Sport Your Faith. The store doesn't have a large selection of women's products, but it does have tanks, tees and hoodies.
7.

VChristianstore.com

This online store has men's, women's and children's clothing, including accessories like hats, key chains and even shoes! You probably won't walk on water like good 'ol JC, but you'll sure look good trying!

It's all right — and even cool — to wear clothes that express your faith. If your struggle is finding clothes that are both stylish AND God-approved, you've just been given 7 places to go find some. Are you ready to start being a fashionable, faithful woman? Which of these 7 stores most fits your personal style?

{{#comments_count}} Show Commnents ({{comments_count}}) {{/comments_count}}