The Most Gorgeous New York Summer Street Style ...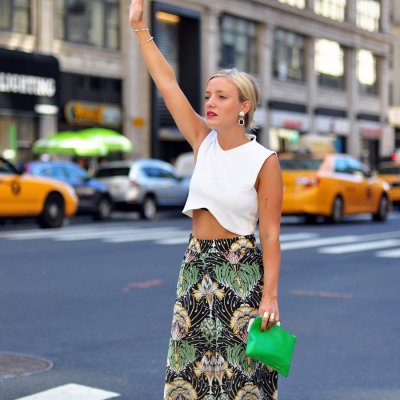 New York City is one of the meccas of the fashion world, and it shows when you see the fashion of people just walking down the street. If you're looking for some style inspiration, look no further than the streets of New York City. These women are killing the fashion game just by leaving the house!
1.

Blue Shirt, Full Skirt
Source: NYFW Street Style Day 4
This blue shirt is only made even more chic with the addition of this gorgeous, full skirt.
Source: Street Chic: Denim
A simple outfit can instantly played up with a cute hat.
Source: NYFW Street Style Day 5
The only thing better than the skirt in this outfit is the gorgeous pair of berry-colored heels she's wearing!
Source: The 10 Best Blogger Outfits
This mock blazer is so chic, and dressed down so well with the red sneakers.
9.

Taylor Swift Leaves the Gym
Source: 16 Celebs in Their Signature
Yes, Taylor Swift is seriously leaving the gym in this picture. I really love the green and berry color contrast in this outfit!
Source: Street Style Spring 2013: New
This outfit is instantly made more chic with the addition of these patterned pants. They're so mod!
11.

Gigi Hadid Goes Casual
Source: Gigi Hadid takes a stroll
Leave it to Gigi Hadid to look this effortlessly stylish in a pair of jeans and a white t-shirt.
12.

Statement Tee and Sparkly Skirt
Source: This Is It — Over
This skirt is such a showstopper, and the shirt is a great touch.
Source: Rihanna Has the Blue Coat
Rihanna's not exactly known for her toned down looks, but this simple outfit looks amazing on her!
22.

Casual White and Denim
Source: bloglovin.com
If only we all looked this stylish in a white blouse and cutoffs.