Have you seen the new Kate Middleton collection? The Duchess of Cambridge has been responsible for plenty of sell-out outfits since she got married to Prince William, and her style choices seem to be loved by all. It was only a matter of time before someone created a collection modeled on her typical style – and it launches later this year. The Issa x Banana Republic collection is designed to be looks you'd see Kate in, without the huge price tag. So what do you think – Will you be wearing the Kate Middleton collection?!
---
1

The Engagement Dress…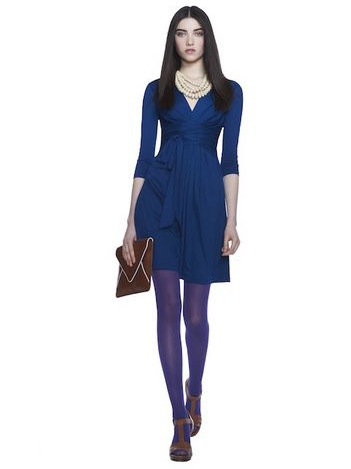 It's a natural choice for a Kate Middleton collection – that classic blue Issa dress that Kate wore when they announced their engagement. It was simple yet striking, and people went crazy trying to track down the dress to own their own. Now you get another chance, with this Banana Republic copy. It's got the same sleeves, wrap waste and deep blue color, but it's a little more wearable, too. Wear it with bare legs and sandals for a carefree summer look, or add purple tights and a satchel for work.
---
2

Green Goddess…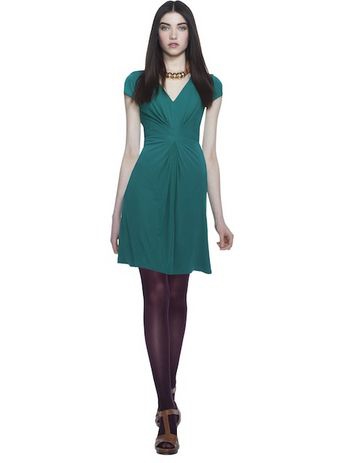 Before her pregnancy, Kate was always snapped in this simple yet elegant style of dress. It's instantly wearable, making it a great addition to any wardrobe. Wear it with a statement necklace and sandals, or add brown tights and some wooden bracelets. With fabric this soft and swingy, you'll feel like a million dollars whenever you slip it on.
3

Bold Prints…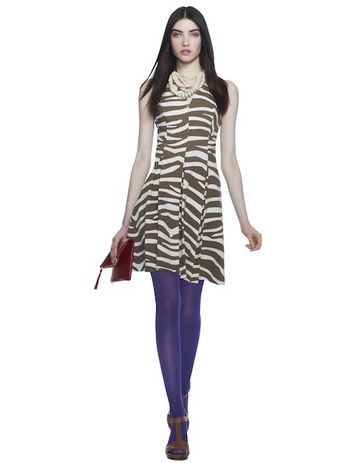 While Kate tends to stick to subtler prints, the Banana Republic collection involves some eye-catching colors and designs, too. I love this brown-and-cream zebra print, which instantly brightens up a classic pleated dress. The model looks totally gorgeous teaming it with purple tights and piles of pearl necklaces, but it's just as striking teamed with summer sandals. It'll cost $130 on release, and it's set to be one of the biggest sellers.
---
4

The Retro Dress…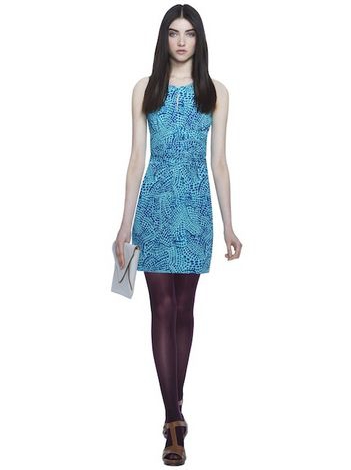 This dress has retro-mini stylings, with no sleeves and a relatively high neck, but the added length and slightly looser shape keep it flattering and Princess-worthy. I love the ceramic blue print, too, which is subtle enough for work but bold enough not to be boring. Gray accessories really highlight this ocean blue, so add a gray cardigan or bag for maximum impact.
---
5

The Kimono…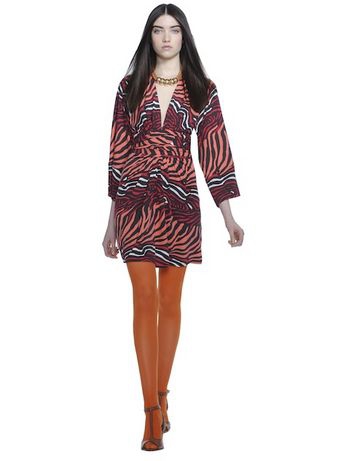 Kate and Wills did plenty of travelling between their engagement and the arrival of Prince George, and that involved Kate adapting her wardrobe to fit plenty of different destinations. Her kimono looks hit fashion pages around the world, and this long-sleeved kimono dress is a great way to get the look. It's a bold pattern, but the muted browns and reds keep it understated. Definitely rock it with orange tights – how amazing does that contrast look?!
---
6

Home Sweet Home…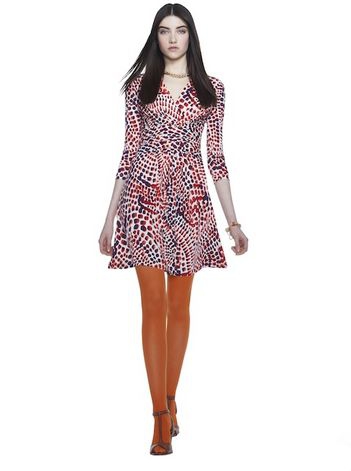 Most of Kate's favorite dresses feature three-quarter-length sleeves and a flared skirt. It's a great way to create the illusion of curves, and it's super comfortable to wear. This bold red print updates her classic style, and it's versatile enough to wear everyday, to work or to dress up for occasions. Go bare legged with cute sandals during the day, or add tights and a laptop bag for instant work chic.
---
7

The Simple Drape…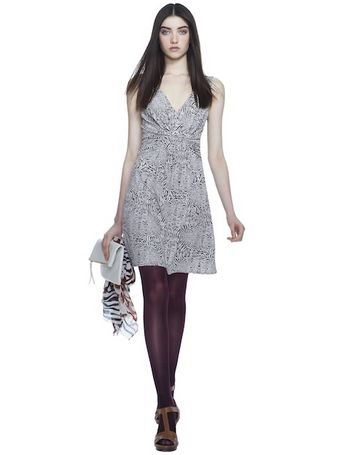 This is set to be another of the Kate Middleton collection big sellers – a simple drape dress in a classic pattern. The pleated dress is flattering on almost any height and body shape, and the lack of sleeves and open neck make it perfect for hot weather. The dress is actually covered in tiny black and white zebra prints, so it's well on trend, too. Wear it with bare legs or brown/gray/silver tights, and try adding a chiffon scarf to really dress it up.
Most of the dresses in the Banana Republic Kate Middleton collection will cost around $130, so they aren't exactly cheap. With such an elegant style, though, you can be sure that you'll get plenty of wear out of any that you decide to snap up! Will you be buying anything from the Kate Middleton collection? I'd love to know what you think!
---
Comments
Popular
Related
Recent