Stellar Hair Accessories are a great addition to any 'do. Primping and preening, straightening and curling—no matter how you style your luscious locks, your style is bound to get boring every once in a while, which is why investing in some stellar hair accessories is worthwhile. Aside from highlights or radical dye-jobs, giving your hair that illusive oomph can be frustratingly difficult. Accessorizing your hair in childhood was certainly a lot easier. I, for one, remember the dozen of beads, clips, braids, and headbands that I worked into my hair in order to get that cool, funky look. Take a page out of your childhood book and bring some verve to your mane with these trendy hairpieces and other stellar hair accessories.
---
1

Golden Twig Hairpins
Price: $24.00 at shanalogic.com
Vintage antique is definitely in right now and bobby pins never lose their utility, so combine the best of both worlds with these golden hairpins fashioned into adorable, budding twigs. Get seventies retro with a plaid skirt and skinny jeans or wear with a simple cardigan for a look of sensible cuteness. Either way, these stellar hair accessories will definitely add to your look!
---
2

Tasha Pearly Hair Sticks
Price: $28 at shop.nordstrom.com
Updos absolutely exude sophistication, and there's perhaps nothing sultrier than an artfully unkempt bun. Whether gathered at the nape or piled atop the crown of your head, a well-constructed chignon always adds an air of feminine mystery. Keep your creation together with this set of silver and pearl hair sticks, optimally designed to hold strands exactly where you want them. Wear with dolman sleeves and wide-leg jeans to capture a flirtatious, artistic feel.
---
3

"so Chain of Me" Headband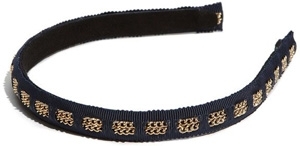 Price: $16.00 at shop.nordstrom.com
Generally, headbands tend to be somewhat puerile, especially the plastic variety so common among the kindergarten-aged. But the popularity of this accessory among our tinier counterparts by no means leaves it off-limits to the older set. Of course there are some rules to be followed: err on the side of caution when it comes to floral incarnations, never wear with pigtails, and go for something a bit more grown-up. This ribboned headband, which comes in a variety of earthy colors, features a gold chain accent that moves it beyond childhood and turns it into a stellar hair accessory ideal for high fashion. Pair it up with a pair of gold studs and leggings to add a rocker touch to a grey blouse.
---
4

Jennifer Ouellette Perforated Leather Headbands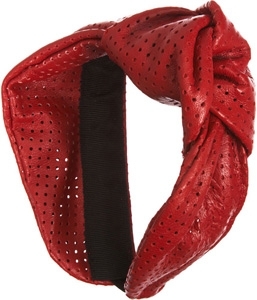 Price: $29.00 at barneys.com
Absolutely daring, this red leather headband harkens back to an era of leather jackets and bright, rouged lips. Classic chicas and bicycle babes alike can rock this edgy accessory. Match it up with a teacup skirt, sleeveless button-down, and red lips to achieve a 1950's Betty Page interpretation or add it to your leather jacket, skinny jeans, and a white tee for something a bit rougher.
---
5

Abstract Satin Wrap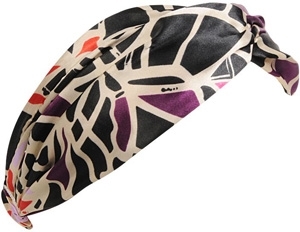 Price: $3.80 at forever21.com
For a hippie feel, pick up this satin wrap from Forever 21, which features an amalgamation of stellar colors from burnt sienna to eggplant. Accent a dark, slouched sweater, wide-leg jeans and a pair of espadrilles for a carefree, artistic look for late summer and fall. It's a stellar hair accessory for a rough and tumble vintage ensemble.
---
6

Straw Feather Fedora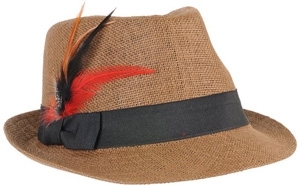 Price: $12.80 at forever21.com
Not all of us are lucky enough to look amazing in hats, but for those of us who can pull them off, they're an excellent way to spice up an outfit without going overboard on the accessories. This woven fedora, available in both brown and grey, includes a blacked, bowed band as well as colorful faux feathers. For a beachy look, wear with a sundress and gladiators.
---
7

Go with the Bow Hairclip
Price: $8.00 at modcloth.com
Keep it cute with this mint-green polka dot bow from Modcloth. Create an asymmetrical look by pinning up just one side of your mane or use this frothy bow to secure your locks in a tight bun. Either way, you'll regain a sense of frivolous girlishness and bubbly enthusiasm with this adorable, stellar hair accessory. Show off your sweet side by pairing it with a cream frock, a pair of pearl studs, and some sling back kitten heels.
There are many stellar hair accessories you can incorporate into your wardrobe. It all comes down to your style and preferences; no matter what your look, however, you can find lots of stellar hair accessories to add to your style. Would you spice up your look with any of these adorable hairpieces and stellar hair accessories, or do you prefer to define your style in other ways?
More
Popular
Recent