Tighter Isn't Always Sexier - the Right Way to Wear an Oversized T-Shirt ...
By Jordin
Just like with pretty much everything, there is a right way and a wrong way to style oversized t-shirts. Throwing on a baggy top and leaving the house will not scream "trendy" or "sexy", but you may feel slouchy and underdressed, and you will definitely look less than put together! However, you can still rock your fave large t-shirt and look amazing while doing it! Here's how to wear oversized shirts the right way!
---
1

Tuck the Front into Your Jeans for a Classic Look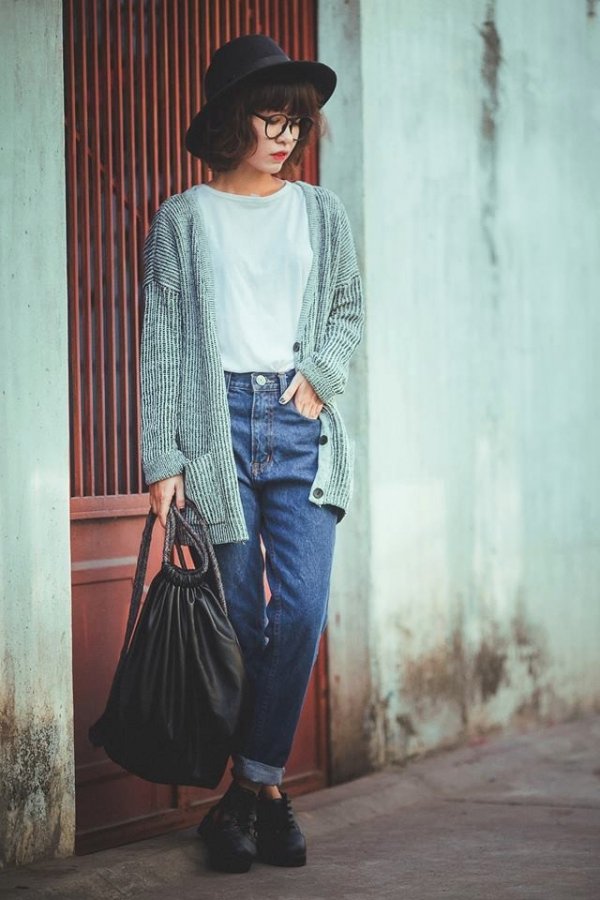 Here is a classic spin on wearing oversized tee shirts, but it looks great on nearly everyone! For this look, don't reach for a top that is 3-4 sizes too big. Instead, just go up one size than what you normally wear. You'll achieve a relaxed and casual vibe without being swallowed up in the excess material.
2

Grab Some Scissors and Get Fancy with a Few Simple Cuts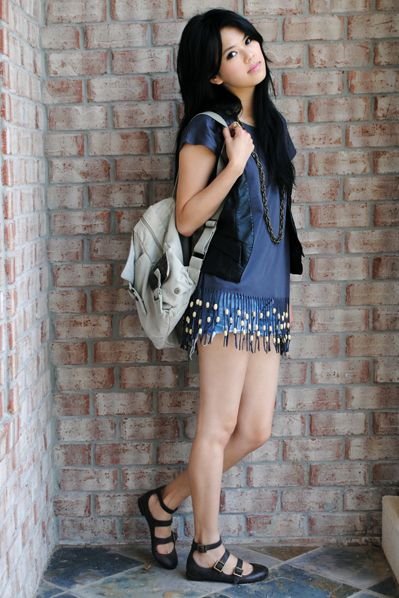 A pair of scissors can transform a giant top into something cute and super trendy! Here are a few ideas: Cut away the sleeves to more of a tank top style. Shape the neckline into a boat neck or an off-the-shoulder style. Cut fringe into the bottom of the tee (go as big as you want!) Try a high-low hemline!
---
3

Pair Your Tee with a High-waisted Skirt or Shorts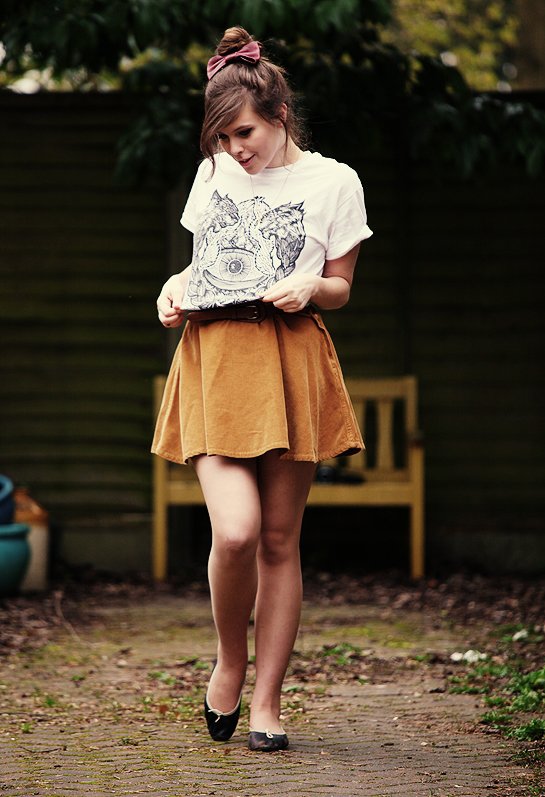 Here's a girly twist for an oversized shirt: pair it with a high-waisted skirt or some high-waisted shorts! Tuck the shirt in to really define your waist and to pull off an urban and girly style.
---
4

Tie a Knot in Your Shirt for a Simple Look That Instantly Brings Style to Your Outfit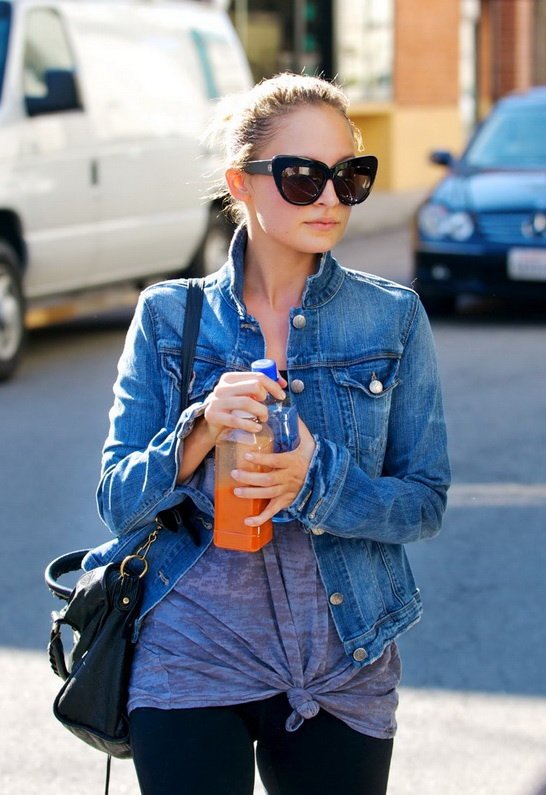 I love the look of knotted tee shirts! You can go as oversized as you want here, it won't matter! I like to play around with the placement of the knot. Try doing a side knot, middle knot or a back knot. You can also drop it down lower or pull it up higher to show some skin.
---
5

Dress up Your Oversized Tee by Wearing a Blazer over It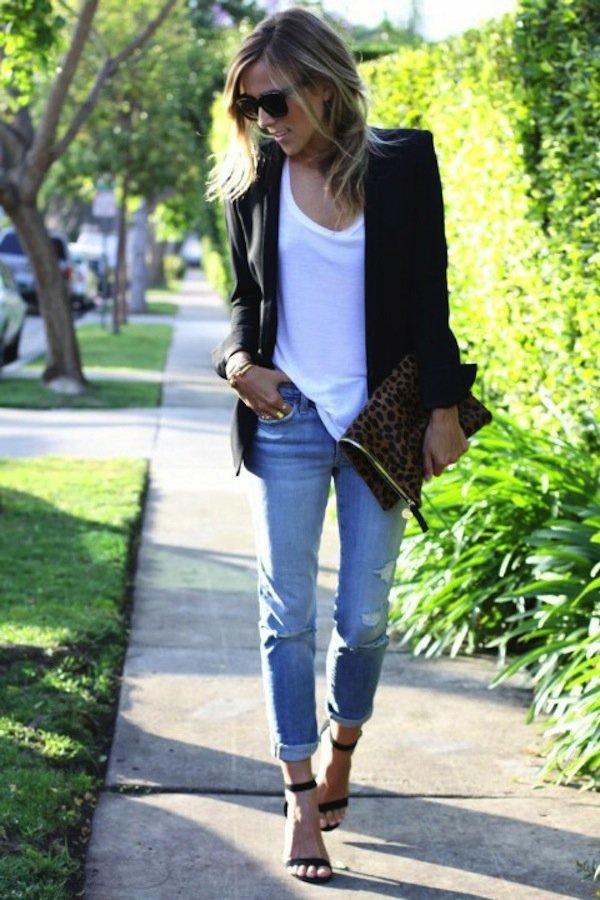 For those days you want to feel comfy but not like a slob, don't worry about cinching your waist or tying knots. Simply throw your favorite blazer over your t-shirt and call it good! You'll look casual and comfy but still polished.
---
6

Convert Your Tee into a Cute Summer Dress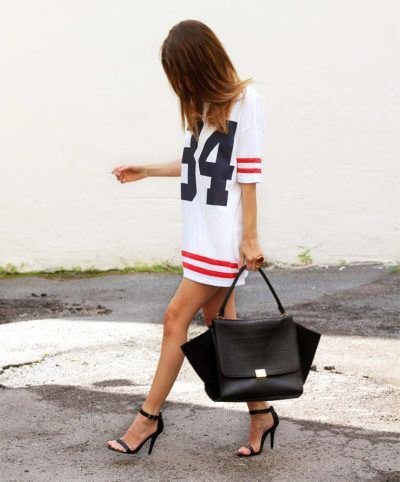 The first thing to check is that your t-shirt is long enough to cover your bottom when you bend over! If you're covered in that department (no pun intended!) then you can start working on the style aspects. Use your scissors here to snip away at sleeves, necklines, etc. to create the shape you want. Then add a belt and some cute heels and bangles and you'll have a breezy, sexy, party-ready outfit!
---
7

Add Some Jewelry for a Little Bit of Flair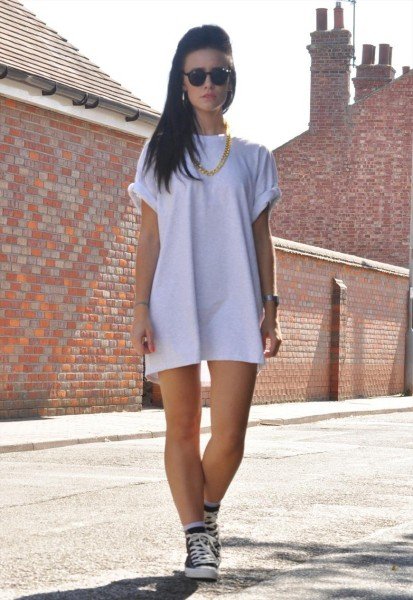 Statement necklaces can dress up any piece of clothing! A plain, white, loose-fitting tee can go from lounging around the house to office-appropriate if you wear the right jewelry and add a jacket or a belt! Never underestimate the power of simplicity!
Oversized t-shirts can be intimidating, but once you learn how to rock them and still look sexy you may never want to wear a fitted tee again! Tighter isn't always sexier, or the best option. If you're going for a relaxed and chic vibe, you definitely want to pull out an oversized tee and style it to fit your taste! Which of my tips do you like the best?
---
Comments
Popular
Related
Recent