White Cardigans can be tricky to pull off-especially after labour day, when white clothing is a "no-no". But white cardigans CAN be worn during the fall, and more importantly are so cute to wear during the fall! I have hand-picked 8 of my favorite white cardigans for fall and listed them here for you to see. I know you'll find the perfect one if you keep on reading. These white cardigans and fresh and easy, comfy and casual, and best of all, affordable!
1

Beaded Shoulders Cardigan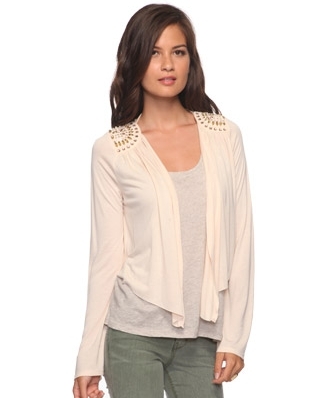 Price: $19.80 at forever21.com
This white cardigan is ideal for the office or a casual dress affair. I love the beading on the shoulders! It really dresses up the cardigan without taking away from its professional appeal for work. You'll love the lightweight material!
2

Sheer Lace Cardigan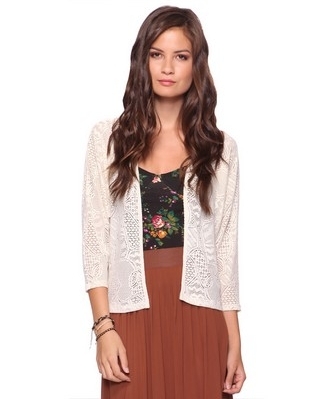 Price: $19.80 at forever21.com
I love this white cardigan so much that I ordered one for myself! Its feminine and pretty without being too over-the-top. I love it for date night or a church service. It will look so pretty at christmas time with a red tank underneath it, don't you think?
3

Cable Knit Cardigan

Price: $24.80 at forever21.com
This white cardigan is perfect for a lazy, comfy day! Whether you spend it at home or hanging out with that special someone, this white cardigan with cute lining and pocket designs will make sure you stay cute and warm. The 80's inspired style is enough to seal the deal for me!
4

Longline Shimmer Cardigan with Belt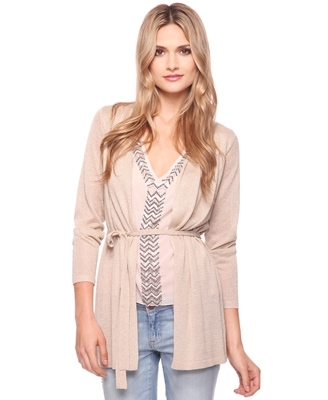 Price: $24.80 at forever21.com
You'll love how this white cardigan has a belt to cinch in your lovely waist and show it off! Shimmery metallic threads that run throughout this cardigan dress it up a bit, so you can pair this with slacks or a pencil skirt for work or jeans and a tee for a cute friday night out with friends! So many options in one cardigan!
5

Metallic Blend Cardigan with Hood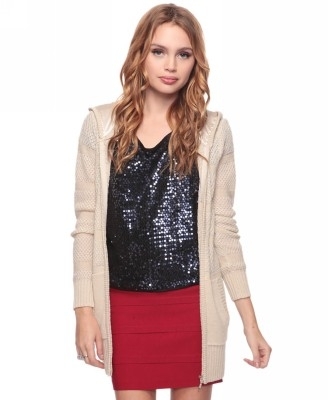 Price: $27.80 at forever21.com
I totally love how the model is styling this white cardigan! Her outfit is completely pulled together and chic, and it would be so easy to copy. This cardigan looks so warm and cozy, and with winter approaching, won't it be great to have this baby in your closet?
6

Cable Knit Cardigan

Price: $29.90 at forever21.com
You can't get anymore traditional than this white cardigan! Very couture and sleek, I can picture someone sophisticated and stylish wearing this cardigan. I love cable knit cardigans myself because they are so comfy! Throw a pencil belt over the chunky cardigan to give it some shape and cinch in your waist.
7

Spangle Trim Top Cardigan

Price: $27.80 at forever21.com
Ready to head out for a night of fun? Don't leave without this sparkly white cardigan! There's no need to cover up your pretty clothes with a heavy cardigan just to stay warm. Why sacrifice style for comfort and warmth when you can have both?
8

Metallic Shimmer Cardigan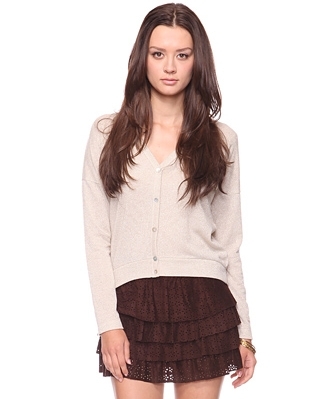 Price: $17.80 at forever21.com
This white cardigan is the most versatile of all to have in your wardrobe. It works for school, the office, errands, nights out, and weekends. And best of all, it's so affordable! You will definitely get your moneys worth out of this one!
So after seeing my list of White Cardigans for fall, which do you like the best? It's hard to choose just one, isn't it? You could pair any of these with dark skinny jeans and boots and have a smashing outfit. White cardigans can be fun and low-key! Which of these white cardigans do you favor most?
Top Image Source: weheartit.com