Blue is one of my favorite colors and there are so many awesome ways to wear blue to make you shine and stand out like no other! Blue can enhance any skin tone, hair color, height, and size when worn the right way. Blue is also one of the top color trends of the year, followed by extended shades of blue, such as turquoise and aqua. Try implementing a few of these fashionable ways to wear blue into your next fashion ensemble. I feel sure that you'll get tons of positive compliments just by doing so!
---
1

As a Trendy Blazer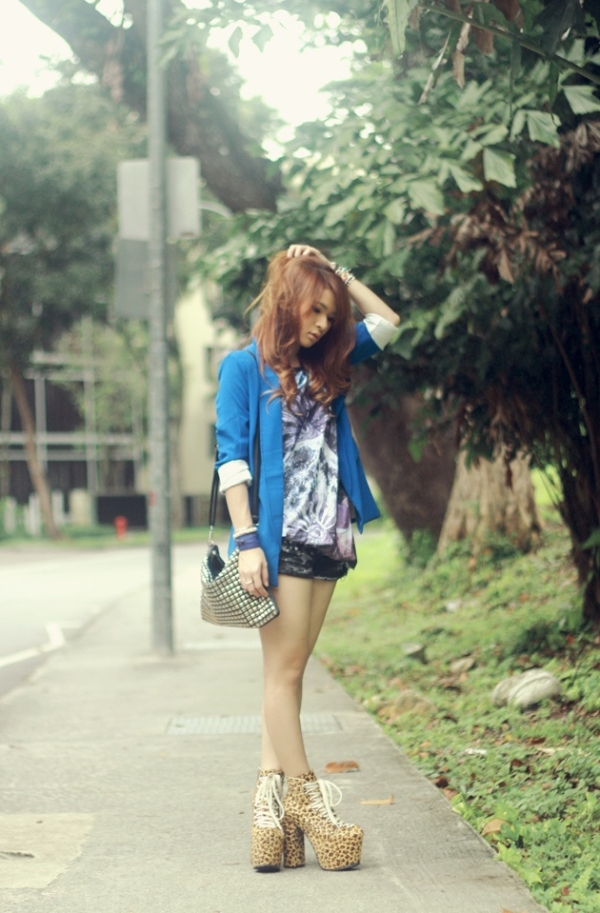 Blazers are so popular right now and they also happen to be one of the best ways to wear blue this year. Bright blue blazers are professional, stylish and sophisticated, all at the same time. The thing I love most about blazers is they can be dressed up or down, so you can wear them to the office, or a night out on the town. If you're going to work, pairing a blue blazer with a cute pair of slacks and a silk sleeveless shirt underneath can keep you polished and make you look on on top of your game. Or, if you're heading out for dinner out with your friends, throw a blue blazer on top of a slinky tank top, perhaps with a lace neckline for a more feminine and casual look. You can pair blazers with capris, cropped pants, or a hot pair of skinny jeans, along with dressy slacks. Either way, blue blazers are a great way to grab everyone's attention, while still maintaining a clean, polished and bold look.
2

As a Swimsuit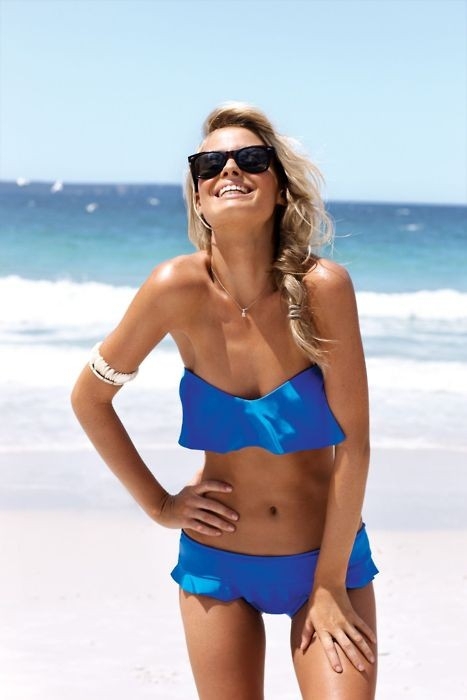 Even if summer is nearly over, you still have time to reap the benefits of wearing blue when it comes to your swimsuit. Swimsuits are incredibly versatile when it comes to different styles, shapes and textures of material. Blue also happens to be versatile since it is a fantastic color that complements most anyone who wears it. Blue creates a depth to skin tone and can enhance the color of your hair, eyes and skin. Pair it with some cute flip flops, or a cute cover-up. Either way, blue makes a great swimsuit color that will have everyone at the beach noticing how great you look.
---
3

In Your Jewelry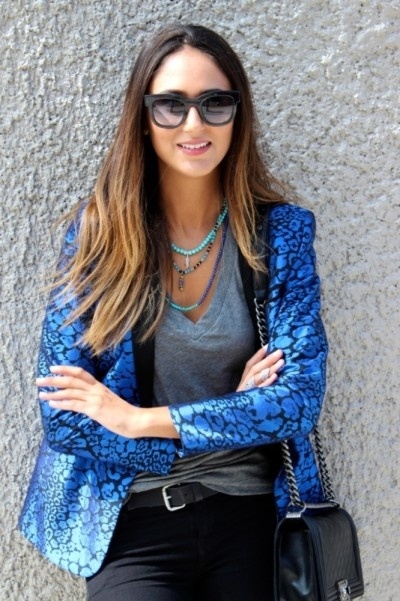 Don't think wearing blue only applies to your clothes, ladies! Be sure to wear variations of blue in your jewelry and pair them with contrasting blue clothing pieces. This creates a multi-faceted hue that really takes your outfit to a new level. It creates a depth and creative excitement to your outfit that is hard to achieve without looking overdone.
---
4

As a Skirt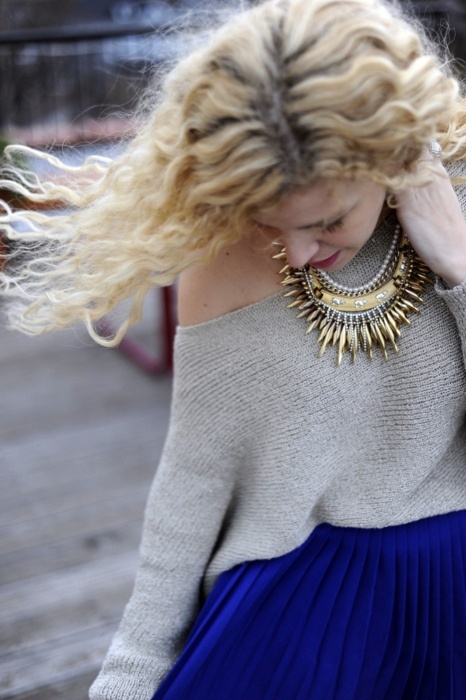 Denim isn't the only way to wear your skirts blue, so be sure to find some cute blue skirts next time you go shopping. Blue skirts are a great way to enhance an outfit and work particularly well with other tones of blue. For example, there are tons of blue color blocking schemes that I just love. Navy and royal blue are great to pair together since they are two completely different shades of blue, and can accent almost any skin tone out there.
---
5

Throughout Your Whole Ensemble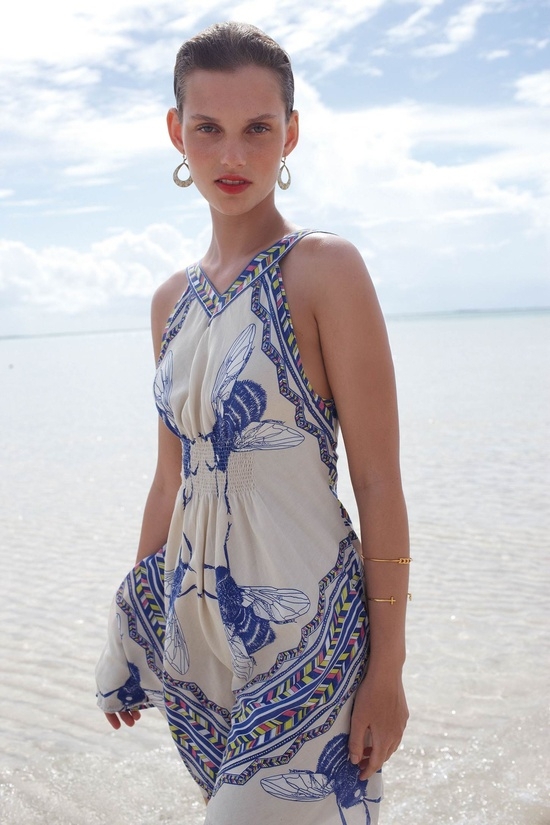 If you really like blue like I do, there is a way to wear it throughout your whole ensemble without looking like a peacock; I promise! Check out this cute way to wear blue throughout your whole outfit, which looks clean, polished and put together. Another key to pulling this look off is not to wear the same shades of blue in every piece, and pair certain pieces with blue in your prints, with other bolder, solid pieces of the same color throughout the whole piece. Jewelry accents can really balance out the entire look, as well as other accessories such as bags! This is the key to wearing multiple shades of blue successfully, ladies- strategic balance!
---
6

Wear It to Work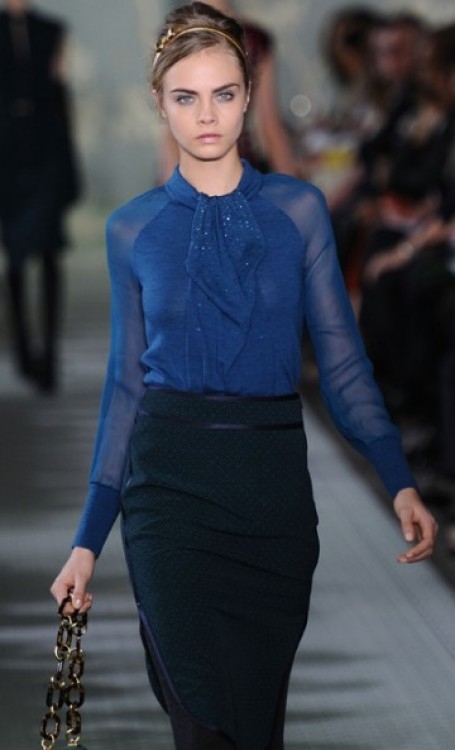 Blue is one of the best colors to pair with black or brown and can have you looking professional and polished, pronto! Take this combo for example, which looks feminine, professional and super stylish at the same time. Blue is a great way to enhance the professional look of an outfit, while the slight ruffle and flow in this blue shirt keeps things from looking uptight and boring.
---
7

On Your Nails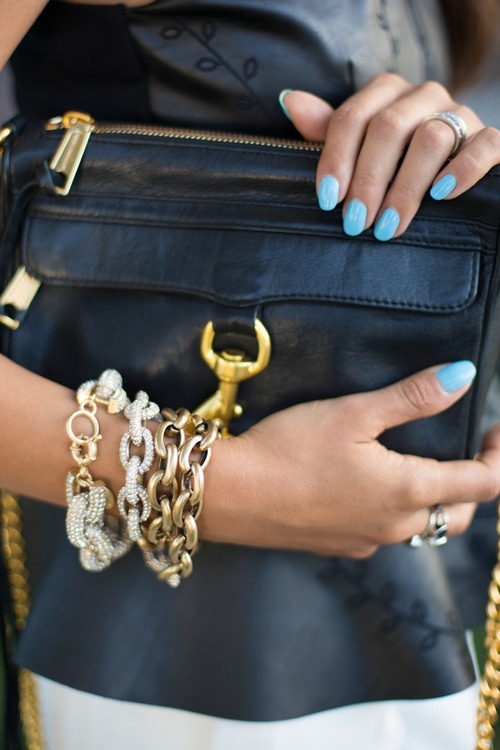 Blue isn't only made for wearing in your clothes, but also on your lovely nails, ladies! Blue nails are totally in this year, and light blue is especially popular. The great thing about a light blue nail polish is it is soft enough to wear to work, yet bold enough to make a fashionable statement to wear out in your free time.
The color blue offers a relaxing, comfortable look that I just love! It also creates a sense of calm and enhances creativity at the same time. Use this gorgeous color in a variety of shades and step into fashion in a bold, bright blue way this year! How will you be wearing blue?
---
Comments
Popular
Related
Recent