It's the one piece of clothing that probably every person on the planet owns: denim. It's comfortable, it's versatile and it usually has a long lifespan. You can wear it for any season, and for almost any occasion. So let's take a look at 7 ways you can do denim shorts this summer.
1

With a Floral Fringe Kimono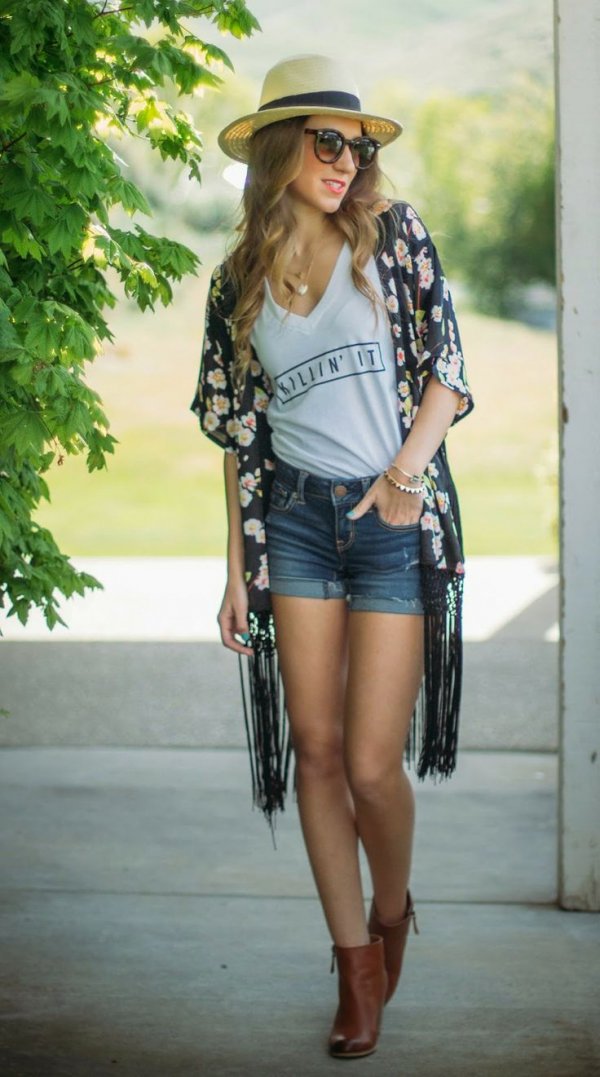 This stylish lady pulls off a chic look, thanks to her fun graphic tee, boots and hat. But what really gives her outfit its appeal is the floral fringe kimono. A lightweight kimono with a spring print looks fabulous with denim shorts. And of course, the fringe adds some fun to this look.
2

With a Pop of (Red Hot) Color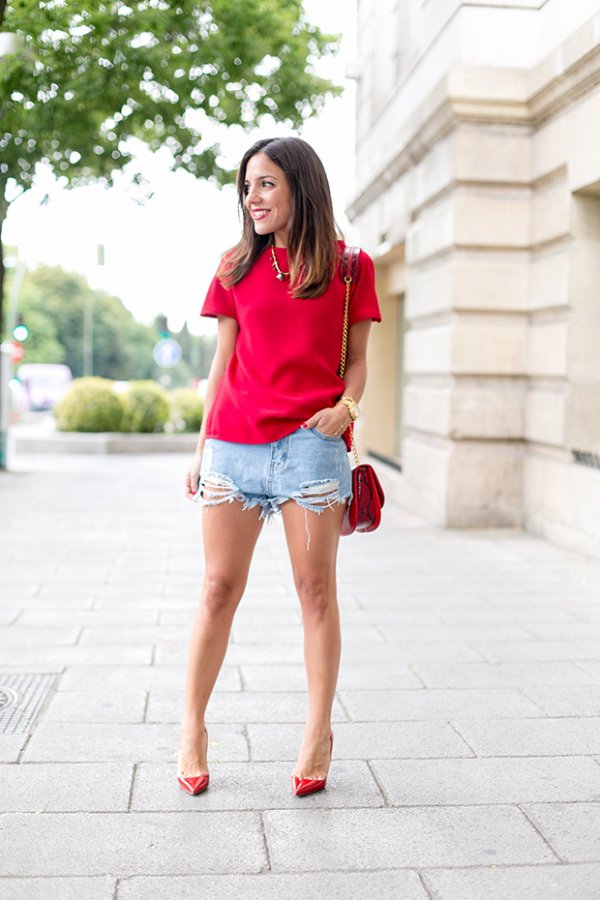 This outfit is red hot! One of my favorite fashion trends is wearing dressy pumps with casual pieces, so the bright red heels with the ripped shorts get a big thumbs up from me. I also really dig that the top and purse keep the red theme going. It creates a fabulous contrast with the denim.
3

With Leopard Print and Converse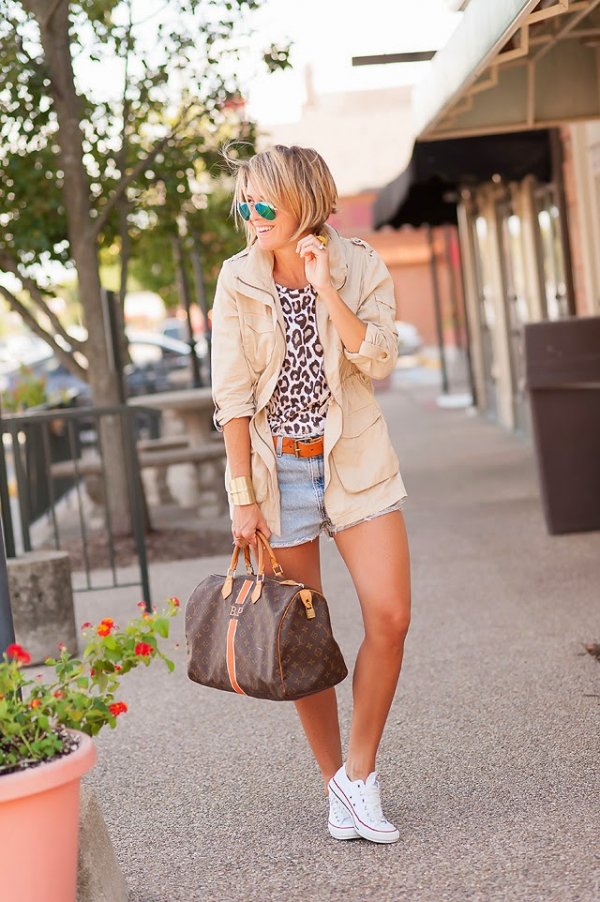 I tend to be a dressier dresser, even for less formal occasions. But this casual look is great for summer — especially if you're a sporty type of girl. The shorts and Converse sneakers are casual, but the leopard print top takes the look up a notch. This outfit is great for the girl who wants to be comfortable, but still stylish.
4

With a Graphic Tee
I mean, how can you think of summer without associating it with a graphic tee? What I love about this particular look is the wild tiger print. And for me personally, the blue heels are lots of fun. Not sure I would wear them in the desert...but the denim shorts and graphic tee create a classic summer look.
5

With Mixed Prints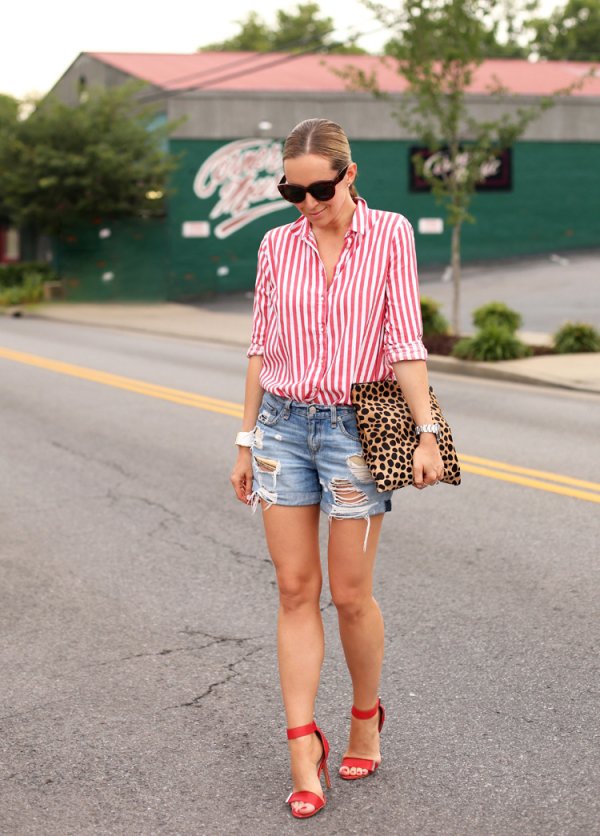 Not only does this fashionista combine stripes and animal print, she combines casual, ripped denim with a classic button down. I love all of the different elements working together. And as you know, those red heels are right up my alley! The final touch of style with the sunglasses makes this look a summer home run.
6

With Different Textures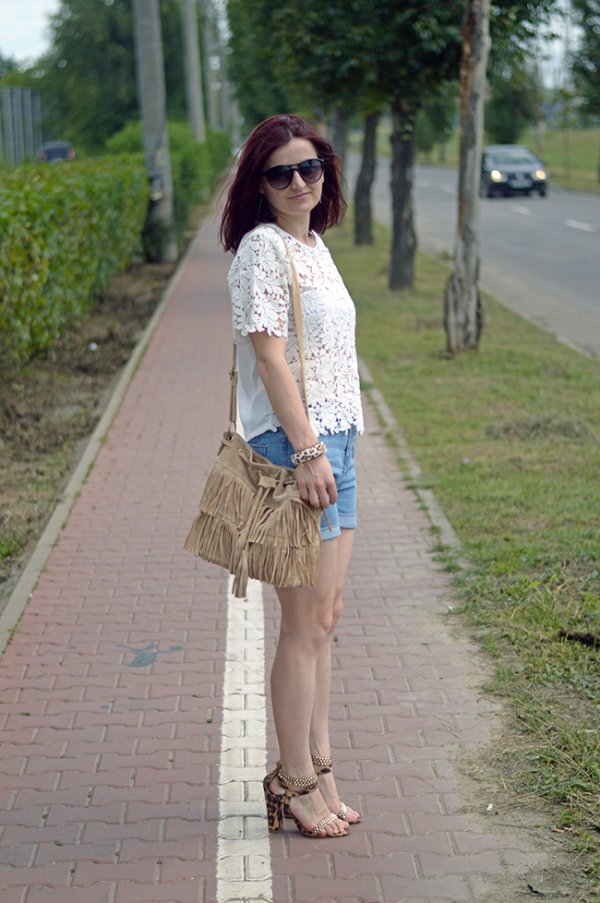 Ok, let's talk about what makes this look so great. You've got denim shorts. You've got lace. You've got fringe. You've got animal print. You've got sunglasses. You've got several different textures and pieces that come together to create a fabulous summer ensemble.
7

With a Denim Vest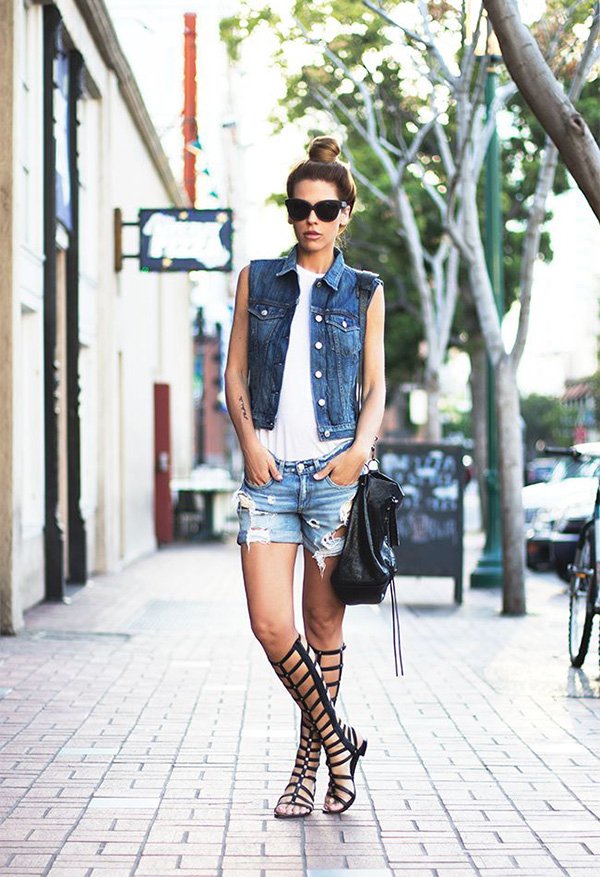 If you love denim — like, realllly love denim — then why not wear denim on denim? A denim vest is a great piece for summer, and gladiator sandals break up the look to create a "warrior" vibe. This look is so simple, yet so fashionable.
Have you broken out your denim shorts yet? What is your favorite way to wear them?