Noticed that yellow seems to be everywhere today?! You can think Kimberly Wyatt for that. She chose a gorgeous yellow dress for the Wolverine premiere, and it seems the fashion world has gone crazy for the color since then – and why not?! It's bold, beautiful and bright. Here's some easy ways to wear the look!
1

The Inspiration…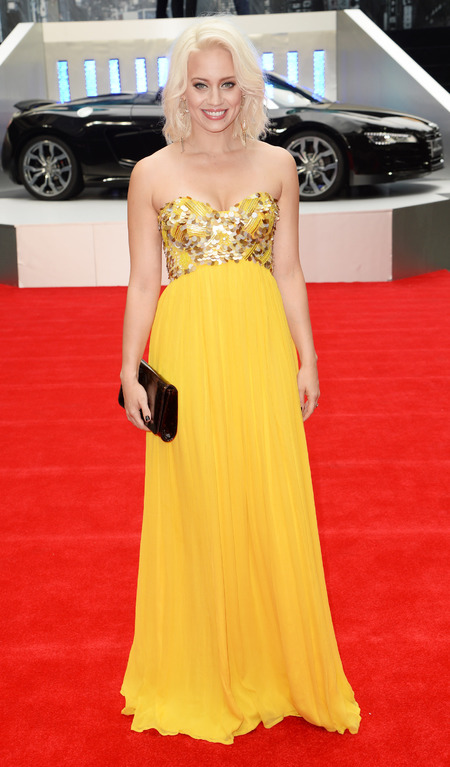 Want to see the look that has got everyone lusting after yellow? Here it is. Kimberly Wyatt definitely stole Hugh Jackman's red carpet moment by turning up in this sunshine yellow gown, with an embellished bodice top and flowing skirt. It looks gorgeous with her blonde hair!
2

The Mini Dress…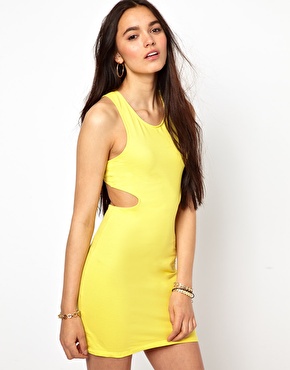 Make like Rihanna and capture the yellow look by opting for a sunny mini dress. This one even has stylish cut-out sections at the waist, and a lining that makes it cool and flattering. Wear it with ballet flats, or vamp it up with ankle boots! Snag yours from ASOS.
3

The Skater Dress…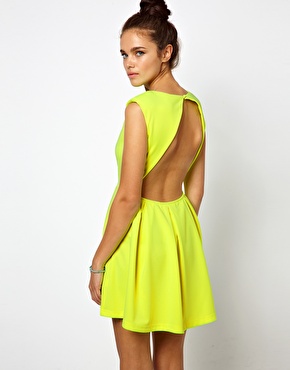 Skater dresses are definitely hot right now, and they don't get much better than this one. It's got a comfortable boat neckline, a high waist, an open back, padded shoulders…you literally couldn't fit any more trends in. Keep accessories to a minimum with this bold ASOS number, and simply add a black handbag and black boots.
4

The Strapless Dress…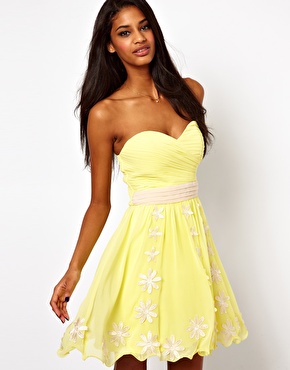 I LOVE this Little Mistress dress. From the bandeau neckline to the shirred back, pleats and fluid shape, it's so cute! It's made of chiffon, which is light and airy on even the hottest days, and the contrast floral embroidery is really stylish, too. Just add strappy sandals and a clutch!
5

The Lace Dress…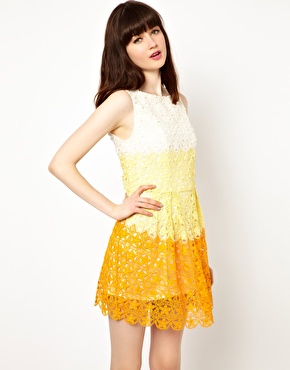 Love the lace look? Check out this adorable ASOS dress. It's almost a shift dress style, but with a more fitted waist, and the ombre color drop makes wearing bright yellow much less daunting. Add nude heels and a few cute bangles, and you'll be ready for anything. It'll be your go-to summer dress before the year is out!
6

The Maxi Dress…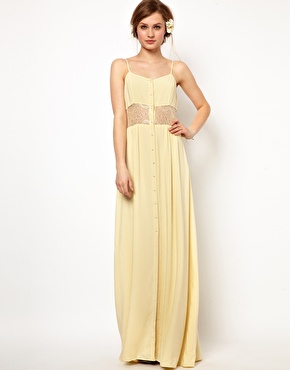 I love this maxi dress! Okay, so it's a lighter yellow than Kimberly, but the subtle design is sure to get everyone's attention anyway. From the button-down style to the lace section, it's the perfect blend of vintage and glamorous. Add a yellow flower to your hair and go for boho chic to really rock this look. There's also a super cute pink version, both at ASOS!
7

Final Inspiration…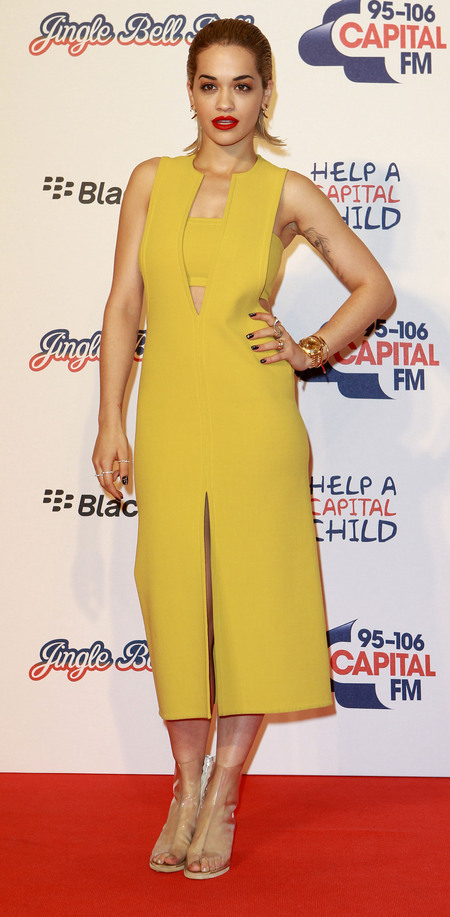 Rita Ora was way ahead of the trend when she donned this yellow dress for the Jinglebell Ball, and she's a great example of wearing yellow with pride. Her bright red lip is the perfect accompaniment for such a strong color, and I love her bronze makeup and slicked-back hair. Definitely don't be afraid to experiment with your make-up when you are wearing yellow. It might be a bold color, but it needs personality and pizzazz to pull it off!
I'm totally loving the yellow look. Not only is it sure to put a smile on your face, but it looks great throughout the year – yellow looks just as great in the depths of winter as it does glistening in the summer sun. So what are you waiting for? Be bold, and reach for a gorgeous yellow dress! Don't forget to share your yellow style secrets with me, too!