Perhaps you're thinking: there's a difference between dresses for girls with long legs and dresses for girls with short legs!? Well I'm here to say that you bet there are! As someone who shot up 5 inches in the 6th grade and kept growing until college, I can assure you that shopping for clothing, (especially dresses) was extremely difficult at times. And so I have carefully compiled this list of summer dresses for girls with long legs, so that all my tall sisters out there can have a fighting chance at dressing stylishly this summer for their long, beautiful legs.
---
1

Long Elegant Legs (LEL) Animal Print Maxi Dress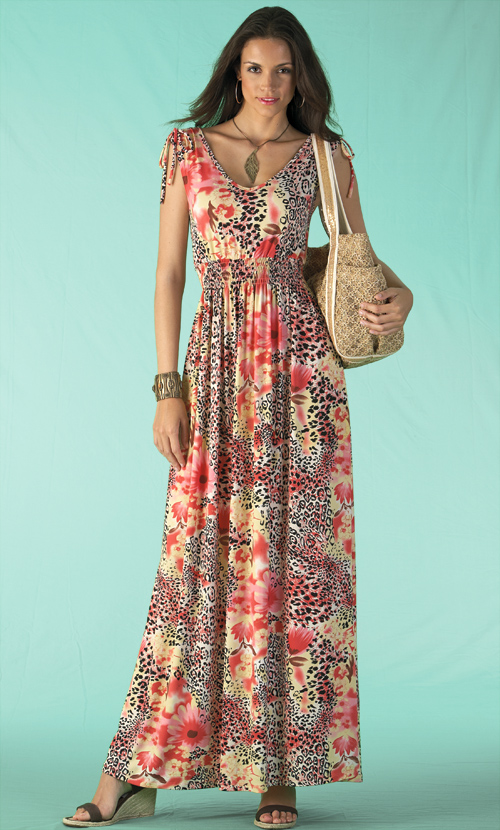 One of the great things about being tall is that you can carry a large print - and not just in one section of the dress, but all over, from head to toe. People with shorter legs tend to look a bit strange and almost discombobulated when wearing dresses that are covered with print. But when it comes to dresses for girls with long legs, do not hesitate to try on a huge maxi dress just like this one covered in smashing print from head to toe. I can almost guarantee that you will be surprised at the gorgeous result, so hold your head up high and show off your height!
2

Long Tall Sally (LTS) Red Lace Back Summer Dress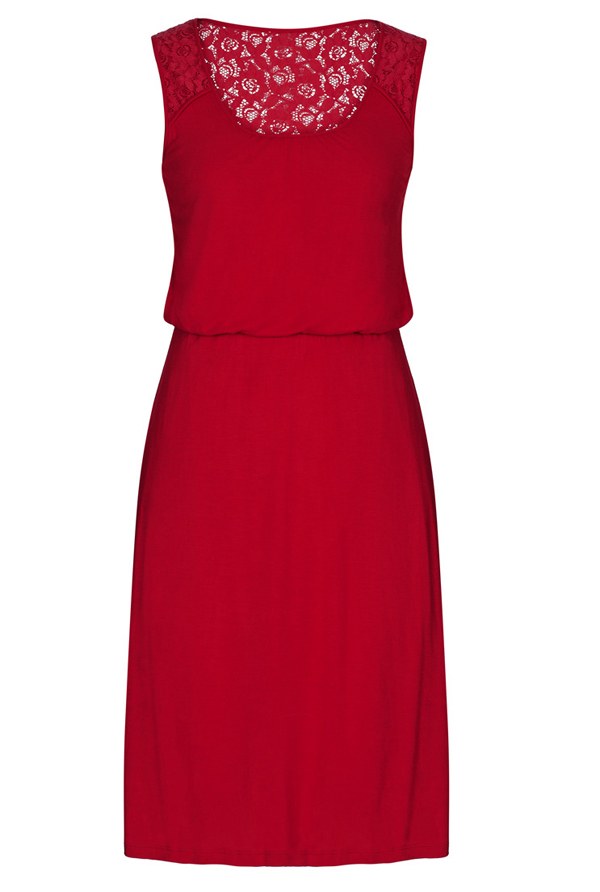 This dress, like most of the ones on this list, is made specifically by a brand that designs clothes for tall women. What I like about this one, though, is that it's covered in lacy, intricate details (although you can't really tell from the photo), but overall it needed to be included on my list of dresses for girls with long legs because it's flirty and pleasing to the eye. So if you are on the curvy and voluptuous side, this dress will most likely disguise all that. Besides, it comes in red and it's on sale for only $55, which is definitely on the lower side of pricing for summer dresses! When in doubt pair it with a navy cardigan and a thin patent leather belt and voila, you're ready for the runway with your long, model-like legs.
---
3

Water Color Strapless Maxi Dress from Lane Bryant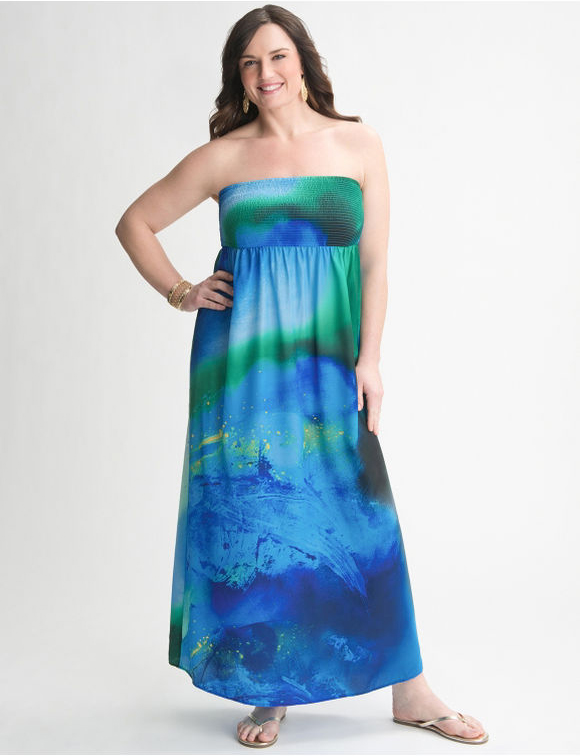 How beautiful are the blues and greens in this dress? I love bright colors, especially when it comes to summer dresses for girls with long legs. As I mentioned before, women over 5'7 can carry these types of prints and styles while shorter women cannot. Everyone knows maxi dresses are the hottest things this season, so why not pick up a neon-printed maxi dress like this one? It's strapless but the scrunchy elastic will hold it up and keep everything in place. And if you are somewhat ashamed of your height and size (which you shouldn't be!), this dress will probably create the illusion that you are shorter and smaller than you really are. Just imagine walking on the beach with your loved one into the sunset in this stunning piece, long legs and all!
---
4

Grey Layered Dress from Method Boutique

Another awesome option from a brand marketed just for us tall girls! I like the faded grey tiers in this one because it shrinks your torso and accentuates your legs. I like to think women of all ages can sport this style, but if you are around your teenage years this will go great with a pair of colored sandals and a stylish ripped jean jacket. I'm talking to you alternative rocker chicks! Dresses for girls with long legs don't have to be really long with busy prints; sometimes something simple with a few unique accessories is just the thing to make you feel comfortable and trendy.
---
5

Penelope Skater Dress by Height Goddess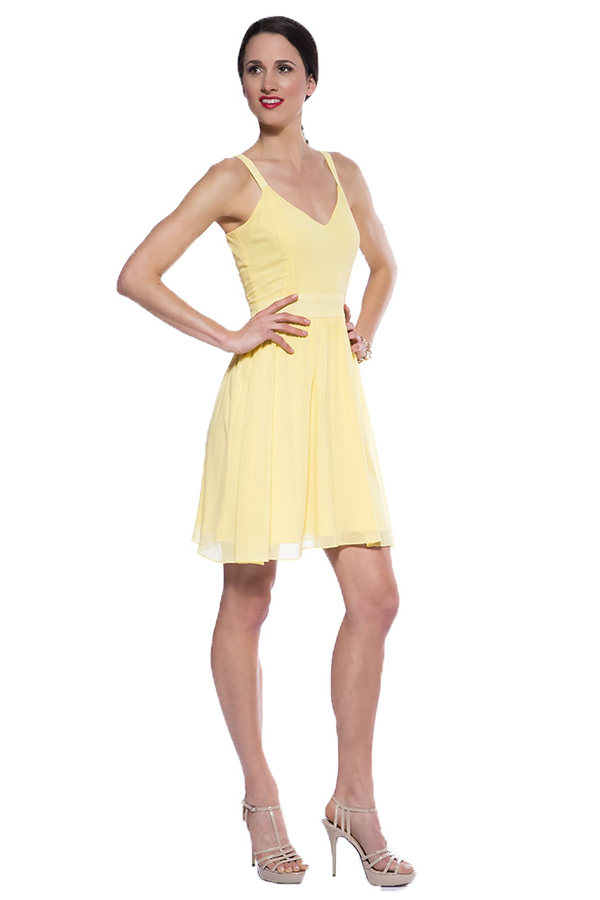 This beauty reminded me of a shorter version of Kate Hudson's evening dress in the movie How to Lose a Guy in 10 Days. I love the color and I know sometimes taller women have trouble wearing the "mini" dresses that are in fashion now, because they end up looking like long shirts. However, this dress flares from the waist, preventing that awful shirt-like look from happening. On some women it might even reach just above the knee and it's a perfect evening dress. I know dresses for girls with longer legs can get a bit pricey, but this one is specially made and in my opinion it's definitely worth it. If you don't want to splurge, keep in mind this sort of style when you are shopping. An empire waist that flares in a light, feminine color is SO flattering for tall girls. You really can't go wrong showing off your legs in something like this!
---
6

Tie Back Maxi Dress from Victoria's Secret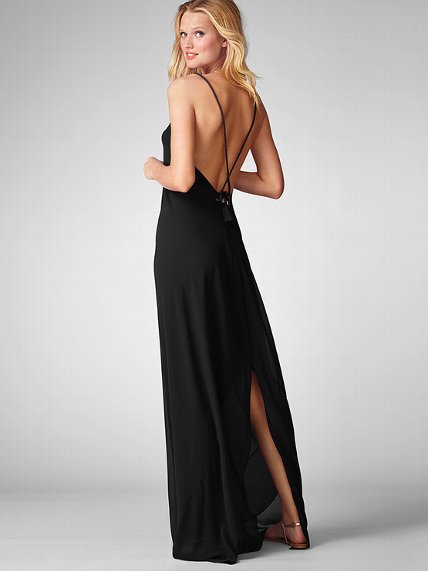 On sale for $70 is this tie back maxi dress from Victoria's Secret that I know only tall girls can wear! For anyone else it will look like a trailing wedding gown that girls will be tripping all over and falling out of. So take advantage of your height, and maybe wear something like this to a fancy event with a pair of pumps. The open back is so sexy and I have not seen many dresses for girls with long legs with such an open back, which really is a shame because it's stunning.
---
7

Free People Sleeveless High-Neck Printed Midi Dress

Last but not least on my list of dresses for girls with long legs is this steal from Free People. I saw it at Macy's for only $44.99! What a bargain in comparison to all the other summer dresses in style right now. And it's not exactly a maxi dress or a dress that ends above the knee, it's called a "midi" dress - which makes sense because it ends right in the middle of your calf. This would look fabulous on tall girls not only because they can rock the complicated print, but because it molds to all your curves, making you look like a supermodel with a terrific body (even if you don't have that at all). So give it a shot! Sometimes dresses look hideous on the rack but when you try them on, they look amazing! I find this rule to be especially true when shopping for things to fit my long legs.
I know there are plenty of ladies out there, young and old, who have those coveted "legs for days." Are you one of them? What tricks and tactics do you use when shopping for summer dresses to flatter your unique body type? Is there a specific style you prefer more than others? Please share your thoughts!
---
Comments
Popular
Related
Recent