While everyone obsesses over little black dresses, I personally think that the best options in this heat are some adorable little white dresses for summer. Little white dresses are the perfect option for summer because they are light enough to take from day to night while still looking adorable in the heat. As with the LBD, you can add accessories to dress up any LWD you own. Here are some of my top contenders for best white dresses for summer.
---
1

DKNYC Mesh Yoke Sleeveless Shirtdress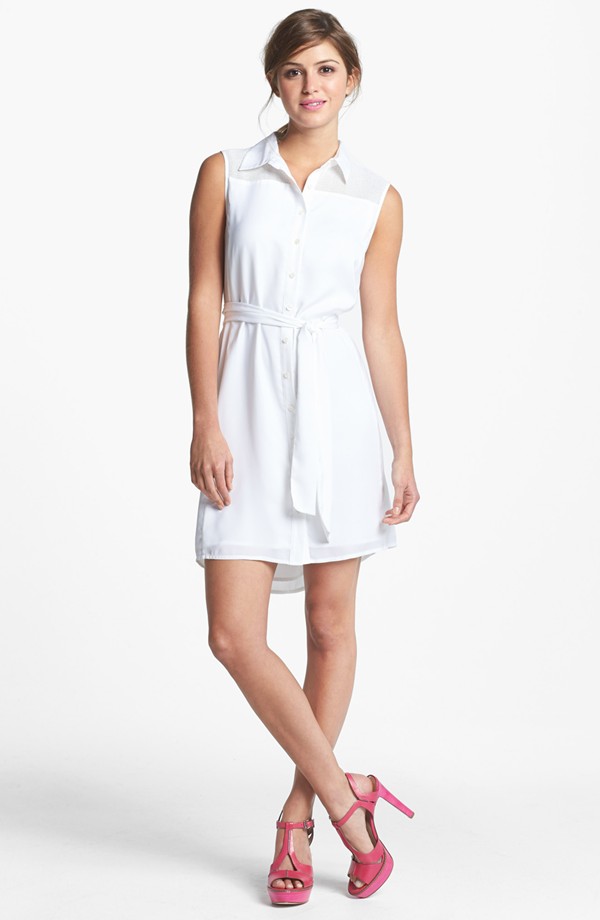 Of the many adorable white dresses for summer, this one might be my favorite. It has the classic appeal of a shirtdress but the mesh shoulders put a unique spin on it. The belt is perfect to cinch at your waist and is adjustable to any body type. This is the perfect dress to take you from daytime lunch with your girls to a night out on the town. It's $126 at Nordstrom.
2

Forever 21 Faux Leather Collar Fit & Flare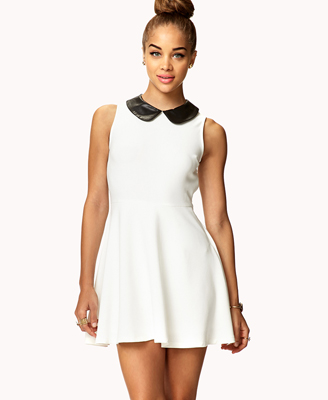 The only thing more adorable than a white fit-and-flare dress is a white fit-and-flare dress with a Peter Pan collar. Its lightweight knit material will keep you cool in the hot summer months and the faux leather collar adds a rocker touch to it. It is a great combination of girly meets rebellious. Find it at Forever 21 for $31.
---
3

Topshop Crochet Floral Flippy Tunic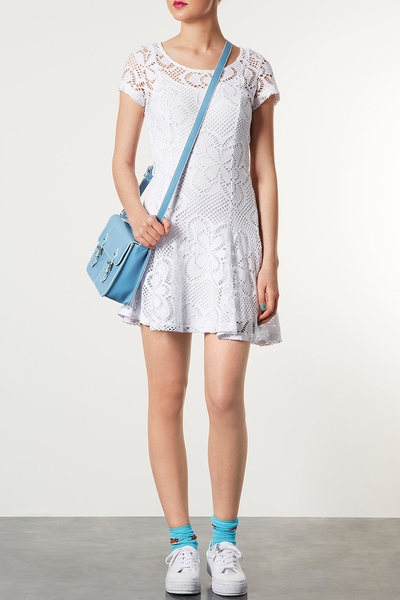 In my opinion, the perfect white dress for summer combines a fun texture, a great fit, and room to make it your own. Guess what? This dress has all that. Its crochet fabric adds a fun element to the dress and it is fitted to look great on different body types. As with most white dresses, there are so many ways you can play around with this dress. By adding jewelry, scarves, purses, and shoes, you can dress up this outfit to let your personality shine through. Topshop has it for $59.
---
4

Tobi Square One Tank Dress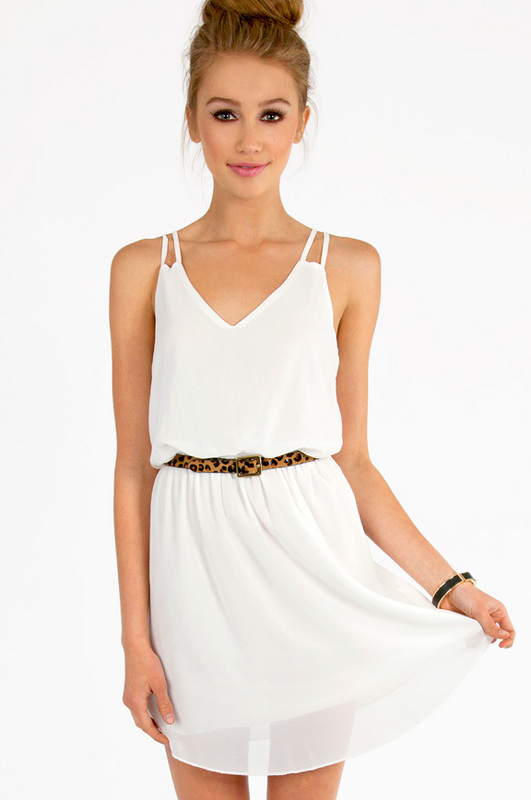 This dress is flouncy, fun, and has a cute shoulder cut out that is adorable. It is simple enough to take it from day to night but it also has a subtlety to it that adds a fun element. I would suggest adding a pair of fun bright wedges and a matching belt to take this adorable white dress over the top. Get it at Tobi for $40.
---
5

BCBGMaxazria Margo One Shoulder Dress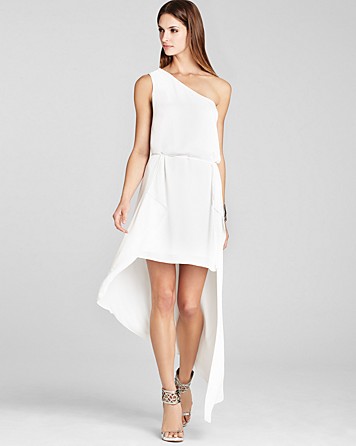 When it comes to trends, this dress has it all. It is the perfect combination of one shoulder strap and an asymmetrical high-low hemline. This is one of the best white dresses for summer because it is simple enough to wear to almost any occasion, but it still makes a statement. Pair it with a straw hat and sandals for daytime and add in some statement jewelry to transition it to nighttime. It's $250 at Bloomingdale's.
---
6

Lilly Pulitzer Nina Dress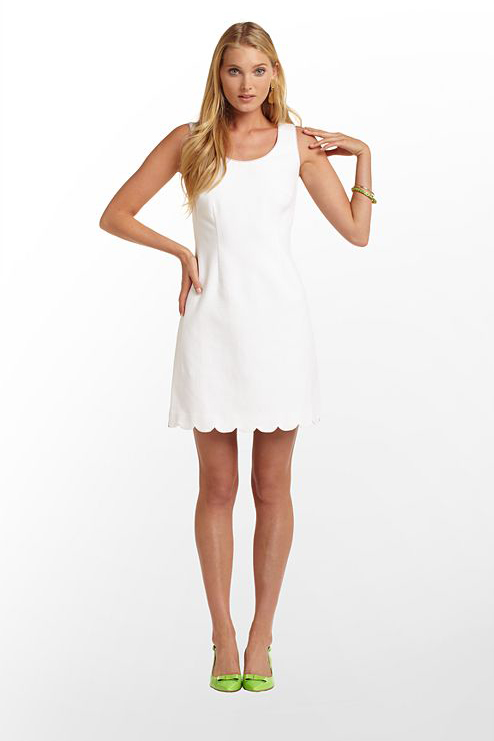 From the front, this dress looks just like any plain white shift dress. Turn around and it is so much more. With adorable white bows and a green zipper accentuating your backside, you will be sure to get some compliments in this Lilly Pulitzer dress. As with any Lilly Pulitzer dress, pair it with a set of pearls and some adorable sandals and you are off to enjoy a wonderful summer day around town. Find it for $188.
---
7

Rebecca Minkoff Riley Dress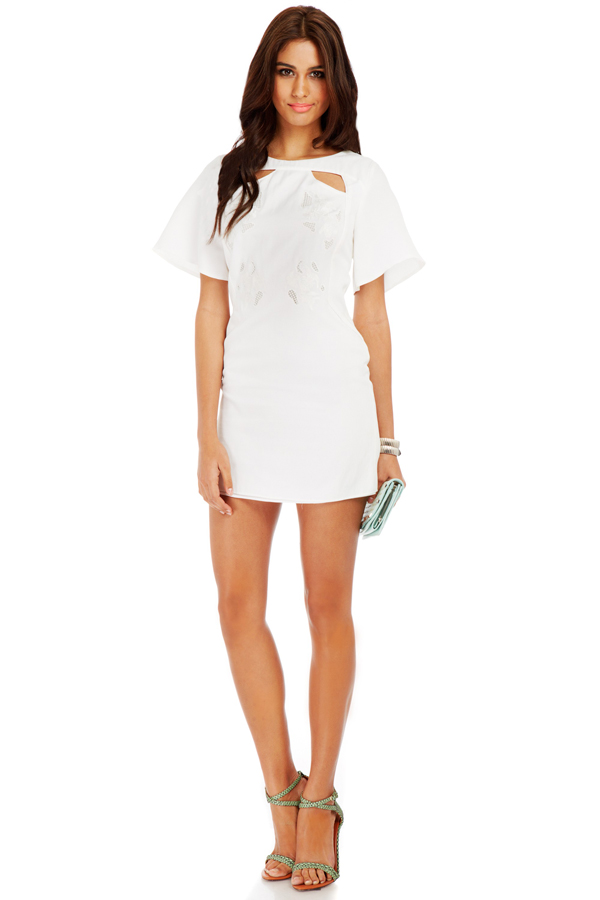 Why would you settle for any regular simple white dress when you can have this adorable white dress complete with cutouts, subtle design, and bold shoulders? This dress is the perfect way to make a statement while enjoying a night out on the town. Pair it with some neutral wedges or heels to maintain the subtle look of the dress. Add in some simple jewelry and an oversized clutch and you are ready to rock this little white dress. Find it at Rebecca Minkoff for $248.
Dressing for summer is all about looking cute while still beating the summer heat. Little white dresses are the perfect option for that. What did you think of these little white dresses for summer? Do you own any other little white dresses you think would be great for summer? Do you think white dresses are a good option for your summer wardrobe?
---
Comments
Popular
Related
Recent