I've pretty much lived in my summer rompers these past few days. When the thermostat shoots up, it's essential to have some easy-to-wear clothes that are comfortable and stylish, and rompers are perfect for that – and they are pretty darn flattering, too. Considering my washing pile is now huge, today's task was to find some more gorgeous summer rompers – and here are my faves.
Table of contents:
1

Formal Fancy…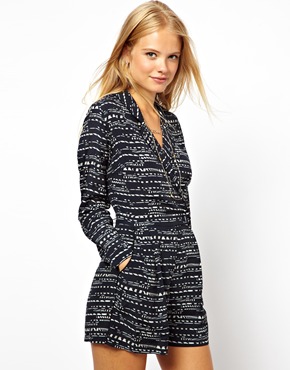 Yep, I've even been searching for summer rompers to wear for those formal occasions! I love this one, with its monochrome print, wrap-over style and structured waist. It's loose enough to keep you cool whatever the temperature, but the tailoring and pattern make it smart enough for some formal occasions – just add a satchel and some court shoes. You can get it at ASOS for $76.36.
2

Pretty Pastels…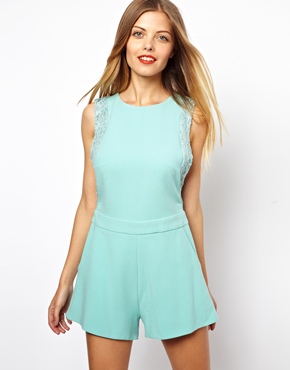 Pastels are hot this summer, so this mint green playsuit is definitely on my must-have list. The round neckline and high-waist are straight off this season's catwalk, and I love the floral lace detailing and slanted shorts. You wouldn't believe how comfortable the fabric is, either. Try teaming it with silver sandals (metallics and pastels = double points!) and a cute clutch. It's $76.36 at ASOS.
3

Lace Lover…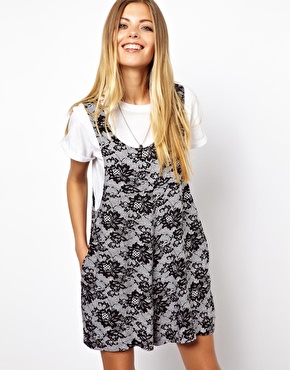 Dungarees are everywhere this season, and the hottest ones have that loose retro fit to them. This ASOS playsuit is the same, with a retro scoop neckline and wide-set straps contrasted by the wide-leg shorts. The fit is pretty loose, which is perfect when you feel like you are melting, and the woven fabric has breathable technology to keep you even cooler. There's nothing more eye-catching than this bold lace print, either! Try adding chunky black shoes and a short-sleeved T underneath. A dangly necklace and bowler hat make great accessories, too.
4

Cut-out Cute…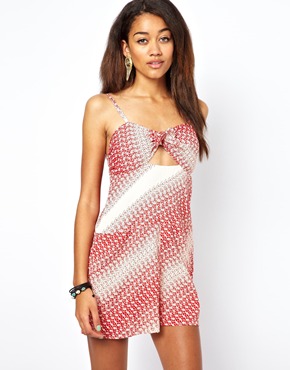 Cut out clothing is another big trend this year, so it's no surprise that it's appearing on rompers. This River Island Chelsea Girl playsuit has a vibrant retro print, high waist and cut out section just below the bust. It's perfect for wearing over a bikini, and looks great with black boots and a denim jacket – or even a cropped jacket. To glitz it up, try adding long gold earrings, and keeping your neck bare.
5

Pretty in Pink…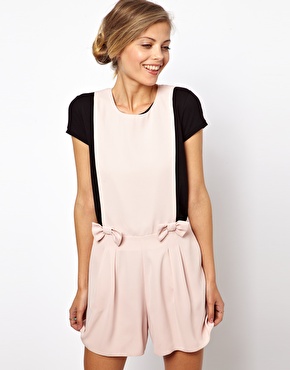 I love this romper! It's just so girly and cute. The pleated shorts remind me of old school uniforms, and the fitted waist and bow detailing give it a very Parisian feel – and it's super easy to coordinate, too. Play up to the pink by opting for a white t-shirt underneath and metallic sandals, or give it a masculine feel by adding a black T and chunky black shoes. Versatile. Get it at ASOS for less than $80.
6

Sexy Silk…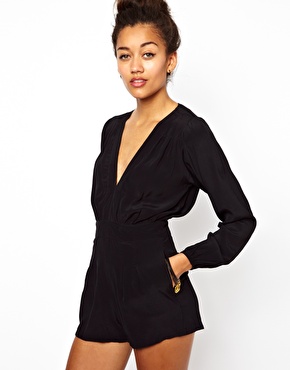 This Motel romper was designed to attract attention, but to really own the look, you have to do it right. The silky material is quite slippy but oh-so-cooling, and I love the fitted waist and pleated shorts. Wear it with chunky black shoes, and ditch the bra – beauty tape is probably a good idea! If you're busty like me, this might show a lot more than you'd bargained for, so consider getting a black cami to wear underneath.
7

Denim…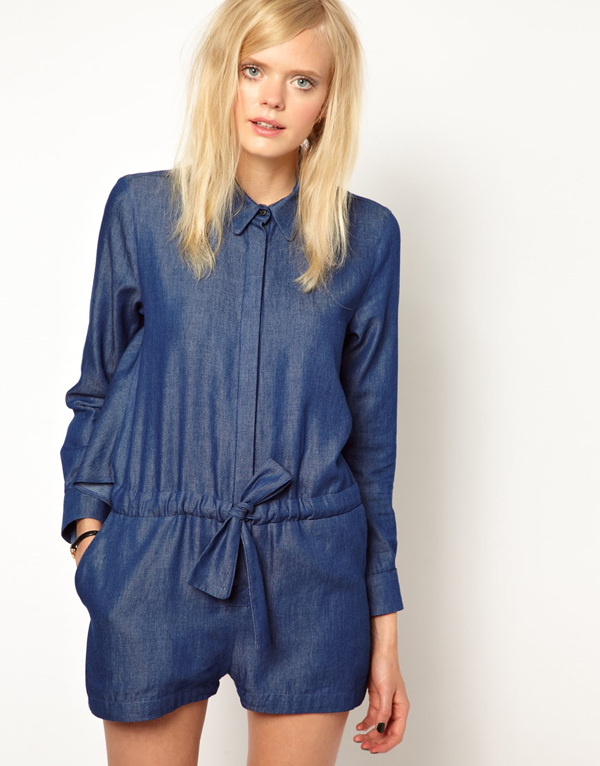 This will be an acquired taste – it's right on trend, but as summer rompers go, it's pretty out there! The point collar and long sleeves are inspired by formal shirts, and the tie waist and slouchy shorts give it a much more casual feel. I love the button and bow combination! It's made of 100% cotton, too, making it really breathable and comfortable. It's definitely something that you'll either love or hate, though. If you feel like giving it a try, add some statement ankle boots and keep your hair casual.
I cannot wait to get some of these summer rompers – wearing them is so easy, and most are really quick and easy to wash, too. Just add jewelry and shoes, and away you go! Have you found any amazing summer rompers? Show me!
Please rate this article