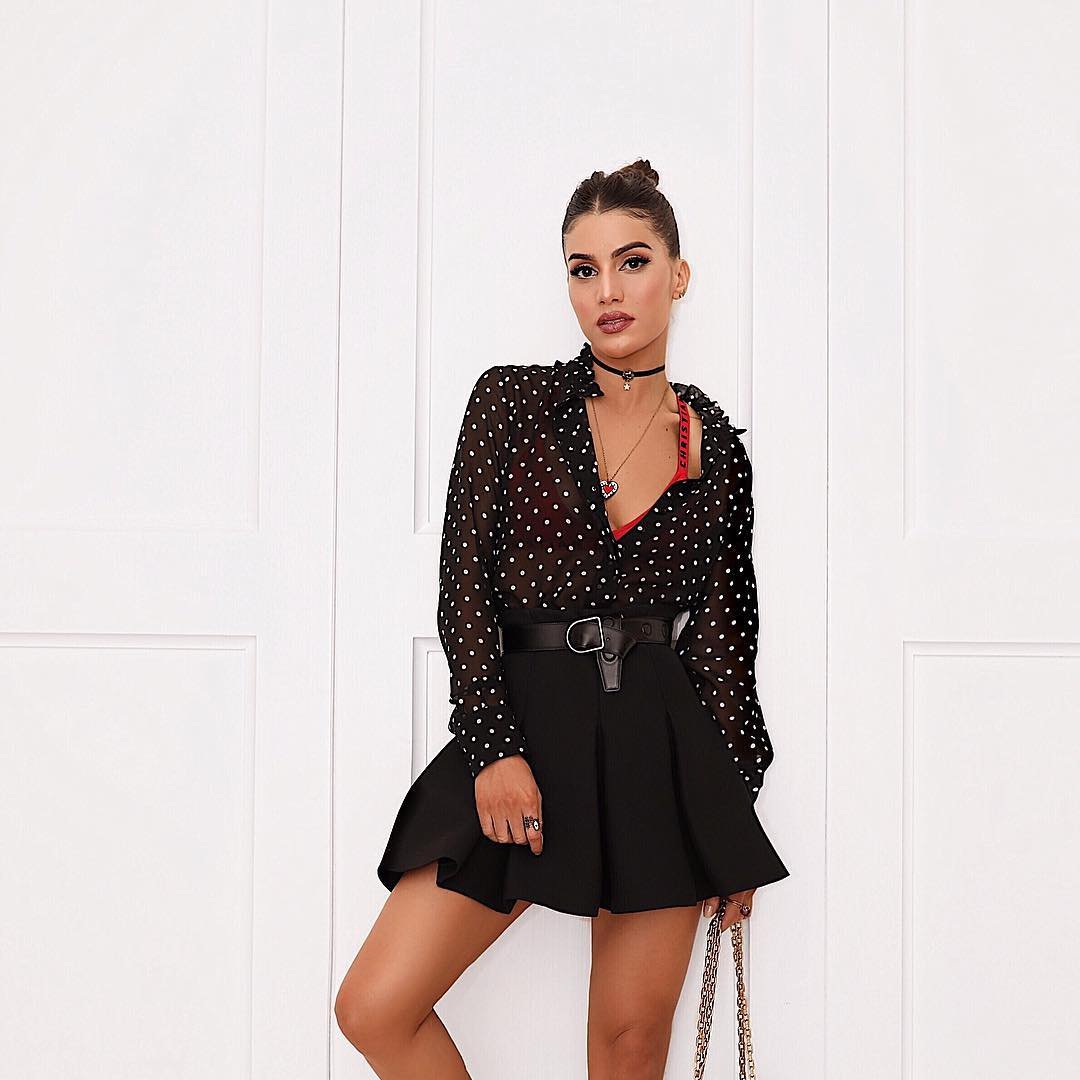 As a child, you might have chanted the little poem about "April showers bring May flowers", but did you know that April really is one of the rainiest months of the year? As the showers quickly approach, make sure you are prepared by having an umbrella that is both functional and adorable! Even an umbrella can be a fun way to spice up your look and give a touch of spring to your daily wardrobe. Here are 9 adorable umbrellas for April's rainy days.
1.

Bubble Umbrella

Price: $15.99 at macys.com
This pretty umbrella is completely transparent except for the spattering of multi-colored polka dots. The fun style will cheer up any rainy day and make you smile while you stay dry.
2.

Galleria Paris Super Mini-Umbrella

Price: $24.00 at walmart.com
Add a slice of France to April's rainy days with this pretty umbrella displaying the Eiffel Tower. It is small enough to carry in your purse, but large enough to keep you dry in a down pour.
3.

Galleria Palm Tree Umbrella

Price: $24.00 at walmart.com
This sweet umbrella looks like a tropical palm tree. On dreary rainy days, you can stay dry beneath the spread of layers of palm branches with this pretty umbrella.
4.

Tray 6 Plaid Orange Umbrella

Price: $49.00 at tray6.com
Add a punch of color with this bright orange umbrella. The plaid print gives it a school girl feel which is perfect for work or a day out shopping with friends.
5.

Beach Stripe Teal Umbrella

Price: $75.00 at umbrellas.net
This teal striped umbrella is an adorable accessory for a day at the beach or any occasion. The extra ribbing makes it look like a parasol that is fit for a queen!
6.

Bella Pagoda Pinwheel Umbrella

Price: $129.00 at umbrellas.net
Stand out in the crowd with this classy black and white umbrella. Its curvy feminine design will make you want to twirl in the rain! You also get a choice of 7 different handle styles to suit your unique tastes.
7.

Blunt Golf Umbrella

Price: $80.00 at umbrellas.net
This simple grey and white umbrella is large enough to keep you dry during a round a golf. It's also a perfect way to get in and out of the mall with your friend without getting soaked. The oversized style will be your favorite part of this classic design.
8.

Marimekko Kiku Red Umbrella

Price: $40.00 at umbrellas.net
The bold red color of this umbrella makes it the perfect look for any woman. The feathered fan design is classy and elegant, a perfect choice for a work day with a forecast of rain.
9.

UV Kyoto Poppies Umbrella

Price: $96.00 at umbrellas.net
You will enjoy a dainty Asian flare with the Poppies umbrella in green. Small flowers decorate the edge while 16 spokes give it a feminine curve.

No matter where you are going this spring, make sure you take an umbrella along in case of a shower. Take along one of these 9 adorable umbrellas for April's rainy days. Do you carry an umbrella in the spring? Where is your favorite place to find cute umbrellas?