Who says you can't find chic sweatshirts that look fabulous and fashionable? Sweatshirts get a bad reputation as being grubs – you know, the articles of clothing you grub around in on snow days and weekends, when you don't really feel like putting together an outfit or wearing makeup. However, in recent seasons, sweatshirts have been making a comeback, turning into a perfectly acceptable piece of clothing to wear while you're lounging or when you hit the town. They're especially popular in funky street style looks. If you're eager to lounge in style, but also long for the ability to step out in fashionable grubs, just take a look at these chic sweatshirts!
---
1

ASOS Sweatshirt with Keep Going Baby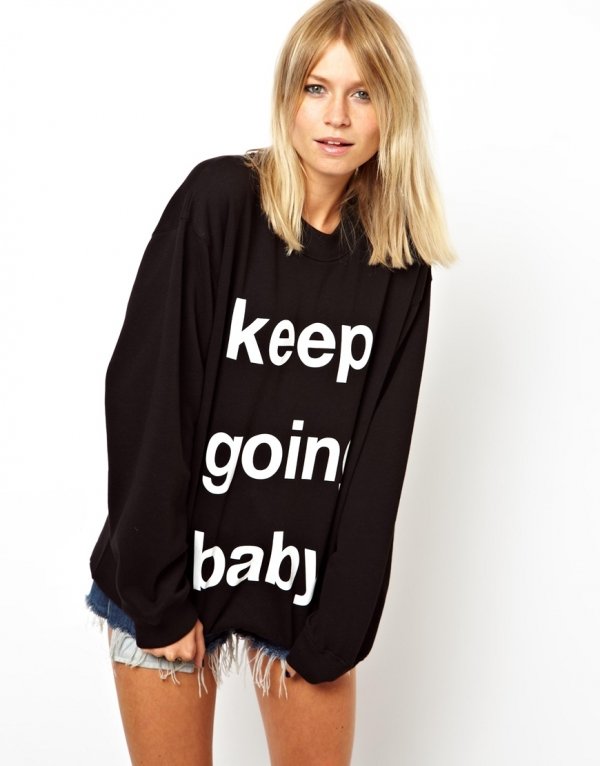 Given the newest trends, many chic sweatshirts have graphics or print, and this one's no exception. Although the message is motivational, I chose it for a different reason: everyone needs a big, roomy, oversized sweatshirt! It's cozy and comfy for those evenings at home, ideal for casual trips to the coffee shop or the library, and it's perfect for those days when you just want something to wrap you up and cover you. You can get this one at ASOS for less than $50, but there are voluminous sweatshirts everywhere, so check out your favorite stores!
---
2

Pop of Paisley Sweatshirt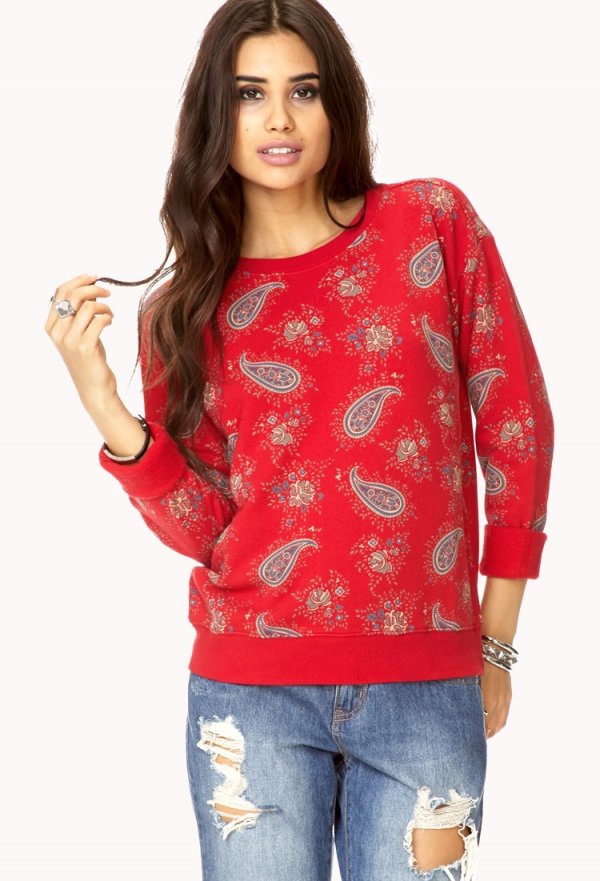 Paisley is a great go-to print in winter, because it's so bright and invigorating! When those dreary days are too much for you, invite something warmer with a bright pop of color and a pretty print. A sweatshirt like this easily transitions into a street savvy outfit as well. Plus, this one's less than $20 at Forever 21, so you might as well invest!
3

Bay Adieu Sweatshirt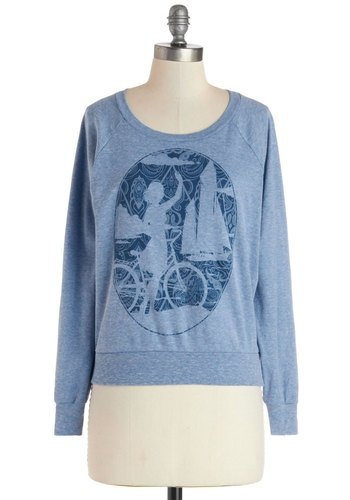 I love graphic prints on sweatshirts, and this one is so sweet. The tableau is simple and gorgeous, and will help you think of warmer days and sunnier weather. The color is a great pick as well, because it can go with anything from your favorite full skirt to your go-to pair of jeans. Find this one at ModCloth for $39.99 or check out similar pieces at Topshop, Shop Ruche, and Nordstrom.
---
4

A Question of Organic Paris Sweatshirt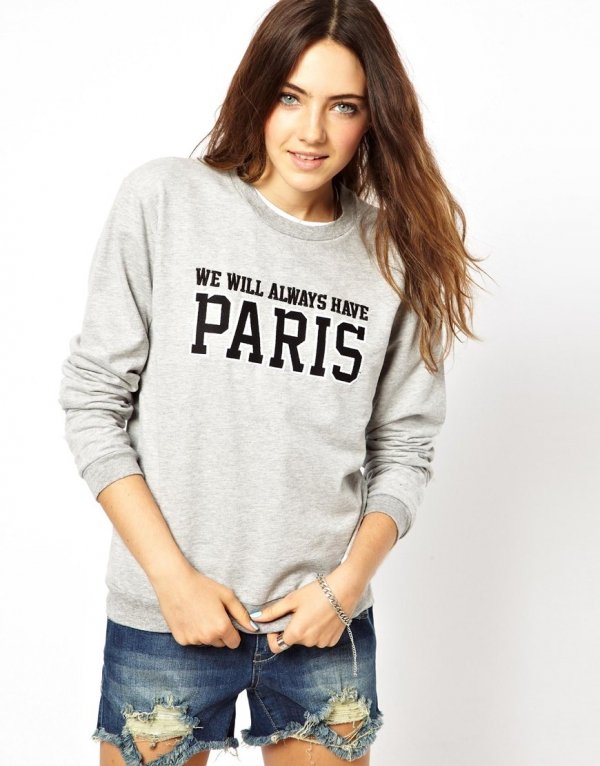 Being a fan of Paris (Heather and I just booked our honeymoon, y'all!), I had to include this. You can get it from ASOS for less than $100, but that's pretty pricey. If you just love Paris but don't care about the message, there are similar, subtle sweatshirts at various retailers, including Urban Outfitter's, Topshop, and ModCloth.
---
5

Dark Side Sweatshirt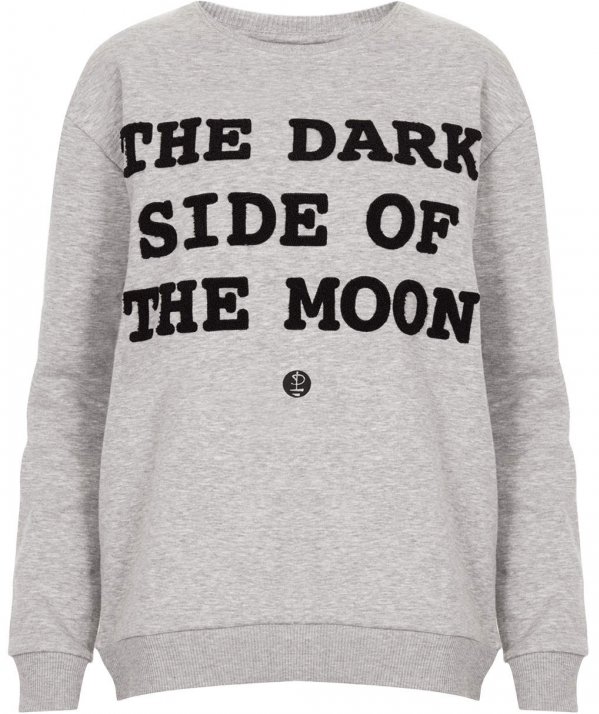 Love Pink Floyd? Tell everyone! This classic grey piece is available at Topshop for $80.00, but whatever your favorite band, you're sure to find a sweatshirt that shares the love. Go colorful or keep it neutral, just make sure it's comfy, warm, and still styling high.
---
6

Novel Tee Sweatshirt in Jay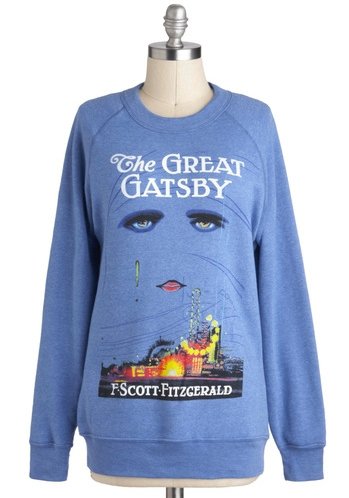 Want to share your love of literature instead? ModCloth has an excellent collection of novel-inspired sweatshirts, but being a fan of F. Scott Fitzgerald, this one's my favorite. It's cozy and cool, the perfect hipster piece for streetwise sartorial choices, especially paired with, say, a retro red skirt and some Converse sneakers. Of course, you could also go 1920s savvy with the rest of your ensemble. Whatever you choose, grab it for $42.99.
---
7

Long Sleeve Burnout Sweatshirt
I love burnout sweatshirts, don't you? This is a lovely pop of color for winter time, and the soft material feels like you're wearing a hug. The red lends more toward coral, which keeps up with the pastel love for the season. If you're a fan of the burnout look, you can grab this from Topshop for $45.00, or check out ModCloth, Urban Outfitter's, Charlotte Russe, and many other retailers for similar looks.
Whether you're hanging out and binge watching your favorite show or want to head out for some impromptu sushi, these chic sweatshirts have you set. Besides, the winter temperatures are so unbelievably cold this year, you need to stay cozy! What's your take on sweatshirts – are they acceptable for stepping out or do you only wear them with your PJ bottoms?
---
Comments
Popular
Related
Recent