If you're looking to spice up your fall wardrobe this season, try some cute dresses with unique prints. With winter approaching, I think a lot of women transition to a more conservative, and rather drab-looking wardrobe. With cold weather comes pants, and clothing/outerwear that is usually neutral in colour (like black, brown, and beige). But it doesn't always have to be that way. Remember that not all printed dresses are for the spring and summer. In this article, I've compiled seven printed dresses that I think are cute, unique, and perfect for fall. And best of all, they're all from ModCloth! These dresses are great because you can pair them with some warm accessories for those really chilly fall days. So here are seven cute dresses with unique prints to wear this fall.
---
1

Who's on the Phonograph?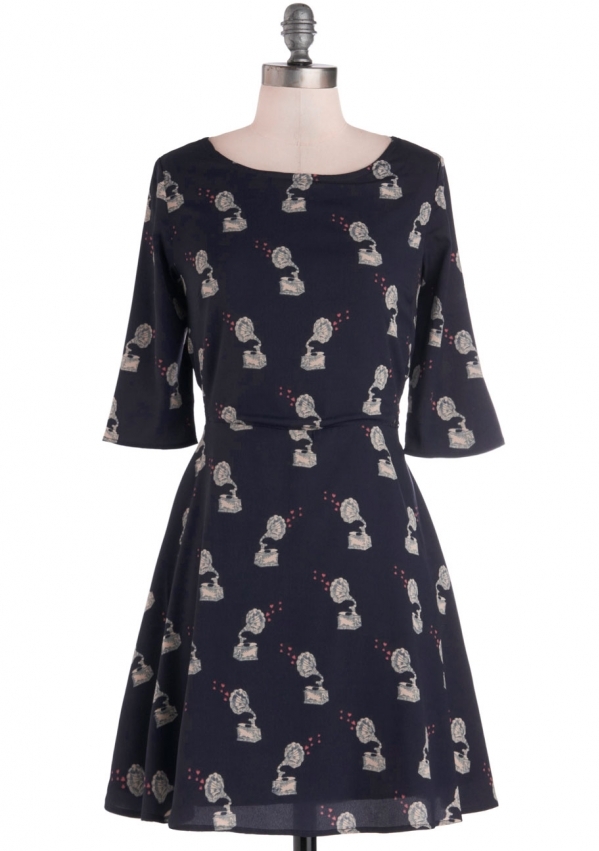 Find it here: modcloth.com
The first piece within this list of dresses with unique prints is Who's On the Phonograph? by ModCloth. Decorated with phonographs playing great music, as suggested by the hearts flowing out of the phonographs, this dress is perfect for those who love music and all things vintage. This dress would look great with tights (black, navy blue, gray, or red to match the hearts in the print), and some knee high boots. It would also look cute with a beanie hat, and scarf to match. It's all up to you. Dress it up with accessories that fit your personality!
---
2

Baggage Claim to Fame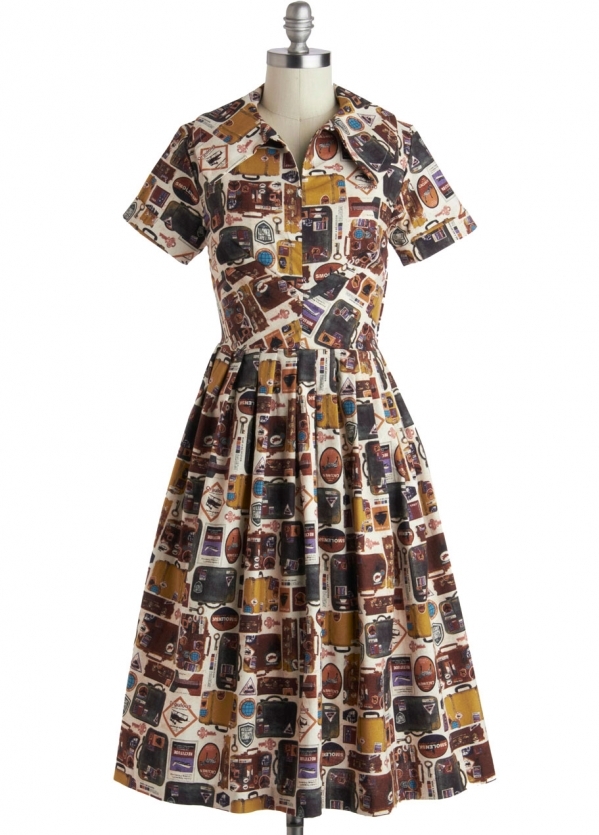 Find it here: modcloth.com
This dress is perfect for fall. Not only does the print contain all the colours associated with fall, but the material of the dress is 100% cotton, which will keep you nice and warm this season. There are a lot of different, and interesting, things included in this print. Suitcases, keys, and international stickers, are just a few items that you can see on this dress. Baggage Claim to Fame will look great with a belt to help define and cinch in your waist. Also, try pairing this dress with coloured leggings/tights (like red, blue, gray, yellow, black, or brown) to add more interest to the outfit. Leather boots will also look spectacular with this dress. What's really great about Baggage Claim to Fame is that it shows your unique style and personality while still remaining work appropriate.
---
3

We Got the Trunk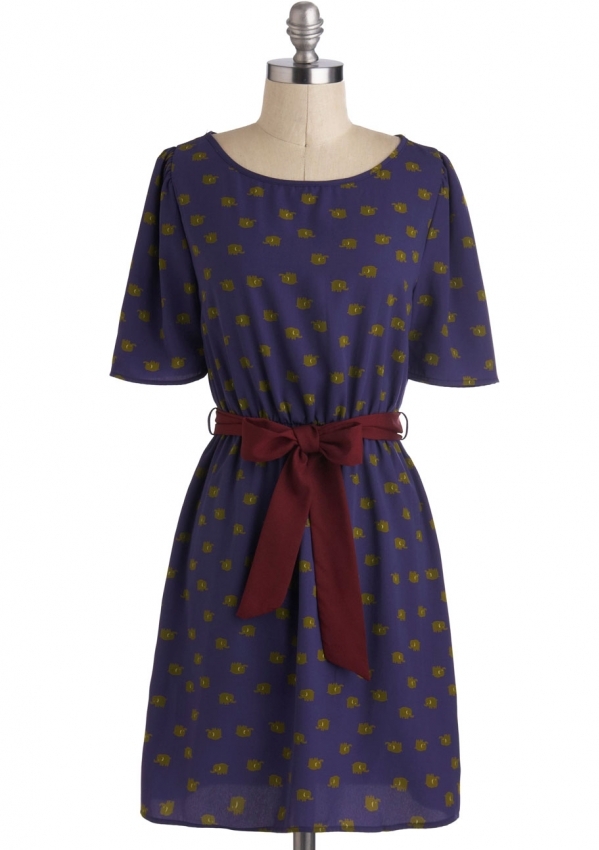 Find it here: modcloth.com
Do you love elephants? If so, then We Got the Trunk is for you! Elephants are printed all over this piece. Though the print of this dress is adorable, what first drew me in to this piece was the sash used to cinch in the waist. I think the bow is so cute and adds more interest to the dress. I would definitely add a heavy knitted cardigan to We Got the Trunk to ensure warmth on those chilly fall days. Perhaps you could try a burgundy coloured sweater to match the sash of this dress. Or perhaps some green tights or a green sweater to match the elephants on this piece. It's up to you and your personal style.
---
4

Avian Maven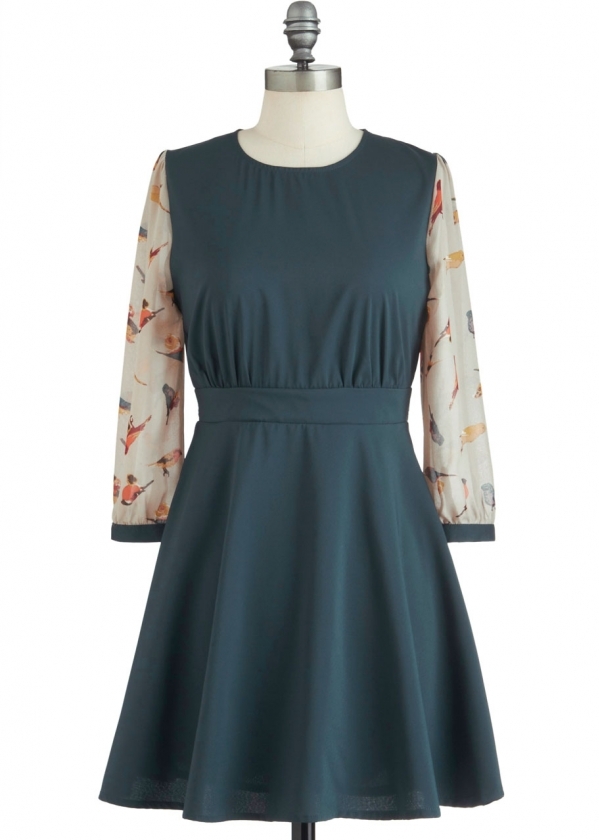 Find it here: modcloth.comI love the colour palette of this dress. Avian Maven contains sheer long sleeves printed with orange, blue, and yellow birds, while the body of the dress is teal. The back of this dress features a large keyhole and button enclosure, making it perfect for a fancy night out on the town. Go on the wild side and try some yellow or orange tights with this dress. A knitted hat would look cute with this piece as well. Add some interest with some gold jewelry and you'll be all set for your night out.
---
5

Aerial Together Now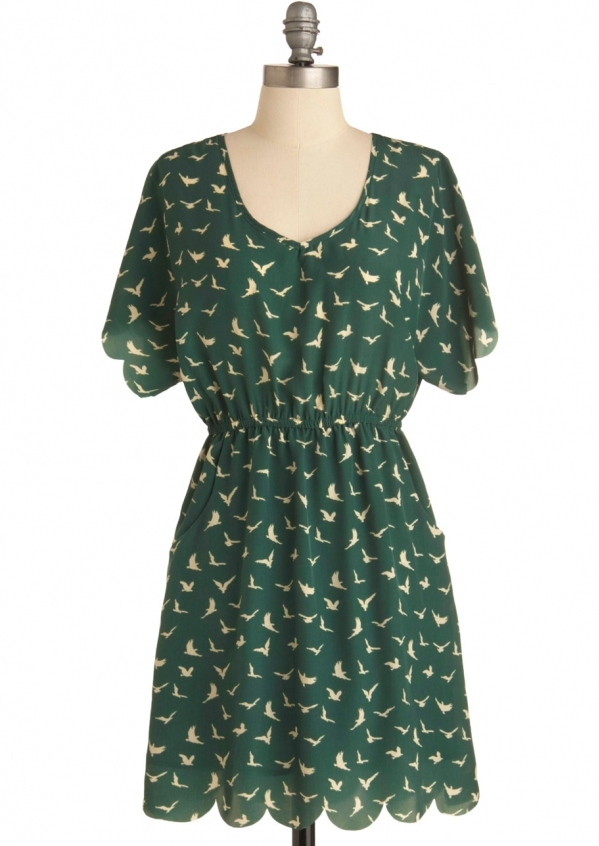 Find it here: modcloth.com
Aerial Together Now is a green dress printed with birds. This print is cute, subtle, and it will be easy for you to find matching accessories. I've found that there are a lot of necklaces, rings, bracelets, and scarves in style right now that are bird themed. I've even seen owl accessories. Pick out something that you think matches both the dress and your personality. And lastly, what I think makes this dress really special and unique is the scalloped edges found on the bottom of the sleeves and skirt. It definitely adds a feminine touch to the piece. Don't you agree?
---
6

Sew Far so Good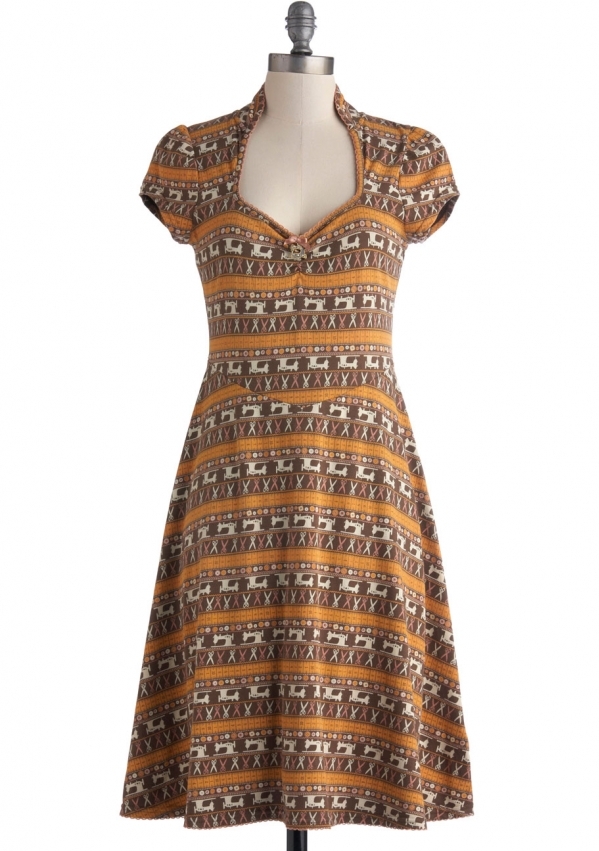 Find it here: modcloth.com
If you are crafty, and enjoy sewing, then ModCloth's Sew Far So Good dress is just for you! Sewing machines, scissors, buttons, and measuring tapes can all be found in the print of this dress. This piece is perfect for fall because it contains all the fall colours imaginable. Wear this dress with a nice brown or yellow pea coat, and knee high brown leather boots. Or you can wear this piece with a yellow, brown, or white sweater. It's really up to you. Have fun with it and don't be afraid to show off your style.
---
7

Mice is Right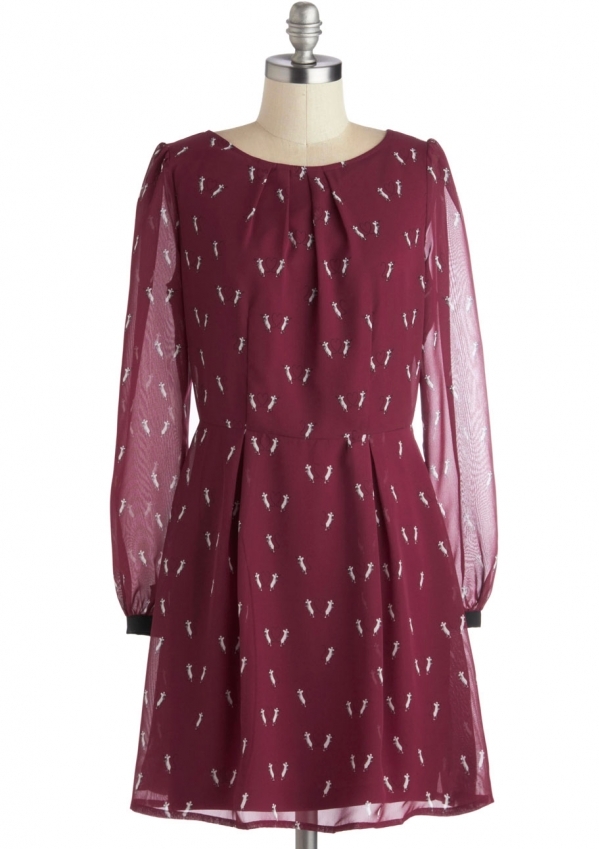 Find it here: modcloth.com
Last, but certainly not least, is the Mice is Right dress by ModCloth. The print of this dress is – yes, you guessed it – mice! This dress is perfect for all the animal lovers out there. And if you're not an animal fan (or mice lover, in particular), don't fret because the print of this dress is really subtle. I can't say that I've ever seen this kind of print before, so this dress is definitely unique. I love how the print continues on the sleeves, even though they are sheer. I would definitely pair this piece with some black leggings, black knee high boots, and a nice warm, bulky scarf. You could even wear a heavy sweater over top of this dress on those really cold fall days.
These are just some dresses with unique prints that you can wear this fall. ModCloth has a great selection of dresses with different styles and prints that I've never seen before, so I definitely recommend spending some time browsing their website. You don't have to sacrifice your personal style during the fall and winter. Out of this list, which dress is your favourite? Which dress do you think has the most unique print? What kind of accessories would you pair with these pieces?
More
---
Comments
Popular
Recent