Shine on this season with molten hot metallics in the shape of cool and sleek footwear for fall. Lustrous metallic shoes offer sparkle and shine like no other and are the perfect go-to items for fancy footwork during day or night. Follow these 8 fab tips on how to style metallic shoes this fall and stay shining in the spotlighting all season long.
1

Use as a Neutral

Use your metallic shoes as a neutral just as you would with brown or black toned shoes. For this season, sub out your trusted basic shoes for something a little bit more exciting like pewter and bronze. Metallic tones are just as versatile as other simple styles and go with every outfit plus suit a wide variety of color choices, while still adding a special touch of sparkle and shine suitable for all occasions.
2

Mix Your Metals
Because metals serve as a neutral, they go with everything so don't be afraid to mix your metals. Finding shoes that have mixed metallic tones is a super luxe and lustrous way to wear metallic shoes. Try and mix complementing tones like gold and bronze or silver and pewter, which will help to create a less harsh look.
3

Stick to Traditional Metals
Traditional metals like gold and silver and their surrounding color families like bronze or pewter are the best tones to stick to when selecting the perfect metallic shoes. Sticking to traditional metals mean style longevity and wardrobe staple that won't go quickly out of style or season. Traditional metallics are easily transitional from season to season and are always needed to complete the perfect evening or holiday look.
4

Use Sparingly
Like everything in life, a little goes a long way. Metallics are bold and too many pieces in an outfit can appear brash. Pair your metallic shoes with an embellished blouse or high-polished clutch to pull your look together without being overly glitzy or in your face.
5

Add Some Sparkle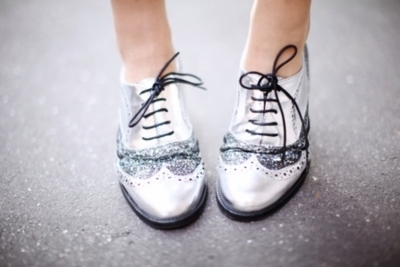 If you want to add some more pizzazz to your outfit this season, metallic shoes with jewel encrusted embellishment or adornments is a elegant and chic way to do so. Even a light dusting of glitter or sequin can instantly elevate you metallic shoes' shine status for the perfect amount of sparkle.
6

Day to Night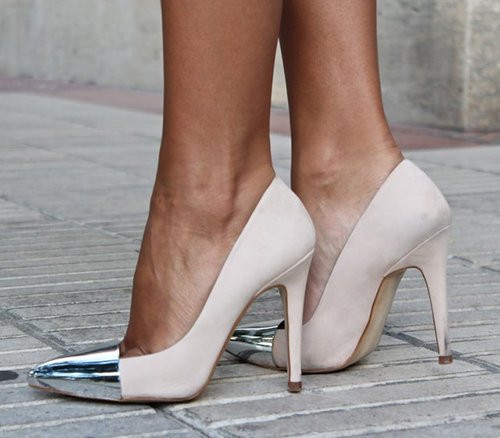 Metallics are suitable for day or night and like most fashion items, it all depends on the style you select. Metallic flats can be worn for the office or casual weekend wear and strappy sandals in a sparkling metallic are a must for a vampy evening look. If you want to sport metallic heels for work, opt for metallic pointed toe pumps with a lower heel or alternatively you can wear metallic cap toe pumps, which offer just a touch of shine and are super trendy right now.
7

Dress It up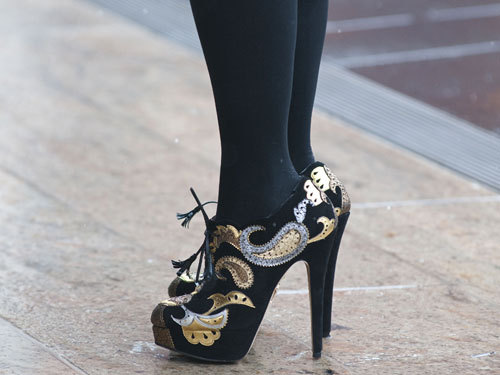 Metallic shoes help to reinvent even the simplest of outfit choices for evening. A little black dress that's been sitting in your wardrobe for years will be given new life when paired with gleaming metallic shoes and a statement necklace. Even if your accessories are minimal, metallic shoes are a simple and effortless way to dress up your look. Metallic shoes are essential for any evening or special occasions where a little sparkle can go a long way.
8

Subtle Edge
If you're still not sold on the idea of wearing metallic shoes this season, remember that not all metallic shoes are created equally. Crackled or distressed metallic materials like leather often times have a subtle quality to them rather than the usual chrome-like finish and can still add a fine edge to your look that's muted and subdued. If you must stick to your trusted and true black shoes this season, try looking for black tones with a metallic finish or shine quality like glitter or jewel embellishment.
For your daily dose of brilliance, incorporate gleaming metallics that shimmer and shine into your fall footwear collection this season. High-octane finishes and polished metals make metallic shoes blazing hot for day or nighttime wear. How will you wear metallic shoes this fall? What are some of your favorite style tips for wearing metallic shoes?
Top Image Source: pinterest.com