Whether you're headed to a party or just want to lounge around in fabulous attire, there are animal print dresses that would be perfect for the occasion. They're sure to make you feel confident, like you're capable of anything. Just put on one of these animal print dresses and your wild side will come out. What are you waiting for? Start shopping!
---
1

Topshop Snake Print Tunic Dress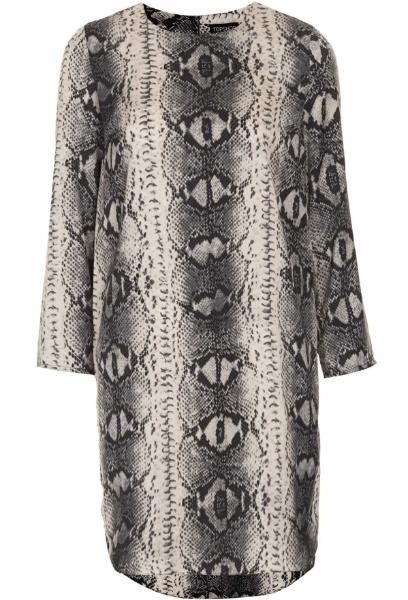 This animal print dress is perfect for any season. When it's hot out, you can wear it without accessories. When the cold hits, you can pair it with cute leggings and boots. Don't be afraid to add a belt to add some extra style. You'll be the talk of the town in this adorable little number.
Price: $80 at us.topshop.com
---
2

Velvet by Graham & Spencer Armida Leopard Print Dress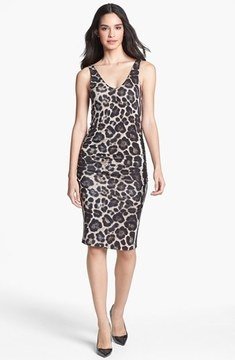 Go on the prowl for a hottie while wearing this leopard print dress, and you won't be disappointed. It's skin tight with a low neckline that's sure to catch a man's attention. Since it's sleeveless, try to add a bit of decoration by adding a sparkly necklace or bracelets. Wear your hair up in a messy bun to achieve that animalistic look. No matter how you decide to style your hair, you're sure to look amazing.
Price: $129 at shopstyle.com
---
3

Burberry London Silk Crepe Animal Print Dress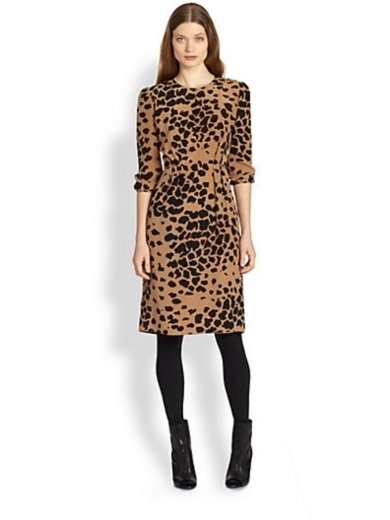 What better sensation is there than silk against your skin? This dress will not only make you look great, it'll make you feel great. Due to its high neckline, you don't even need to worry about what necklace to wear. Stick to earrings and a nice pair of heels. The higher, the better.
Price: $995 at lover.ly
---
4

3.1 Phillip Lim Colorblock Leopard-Print Leather Biker Dress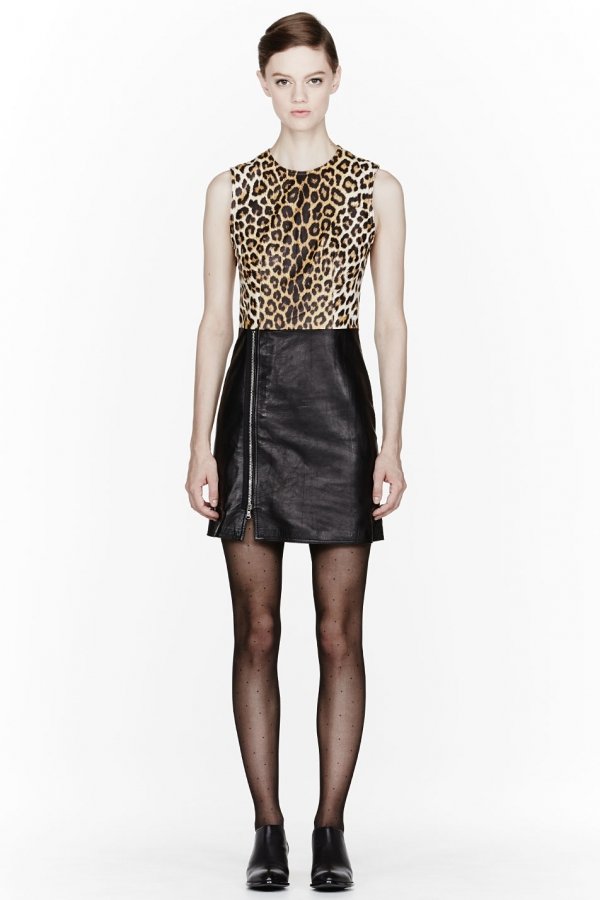 If you really want to feel wild, leather is the best way to do so. Don't underestimate a fabric's power to make you feel dominant. When you put this baby on, you'll want to take on the world. The zipper in the front gives it an extra saucy look. Don't wear this unless you're prepared to get pounced on.
Price: $1395 at saksfifthavenue.com
---
5

Velvet Leopard Sweater Dress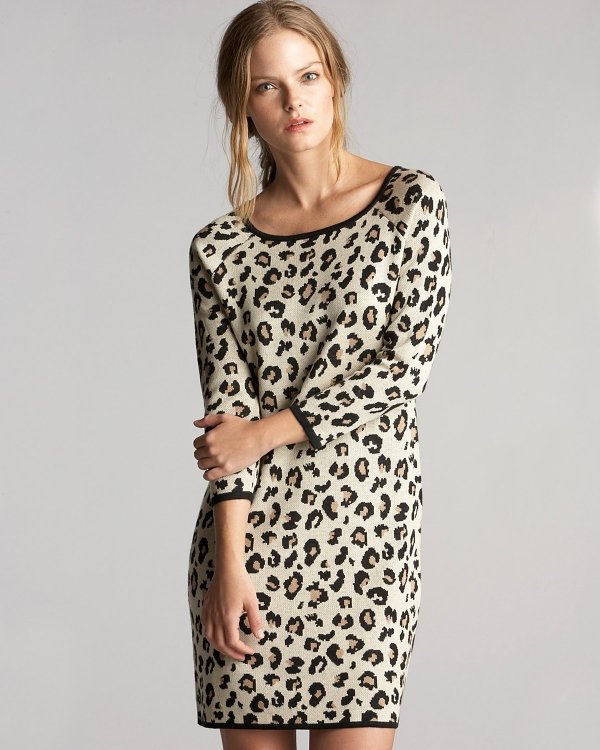 This dress is perfect for the cold weather. You can look gorgeous, and keep warm with the three-quarter sleeves. If you're headed outside, just make sure you put on a cute coat and gloves. If you can find leopard print leggings to match, why not see what it looks like? If the design is too distracting from your dress, try using a solid color.
Price: $167 at bloomingdales.com
---
6

DIANE VON FURSTENBERG New Jeanne Wrap Dress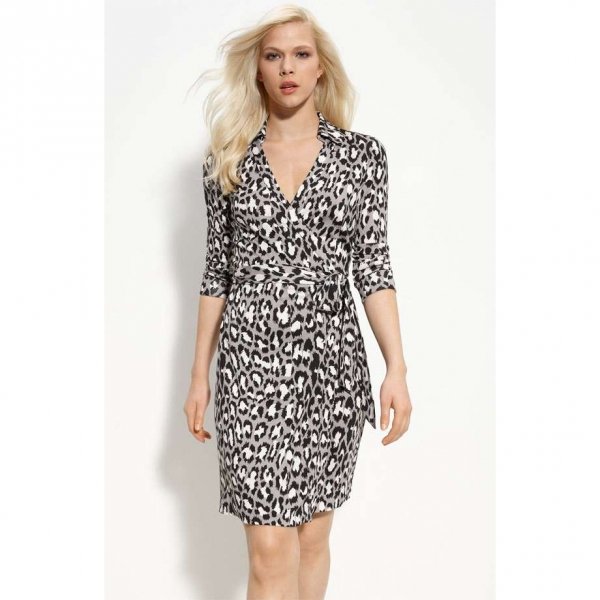 Show off your legs and your style in this sexy animal print dress! It reaches right above the knee, and has a deep neckline. A built-in belt wraps around your stomach to keep everything in place. To look your best, find a cute clutch that matches. Everyone will be jealous of your new look.
Price: $365 at net-a-porter.com
---
7

Torn by Ronny Kobo Animal Jaquard Malu Dress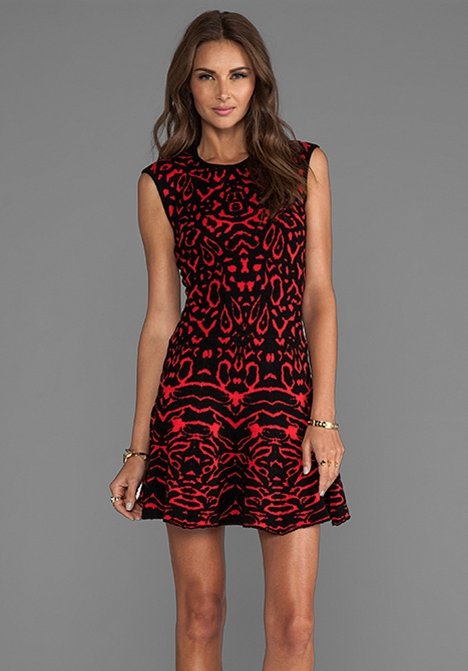 Do you like being noticed? Then buy this outfit, which doesn't come in your typical, dull animal print colors. This dress pops, and pleases the eye. Wear it when you're ready for dozens of compliments. Once you put this baby on, you're sure to be admired.
Price: $378 at revolveclothing.com
---
8

ASOS Shift Dress in Animal Print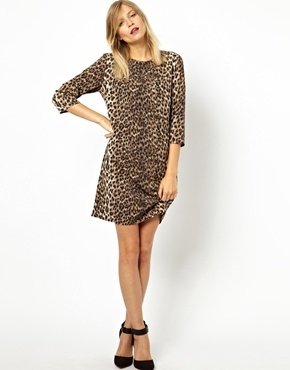 This dress doesn't require much effort to fit into. Just stretch it over your head, and you're good to go. Of course, you should never forget to accessorize. If you'd like, you can fit a brown belt around your waist. If you have a statement necklace that will match, but won't blend in, you can wear that as well. The decision is all yours!
Price: $68 at asos.com
---
9

REBECCA TAYLOR Leopard Stretch Dress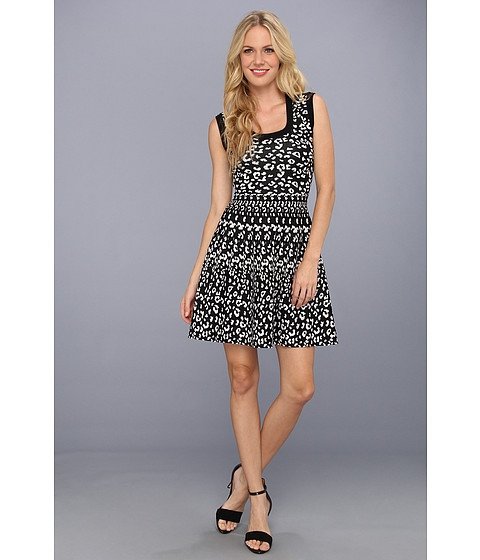 If you're looking for a sleeveless dress with a full skirt, this is meant for you. The design shifts in the middle of the dress, which will make your waistline appear slimmer. It holds the perfect balance between sexy and sweet. Whatever way you'd like to tip the scale, you can. Wear high heels for a hotter look, or stick to flats and a curly hairdo to remain innocent.
Price: $270 at rebeccataylor.com
---
10

Carven Deer Print Tank Dress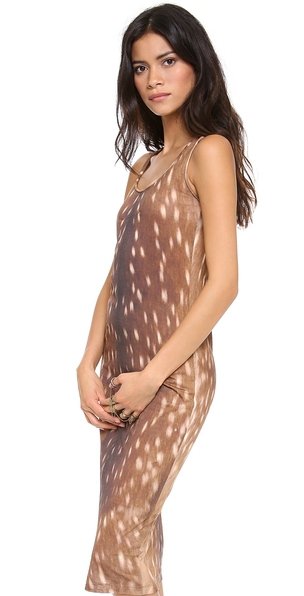 Be a dear and buy this deer print dress. If you don't like showing off your legs, don't fret. This dress reaches well below your knees, but it reveals your arms completely. It's perfect for a fancy night out to dinner, or a sophisticated party. Wherever you go, you'll know that you're looking your best.
Price: $380 at shopbop.com
---
11

MNG by Mango® Animal Print Body-Con Dress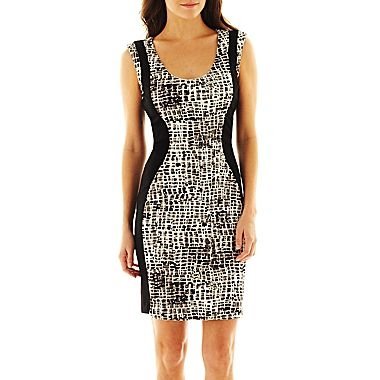 If black is your favorite color, you won't have an issue with this dress. Reminiscent of a zebra, it has a black and white design. The sides are black, which slims you, and the hemline falls above your knees. Instead of wearing a little black dress, you can wear this animal print design with a little more umph than your typical dress. The best part? Everyone has a pair of black shoes that they can wear with it.
Price: $55 at jcpenney.com
---
12

Pleat-Neck Animal Print Dress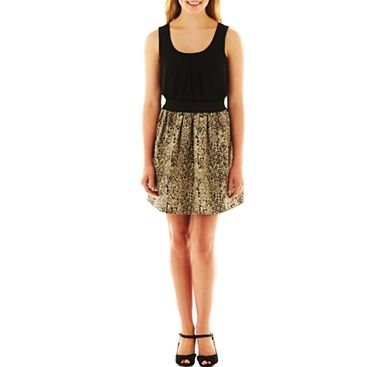 This dress screams cuteness. Half of the fabric is solid, while the other half is animal print. This way, you don't have the same design from head to toe. It's guaranteed you'll be the most adorable girl in town when you don this dress. If you want to really shine, wear some gold jewelry and your favorite pair of shoes.
Price: $52 at jcpenney.com
---
13

Versace Animal Print Sleeveless Dress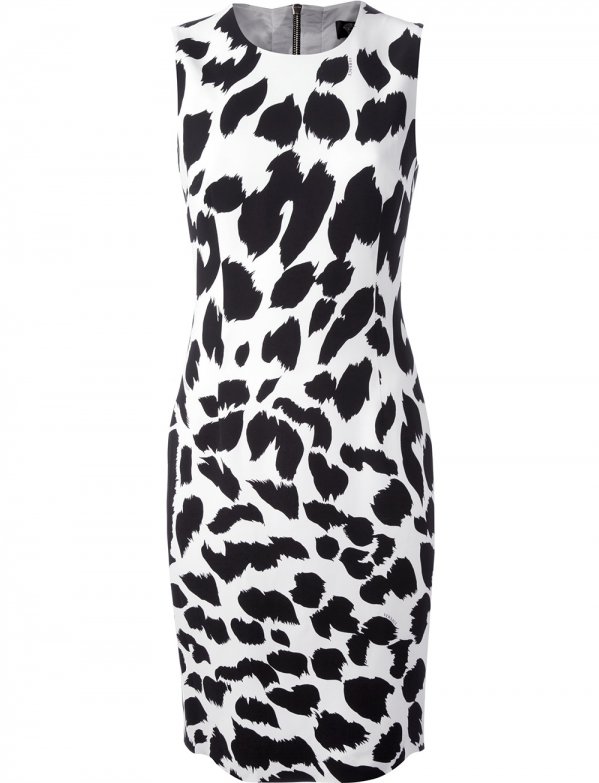 If you're a big spender, this is the dress to splurge on. It has a tight fit, and an easily accessible zipper in the back. Since it's so expensive, you should only wear it to big events. You don't want to spill anything on something so fabulous. You'll want to keep this dress pristine, so that you always have something incredible to wear.
Price: $1547 at farfetch.com
Every girl should have at least one animal print dress hanging in her closet. If you haven't purchased such a dress yet, put it on your wish list. Which one of these dresses is your favorite?
More
---
Comments
Popular
Recent