This will be the summer of the sundress, from ankle-skimming maxis to leg-bearing minis. But what to wear with them? In particular, how to accessorize maxi dresses, as opposed to mini-dresses? I've done some scouring at my favorite online shop, and have I got some ideas for you! Here are 9 fabulous ways to accessorize maxi dresses.
---
1

Ready, Sunset, Go Cardigan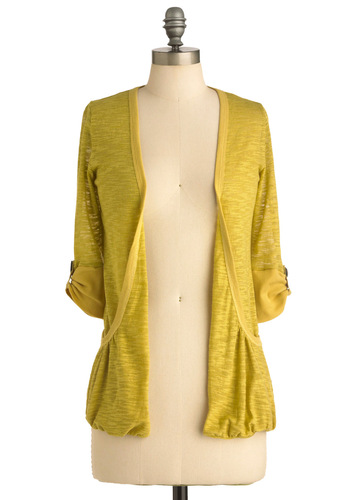 Price: $37.99 at modcloth.com
If your maxi dress is grey, or white, or something in between, print or solid or striped, this sunshine yellow cardi is the perfect way to accessorize maxi dresses. I love the unique front, blending beautifully into side pockets, and the ruched sleeves take it from early summer all the way through to fall.
---
2

Fruit as a Button Wedge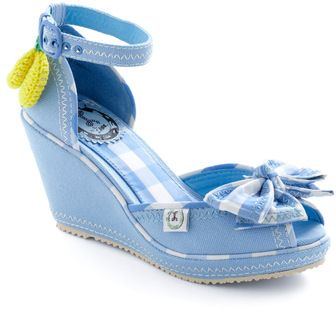 Price: $104.99 at modcloth.com
These darling wedges by Miss. L. Fire are the ideal way to accessorize maxi dresses, especially if they're a little on the long side. They're a sweet baby blue with a covered heel, and, oddly enough, a tiny pair of knit bananas at the side. Darling, aren't they?
---
3

Grab Your Ecru Sandals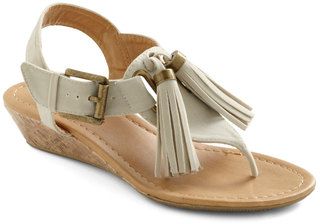 Price: $29.99 at modcloth.com
Whether it's girls night out or a day of shopping with your mum, these sandals are perfect for wearing with a maxi dress, or really, anything else in your summer wardrobe! I love the oversized tassels on top, and the comfortable, walk-able wedge heel.
---
4

Sweet Shades Handbag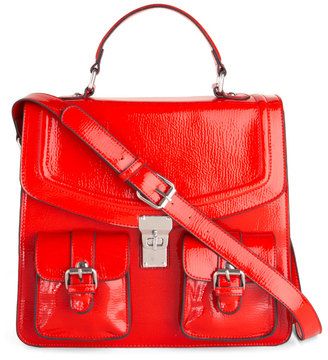 Price: $112.99 at modcloth.com
What a gorgeous, brilliant bag! Would any other handbag be nearly as eye-catching a way to accessorize maxi dresses? I think not. It's all man-made, so you won't have the guilt of wearing leather as you strut your stuff in your long dress, cute shoes, wide cuff bracelet, and this cherry-red bag,
---
5

Accessory Amore Necklace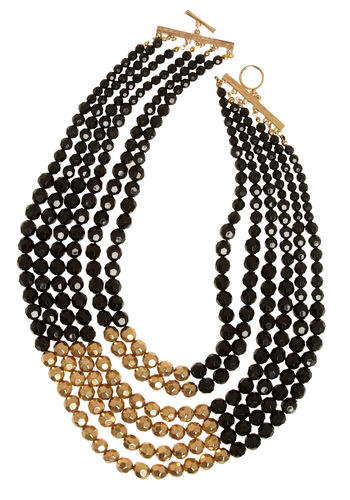 Price: $49.99 at modcloth.com
Featured by Rachel Zoe on BravoTV, this gorgeous, glittery necklace is so pretty, you'll want to wear it with all of your maxi dresses! I love the gold highlights, and the sparkle of the faceted beads. It would look especially pretty with a cream-colored maxi, wouldn't it?
---
6

A Fair to Remember Necklace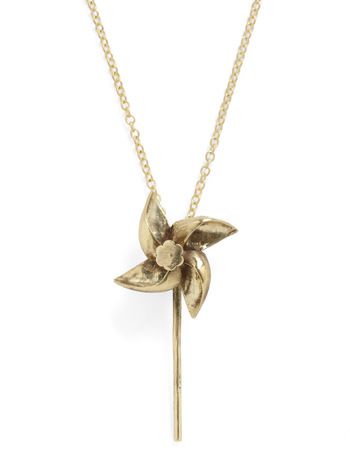 Price: $64.99 at modcloth.com
Who says accessories for maxi dresses have to be formal or even very dressy? This whimsical little necklace, worn on its own or layered with something else, would be a great way to celebrate summer breezes. It's so cute… and it's currently in my shopping cart.
---
7

Night Captivating Necklace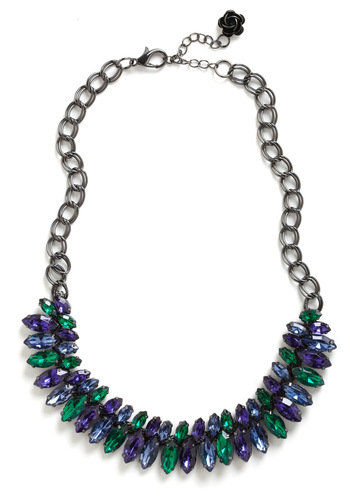 Price: $24.99 at modcloth.com
Your maxi dress may also be your favorite LBD, and if that's the case, then this is the perfect way to accessorize a maxi dress! It's all old-school glam with dual rows of green, blue and purple faux gems.
---
8

And That's That Hat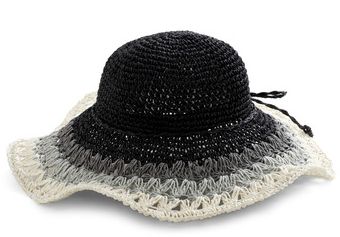 Price: $27.99 at modcloth.com
Sunhats will be all the rage this summer as stylish Stalkers all protect their gorgeous faces from the sun… and this sunhat in particular, with its white, grey and black detailing, will look lovely with your maxi dresses… especially the bold monochrome ones!
---
9

A New Leaf on Life Scarf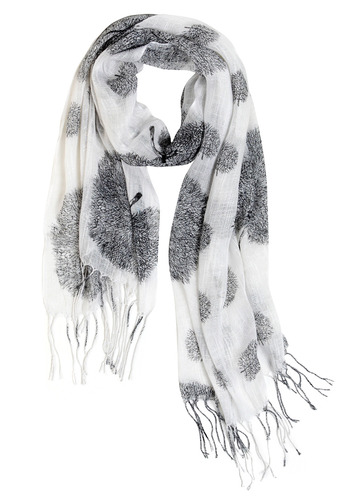 Price: $17.99 at modcloth.com
Scarves aren't just for fall and winter anymore. This one's lovely, a perfect replication of spring and summer foliage, light-weight enough to wear with maxi dresses. Again, the neutral tones make it the ideal way to accessorize maxi dresses, especially the brightly-colored ones.
With so many fabulous ways to accessorize maxi dresses, you may not want to wear anything else all summer! And really, if you're looking this marvelously accessorized, why would you have to? Which of these accessories do you like best, and with which of your maxis would you wear it? Do tell!
Top Image Source: Zuzana Hnídková
More
Comments
Popular
Recent