Holographic pieces make a great addition to your spring wardrobe. The shiny, reflective material has a futuristic vibe that is sure to amp up your style this year. What's best is you can wear holographic pieces throughout the spring and the summer!
Table of contents:
1

Jeffrey Campbell – the Lita Hologram Shoe in Silver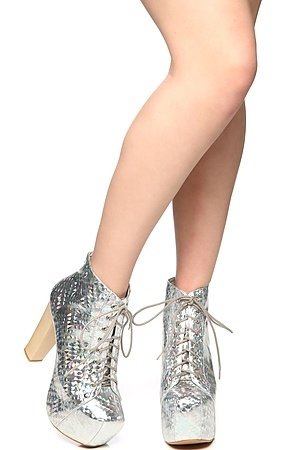 One of the best ways to make a statement with holographic pieces is by wearing holographic shoes. Shoes and other accessories are a great way to try out a new trend. Many brands are starting to make hologram shoes, but the Lita by Jeffrey Campbell will always be my favorite. This boot goes great with any outfit and will be a cute addition to your spring wardrobe. If you're looking to purchase these boots visit karmaloop.com.
2

UNIF – Gammaray Skirt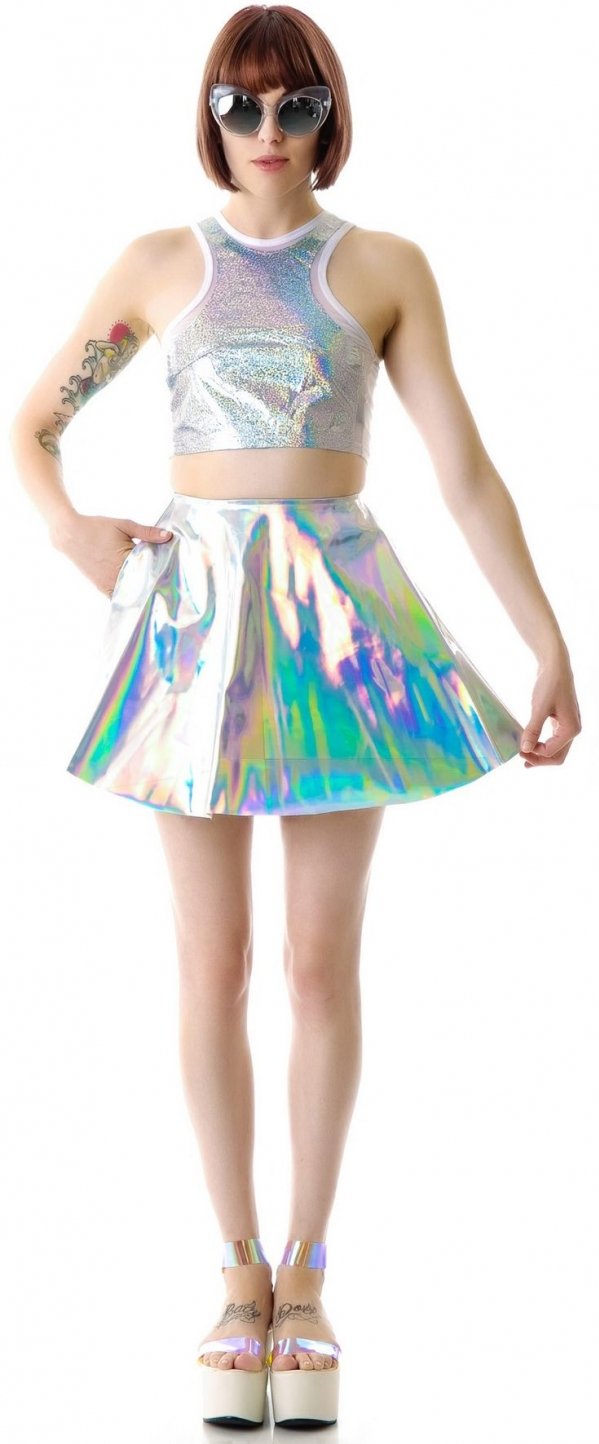 This holographic skirt by UNIF is so stellar that even Katy Perry has been spotted in it! This out-of-this-world skirt has a high waist and a structured fit. It flares out into a circle for a fun and girly appearance. Dress this skirt up with your favorite crop top or other holographic pieces for a truly intergalactic look! You can get this holographic skirt at nastygal.com.
3

Lip Service – Garter Zip Bustier

This crop top is a true 90's throwback with a modern twist. The vegan leather top comes with adjustable shoulder straps, a cute little pocket that snaps closed with a button, an asymmetrical zipper, and a belt around the waist that closes with a buckle. Is showing this much skin not your thing? That's no problem because this top looks great over a t-shirt as well. If you want to add this top to your collection, visit dollskill.com to purchase the Garter Zip Bustier.
4

Thrifted and Modern – Hologram Jacket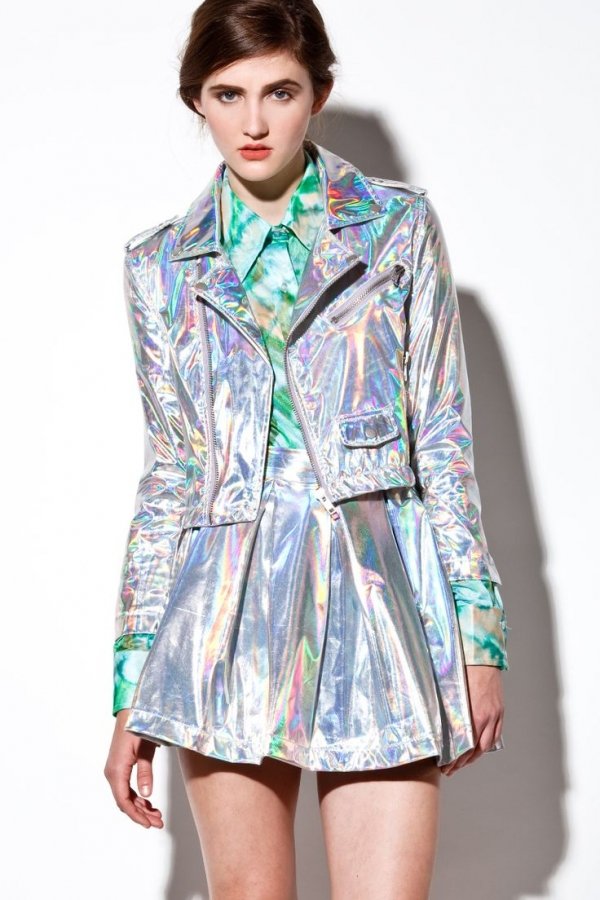 If you're looking for a new jacket this spring, why not consider buying a holographic one? A hologram jacket will go with almost anything! This jacket is made of synthetic leather and features several zippers and buttons. To purchase this shiny jacket, visit thriftedandmodern.com.
5

DevoWevo – Hologram Skater Dress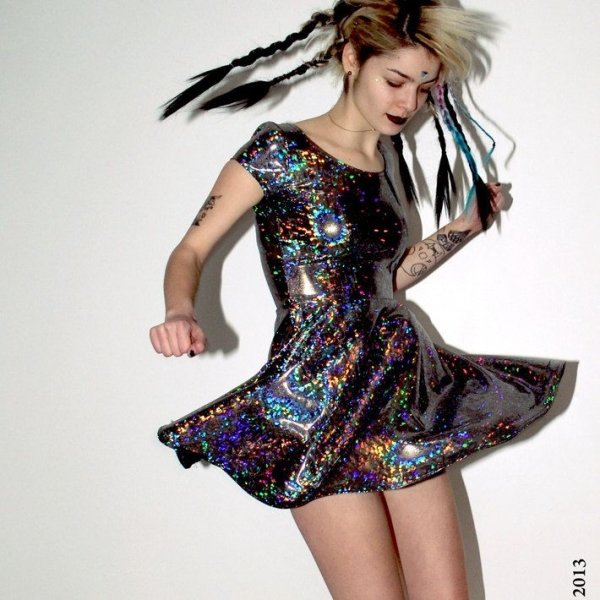 DevoWevo makes a gorgeous holographic skater-style dress. Each dress is handmade out of reflective nylon spandex. This dress is a great way to make a statement rocking the holographic trend! One aspect that sets this dress apart from others on the list is that the dress is a darker holographic fabric than the other pieces listed. If this dress is your style, you can purchase it at mercy-merci.com.
6

Nasty Gal – Cosmic Ouija Clutch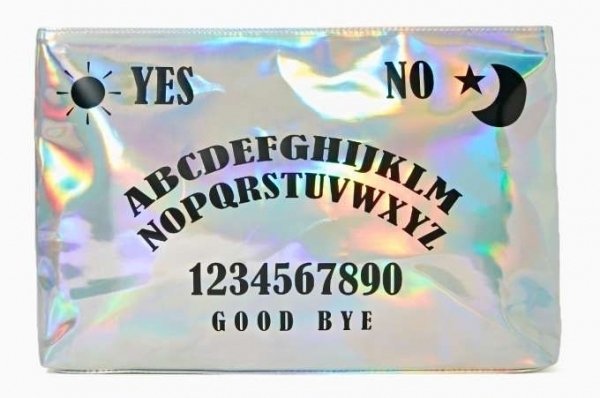 If you are looking for something quirky, then this Cosmic Ouija Clutch is for you. This bag has the shiny holographic material and also features the traditional Ouija board setup in black. This clutch zips on the top and is fully lined with a pocket for your cellular device. This is another great holographic accessory to add to your spring wardrobe! To buy this clutch, visit nastygal.com
7

Lip Service – Hello Hologram Cap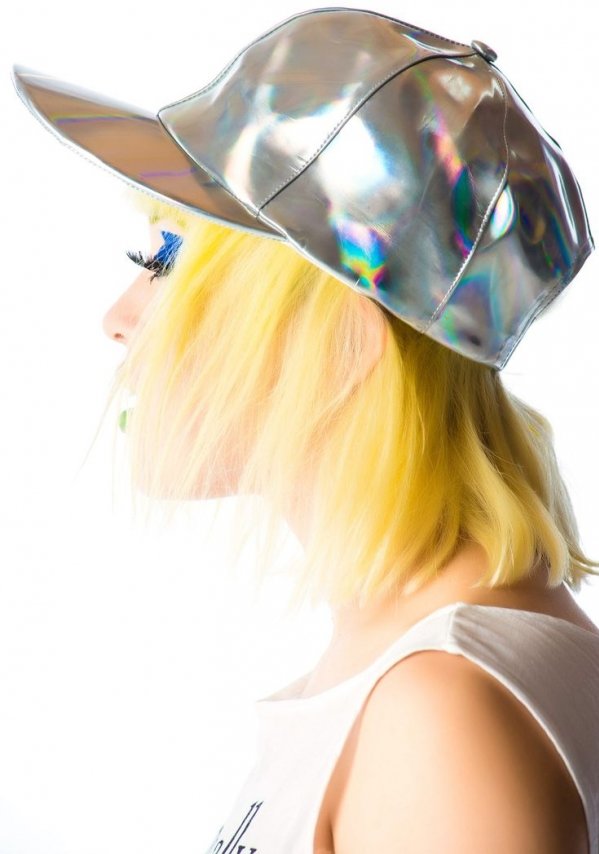 Hats are one of my favorite spring and summer accessories. Needless to say, I was beyond thrilled to find a holographic cap! This hat will make the perfect addition to your spring outfits. To purchase this holographic cap by Lip Service, visit dollskill.com
These are some of my favorite holographic pieces for spring 2014. Do you like the holographic trend or not? If so, would you wear any of these pieces? Share your thoughts with us in the comments section!
Please rate this article