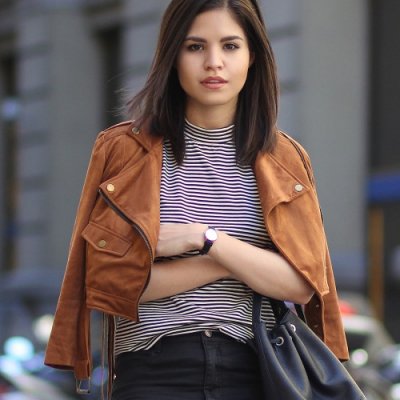 No matter what style of clothing you're used to wearing, you can rock the leather trend. It can flatter any woman, regardless of their skin tone, shape, or size. If you're interested in testing the trend, here are a few of the best ways to wear leather to look like a hot biker chick:
1.

Wear Two Leather Pieces at Once

We all know it's a fashion sin to wear multiple pieces of denim at a time. However, the rule doesn't apply when it comes to leather. If you want to look like a hot biker chick, the more leather, the better. The right combination will make you look bad to the bone, so don't be afraid to mix and match different leather pieces.
2.

Wear Leather Items with Zippers

For some strange reason, leather clothing items with vibrant zippers are super sexy. If you want to look like a biker, then it's a good idea to buy items that have zippers on them, whether they're functional or just a design. That way, you won't have to worry about adding any extra accessories, because something cute will already be built into your clothes.
3.

Wear Tight Leather Pants

If you're going to buy leather pants, they need to be tight. You can't get away with wearing loose, baggy ones, because that's just not the way the style was meant to be worn. Of course, you should make sure that you don't have too much trouble getting in and out of them. You don't want to end up like Ross on Friends and getting stuck in your own pants.
4.

Wear Colored Leather

Biker chicks don't have to stick to wearing black. They can pull off any color of the rainbow, as long as it's made of leather. If you're sick of your closet consisting of only dark colors, then you should invest in some colored leather pants or a colored leather jacket. While you could buy one in any shade, red is your best option. Every woman looks amazing in it.
5.

Wear Leather Boots

The easiest way to look like a biker chick is by slipping into a pair of leather boots. They come in all different shapes and sizes, so it shouldn't be hard to find a pair that fits your style. Whether you like heels or flats, gems or solid colors, and buckles or zippers, you can find something perfect for you.
6.

Wear a Jacket That Fits

If you want to look stunning in leather, you need to find a jacket that fits you well. Leather can look bunched up and thick, which is why you should be careful when purchasing the material. You don't want to get anything that will make your shoulders look too broad or that will make your waist look thicker than it is. That's why the dressing room is your best friend.
7.

Wear a Jacket with Rhinestones

If you're still worried about not looking feminine enough, even after trying on a jacket in the fitting room, you should try looking for something with rhinestones. It'll make you appear more feminine, which might be just what you were looking to do.

Even if you're the sweetest lady in town, you can shake up your look by wearing leather. Do you have any leather clothing pieces that you love wearing?