Everyone is talking about the Miley Cyrus style revolution – and it seems to have really divided opinion. She rebelled from her pink-and-fluffy Disney wardrobe as soon as she came of age, and her new look is definitely much more adult – her wardrobe seems to be packed with leather, studs and crop-tops. So how did she get from there to here, and which Miley Cyrus style do you love the most?!
---
1

Way Back when…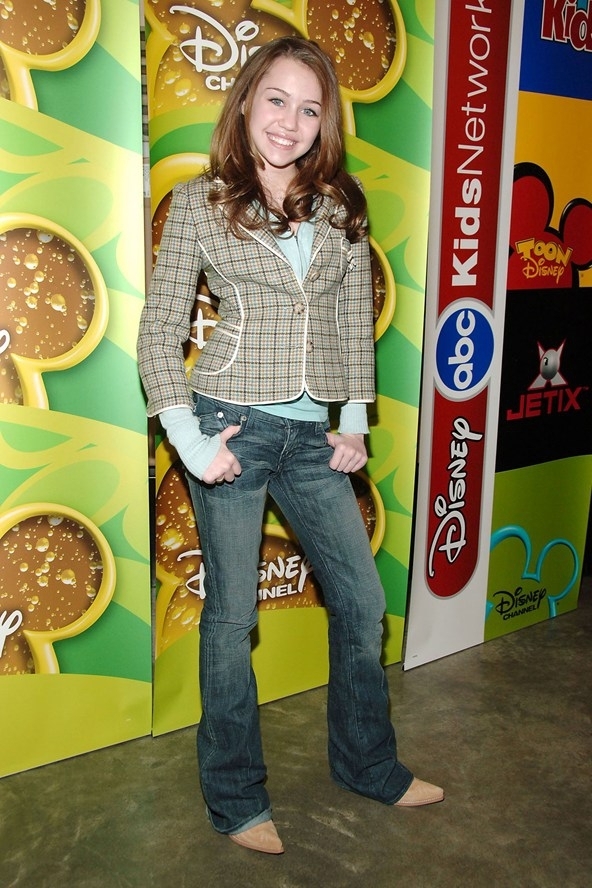 Wow! The beginning of the Miley Cyrus style was certainly very different; she's almost unrecognizable from this photo back in 2006. This was before Miley signed up to play Hannah Montana, the program that made her a household name, and first dyed her hair blonde. She looks very fresh faced in blue flares and a tweed jacket!
---
2

Hannah Montana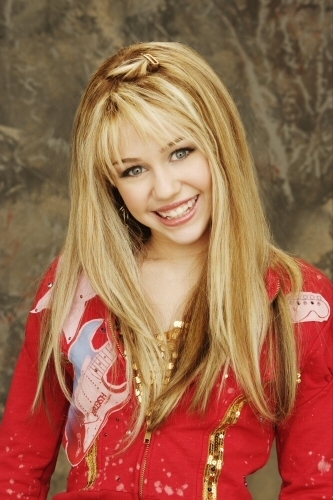 As much as she tries to make sure we forget about this stage in her life, I don't think anyone will ever forget Miley's stint as Hannah Montana. Way back when she was so adorable and lovable that even people who didn't think she was a great singer couldn't deny this sweet girl. Not to shabby in a blonde wig either!
3

A Little More Daring…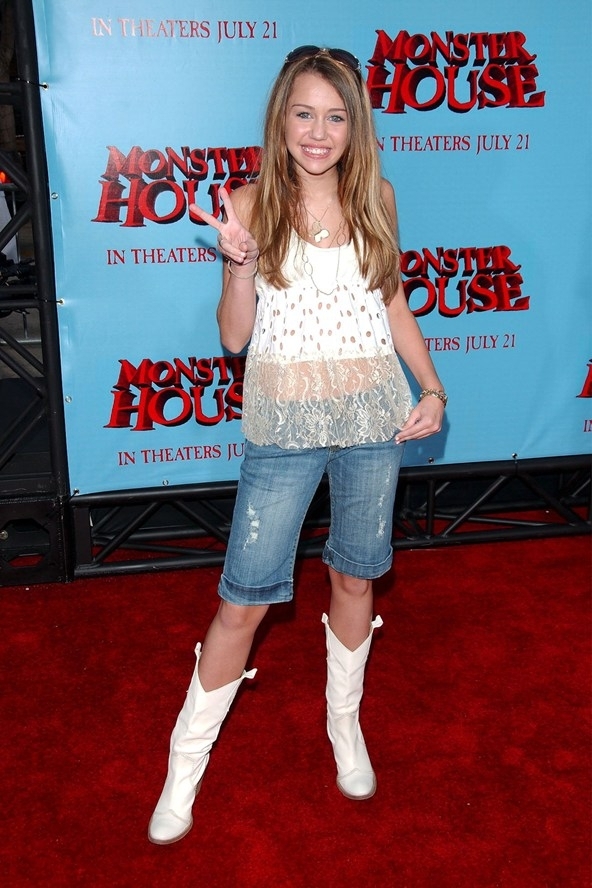 Okay, so in general, we'd say avoid knee-high white cowboy boots completely, let alone with a see-through top and denim cut-offs. Miley looks totally cute and age-appropriate, though, and I love her casual pose. Was this the start of Miley's love for sheer and crop-tops?!
---
4

Only 15…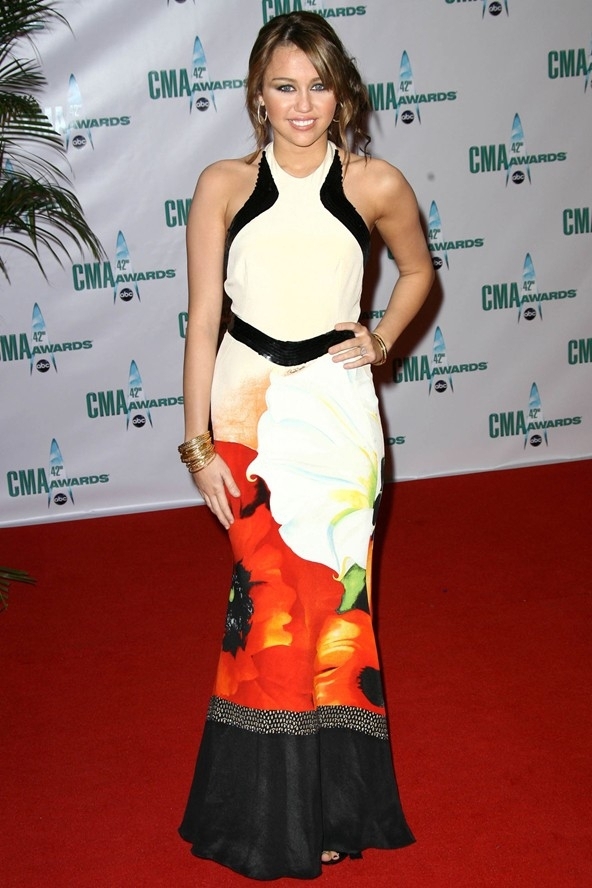 Miley Cyrus looks much older than her years here – the 15-year-old star left her Hannah look at home for this awards ceremony, where she slipped into a very grown-up Roberto Cavalli gown. She even expertly teamed it with a messy up-do and small hoop earrings.
---
5

Glitz and Glamor…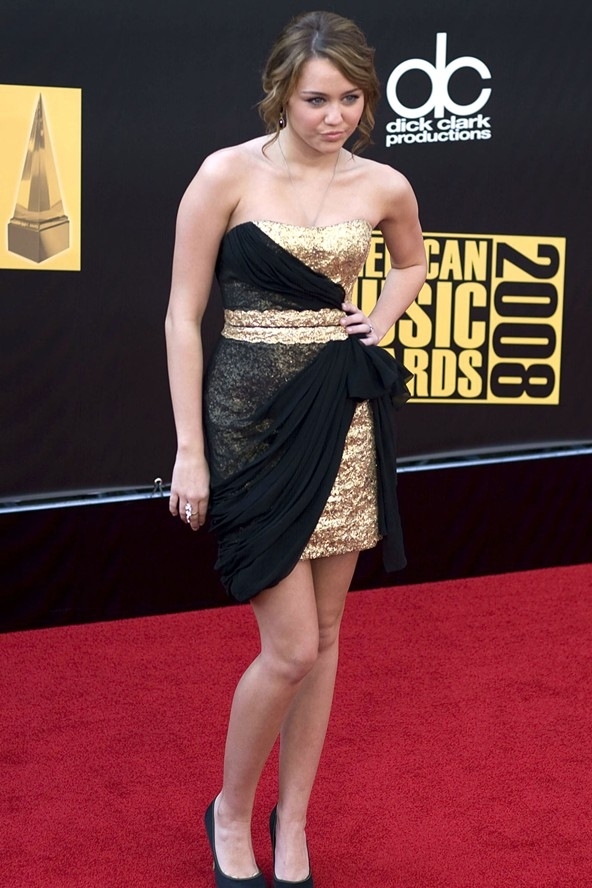 Miley chose a very eye-catching gown for these awards, which happened to take place on her 16th birthday. The gold and black sequined dress showed off her more adult style, and I love the thick gold belts and chiffon black detailing. Her stylist got the accessorizing spot on yet again, with Miley rocking simple black heels, that same up-do and a simple long necklace. Just check out that pout!
---
6

Off Duty Chic…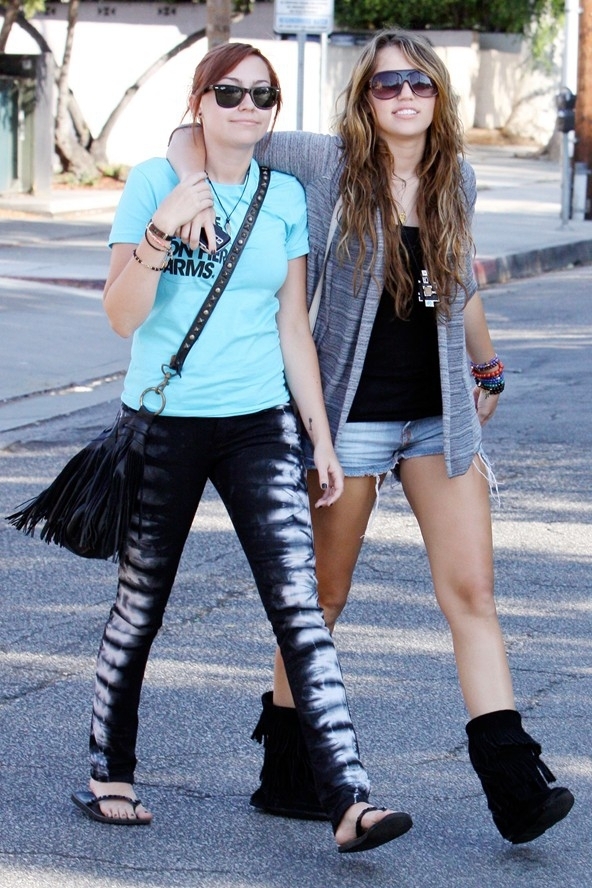 Miley looks chilled out and happy with her older sister Brandi in this casual off-duty outfit, which comprised of a black vest top, long necklace and tiny denim shorts. The only clues to her young age are the huge black Ugg boots and piles of beaded bracelets on one arm. I can't get enough of her tousled beach hair, either.
Jessica
it's actually her sister, Brandy. Not a friend :)...
---
7

Dressed up Yet Daring…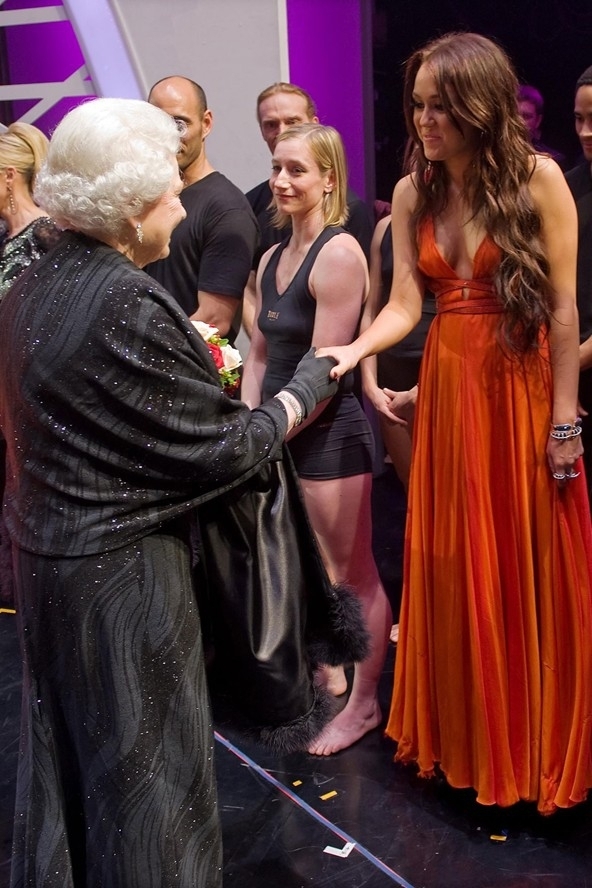 Miley chose a floor-length gown for a meeting with the Queen, teamed with Rapunzel-style curls and a few bracelets. It wasn't the most conservative of gowns, though – Miley chose a bright orange color, and a low-cut front. She carried it off by teaming it with minimal make-up and jewelry.
---
8

Daring with Big Hair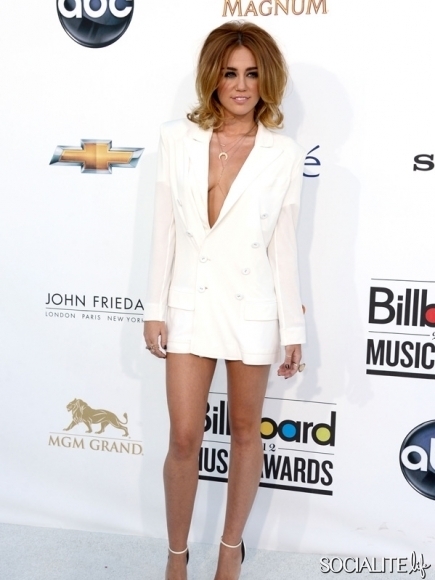 I clearly remember this Miley stage. To be honest I wasn't a big fan of how big her hair was, but she was clearly trying to look older. I think this look as a nice step towards growing up without making too many people freak out at the change. I believe this is around the time she came out with "Can't be Tamed," which turned quite a few heads and made people wonder what her next move would be.
---
9

Grungy Glamor…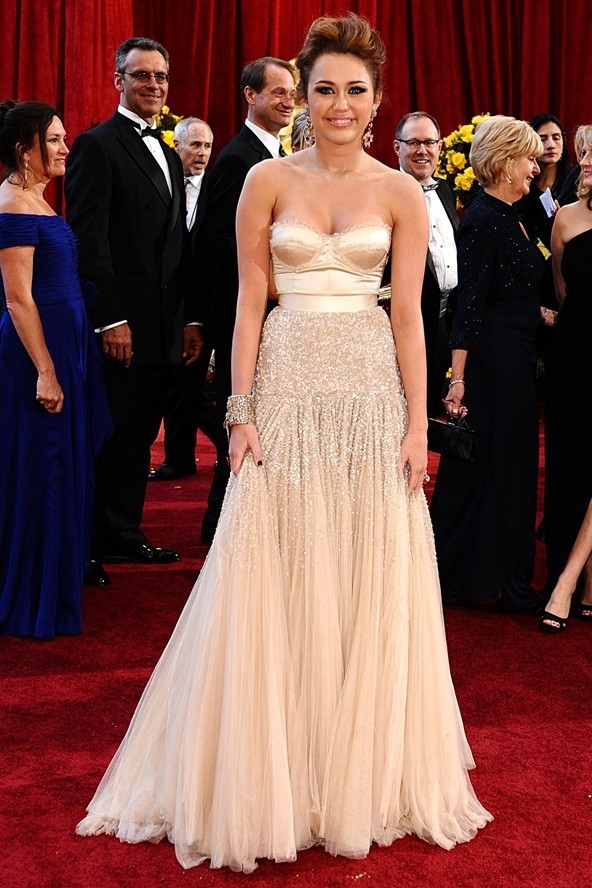 Miley first rocked a quiff back in 2010, when she wore this striking nude Jenny Packham gown to the Oscars. Such a glitzy strapless gown needed some serious accessorizing, so Miley added a thick glittery gold cuff, smoky black eyes and dangly earrings – along with that slightly grungy hairstyle.
---
10

Hair Today, Gone Tomorrow…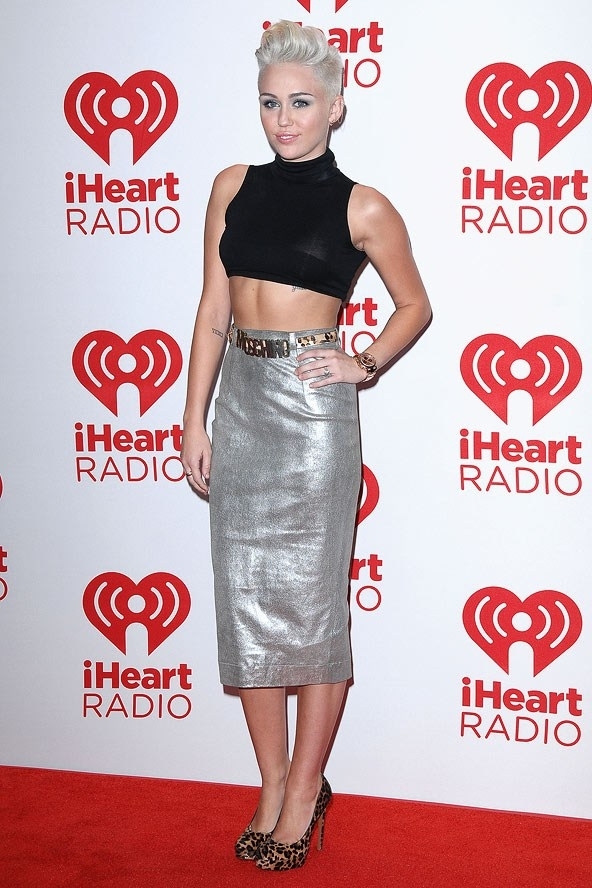 But just when Miley's short-short look was getting slightly predictable, Miley slashed off her hair. Gone were her lengthy locks, and instead she went for a short shaved look, in a deep gray/blonde color. After unveiling it on Twitter first, and receiving a whole host of mixed opinions, she showed it off in public teamed with an almost-sheer black crop top and a futuristic metallic silver skirt. The leopard print belt and shoes are the perfect finishing touches.
---
11

Chic and Cheerful…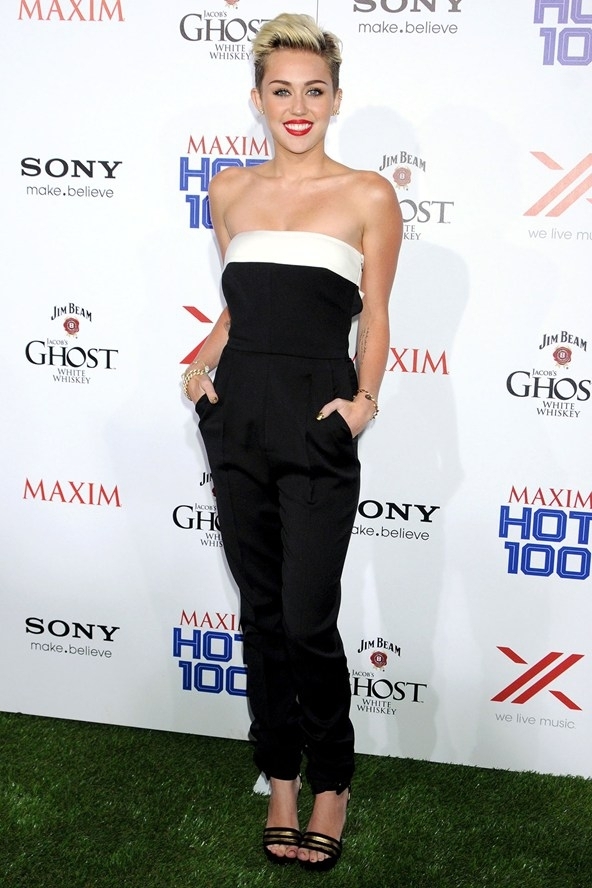 Miley celebrated being voted the sexiest woman in the world – and a full Miley Cyrus style revolution – in this chic monochrome jumpsuit. It's probably my favorite Miley look! From the dyed hair to the red lips and chain bracelets, it's just so simple yet elegant. Definitely a win.
---
12

All Grown up...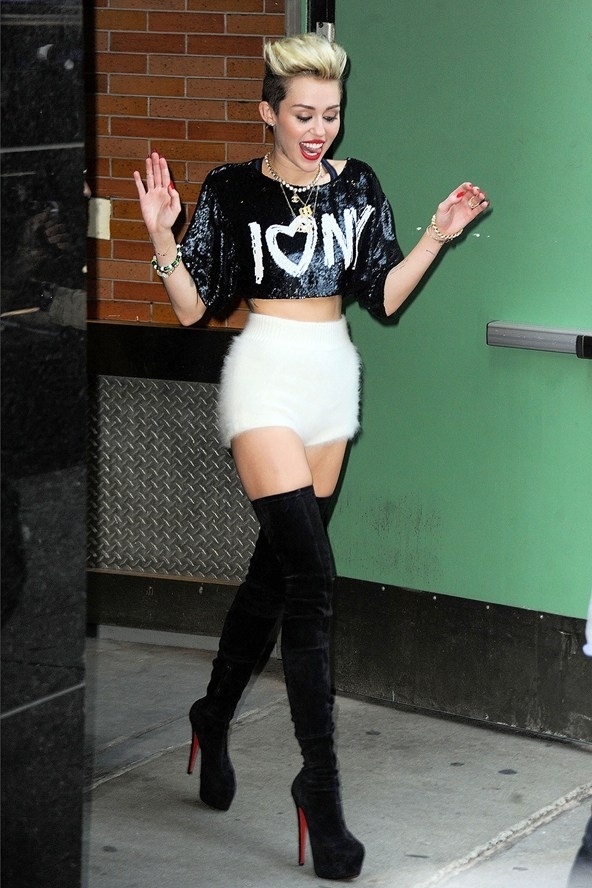 White feather shorts, a sequin sweater, a dramatic shaved quiff, thigh high Christian Louboutin boots…this was Miley just a few weeks ago, and boy doesn't she look grown up?! Without her bags of attitude (just check out that walk!), this would be a hard look to pull off, but everyone is used to Miley's dramatic style now. Having abs like that helps, too! It's a far cry from some of the first Miley Cyrus style files…
---
13

Pushing the Limit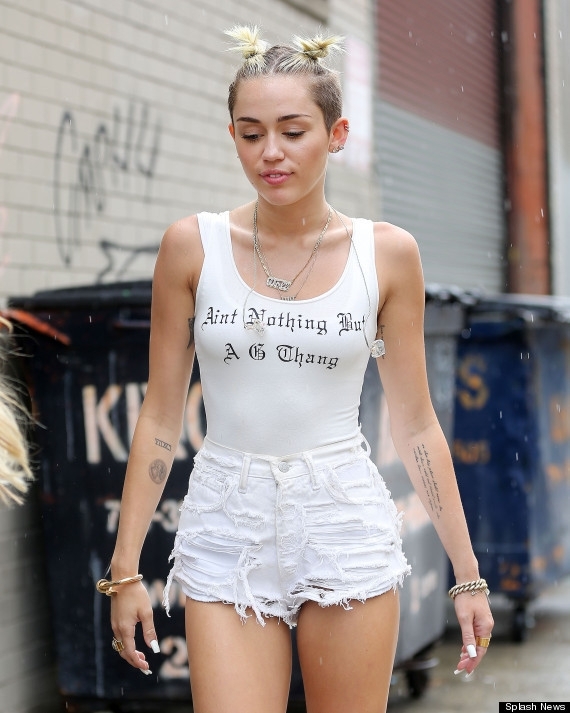 Miley is not holding anything back at this point. You can see that she is completely ready to shed the good girl Hannah Montana image. Not only is she exposed and free of hair, but her tattoos are exposed and her shirt says "ain't nothin but a G thang" which is fitting with the new music she wants to come out with. This is pushing the limits, but just enough to make people look again.
---
14

Infamous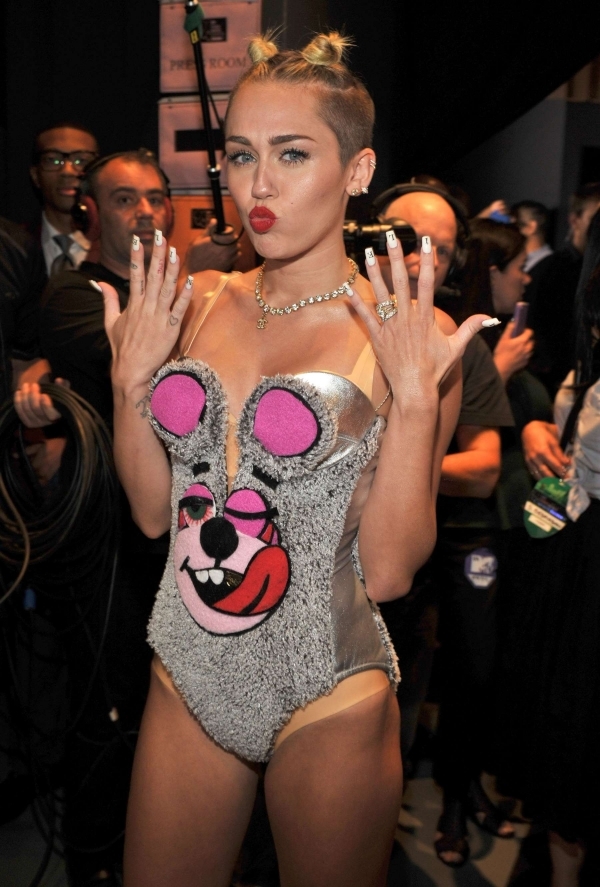 Oh the infamous 2013 VMA look. If this outfit wasn't bad enough, she took it off to reveal a nude bathing suit to give the illusion that she was naked. There's no more pushing the limit, she was way passed the limit of what people expect from her. For some this is a great revolution, but for most people worry about how she plans on topping herself.
---
15

New Red Carpet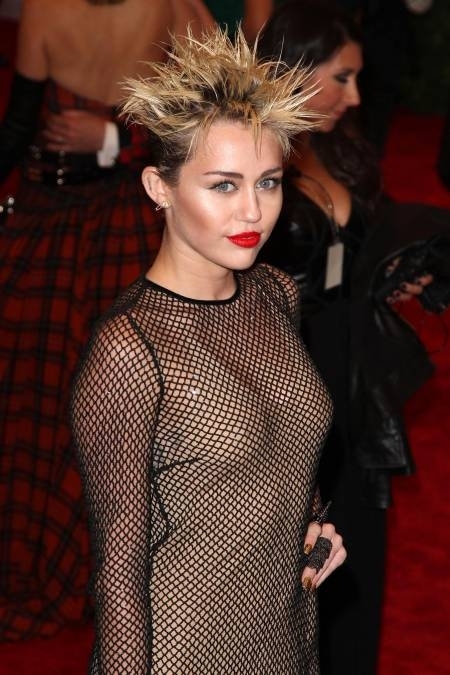 There are more outfits or pictures that could be used to show her change, but I thought we should take a look at the new red carpet Miley. She hasn't made her look more revealing in the typical sense, but if you look at the outfit it gives the illusion that she's naked underneath the netting. This is obviously on purpose to have to show that she's not afraid to expose herself while still keeping it red carpet appropriate. Smart move on her part.
So do you love Miley's new grown-up look, or did you prefer her tamer looks? From boho looks to floral maxi dresses and cut-out midis, it seems Miley has been snapped in it all. There's no denying that the Miley Cyrus style revolution has gripped us all; so what's your verdict?
This article was written in collaboration with editor Lydia Sheehan.
---
Comments
Popular
Related
Recent