There have been many fashion trends in 2014 so far, and one of them is overall trends. Overalls are no longer just jeans with a bib front and shoulder straps. They have been altered and modernized into dresses, shorts, and skirts. Overalls are making a big comeback on the fashion scene right now, and a lot of people are jumping on the bandwagon. Are you thinking of adding some overalls to your wardrobe? All of the following items can be found at Urban Outfitters. Here are seven overall trends that you can rock this year.
---
1

Overall Dresses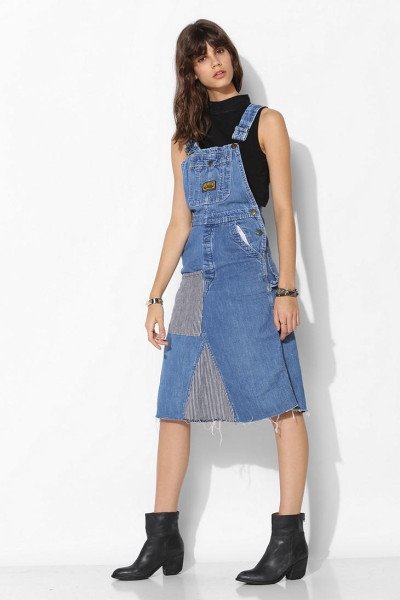 There are a lot of different overall trends, and the first in this list is overall dresses. This dress (pictured above) contains both traditional and unique aspects. It's made of denim (as most traditional overalls are), but the skirt has been patched with a striped, cotton fabric. Cool, right? And let's not forget that this item has been designed into a skirt instead of pants, giving it a more feminine touch.
---
2

Overall Shorts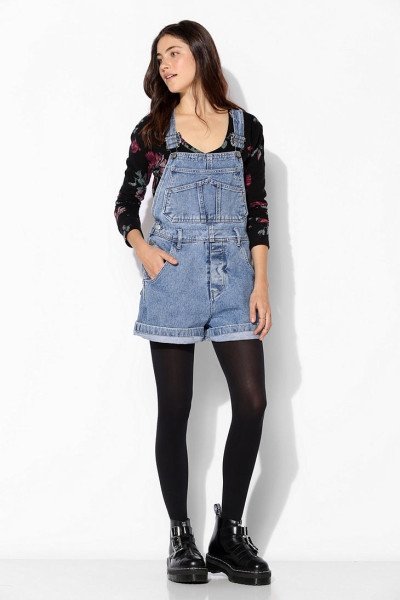 How cute is this piece? These overall shorts are loose, and have a boyfriend fit. What's unique about these shorts is that they have leather back pockets. The leather pockets give the overall shorts a bit of interest, while still remaining somewhat traditional. You can wear this item with a t-shirt, sleeveless top, sweater, or tights/leggings. Dress up this piece with some jewelry. It's all up to you and your personal style.
---
3

Overall Tutu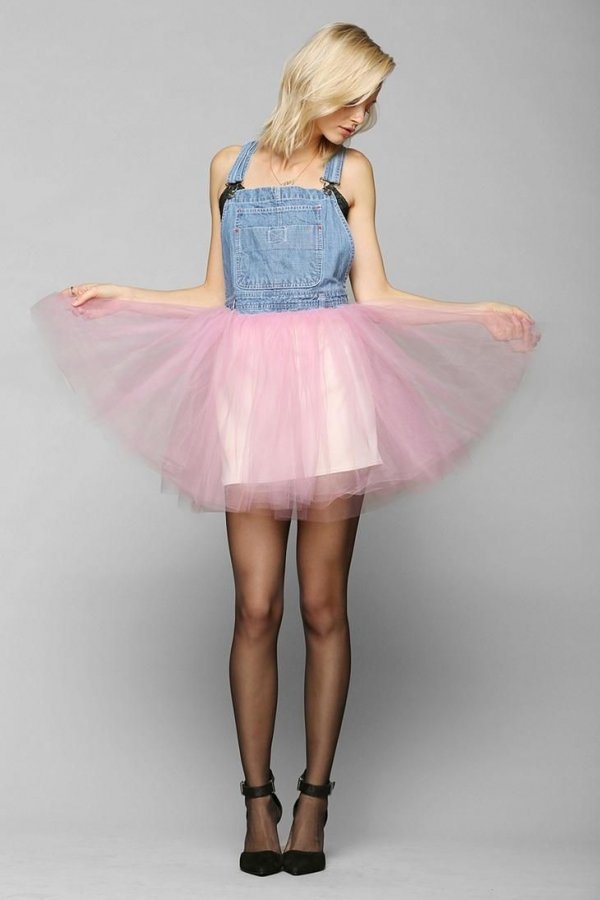 Who knew that overalls and tutus could be combined? Urban Oufitters' Tulle Skirt Overall Dress is completely unique. I don't think I've ever come across something like this before. So if you are someone who doesn't mind standing out, this piece will be perfect for you. This item screams fun, flirty, and fashionable.
---
4

Overall Skirts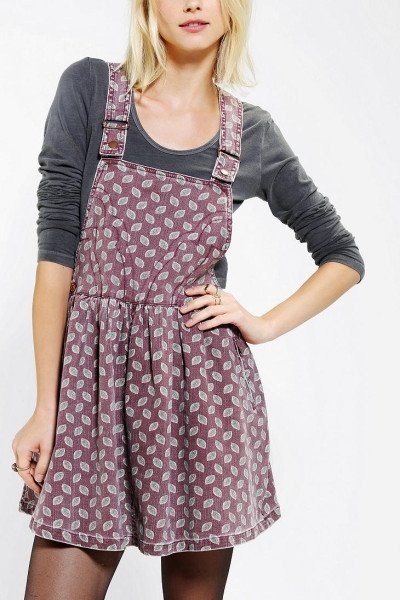 Not only is this overall piece unique in the sense that it has been designed into a skirt, but it's also made of a patterned denim instead of the traditional blue denim. This overall skirt has a cute paisley print to it. It has been created in a circle skirt with zipper pockets. You can wear this overall skirt with a crop top, tank top, or sweater. This item brings the overall trend to a whole other level of cuteness, don't you think?
---
5

Overalls with a Print/Pattern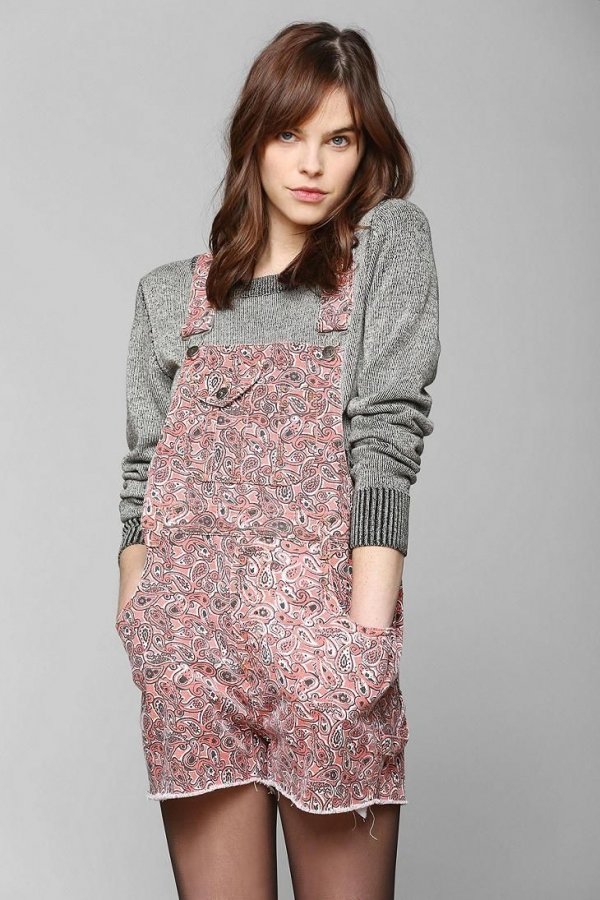 Overalls are no longer being designed solely in the traditional blue denim. You can now find overalls in all sorts of different colours (as you have already seen in number 4 of this list). This particular item (pictured above) consists of a red/purple denim with a paisley pattern. What's also cool about this piece is that it contains cut-off shorts and a pocket on the front bib. Pair this piece with some leggings, a beanie, and some jewelry. Have fun with it and showcase your style.
---
6

Leather Overalls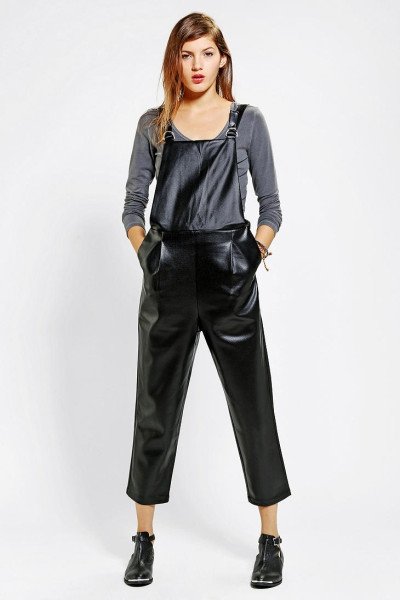 Not a big fan of denim? You no longer have to worry. Overalls are now made in a variety of materials. This item, in particular, is made of vegan leather. It contains pockets and a tapered leg. Do you love the punk rock look? This piece will be perfect for you!
---
7

Traditional Overalls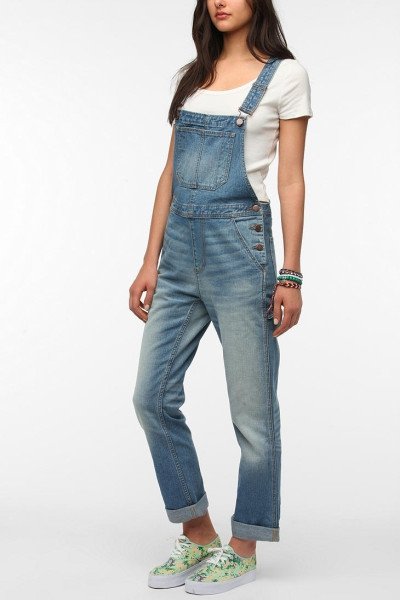 Do you like to keep things traditional? If so, this BDG Denim Overall is just for you! This piece keeps it classy in the sense that it has been created with the original overall design in mind. With a loose fit, these overalls are perfect for those lazy, relaxing days at home or at your friends' house.
That was seven overall trends that you can rock in 2014. Which piece is your favourite from this list? What do you think about the current overall trend? Do you think it's hot or not? Please leave a comment.
More
---
Comments
Popular
Recent