There aren't many places that sell sexy plus size lingerie. I love to dress up and look smoking hot for my husband, but we bigger girls sometimes have a pretty hard time finding just the right attire for that steamy night. I think it's ridiculous that plus size bras, panties and other lingerie found in regular stores are usually beige, white or have massive floral or gaudy patterns on them. Just because we have larger bodies doesn't mean we can't be sexy! I've been overweight my whole life. Despite dropping a substantial amount of weight this past year, I'm still on the heavy side. I have found some pretty amazing plus size lingerie items from various sources that I love, so I want to share them with you! I will try my hardest not to use items from hipsandcurves.com for all 7, but it will be difficult because I love every single thing on their site!
---
1

Three Piece Peignoir Set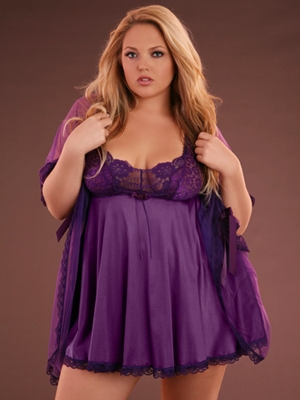 I bought the white version of this plus size lingerie for my honeymoon and my husband LOVED it! At $69.99 from Hips & Curves I know it's pricey, I've never spent that much on lingerie before, trust me. It's a special occasion type set that looks gorgeous on and I actually felt incredibly comfortable in it. So if you have an anniversary coming up, or you want to plan ahead for Valentine's Day or just a special night with your special someone, I highly recommend splurging on this little outfit.
---
2

J'adore Overlay Chemise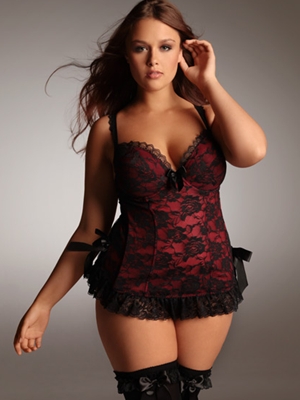 This is gorgeous and it really helps shape your body in a super sexy way. I love how it looks on even though I was a little leery of how I'd feel in it. It's actually surprisingly comfy, I didn't feel pinched into it and I didn't feel as if I needed to cover up "embarrassing" problem areas. It comes in a few colors, so pick the one that complements your complexion best! Find it at Hips & Curves for $39.99.
---
3

French Maid Babydoll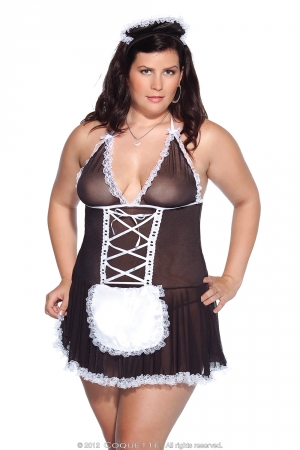 We all know the French Maid outfit is one of the traditional sexy costumes. This one is beyond reasonably priced and looks great on! I love the fact that it is all one piece. I used to have one of these that consisted of several pieces and it was always such a hassle to find each component. Find it for $19.95 at Henry & June.
---
4

Nobody Does It Better Bustier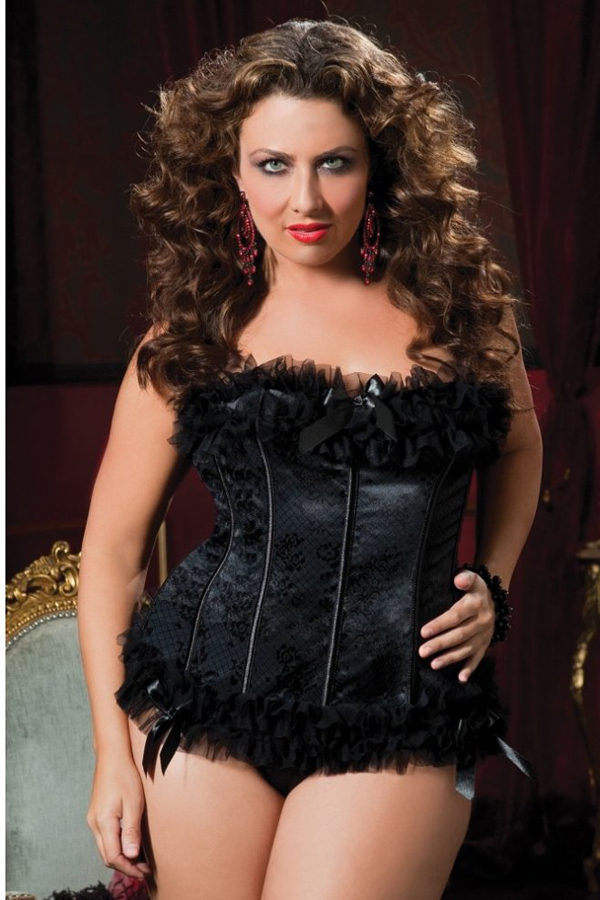 I love a pretty bustier or corset! This one looks especially nice on, holds you in at all the right places and lets your sex appeal overflow! It also comes in a daring red, but I personally love the seductive black! It's available at Plus Size Lingerie Boutique for $31.95.
---
5

Leopard Print Chemise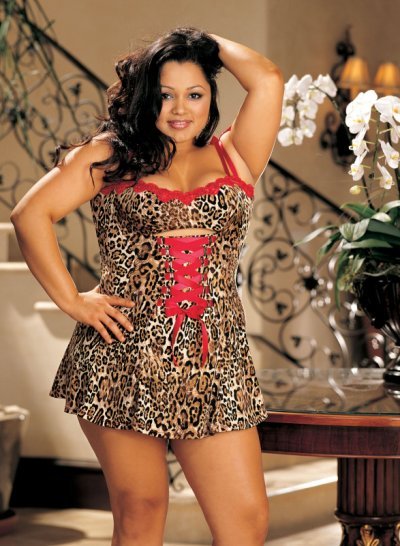 **
**
Feel like unleashing the wild animal within you tonight? This leopard print chemise has a nice sexy shape and I love the peek-a-boo slit in the mid-bust area. I'm not really a fan of animal print, but even I want this! Find it at Plus Size Plum for $56.00.
---
6

Sexy Halter Long Gown with Tie Cups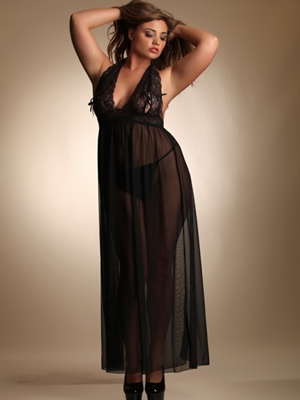 I tend to stay away from sheer fabric, but I absolutely make an exception for this gorgeous gown! I love the way it looks and I really love the added detail of the slit in the cups with a satin bow in just the right spot. Get it for $49.95 from Hips & Curves.
7

Pleated Chiffon Babydoll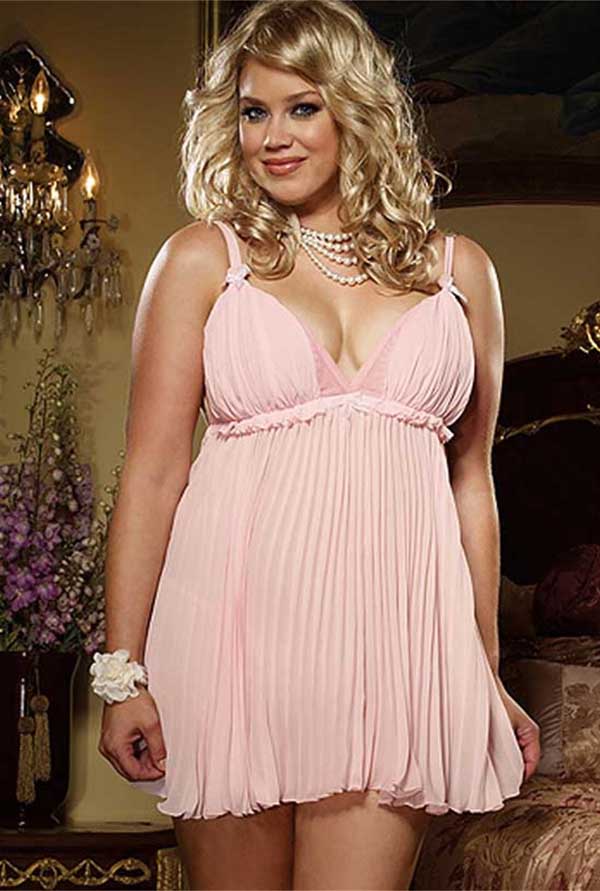 This soft and feminine looking lingerie comes in several different colors and I absolutely love the pleated front! Chiffon is definitely one of my favorite materials to wear. I love the way it falls and it feels so nice against your skin! It's $39.00 at Always for Me.
My tummy has always been my trouble area, so for me, personally, I try to avoid open fronts, sheer fabric and anything that ties or belts under the bust. Minimize your problem spots and maximize your best assets, ladies! Where is your favorite spot to shop for sexy plus size lingerie?
---
Comments
Popular
Related
Recent