There are so many cute Victoria's Secret swimsuits to go with almost every body type. And what makes it better is that they are currently running the annual swim sale. This means you can get those super adorable Victoria's Secret swimsuits for about half the price! These trendy summer looks are all available for less that $50 and with free shipping to boot.
---
1

Beach Sexy Sequin Bikini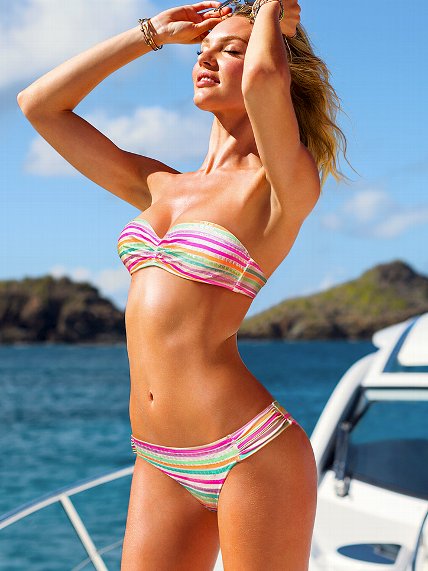 This is one of my favorites of the new Victoria's Secret swimsuits. The striped, sequin bikini has a push-up bandeau top and ruched hipkini bottoms. This bikini has all the must-haves for a summer swimsuit; it is bright, white, and gives some extra umph whenever you want it. The best part is that the padding can be removed for those all natural days.
---
2

Jeweled Bikini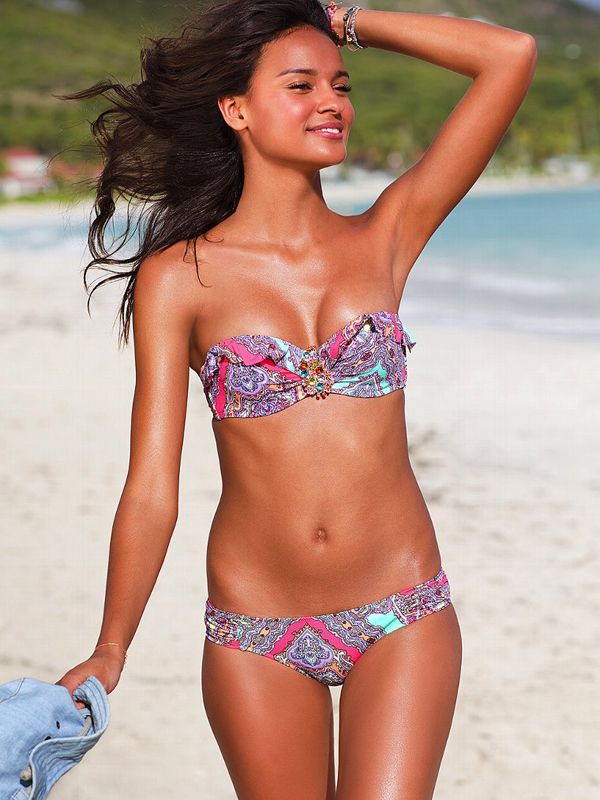 Any bikini that includes gems is a winner in my book. This Beach Sexy bikini comes in multiple styles and colors, but they all have one thing in common, a gorgeous brooch-like stone at the center of the bandeau top. These tops come with removable padding and halter straps that can be taken off as well. The bottoms can be mixed and matched and come in multiple styles ranging from moderate to minimal back coverage.
3

Seafoam Glow Lace Bikini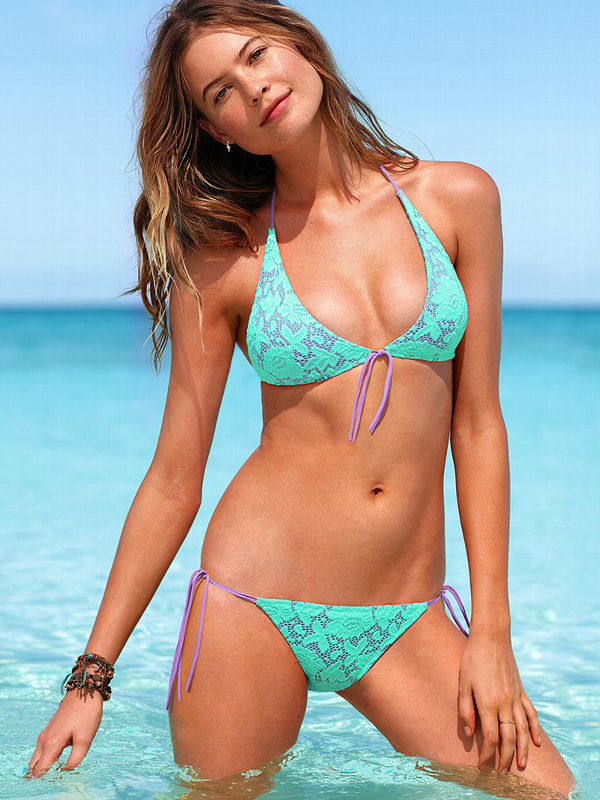 This bikini comes with the option of two-tone lace in yellow and coral, white on white, or the purple and mint pictured here. Each bikini has a front-tie triangle top and side-tie bottoms. The best part is the entire thing will cost you less than $40! For that price we could buy all three!
---
4

Jeweled Ruffle Bikini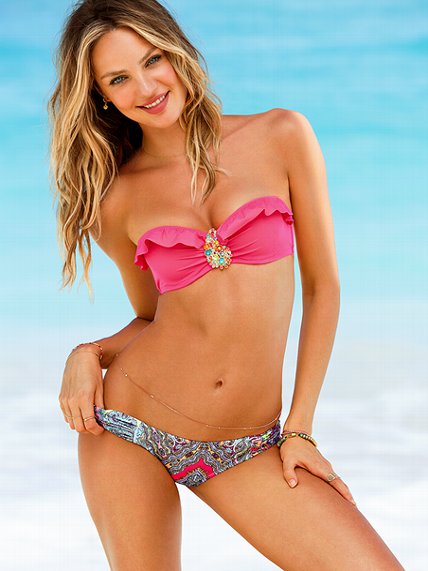 I cannot decide what part of this bikini I like more, the super fun colors or the gorgeous jeweled clasp on the front. This bandeau top comes with cute top ruffles and a multi-colored center stone. You can mix and match the bottoms for this bikini combo and opt for the simpler ruched back hipkini, or go ruffle crazy with cheeky hipkini ruffle bottom. Either one is a complete beach bunny win.
---
5

Strappy Bikini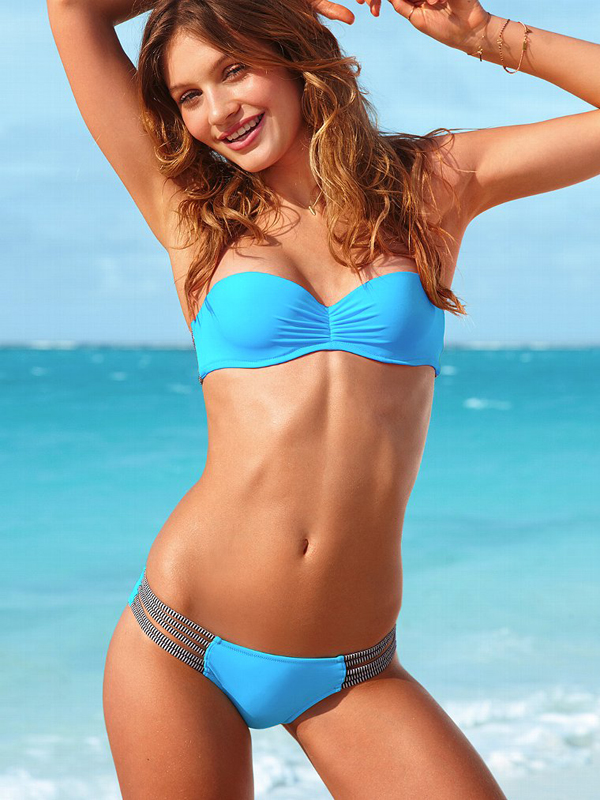 Ok, this bikini is exactly what it sounds like. Both the bottoms and the bandeau top are connected by graphite colored elastic rope. It comes in teal and graphite or pink and graphite. The top includes removable padding and the bottoms are the new cheeky hipkini style. I love this bikini.
---
6

Ruched Triangle Bikini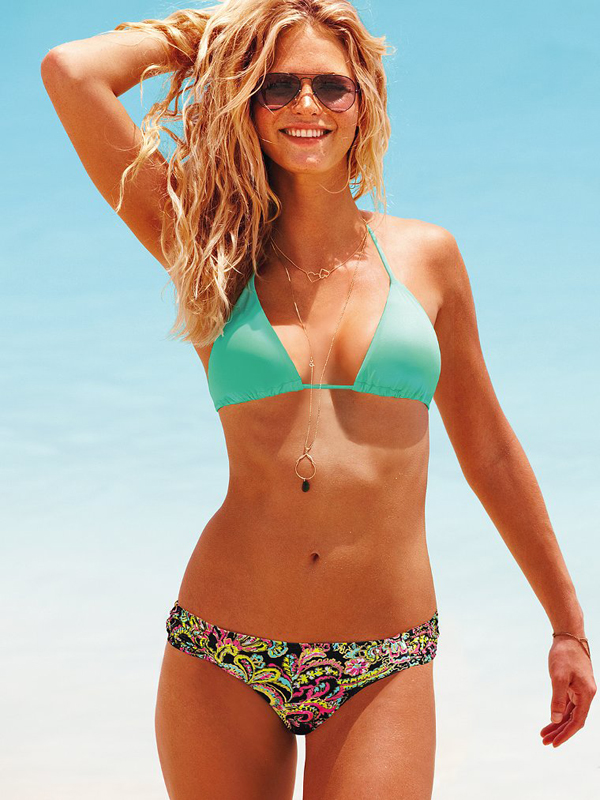 This bikini takes mix and match to a whole new level. There are over fifteen color options, including solids, stripes, and patterns, and almost as many style options as well. My favorite combination is the simple triangle top with the ruffled ruched low-rise hipkini. Most of these mix and match items do not exceed $15 dollars, making these bikinis the best purchase for the price!
---
7

Eyelet Bikini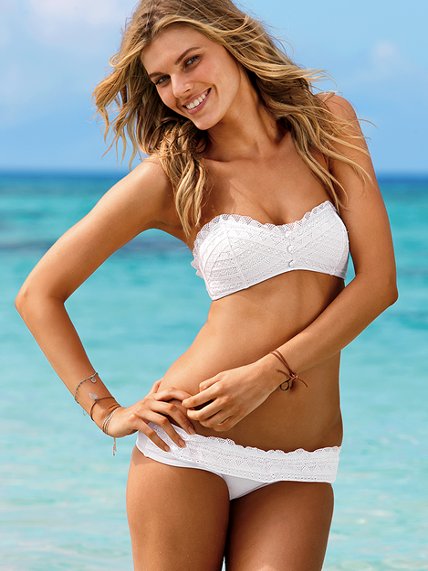 If you like white and retro styles, this will be your favorite new swimsuit. This bikini has scalloped details along the top edges and faux button closures along the center of the bandeau top. The front also has an awesome lace chevron pattern and the bottoms are the new cheeky hipkini style. I may be the same color as this swimsuit right now, but I am totally willing to fake bake it for this cutie!
Victoria's Secret has so many cute styles that can be mixed and matched, it is hard to just pick one. Then, add in these great prices, and you have an overflowing shopping cart. What bikini style are you going for this summer?
---
Comments
Popular
Related
Recent