Steal These Outfit Ideas from the Cuties on Scream Queens ...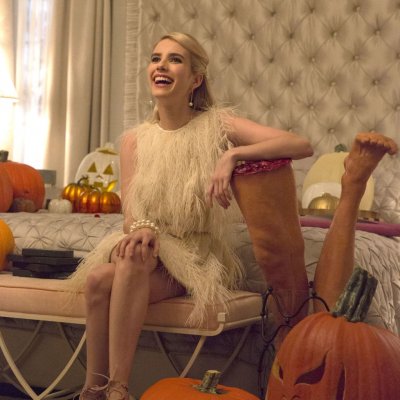 I think I speak for a lot of people when I say that even if you're not watching Scream Queens, you're definitely keeping tabs on the fashion they're rocking on the show. The style on this show is taken to a whole new level. It's like sorority girls on steroids. If you love pastels and preppy style with a twist, you've definitely met your match with this show! Do you want to dress like them? With this style guide, you can recreate the outfits for yourself! Should we call you Chanel #7?
1.

Chanel #5's Floral Dress and Bright Fur Vest
I love how this outfit is colorful without being too out there! If you're looking to add some drama to your wardrobe, recreate this look. Simply wear your favorite floral dress, and pair it with a bright faux fur vest. The bright color in the vest will bring out the color in your dress and you'll be turning heads everywhere you go!
Although this started out as an homage to the mother of Billie Lourd, who plays Chanel #3, (her mom is Carrie Fisher, but you may know her best as Princess Leia) it's quickly becoming the fashion statement of the season. If you love this look, recreate it for yourself! Simply pair your earmuffs with any of your favorite fall or winter outfits to channel Chanel #3!
3.

Chanel's Pink Satin and Tulle Number
Um, does it get prettier than this look? Leave it to the original Chanel to wow us all in this number! If you want to recreate it in your own wardrobe, get your hands on a pink satin dress if you don't have one already. Then, get a pink cape. Either buy one or make one yourself with pink tulle from your local fabric store. Attach it to your dress, add some big, pearl jewelry, and you've recreated Chanel's look!
4.

Chanel #5's Graphic Tee and Cat Ear Headband
Find a t-shirt or sweatshirt with a bold and eye-catching statement across it, pair it with a pastel skirt and a fur vest, and then recreate this adorable headband/hat hybrid for this quintessential Chanel #5 look. As cute as this hat is, I think it's also super easy to recreate with a pair of scissors and some gray fabric. Now we can all look as cute as Chanel #5
If there's anything these girls are known for, it's definitely faux fur. I would go so far as to say that there has yet to be a scene in which there wasn't at least one of the girls wearing faux fur of some sort. If you love this tie-dye fur coat but can't afford the Nasty Gal number, you can easily recreate it yourself. Simply find a white faux fur coat and get a little crazy with pastel dyes. It's a coat that's sure to be a hit!
6.

Hester's Blush Pink Dress
Hester completely reinvented herself in this dress, so it definitely deserves our praise. This dress is the prettiest blush pink, it almost looks like it's white, which pairs beautifully against Hester's golden glow. Find a blush, sweetheart neckline dress, and if it doesn't have embellishment across the neckline, add some yourself!
7.

Chanel #2's Metallic Crop Top
Oh Chanel #2, our time with you was too short. If you fell in love with Ariana Grande's look in this episode, you'll be happy to know that you can recreate it for your own closet! If you have trouble finding a metallic crop top at your favorite store then get a sewing kit and some metallic fabric and create your own! That being said, I feel like metallic and crop tops are the two biggest trends of the year, so you shouldn't have any trouble finding one at a clothing store!
What's your favorite Scream Queens look? Let me know in the comments below!
{{#comments_count}} Show Commnents ({{comments_count}}) {{/comments_count}}