The athleisure trend was one of those things that I didn't quite get at the beginning. I admired stylish workout wear but I wasn't exactly the biggest fan of working out so mixing athletic wear with other pieces was puzzling to me. I didn't see the appeal at first but now, I'm a total believer in the comfy, casual trend. If you still have mixed feelings about the athleisure trend or just don't know where to start, get some serious style inspo from these street style looks!
Table of contents:
1

Scarf and Sneakers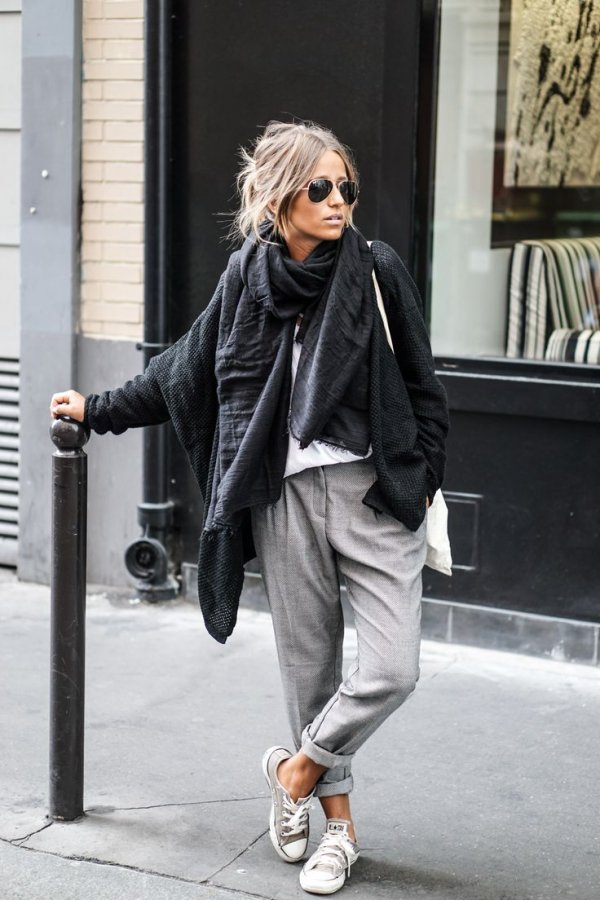 Source: noholita.fr
This look reminds me more of MK & A's style, but the sneakers, loose t-shirt, and rolled up trousers are sporty and cool.
2

Spandex with a Long Coat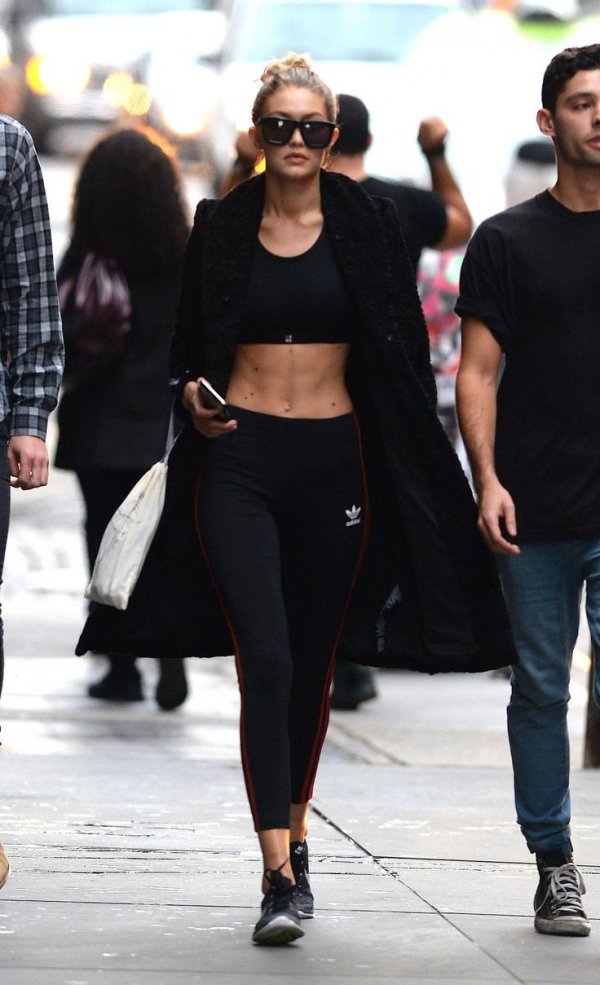 Source: 5 Times Gigi Hadid Won
Who else looks this chic wearing workout clothes? Seriously,
Gigi Hadid is the reigning queen of the athleisure trend.
3

Bomber Jackets and Spandex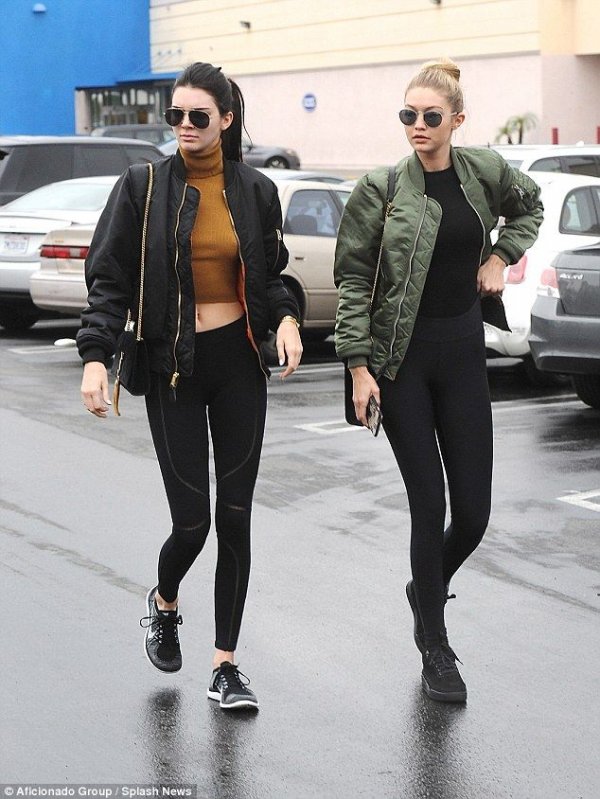 Source: Kendall Jenner and Gigi Hadid
Here's Gigi again, this time with BFF Kendall Jenner. Both ladies are looking fit and fab in their coordinating looks.
4

Sneakers and a Turtleneck

Source: Who made Victoria Beckham's white
Fashion icon Victoria Beckham pairs a turtleneck sweater with cropped trousers and white sneakers.
5

Sporty Leather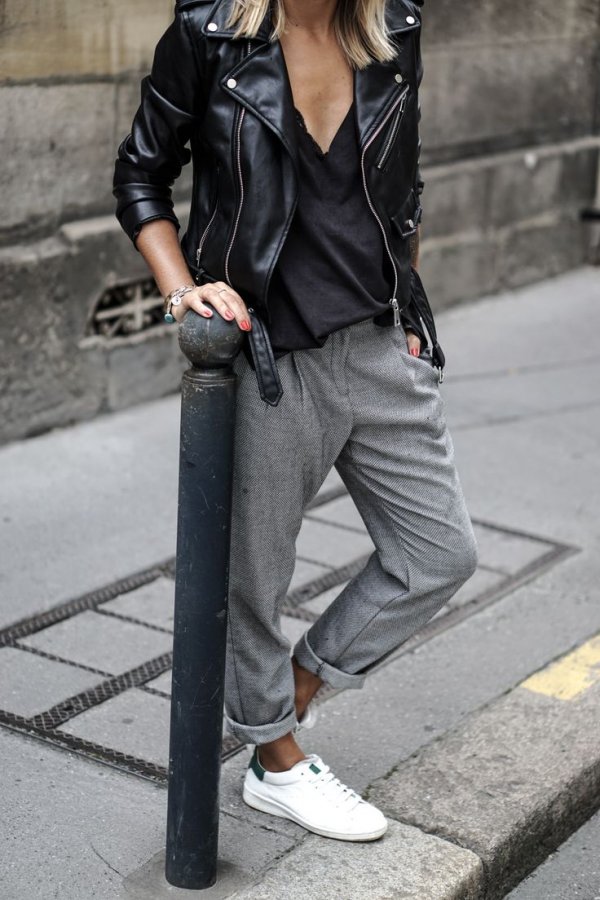 Source: noholita.fr
I love the combo of the tough leather with the loose fitting clothes. It's perfectly pulled together with the white and green sneakers.
6

Winter Athleisure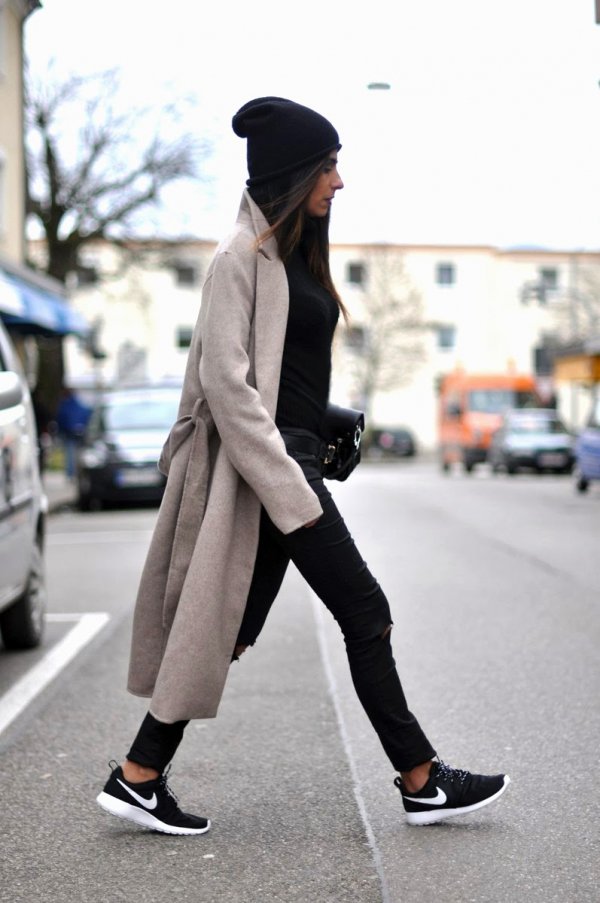 Source: Mis Queridas Fashionistas: STREET STYLE
An all-black look with a long belted coat and running shoes.
7

Edgy Yet Comft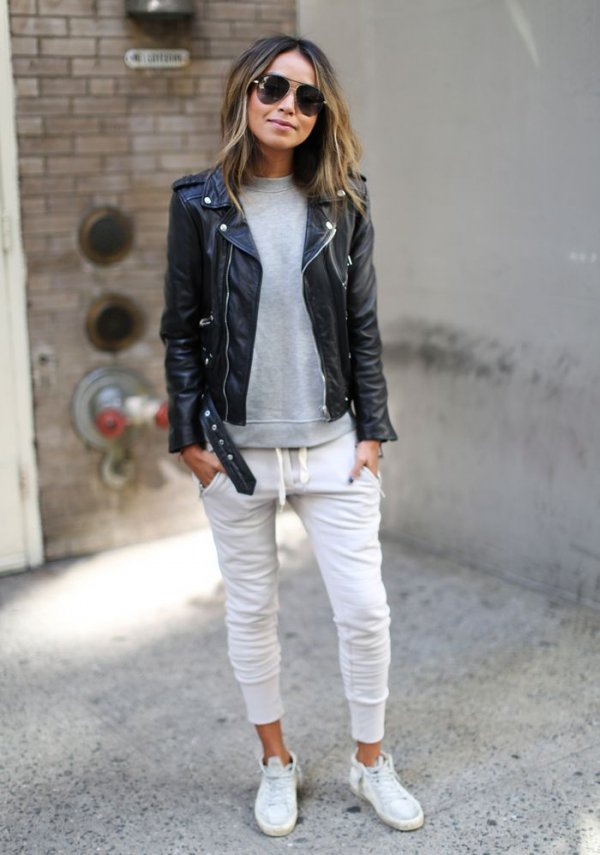 Source: justthedesign: Julie Sarinana adds a degree
Who better than fashion blogger Julie Sarinana to show us how joggers and a leather jacket can work.
8

Rainy Day Style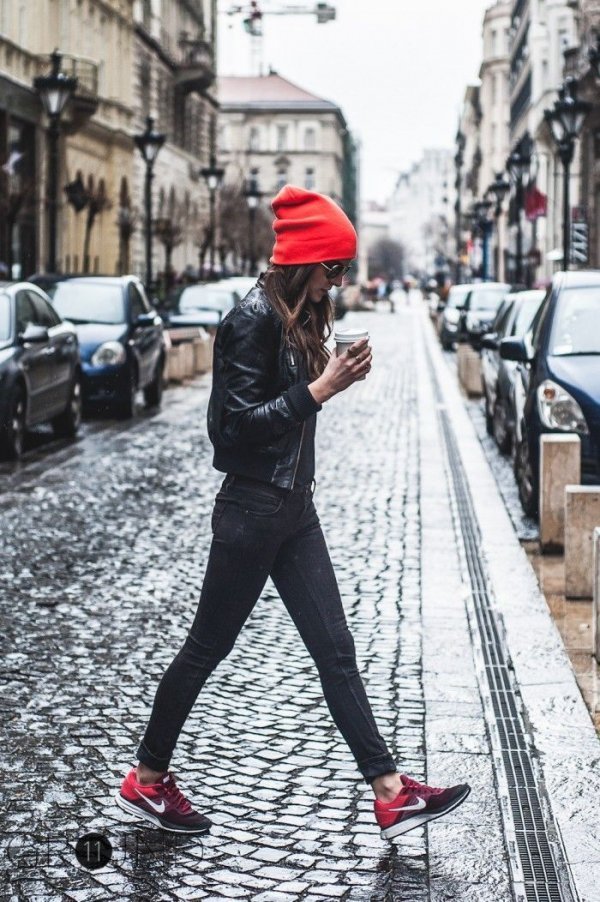 Source: Street Style 101: The Athletic
The red beanie adds a nice pop of bold color, don't ya think?
9

Grown-up Tomboy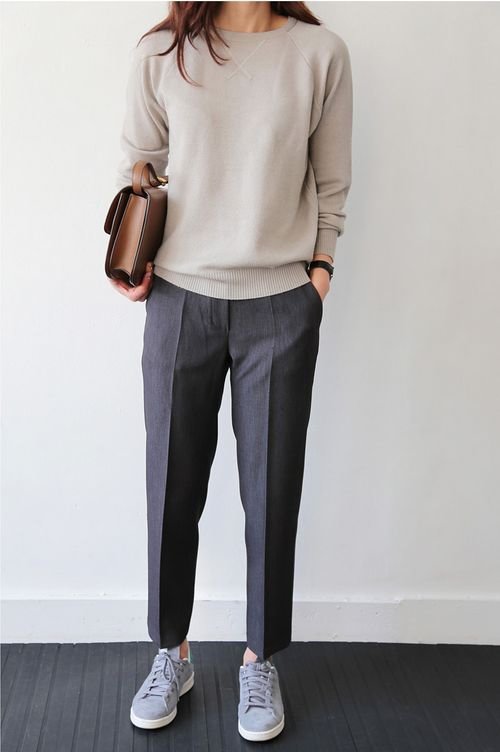 Source: Photo (Death by Elocution)
I could totally see myself wearing this to work. It's structured and sophisticated with a touch of fun!
10

Sweatshirt and Sporty Kicks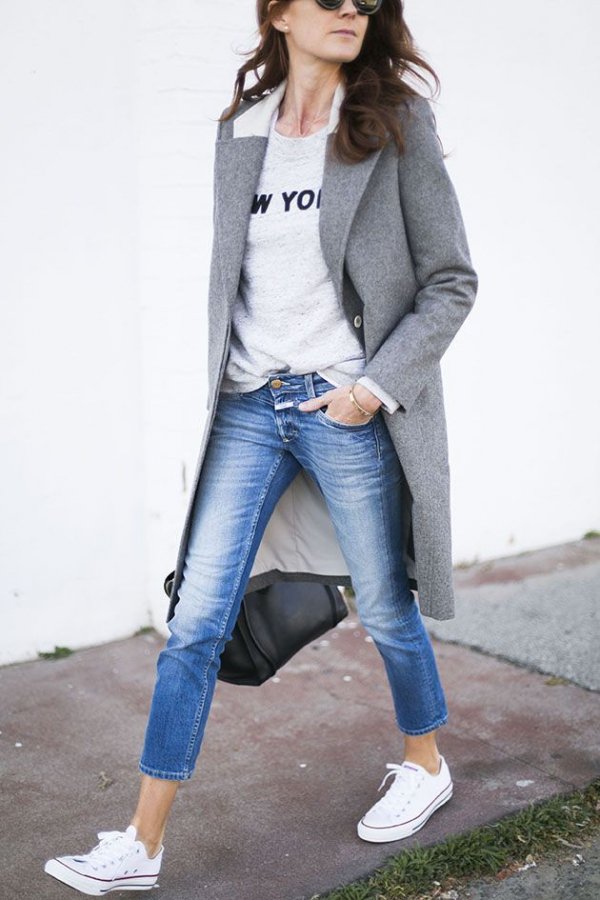 Source: Spring Kicks (could i have
This might be the perfect transition outfit from winter to spring when it's still a little chilly.
11

Yoga Leggings and a Designer Bag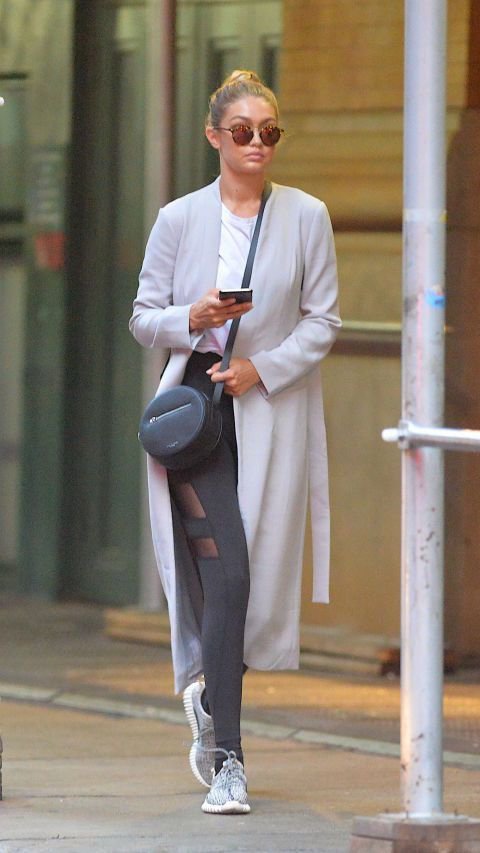 Source: Gigi Hadid Puts an Urban
Here's athleisure extraordinaire Gigi again with another great look! I think this would be a fairly easy look for less to recreate.
12

Sneakers and a Crop Top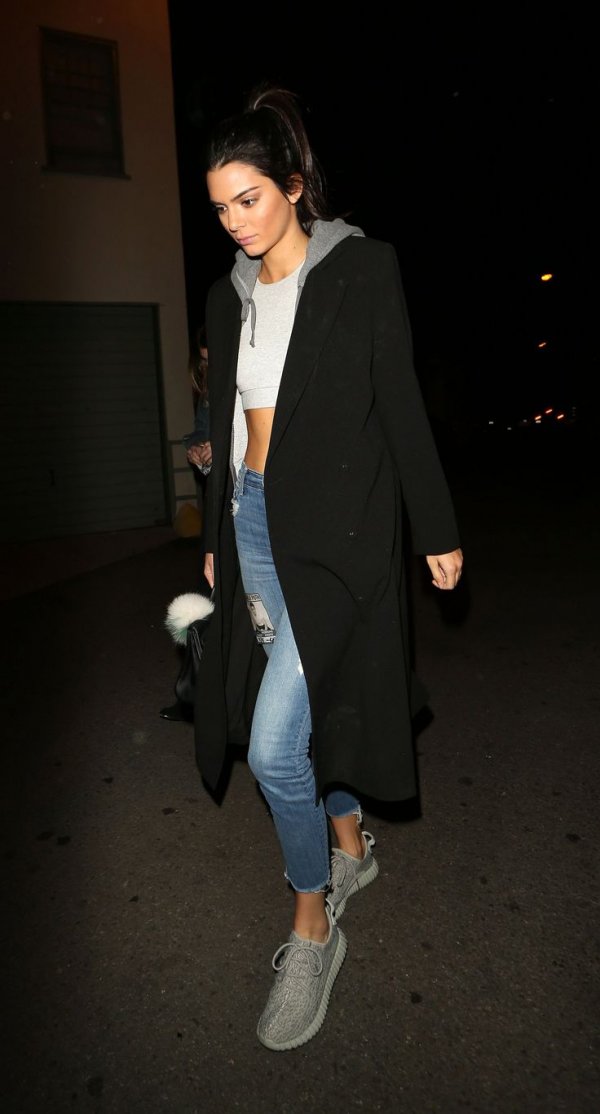 Source: Want to Sneak a Peek
Kendall pairs a cropped atheltic top with a hoodie, coat, and jeans.
13

Matching Two-piece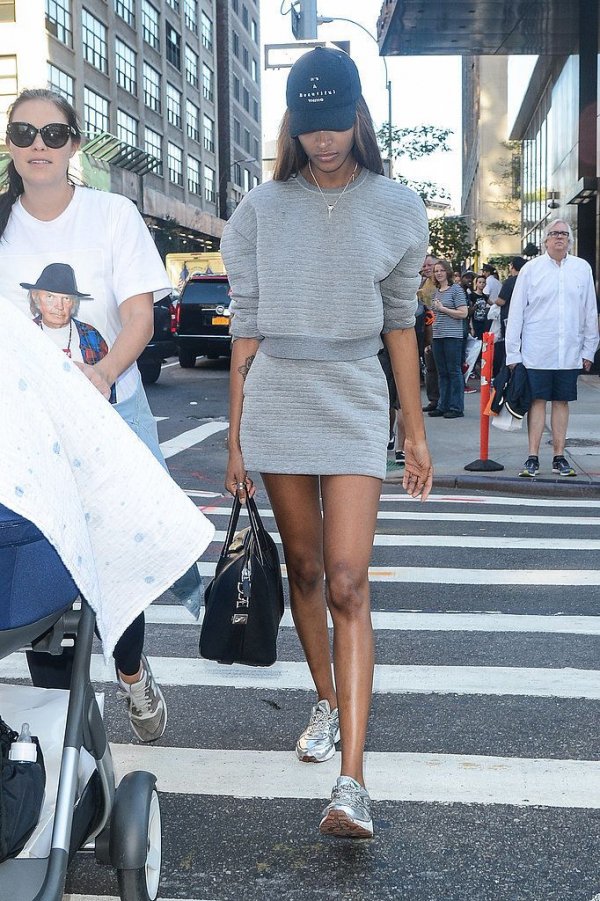 Source: Joan Smalls Is Having the
Although this outfit can be dressed up or down, you've gotta admit Jourdan Dunn slays in this sporty ensemble.
14

Coated Leggings and an Oversize Knit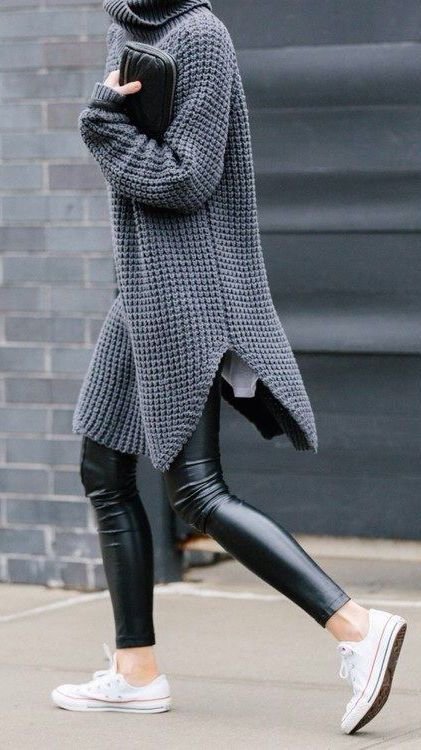 Source: 100+ Fall Outfit Ideas to
The look of coated leggings is so edgy and I can't help but fall in love with how they look with this oversized sweater.
15

Cropped Leather and Mesh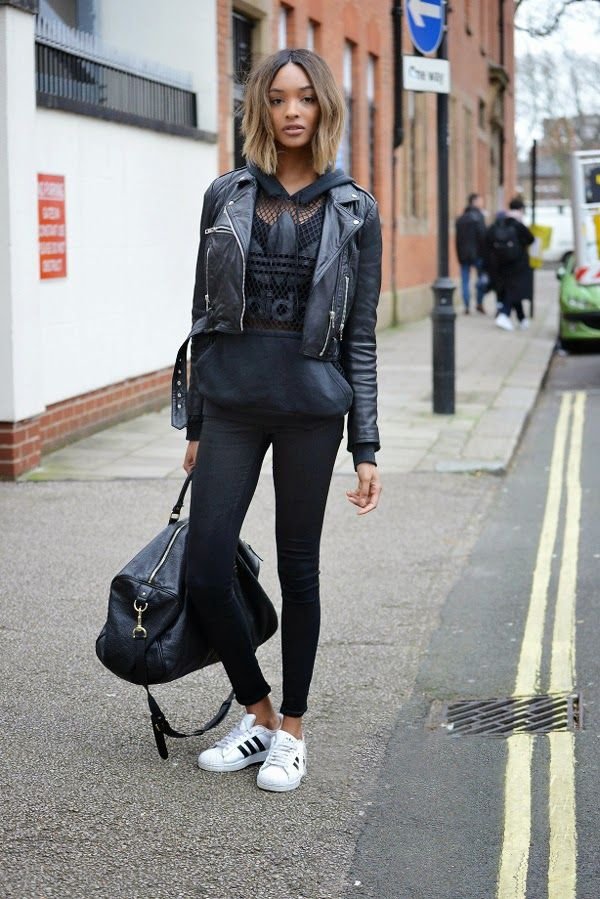 Source: The Front Row View: Model
Jourdan Dunn is the epitome of sports luxe in a mesh Adidas sweatshirt and cropped leather.
16

Sneakers and a Designer Bag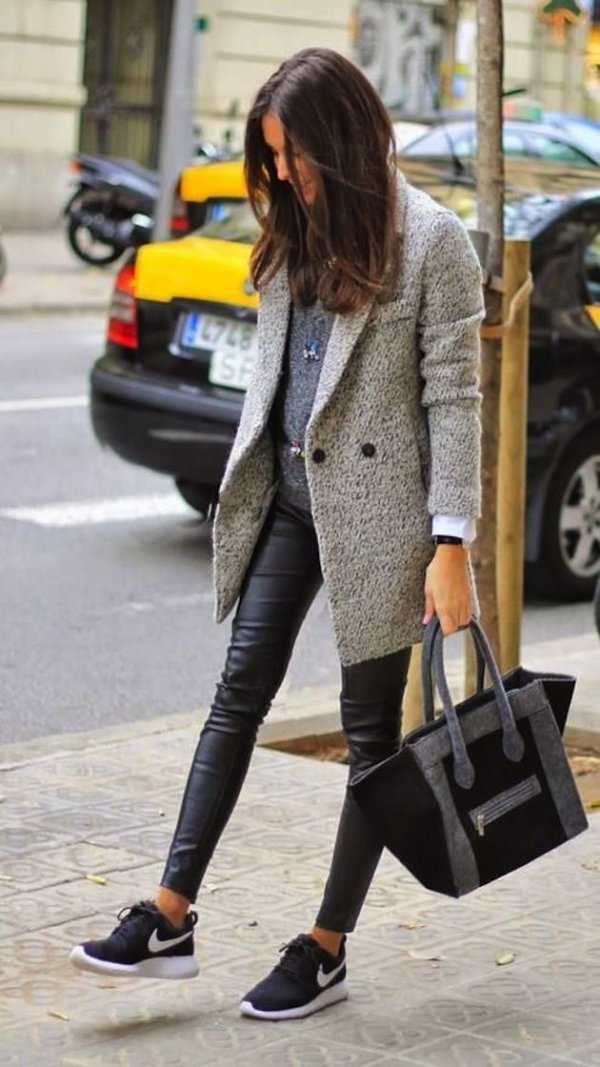 Source: myfashavenue.com
Leggings and sneakers look immediately more polished with a structured jacket and handbag.
17

Cropped Hoodie and Leggings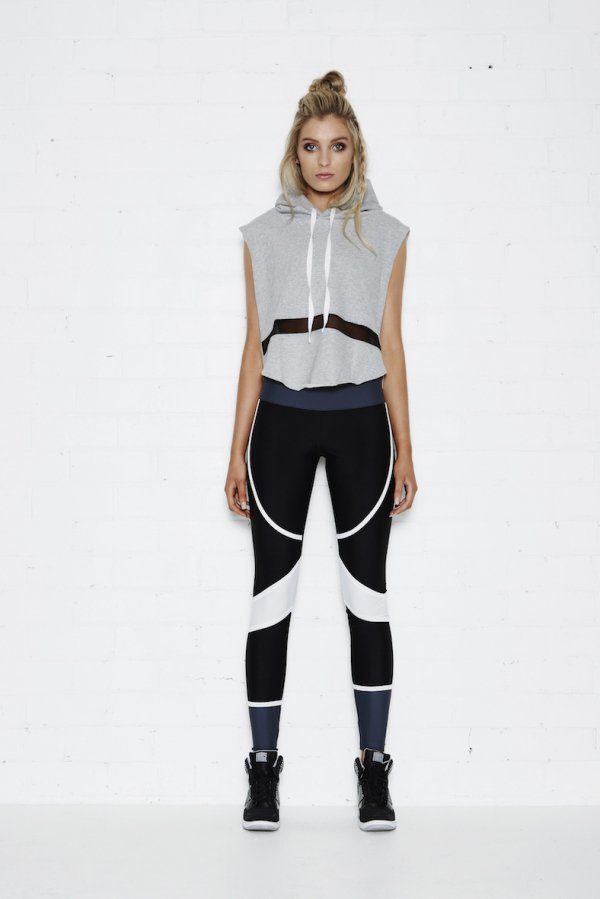 Source: thehotboxkit.com
This outfit could easy take you from the gym to hanging out with friends in the most stylish way possible.
18

Duster Coat and a Cap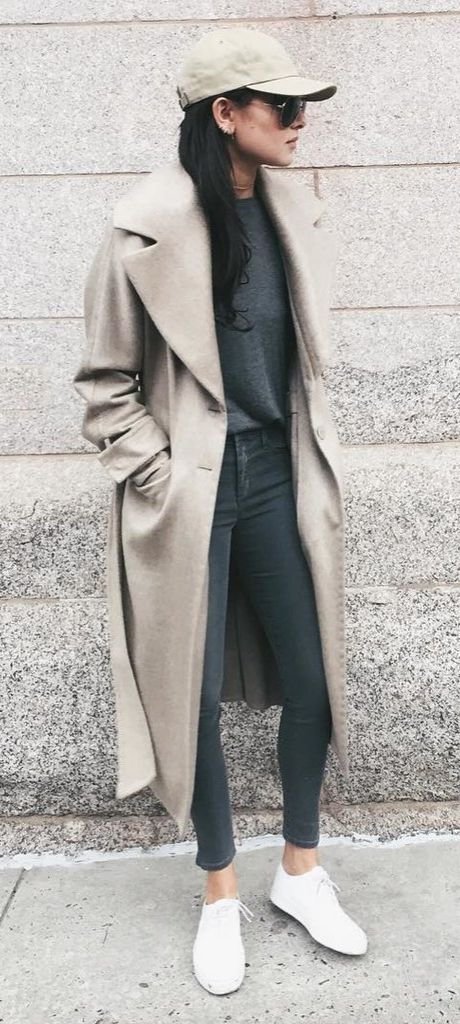 Source: The Blogger-Approved Hack You Should
Skinny jeans, sneakers, and a plain t-shirt get upgraded with a duster coat.
19

Mesh Top and Leggings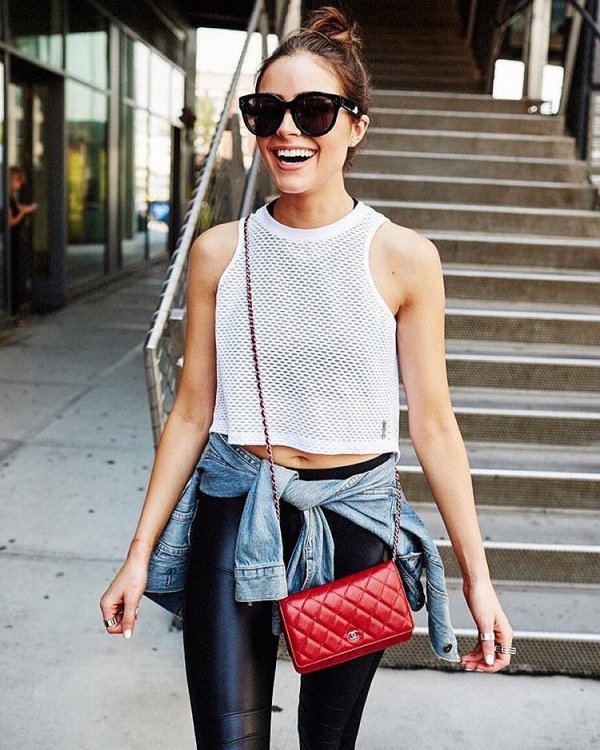 Source: 23 Façons de Porter la
Top off a sports bra with a mesh tank, denim jacket and throw on your fancy bag for a fun day look out.
20

Cozy and Cropped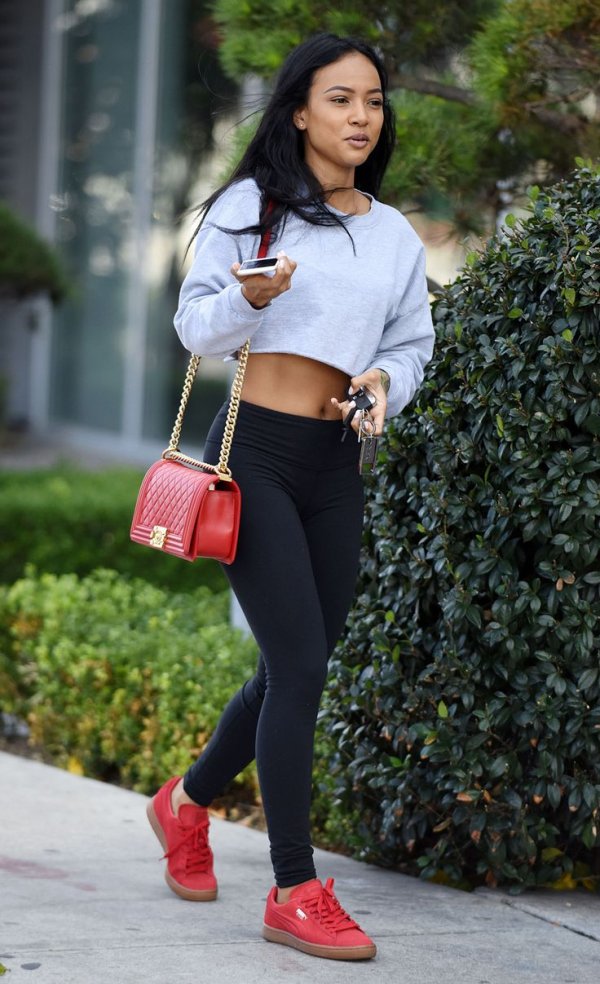 Source: All of this is temporary
Karrueche Tran dons a cropped sweatshirt with yoga leggings and coordinating shoes and a shoulder bag.
21

Fur and Joggers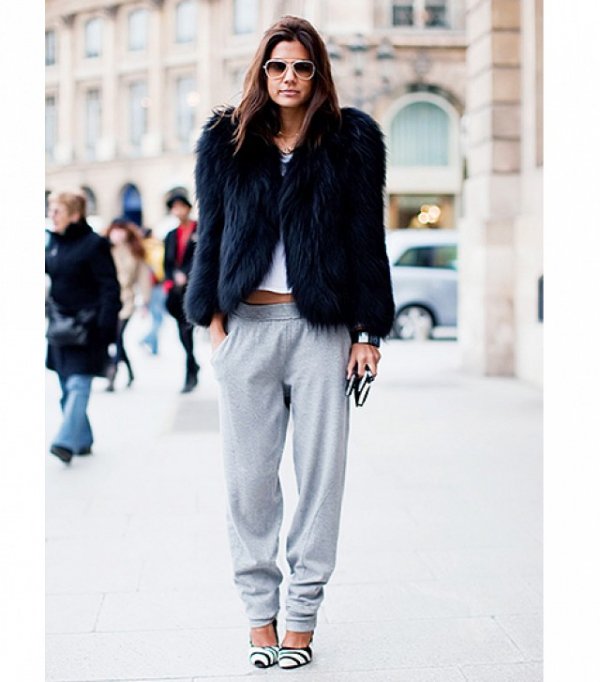 Source: Home Bayse Womens Activewear Basics
The only way to wear heels and sweats and still look chic!
22

All the Right Accessories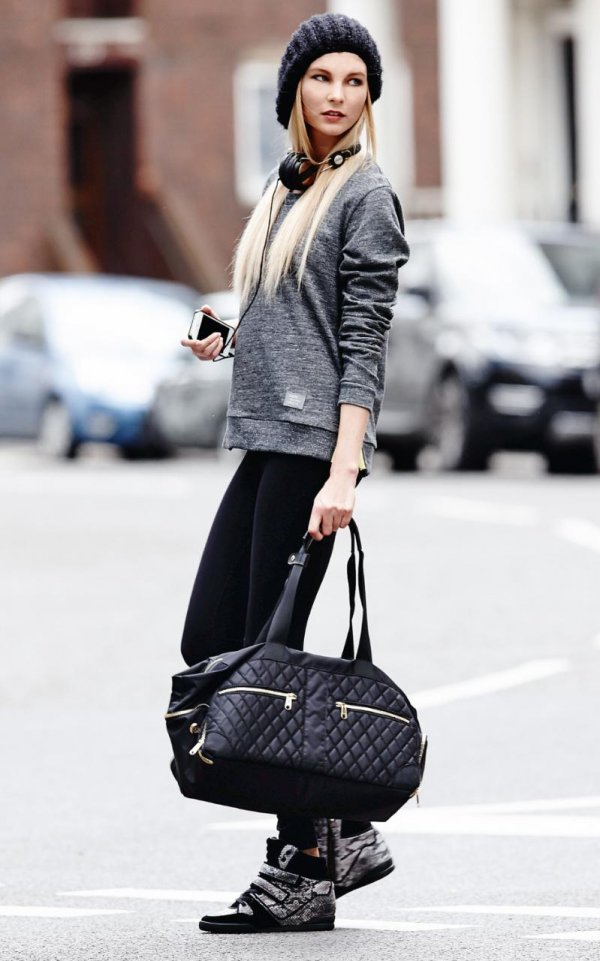 Source: Urban Outfitters - Adidas Originals
I think the duffel bag, killer shoes, and beanie really make this look!
23

Tank Dress and a Jacket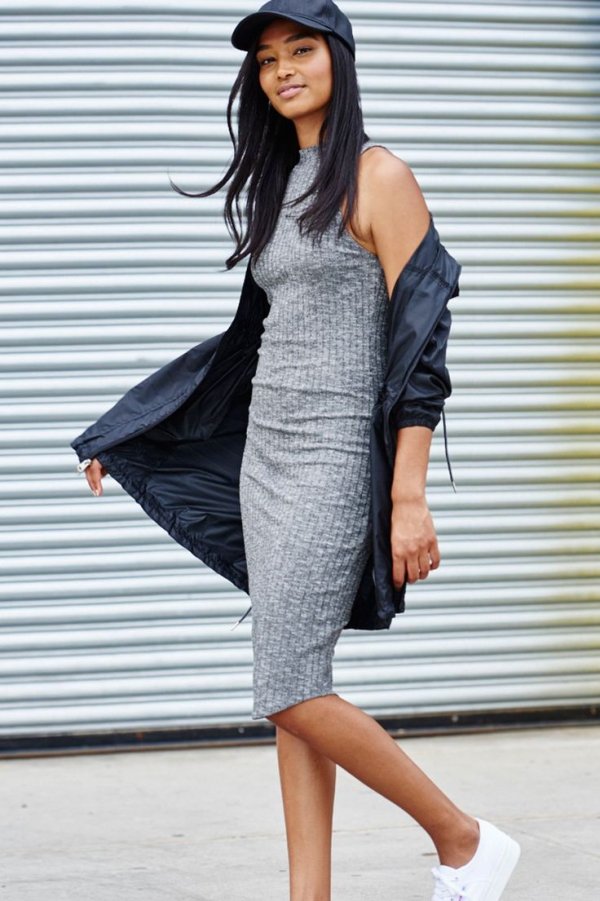 Source: Abercrombie & Fitch Ventures Into
Such a fun look for a weekend out! The dress is flirty and feminine and the cap and jacket are functional and fun.
24

Monochrome Luxe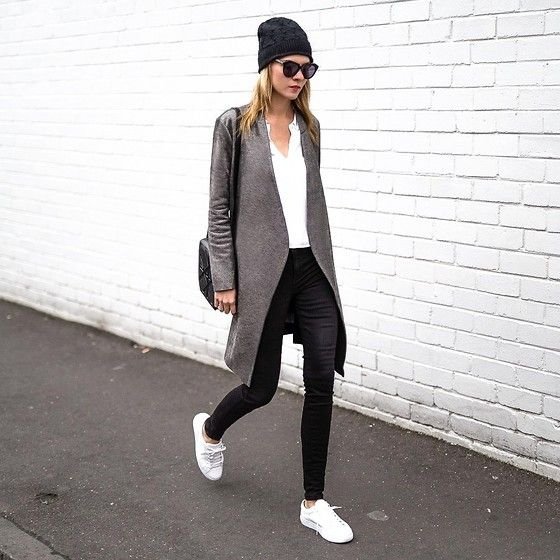 Source: Monochrome Sports Luxe (LOOKBOOK.nu)
Monochromatic and modern, this easy breezy look of basics makes it easy to stay on trend and sporty.
25

Athletic Pants and a Blazer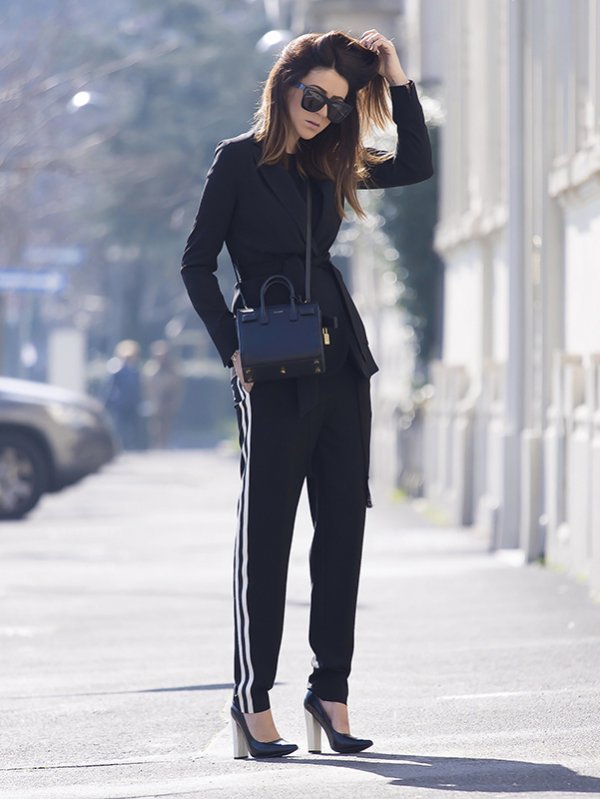 Source: Kendall Jenner Signature Style Pieces
This is one of my favorite looks on this list! The blazer paired with the Adidas track pants is so unexpected!
26

Sequins and Sneakers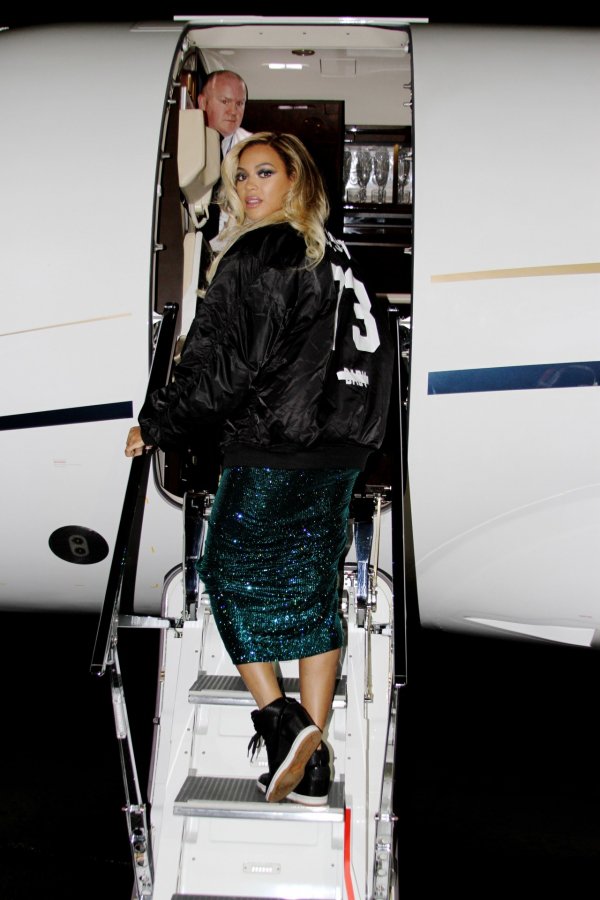 Source: Beyoncé's Athleisure Style
Beyonce, who can wear anything and make it look good, just debuted her own line of athleisure wear called Ivy Park so I had to include her! Although we can't see her entire outfit, the pairing of hightops, sequins, and a shiny bomber jacket is too cool!
That wraps up some of the best athleisure street style looks we've seen. What do you think of the athleisure trend?
Please rate this article