COMMENT
If you generally reach for a basic navy blazer when you are getting ready for work, I have found some stylish jackets that will spice up your work wardrobe. Jackets can add interest and a professional vibe to your work wear. Even if you work at a casual or creative office, a jacket can be a great way to take your work look up a notch. There are so many stylish jackets that you can choose from, finding one to fit your office dress code should be no problem.
1. Ruffle Collar Jacket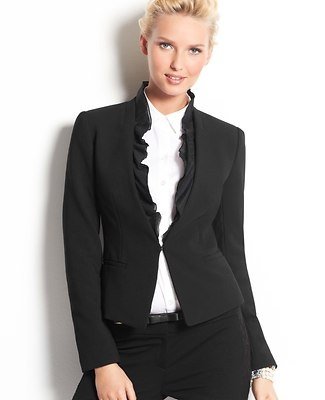 This jacket by Ann Taylor is one of my favorite stylish jackets. It is both conservative and stylish. The ruffle collar adds something special to the jacket; however, should you need the jacket for a more casual event you, you can remove the collar. I love this aspect of the jacket. It definitely will allow you to wear it for multiple purposes. Although, the collar is my favorite part of this fashionable jacket, and I would rarely remove it!
Moto Tweed Jacket
Explore more ...