If you generally reach for a basic navy blazer when you are getting ready for work, I have found some stylish jackets that will spice up your work wardrobe. Jackets can add interest and a professional vibe to your work wear. Even if you work at a casual or creative office, a jacket can be a great way to take your work look up a notch. There are so many stylish jackets that you can choose from, finding one to fit your office dress code should be no problem.
---
1

Ruffle Collar Jacket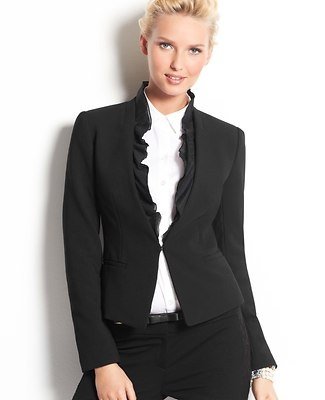 This jacket by Ann Taylor is one of my favorite stylish jackets. It is both conservative and stylish. The ruffle collar adds something special to the jacket; however, should you need the jacket for a more casual event you, you can remove the collar. I love this aspect of the jacket. It definitely will allow you to wear it for multiple purposes. Although, the collar is my favorite part of this fashionable jacket, and I would rarely remove it!
Price: $179 at anntaylor.com
---
2

Moto Tweed Jacket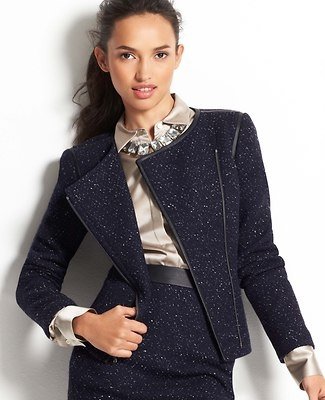 If you work in a creative office, this is the jacket for you! Ann Taylor's Moto Tweed Jacket is edgy while also remaining work appropriate. The faux leather trim is a trendy detail, and the asymmetrical zipper is extremely stylish. Pairing this jacket with a bold, yet classy necklace gives this jacket just the right tone for work. I can picture any woman looking fabulous in this jacket on her way to the office.
Price: $179 at anntaylor.com
---
3

Velvet Peplum Jacket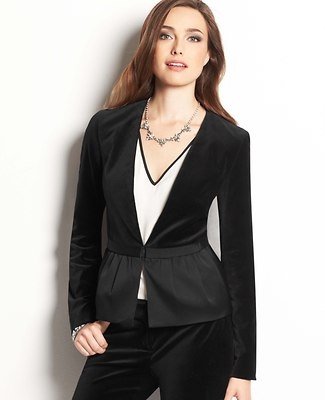 Here is yet another fashionable jacket from Ann Taylor. The Velvet Peplum Jacket is certainly the fanciest jacket on this list. However, it is a great jacket for client meetings, especially if paired with a basic pencil skirt and bright cotton blouse. I would even wear this jacket with jeans for a more relaxed vibe, but I am not sure how work appropriate that would be. You might want to save that idea for a date. Though, for work this jacket certainly makes a professional and stylish statement.
Price: $198 at anntaylor.com
---
4

Ponte Peplum Jacket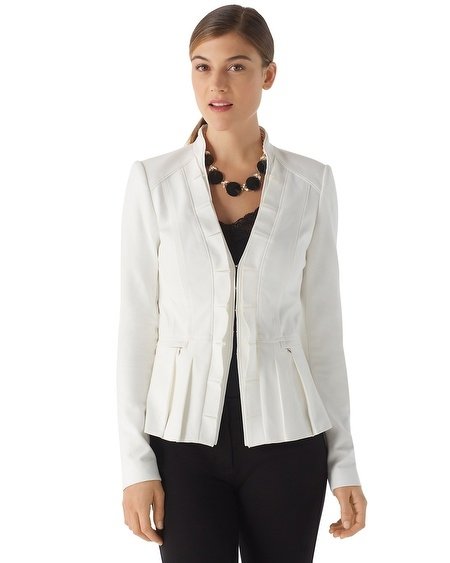 White House Black Market's Ponte Peplum Jacket is a wonderful white jacket for spring. The box pleats around the peplum of the jacket give this jacket a special detail that will make you feel classy. I also love the hook-and-eye closures that take the place of buttons. A great idea provided by the store's stylists is to wear the jacket with a wide, shiny black belt. The belt highlights the peplum and makes the jacket look even more fashionable than it already is. Wearing this jacket to work, you will feel like the most stylish woman in the office!
Price: $148 at whitehouseblackmarket.com
---
5

Ruffled Cardinal Ponte Jacket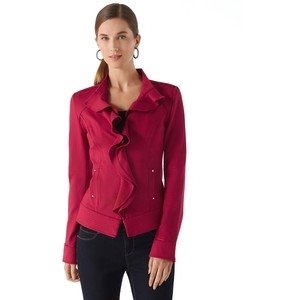 This is bright jacket by White House Black Market to wear in a casual office. The ruffled collar and lapel provide visual interest, as does the bright cardinal color. I would keep the rest of your outfit basic and let the jacket speak for itself. You don't even need a necklace, the ruffles provide enough detail!
Price: $148 at whitehouseblackmarket.com
---
6

Heritage Tipped Blue Blazer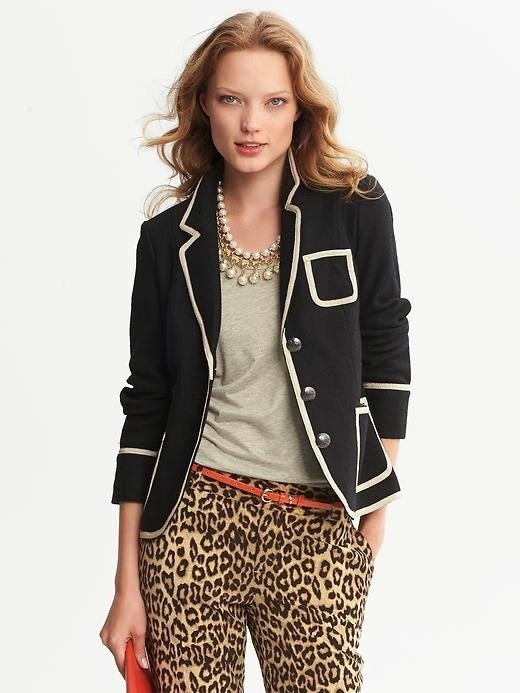 The Heritage Tipped Blue Blazer from Banana Republic is a stylish and classic jacket that is great for work. The white piping gives the jacket visual interest and really pops against the black jacket. This jacket would be perfect in almost any work setting, and like so many of the jackets, it can easily be made casual for weekend outings. This is one jacket that you will reach for time and time again.
Price: $130 at bananarepublic.gap.com
---
7

Leopard Jacquard Blazer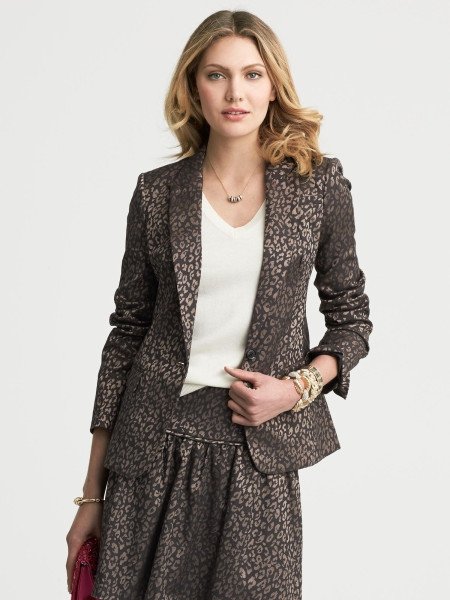 This is definitely not a jacket for a law office. However, if you work in a creative environment with a looser dress code, Banana Republic's Leopard Jacquard Blazer would certainly put a little zing in your work wardrobe. I would wear this jacket with basic black pants and a white cotton blouse. This simple styling will let the jacket speak for itself, or should I say purr? This is a fabulous jacket, and, although it is not appropriate in all work environments, I had to include it in this list.
Price: $150 at bananarepublic.gap.com
Everyday work wear can get boring. These jackets will keep your work wardrobe interesting and stylish. I know if I had any of these jackets in my closet I wouldn't be able to wait to get ready for work in the morning! Which of these jackets would you wear to work?
More
Comments
Popular
Recent