Joggers are the thing to wear right now. They're popular and it's no wonder. They're both comfortable and cute. There're even some tricks that you can use to dress up your joggers. With these in mind, you might even be able to slide by in wearing them to the office.
---
1

Choose Black or Charcoal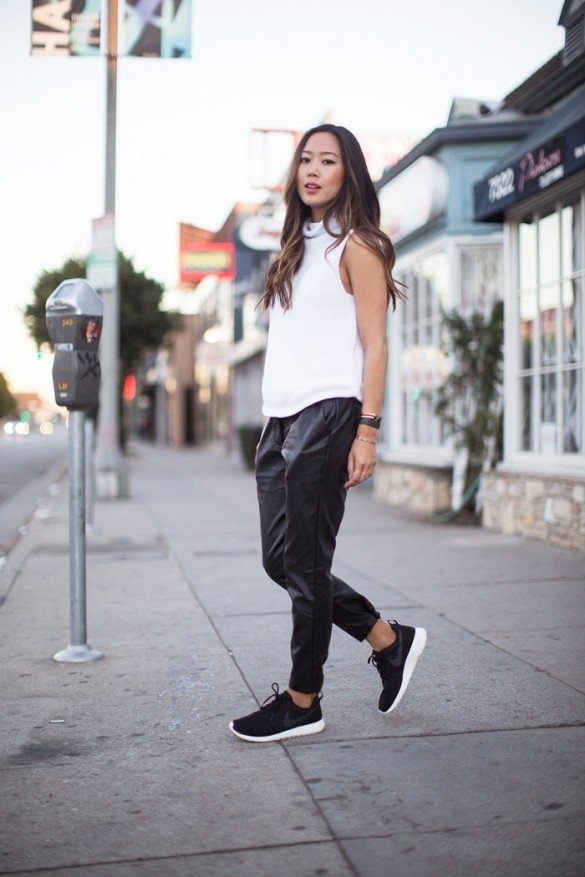 Choosing black or charcoal is a good choice when you want to dress up your joggers. You can do a lot more with these neutrals than you could a pair of brightly colored joggers. Black or charcoal joggers have a closer feel to dress slacks. With this tip in mind, you're can dress up your joggers by treating them as if they were slacks. This means you plan the rest of your outfit as if slacks are what you were wearing.
2

Choose a Dressy Top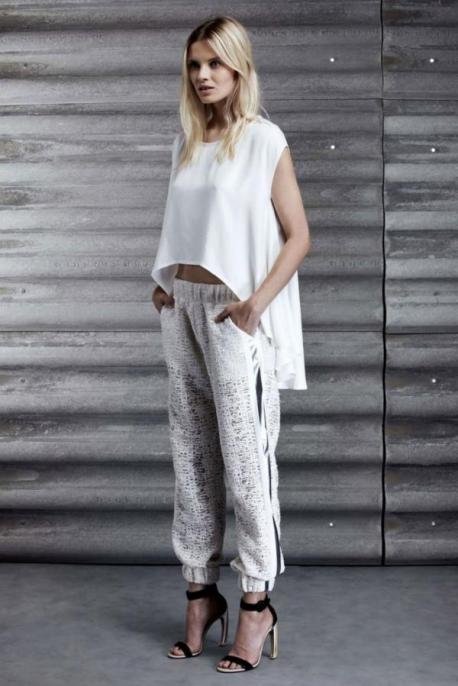 You can dress up your joggers by choosing a dressy top to go with them, just as if you were wearing slacks. Just like a tshirt will really bring the casual feel into play, a dressy top will help dress them up. Dressy tops are usually made of fabrics other than cotton although that's not a definite rule. Look at the fabric content when you're shopping for guidance.
---
3

Watch Where Your Top Hits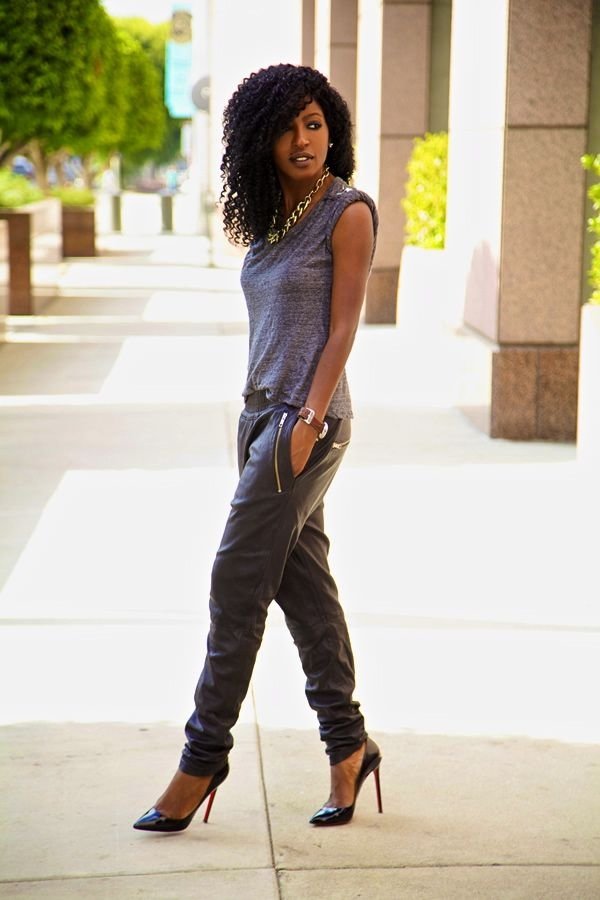 When dressing up joggers, remember this tip. Be careful where your top hits. Ideally, you want it to hit below the waistband of the joggers to hide the elastic at the top. Many flowy and gauzy tops would work well because they tend to end a bit closer to the hip line. Another sort of top to keep in mind that'll be popular this spring is the peasant top.
---
4

Add Flats or Heels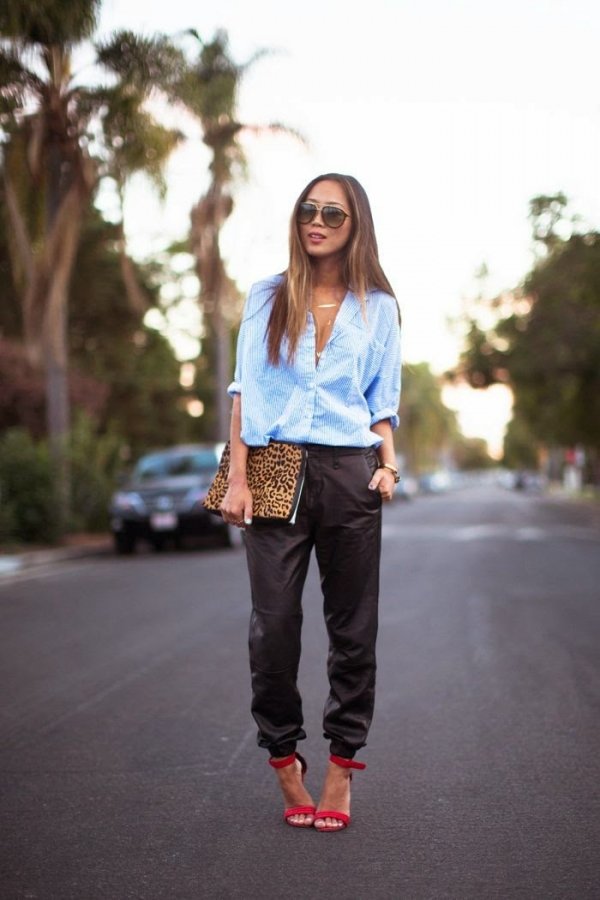 Adding a pair of flats or heels will help you to dress up your joggers. Either will work well so you can choose according to what fits your style best. You can go with a basic solid or something that adds a bit more flare. There's really no wrong choice here as long as it doesn't clash with the rest of your outfit. If comfort is an issue, there're now many choices in comfortable flats so you no longer have to sacrifice style to be comfortable.
---
5

Try on a Statement Necklace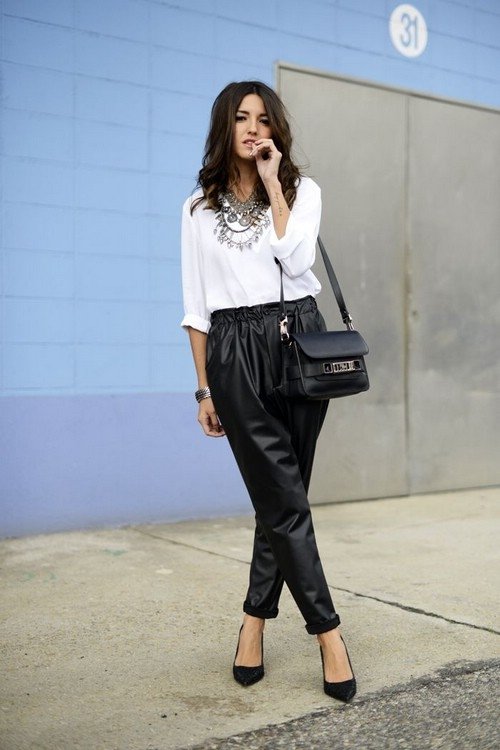 A statement necklace does not scream casual so wearing one will help raise the dressy factor of your joggers. In fact, by the time you dress your joggers up by adding a dressy top, flats or heels and a statement necklace, they'll probably fade into the background. Very few people will actually even notice that you're wearing joggers. That's the general idea. It allows you to get away with your new favorite casual clothing item while dressing for less casual occasions.
---
6

Rock Your 'do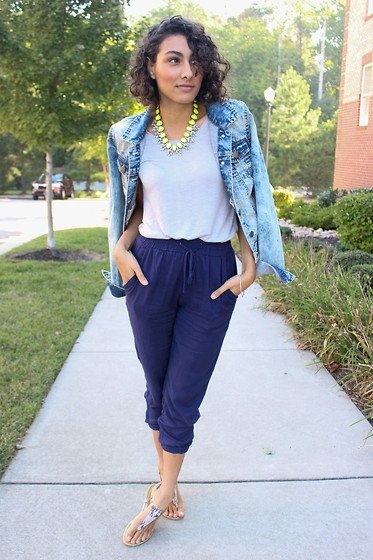 Don't forget that your hairstyle can make you look dressed up, too. This doesn't mean that you have to spend hours on your hair. Just style it the way you usually do when you're dressing up. For some this may mean adding in some curls. For others, it may mean a polished updo. This's more about your personal style of dressing up than anything.
---
7

Wear with Confidence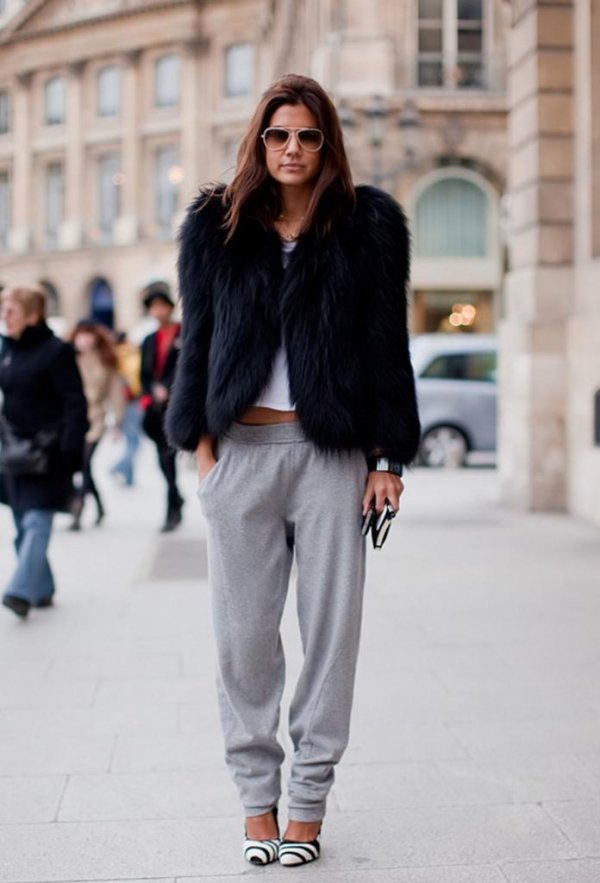 Confidence is what sets you apart from the other girls. If you wear your clothing with confidence, others will take notice. That includes when you're dressing up a pair of joggers. Confidence will make a difference in how your clothing is perceived. If people do notice that you're wearing joggers then they'll probably be talking about how you're one of the few people that can pull the look off.
These're 7 tips to help you dress up your joggers. What do you think? When are you going to try out this look?
---
Comments
Popular
Related
Recent