Sorting out my wardrobe last week, it hit me just how many ways to wear printed scarves there are. For such a cheap, stylish and versatile accessory, I definitely don't wear mine enough! Now that it's time to pack away the thick wooly scarves and get a warmer wardrobe out, I'll definitely be trying to show mine off more by looking for ways to wear printed scarves – and investing in some great new patterns!
---
1

Brighten up Black…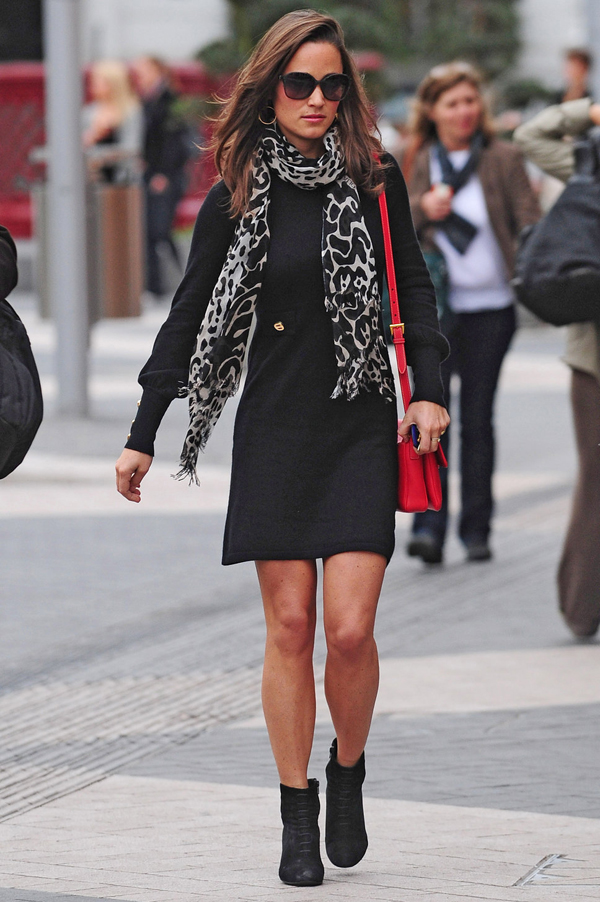 One of my favorite ways to wear printed scarves is to add a statement pop to an all-black outfit. Whether it's a work suit or a chic little black dress and jacket, the right scarf can light the look up, and make it utterly irresistible. A bright red scarf is perfect for rocking the contrast look, or if you prefer patterns, try zebra or leopard print. Just loop around the neck and you're ready to go – it's super easy, and oh-so-chic.
---
2

Dressing up Day Jeans…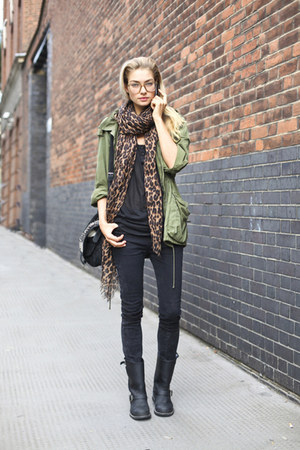 Skinny jeans and a loose floaty plain top have been wardrobe staples for the past couple of seasons, but sometimes it needs something else. Black skinny jeans, a brown leather belt and a floaty white top might rock the monochrome look perfectly, but add a red tartan scarf, and it feels utterly catwalk-ready. Don't forget some kickass boots and an oversized bag, too.
3

Edgy…
This one can be harder to imagine, but as you can see, it looks great! Green is the color of 2013, so you'll get plenty of wear out of a cute green sundress like this one. The boots and jacket are both leather and studded, but different enough to avoid looking too put together, and the leather bag adds cohesion. But my favorite bit? The combination of a bold printed scarf and a messy topknot hairstyle. Love.
---
4

Cooler Climates…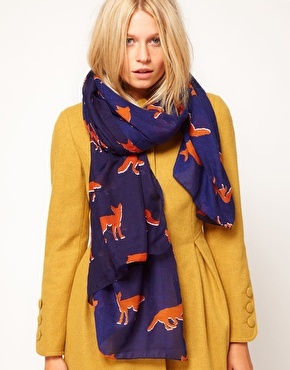 Austria was COLD last week, so I spent most of the days wrapped up in a thick coat and as many layers as I could find. Not exactly trend-setting…but adding a scarf can transform the look. First, choose a classic, warm coat in a bright color (black and darks are Winter-territory!). Then, choose some thick scarfs to wind around the neck of the coat, keeping the warm air in and letting you show off some of your great fashion sense. I love this fox print!
---
5

As a Skirt…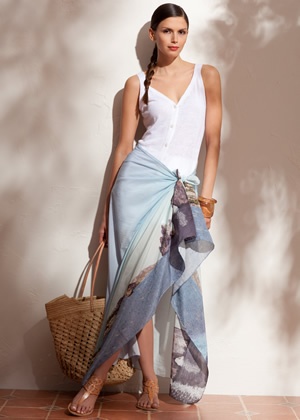 You'll need a wide printed scarf for this look! Instead of adding a scarf to your outfit as an accessory, make it one of the main features by tying it around your waist like a skirt. Simply choose a swimming costume or small playsuit in a coordinating color, and hold the scarf around your back. Tie at the front, slightly to one side, to have a maxi-length skirt with an opening at the front. Gorgeous.
---
6

Hair Scarves…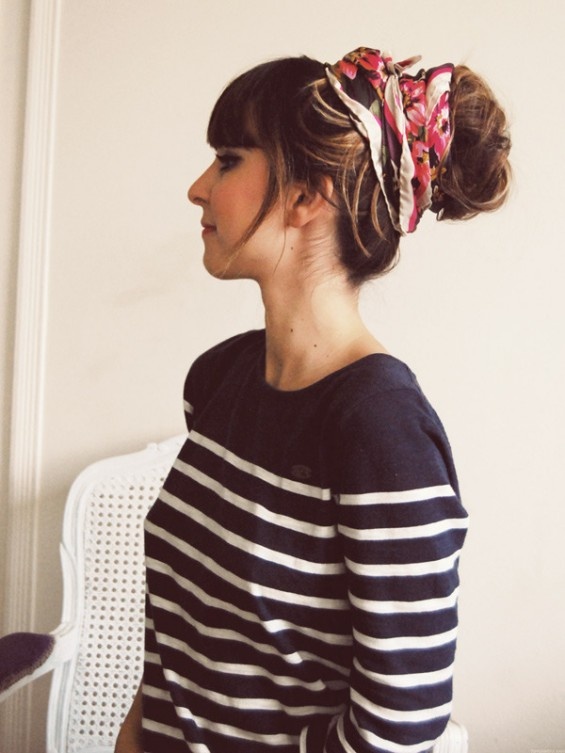 I love this cute new way of adding scarves to your hair – it adds a bright flash of color, and it's so easy to do. Smaller, thinner scarves tend to be better for this look – keep heavier scarfs for either tying around the head as a headband, or wearing on the neck. This is my go-to style for festival hair, as it hides a multitude of sins!
---
7

Ties…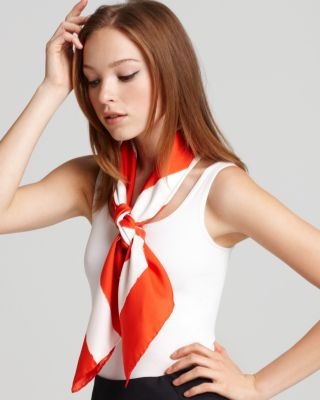 The nautical look is perpetually stylish, and I love wearing scarves like this to really get the look. First find some flattering city shorts, and add a vest top. Then opt for a nautical scarf, or just bright colors such as this one, and tie in front of your chest. Square scarves make this look easiest, as you can just fold them into a triangle, roll and secure! It's one of the easiest ways to wear printed scarves, and it gives any outfit an instant upgrade.
With all these different ways to wear printed scarves, I'm definitely going to bulk up my collection. I've found scarfs in white, black and gray are always popular, and I'm loving my brights collection! Now I'll be looking for animal prints, florals and geometrics, I think. How do you wear your scarves? I'd love to know!
---
Comments
Popular
Related
Recent