Made a style promise to wear bold prints this year? Being bolder, brighter and more confident with fashion is one of the most common fashion resolutions, but it can be a daunting prospect. Just how do you incorporate the boldest of prints and brightest of colors without going overboard, or feeling like you got dressed in the dark? Here's some top tips from the first lady of bold prints: Rita Ora.
Table of contents:
1

Theme It up…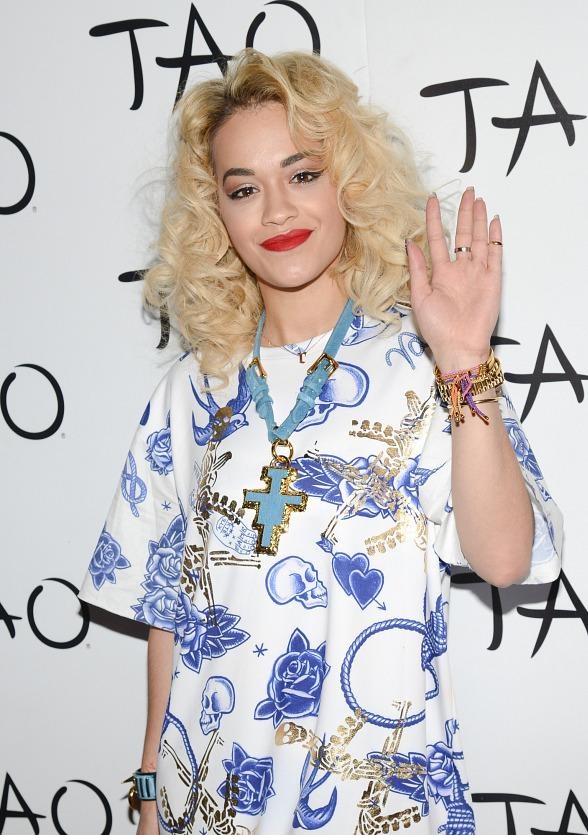 Rita wore this gorgeous low-key look to host a night club in Las Vegas, and the casual vibe makes this a perfect beginner way to wear bold prints. First, choose a print that you like: the white and blue of this dress are fresh and timeless, and add a touch of on-trend nautical to the outfit. I love the loose fit, too, which is perfect for keeping cool and looking great. Finally, use your color scheme to choose accessories. Rita's multi-color thread bracelets build up the nautical look, and her blue necklace and bracelet blend perfectly. A sweep of bright red lipstick, and you can't go wrong.
2

Go Smart…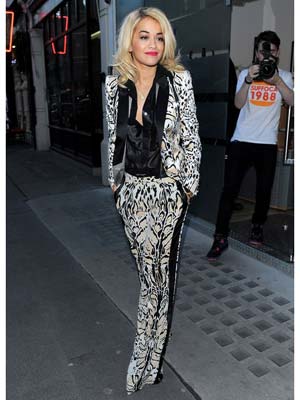 I love Rita in this Roberta Cavalli suit: it's a bold print that's designed to catch the eye, but she rocks it perfectly. The first rule of looking great in a suit is to make sure that both parts fit perfectly. Have your trousers or jacket altered if you need to, as it'll make the look infinitely more flattering. For a print as bold as this one, add a simple blouse such as Rita's black satin one, and forget statement jewelry or accessories: the print will do the talking. Rita's undone shirt button and casual hands-in-pockets pose help her to utterly own this look.
3

Mix It up…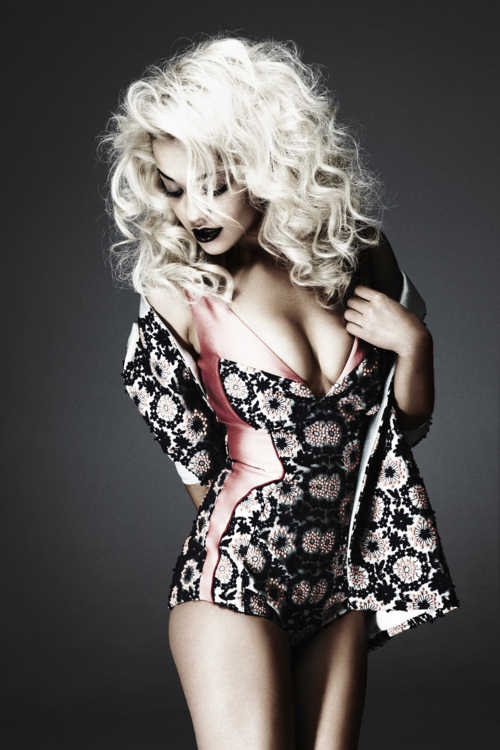 Okay, so you probably don't want to go out in your underwear, but this snap shows Rita rocking another bright print on a tiny playsuit and matching jacket. Rita's swapped her usual bright red lips for black here, and added a smokey eye and bedhead hair. Altogether, she's created a vintage look that really plays up to the pastel pink silk in the playsuit, and helps to counter the bold print. And it's not just underwear that this works with, either!
4

Be Bold…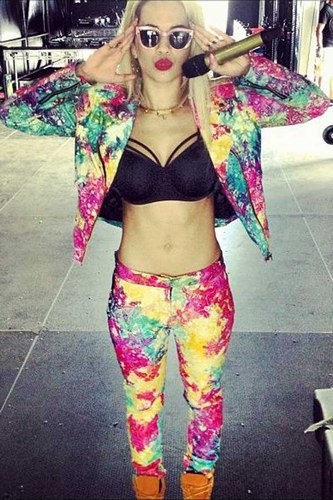 Rita's often spoken out about her legs and stomach being her favorite body parts, and this great snap shows off her amazing abs: a great trick for giving yourself a confidence boost. Bold trousers and a matching jacket are dressed down with a casual black crop top and some crazy orange shoes, but with her trademark red lips and sunglasses, it's a look that works. For a more everyday style, try teaming a bold piece with your favorite body part: a loud skirt is ideal if you love your legs, or a bright crop top if your abs are excellent.
5

Make It Fit…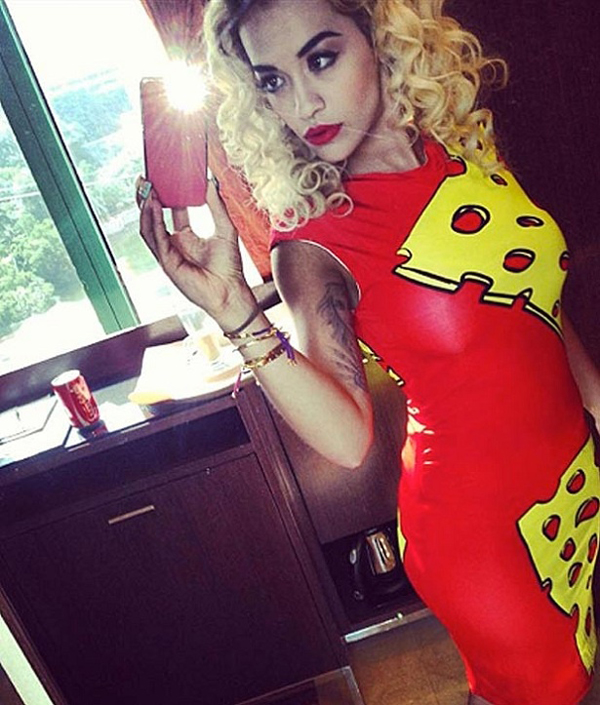 What do you think of this crazy cheese dress?! Whether you love the bold colors and PVC design or not, you can't deny that Rita looks good, and it's not just her confidence that's rocking this. You'll never catch Rita in a badly fitted outfit, and it means she can be much bolder with her style choices, as her tailoring is just right. That doesn't mean that bold prints only suit tiny figures, just that you should check that your silhouette is smooth and your clothes fit right before you step outside. A great pair of support pants can add the smoothness and confidence that you need to totally own the look.
6

Dress It down…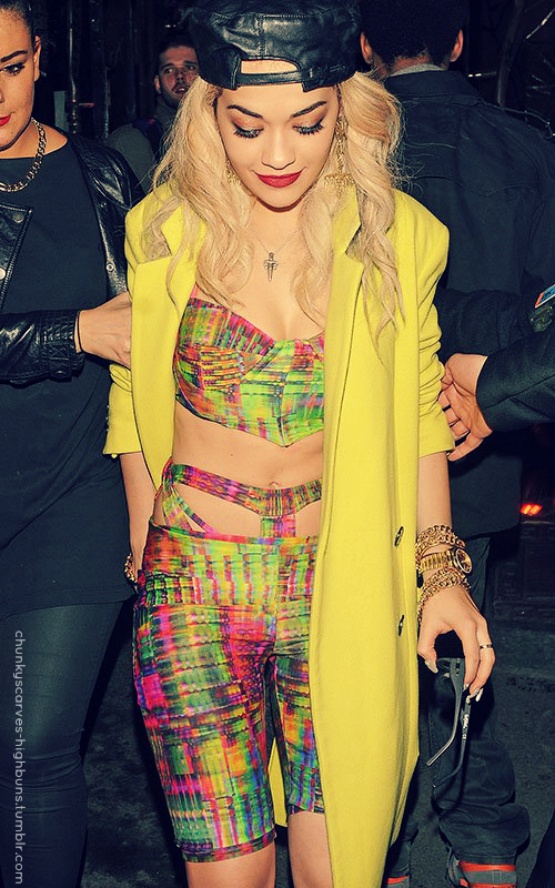 A bright yellow coat might be a pretty statement piece for most wardrobes, but Ms Ora knows how to wear one right. Her bold crop top and matching trousers are a mess of greens and pinks, and the bright yellow manages to tone them down without overpowering them. Add some casual gold jewelry (I'm surprised she can lift her left arm with that many watches!) and you've got a look that's bold but beautiful, rather than too strong. Not that I'd recommend cycling shorts with a bizarre ab contraption, mind…
7

Match Your Mood…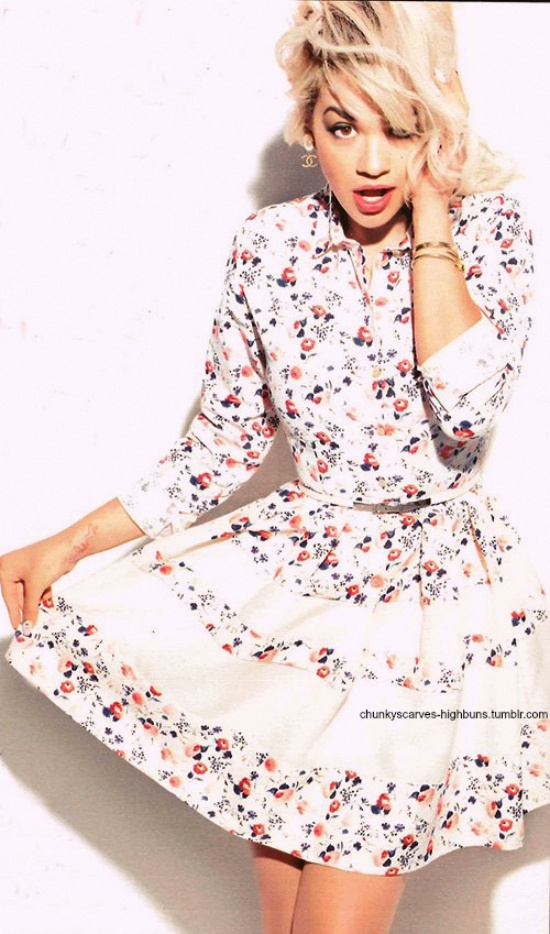 This is one of my favorite pictures of Rita, and one of the best ways to wear bold prints. While Rita is always snapped in a variety of patterns, they definitely match her mood, and her destination. This bold flower print is vintage and feminine, and ideal for wearing to a photoshoot. Her neon patterns are perfect for nights out and gigs. And while Rita still adds her trademark confidence to this look, she's toned down her red lip to a rosy pink, and she's still totally rocking the print. The lesson? Match your print to your mood, and then go all out to completely own it.
Of course, Rita Ora isn't the only celebrity who loves her prints, but she rarely puts a fashion foot wrong, and her confidence is catching! Give it a try and start building up the bold pieces in your everyday wardrobe. There's so many ways to wear bold prints, and it's great fun once you've got it worked out! Which Ora outfits are you loving right now?!
Please rate this article