I'm on a quest to discover every single way to wear sequins at work. Yep, you read that right – sequins at work. I just love sparkle, and there's nothing like a glimmering outfit to catch the eye and put you in a great mood, which is just what you need after a day of back-to-back meetings or stressful assignments. You need to be really careful to prevent yourself from going overboard, though. We're thinking subtle yet sparkly, not "walk of shame"!
---
1

Go Casual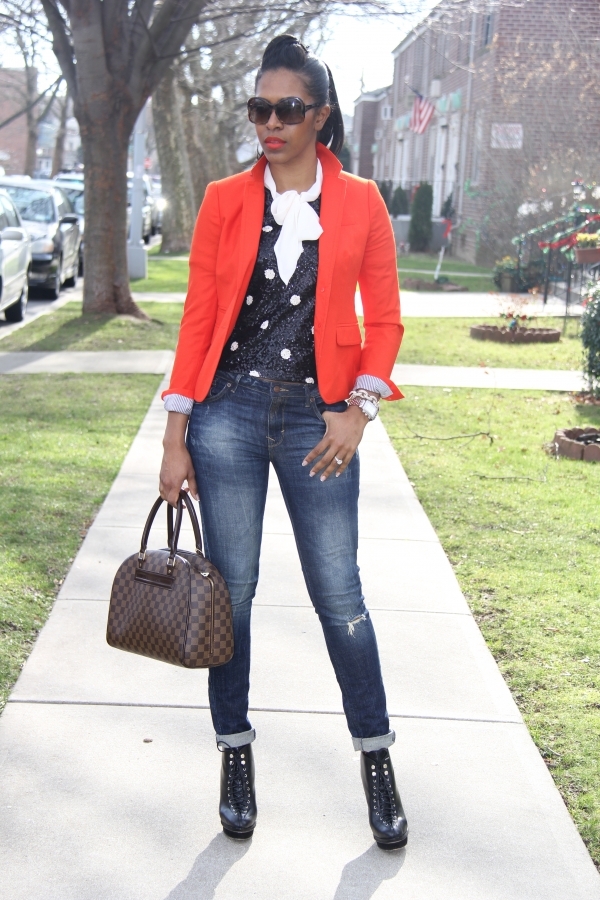 You can easily dress down a sequin top by wearing it with a bold jacket and some black trousers or jeans. Olivia Palermo recently did something similar on the HBO red carpet, and looked amazing! This is definitely great inspiration for how to wear sequins at work. Steal the look by making sure that the jacket is loose and casual, and rolling up the sleeves slightly for a more casual finish.
---
2

Go Bold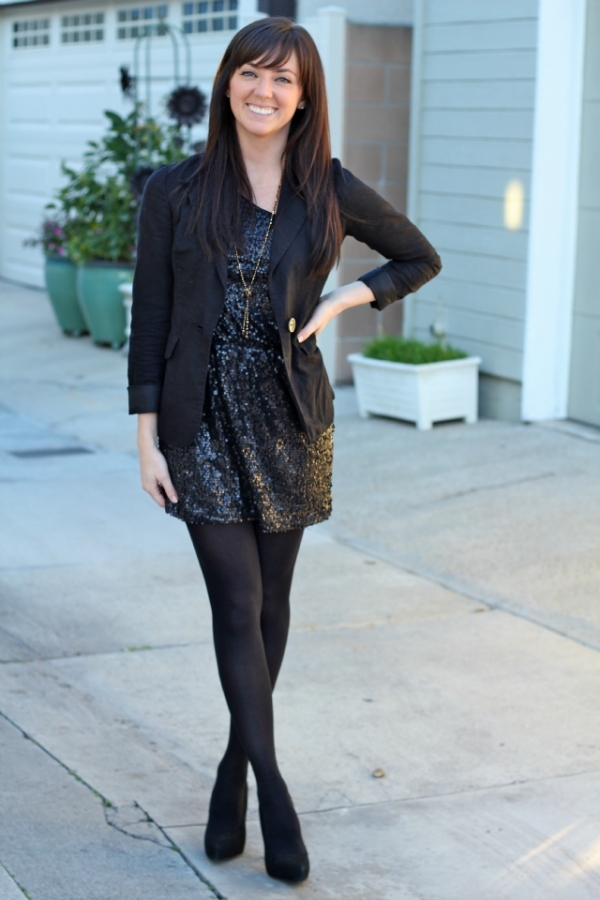 Even a sparkly sequin dress can be work appropriate if your accessories are bold enough to dull it a little. Opt for a silver sequin dress finishing just above the knee, and make sure it's not cut too low. Add a classic trench coat or cardigan, neutral handbag and nude or black heels, along with natural makeup and low-key hair. Perfect.
---
3

Clash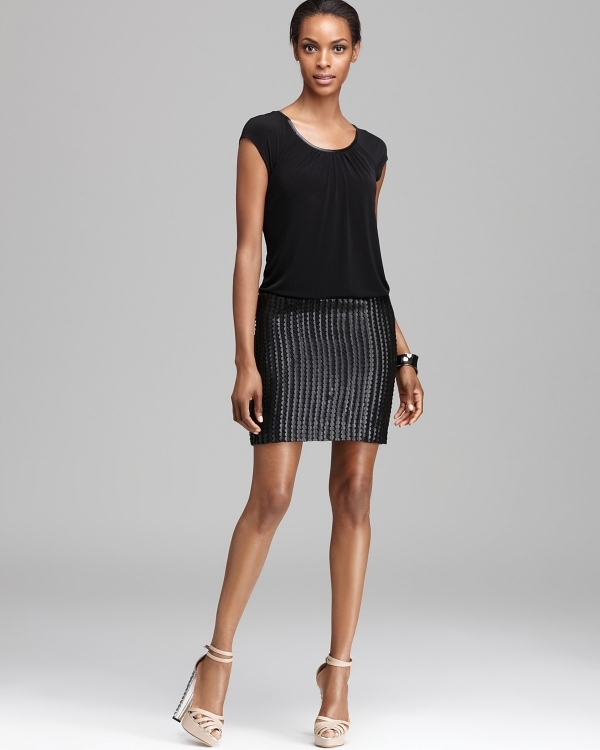 Try teaming an embellished sequin skirt with a bold or interesting top for a look that's dressed up and dressed down at the same time. Many retailers have an amazing selection of sequined skirts and glittery shorts, and you can pick up a great top from almost anywhere on the high street, making this a super cute outfit that's really easy to recreate.
---
4

Mix It up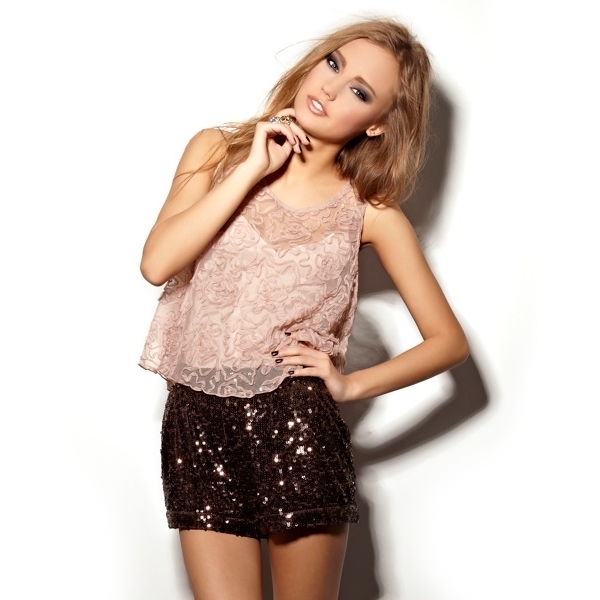 If your outfit is already bold, sequins will fit in perfectly. Opt for sequin shorts or a skirt, and add a bright Chambray button-down and a cargo jacket. Leopard print is another great alternative, as is something lovely and lacy, and chunky jewelry will keep the look modern! Then add some classic tan work accessories, like a large handbag, to add some office chic to the outfit.
Bloop
is SO not office wear. Maybe for a party....
---
5

Just Add Checks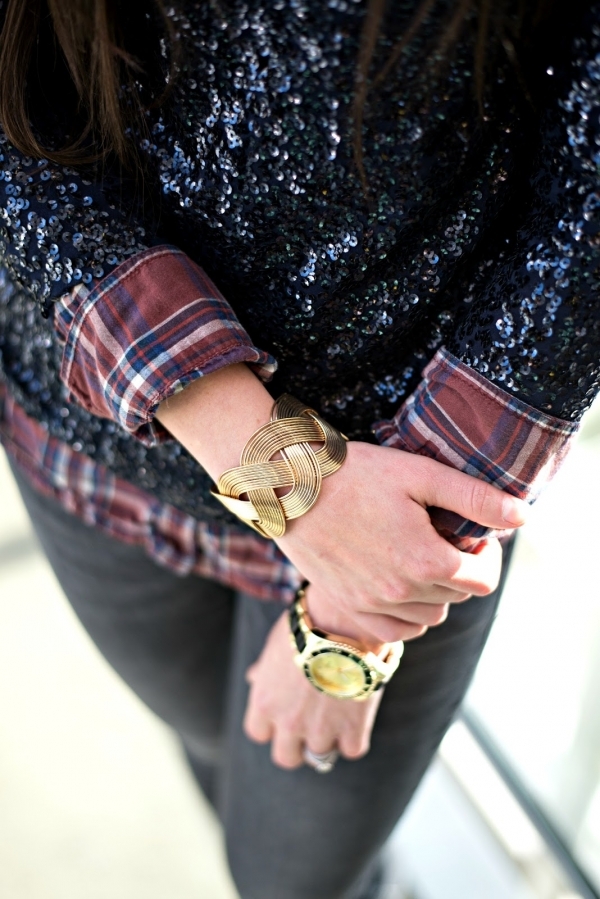 A sequined top can easily be dressed down by throwing a checked shirt over the top or layered underneath – just be careful not to clash too much! This has been all over London, especially with gold sequins and a red checked top, but I love the look in monochrome too. White sequins are super chic, and a black flannel button-down is a really versatile addition to any wardrobe. Then add black work trousers, and you're ready to go. Chic, and so easy.
---
6

Go Embellished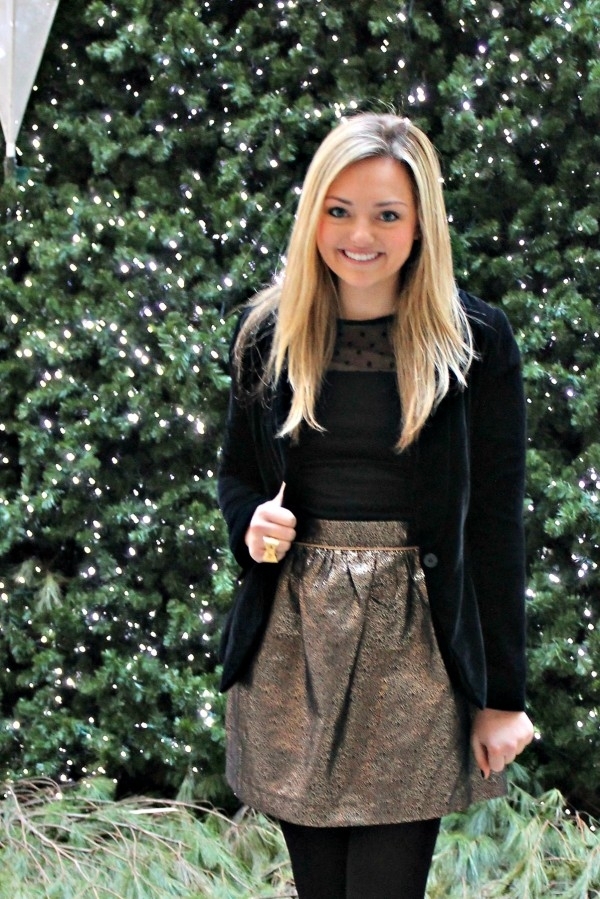 You can make a high-end embellished dress or skirt look totally festival friendly by teaming it with dressed down flats and bright nail varnish. For work, choose a dress that's got a gorgeous embellished pattern, and makes your complexion look amazing. Rock a natural hairstyle, and lose any excess jewelry. Perfect.
---
7

Get Layered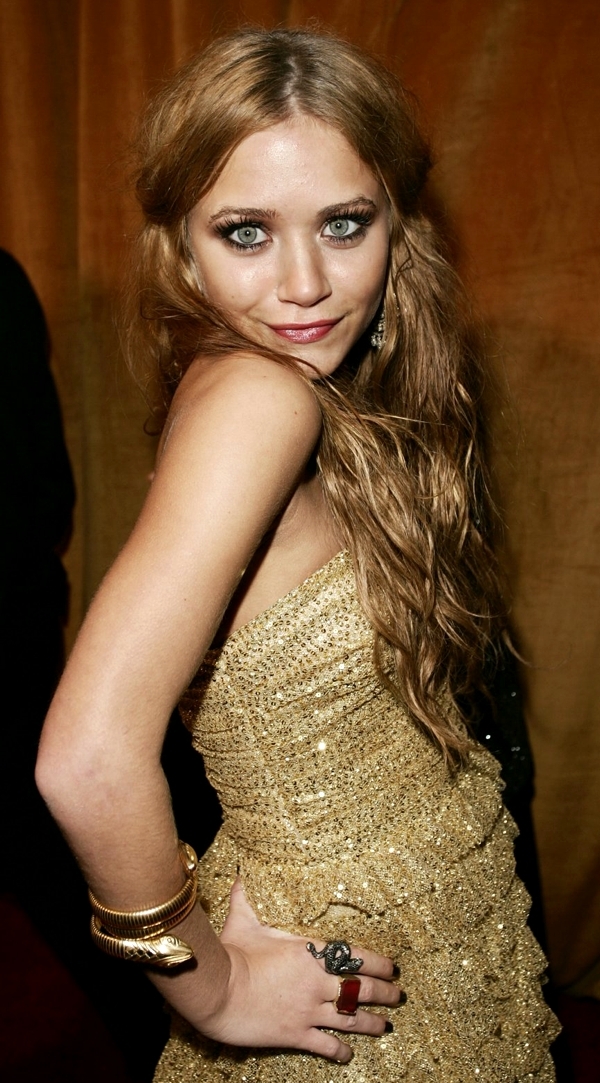 Already got a bursting work wardrobe? Invest in a sequined jumper to throw on over anything. Silver or white sequins look great with seasonal pastel shades, and gold is perfect for that festive vibe. It won't just go with jeans, as skirts will look gorgeous, too. This is an almost effortless way to wear sequins at work!
I'm rocking sequins at work at least once a week at the moment, and I'm definitely looking for more sparkly clothes. You just can't be down if your clothes are glistening! Have you found any great sequined clothes recently? Share them with me!
More
---
Comments
Popular
Recent