Neon shirts are a daring (and super stylish!) way to add color to your winter wardrobe. Whether you favor jeans and tees or pleated miniskirts and blazers, there's a light and bright option you'll adore! These eight neon shirts pay homage to the '80s, but their modern updates make them fashion forward enough for today's trendsetters.
---
1

High-Low Georgette Shirt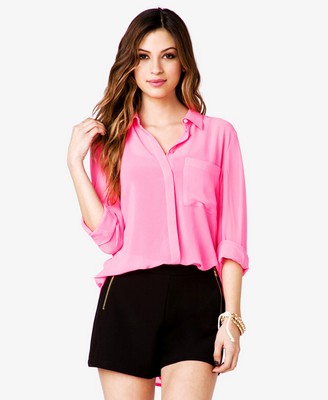 Neon shirts can be dressy enough for the internship! Tuck this pink pick into a black flared skirt. Top it off with a blazer, tights, and booties for a look that's playful yet completely office-appropriate. Best of all, the flattering neon pink hue will make your face look warmer and brighter. Promotion, here you come! Find this blouse now on Forever21 for just $17.80.
---
2

Colorblock Stripe Boatneck Tee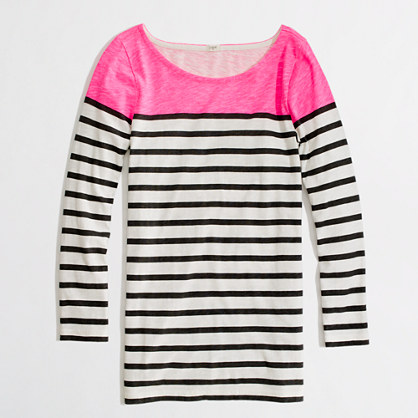 If you're not ready to fully indulge in neon (or your office dress code won't allow it), try this striped blouse on for size. The neon pink swipe across the top will introduce you to the trend without taking you overboard. Complete your look with skinny jeans, a leather blazer, and a cool satchel bag. Scoop this top up before it's gone for good on J. Crew Factory for $29.50.
---
3

Studded Peter Pan Collar Shirt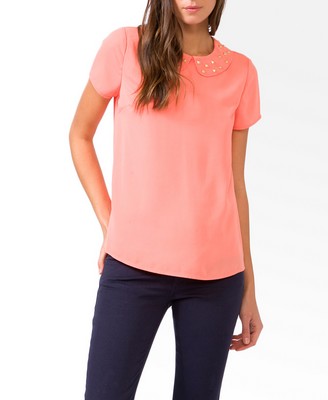 Rock two trends at once with this neon Peter Pan collar top. How irresistibly adorable would it look with a pleated leather mini and heeled booties for a night on the town? I especially love the edgy studded collar –it'll help take your club look to the next level. Purchase this top now on Forever21 for $22.80.
---
4

J. Crew Vintage Collar T-Shirt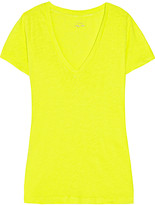 This simple V-neck shirt will let the sunshine in! Wear it with sweats and Converse for a movie night in or jeans and a cardigan for a casual lunch date –the options are endless. Pick this piece up now on Net-a-Porter for $30.
---
5

Ditsy Neon Hello Kitty Shirt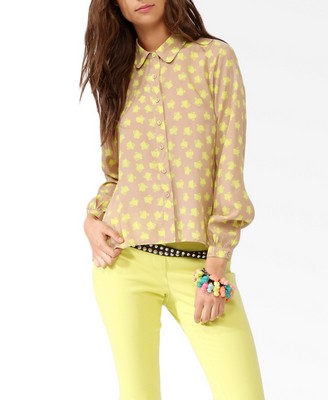 If you've already stocked up on all of Sephora's Hello Kitty offerings, you'll find it hard to resist this fabulous feline button-down! Featuring neon yellow kitty faces, consider it a fashion forward upgrade from the HK tees you've seen everywhere. Plus, it'll look great with jeans and flats for class. Pick this top up now on Forever21 for $19.80. Meow!
---
6

Fitted Boyfriend Shirt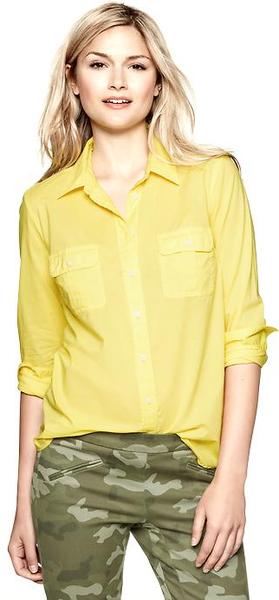 This top would look borrowed from the boys if it weren't for the sunny neon yellow hue. Nevertheless, it's highly wearable and super cozy! Pair it with a flirty mini and heels for a dinner date or jeans and sneakers for errand-running. This is one top you'll want to wear everywhere! Buy it now on the Gap for $24.99.
7

Neon Cutout Shirt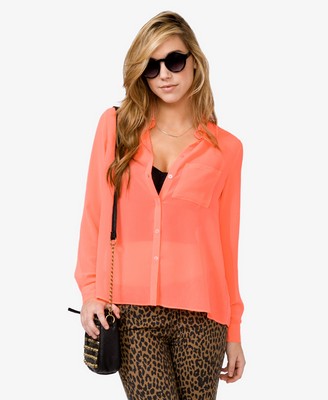 Doesn't this chiffon shirt remind you of bright, warm days on the boardwalk? Featuring a cool cutout back and relaxed fit, you can rock it through any season. Wear it now with an animal print skirt and opaque tights. Recycle it through summer with cutoff shorts and gladiator sandals. Find this blouse now on Forever21 for $19.80.
---
8

Wildfox Yes Please Flashdance Sweat Top
Ladies, meet your new favorite jersey! It's super cozy and looks like something the stars of Carrie Diaries would wear to class. Wear it with leggings and flats for game night with the girls. Buy this fun pick now on Asos for $66.65.
These are eight of the cutest, most affordable neon shirts on the 'Net! Which ones would you wear? Do you have any of your own favorite styles to add to the list? Let me know in the comments!
---
Comments
Popular
Related
Recent