I'm so, so happy that maxi dresses are still on-trend this season — my closet is full of them, and I love them just as much now as I did last spring! Of course, I'm always ready to add a few more to my wardrobe, so I've been searching for some new ones, and there are so many I adore! Here are 7 new maxi dresses I love…
1

Wild City Life Dress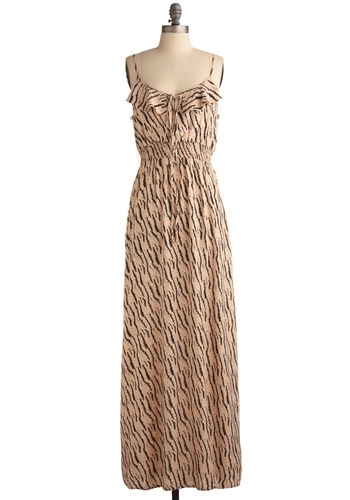 Price: $59.99 at modcloth.com
I usually don't like animal prints, but this cream and black zebra print maxi is the exception1 It's long and lean with a flirty keyhole tie at the ruffled neckline and thin spaghetti straps. Pair with wedges and a patent clutch and grad a cropped cardi in case it gets chilly!
2

Cosmos and Effect Dress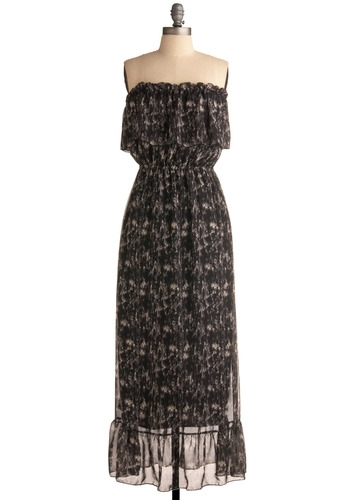 Price: $64.99 at modcloth.com
This maxi dress is both wispy and substantial, dreamy and functional. It's strapless, topped with a flounce at the neckline, all in inky black with a grey and white print all over. Choose your favorite bold color — yellow or green? — then add accessories in that color and you're ready for a day (or night) out!
3

Envisioning Excitement Dress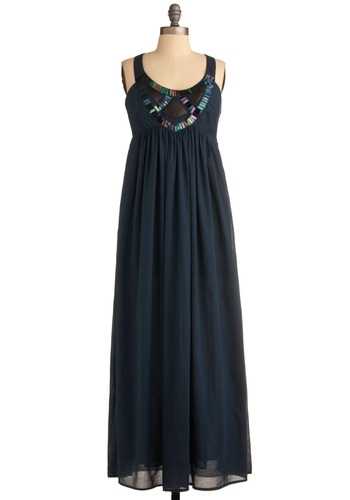 Price: $89.99 at modcloth.com
What a pretty maxi dress! Even aside from iridescent detail at the neckline, this dress would rock out — the lush blue color, the criss-crossed straps in the back, the floaty fabric — they all work in harmony to create the perfect maxi. Add a cardi and flats for work, or a pair of wedges and a Boho bag for date night.
4

Halter in the Name of Love Dress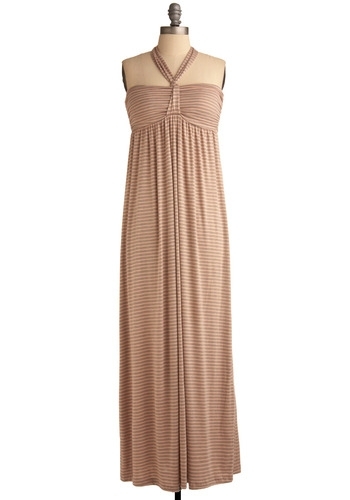 Price: 49.99 at modcloth.com
This maxi boasts all of the comfort of your favorite jersey tee paired with the effortless summer style of a maxi dress. Note the pale pink color and the skinny heather grey stripes, along with the halter neckline and flatteringly gathered bodice… then add flip flops or gladiator sandals and go!
5

Far-out Forest Dress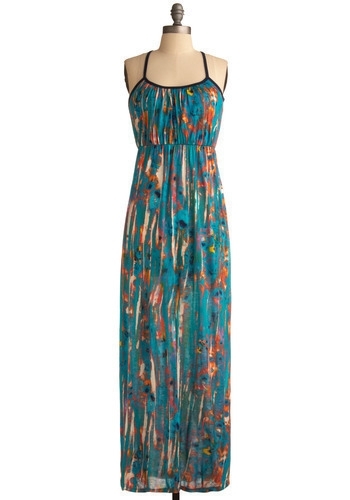 Price: $47.99 at modcloth.com
Are those peacock feathers? Or is that a bright botanical print? Either way, this new maxi dress is eye-catching and appealing, sure to set off your (spray) tan and pretty blue eyes. Pair with wedges and a straw hat or with flats and plastic sunglasses for a look that's sure to get the kind of attention you want…
6

Make a Dash for Dress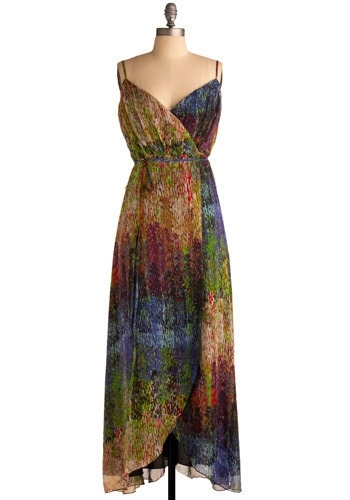 Price: $124.99 at modcloth.com
This gorgeous Ark & Co maxi is exclusive to ModCloth, and is so stylish, it was recently features in the Glamour fashion app… I love the tulip cut and of course the gorgeous palette of colours! Pair with black patent T-straps and a simple silver necklace… beautiful!
7

Viola Dress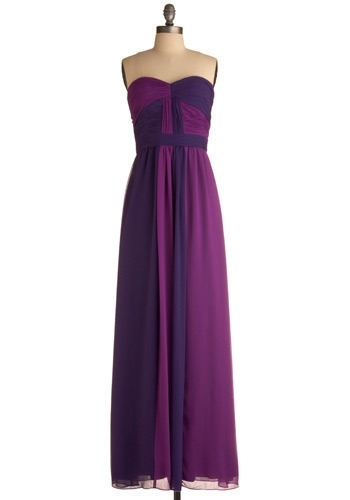 Price: $197.99 at modcloth.com
Dress designers Max and Cleo seem to have a firm grasp on what a girl wants in a maxi dress — a flattering cut, a rush of vibrant colors, a long and lean fit. All that's missing is a floral-print clutch and a silver charm bracelet!
Aren't all of these maxi dresses just gorgeous? I especially love the halter one… all I need is a sunhat and necklace and sandals and I'm done! Which of these pretty maxi dresses do you like best, and what would you wear with it? Do tell!