When the temperature drops, fluffy sweaters are your ticket to cosy dressing. Statement sweaters have been pretty popular over the past couple of seasons and right now you can't beat a fluffy sweater. A fluffy sweater seems to be the ultimate in cold weather dressing. It adds a bit of fun and frivolity to your outfit when the norm usually revolves around drab and dreary looks. Plus, the fluffy design of the sweaters will ensure you stay toasty warm. Check out these cute and cosy fluffy sweaters.
Table of contents:
1

Fluffy Animal Sweater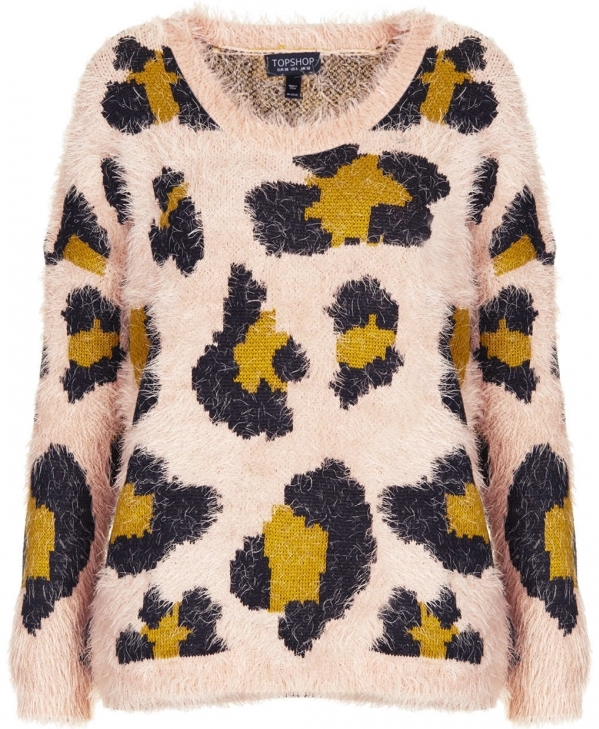 Really make a statement in printed fluffy sweaters. Leopard print always seems to be popular and this pastel pink printed sweater is a fun choice. You can grab this particular sweater at Topshop for $88 or find similar styles at ASOS. Style it with skinny jeans and sneakers for a casual day to day outfit.
2

Fluffy Polar Bear Sweater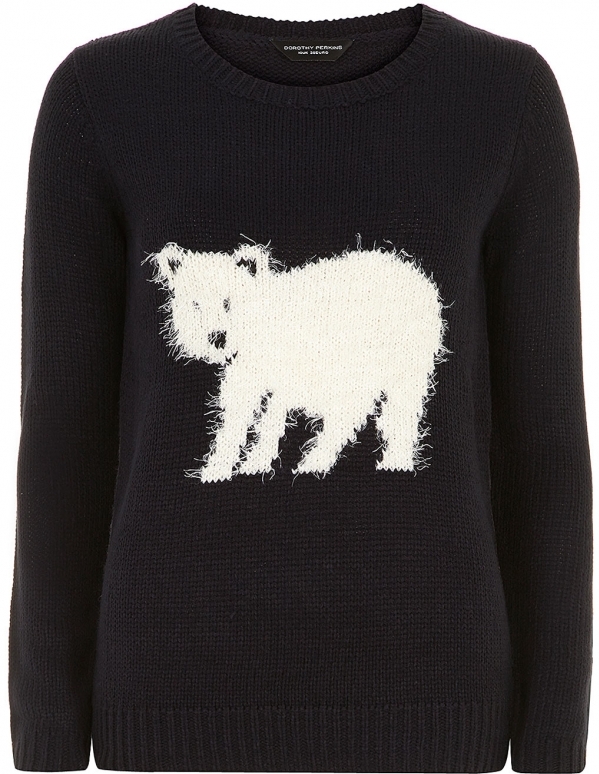 If you're going to have a spirit animal this fall or winter, make it a polar bear. You can't get much fluffier than that, right? This Dorothy Perkins sweater comes in a dark blue colour and has a fluffy polar bear motif on the front. It'll set you back around $45 and would look great teamed with leather-look pants and studded loafers. You can also check out Modcloth for more cute polar bear themed sweaters and cardigans.
3

Cloud Fluffy Sweater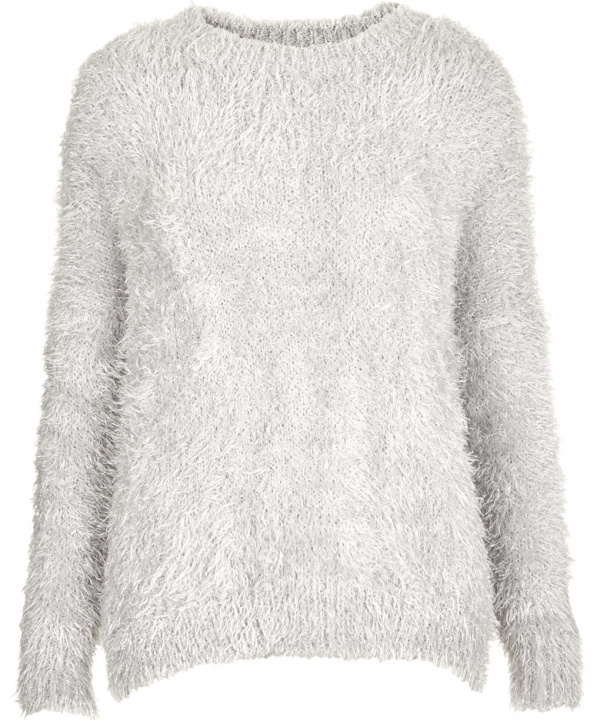 Light and bright colours are on trend for this season. Ditch the drab and dreary colours and opt for something like this slick white-silver sweater. It's made from a shaggy, fluffy knit and would look great teamed with anything from skinny jeans to ladylike full skirts. This sweater costs $80 from Topshop but you can also find similar styles at ASOS and H&M.
4

Embellished Neck Fluffy Sweater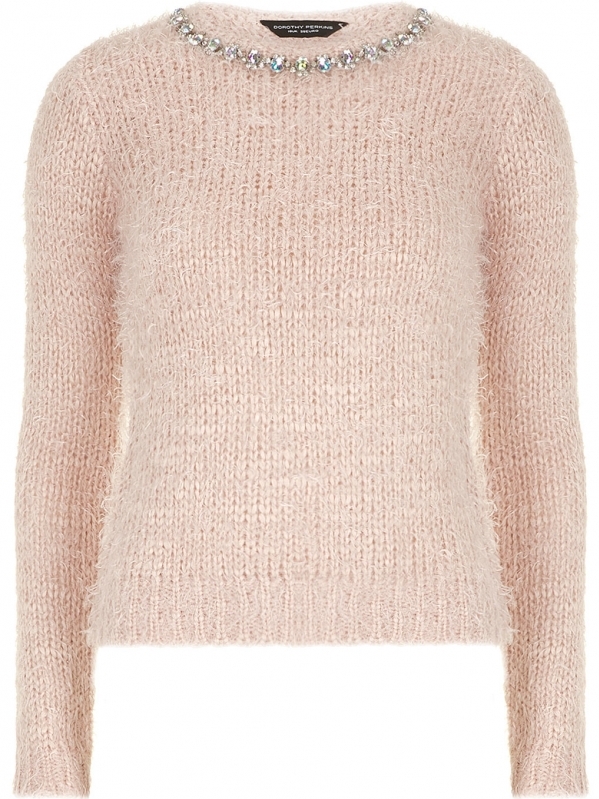 Add a bit of bling to your outfit with an embellished fluffy sweater. Embellishment around the neck seems to be the most popular and practical option. Team one of these fluffy sweaters with a pencil skirt and court shoes for a stylish ladylike look. Check out Dorothy Perkins for a range of embellished sweaters in pastel and neutral colours.
5

Fluffy Mohair-blend Sweater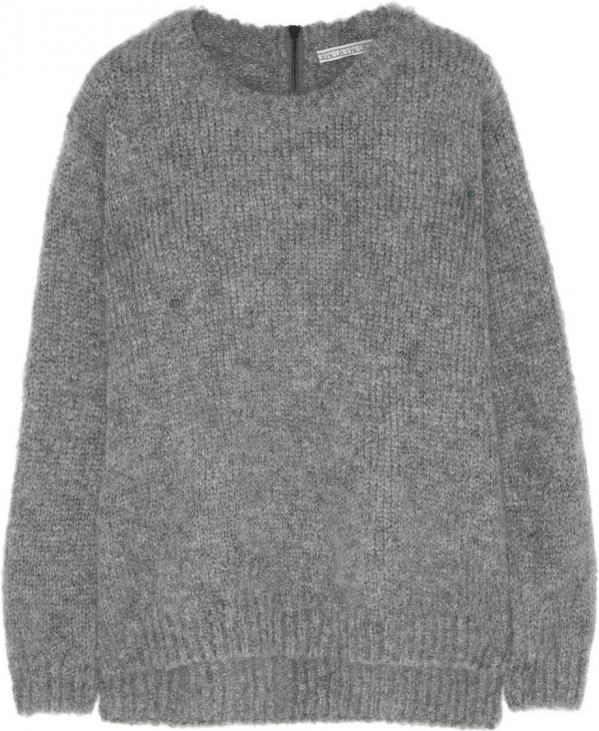 A grey sweater is a basic wardrobe staple. It's versatile and can be styled with all sorts of outfits. This fluffy mohair sweater by Dagmar has an oversized design and features a flattering dipped hem. It's pretty pricey at $240 but that's to be expected when you're dealing with mohair. Wear oversized sweaters like this one with fitted skirts and pants to balance them out. Since this particular sweater is pretty pricey, check out your usual chain store suspects like H&M for more affordable options.
6

Fluffy Cropped Sweater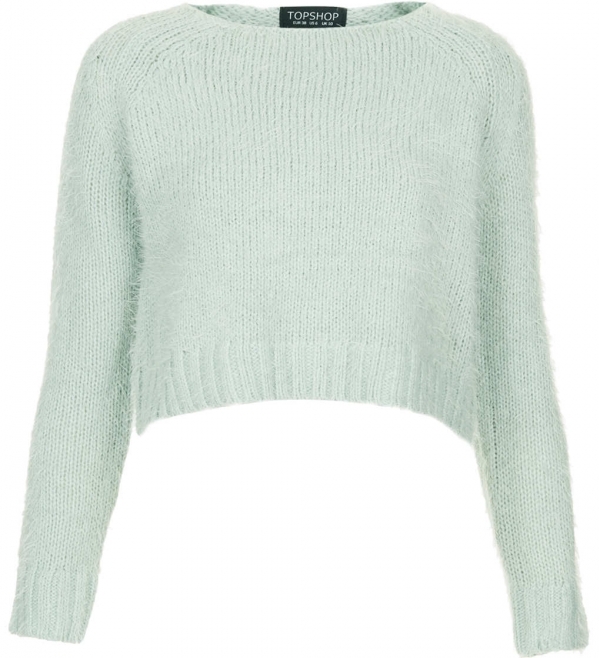 Cropped sweaters are ideal for wearing with high-waisted skirts and pants. Stay on top of colour trends and stick to pastels like this sweet mint number from Topshop. Team it with high-waisted pleated skirts and T-bar shoes for a preppy-inspired outfit.
7

Fluffy Angora Sweater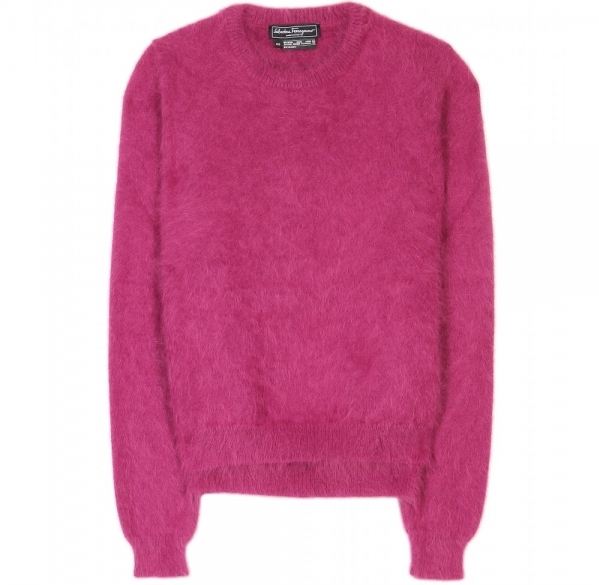 Fluffy sweaters can be super luxurious. Just check out this fluffy angora sweater by Salvatore Ferragamo. It comes in a deep pink hue and would look great dressed up or down with black or grey separates. Work a smart casual look and wear it with denim jeans and a grey wool coat for a chic cold-weather outfit. This jumper is extremely expensive at around $700 but be sure to check out Topshop and ASOS for similar, more affordable buys.
These are just some super cute fluffy sweaters you might want to cosy up in this season. What do you think of the fluffy sweater trend? Which, if any, of these sweaters do you like best?
Please rate this article