Every closet should have a few of the best fall trench coats hanging inside of them. They're made to be fashionable, but they're comfortable as well. If you don't have any of the best fall trench coats, think about buying these when the seasons change. It can't hurt to think ahead.
---
1

Banana Republic Flared Trench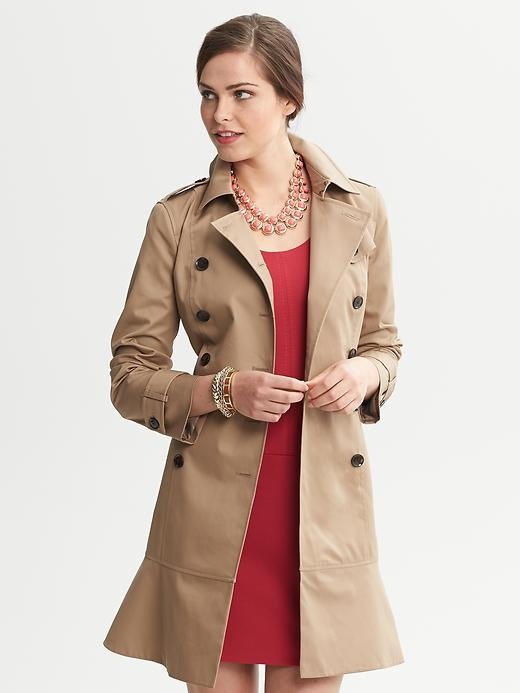 When the leaves change, your wardrobe must change with it so why not get one of the best fall trench coats? You can keep your dresses on, but you'll need to cover yourself up a bit. You don't want to catch a cold, do you? This is one of the fall trench coats that will protect you from the chilly air, but will keep you looking stylish. It comes in two colors, so you can choose whatever fits your skin tone the best.
Price: $225 at bananarepublic.gap.com
---
2

Burberry London Buckingham Cotton Trenchcoat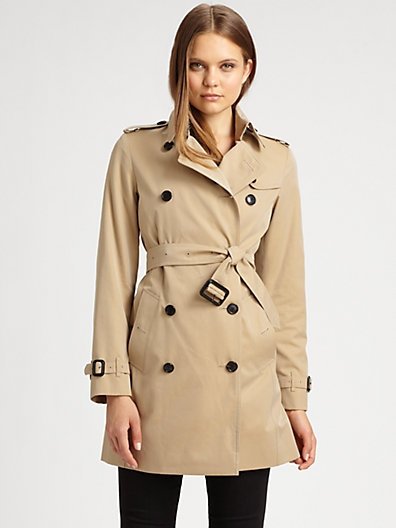 If you can afford this coat, you'll never leave the house without it. It's something that you can wear every day of the week without getting sick of it. It's fully lined and made of cotton. The cute buttons and belt add some flair to the plain color. There are even side slash pockets to stash your phone, or to hide your hands when it gets windy.
Price: $1,495 at saksfifthavenue.com
---
3

Asos Classic Trench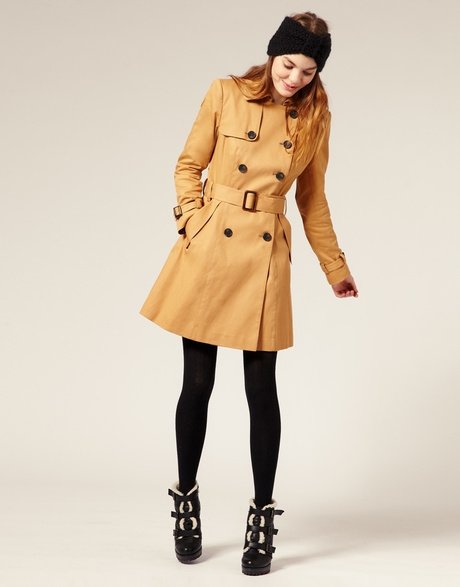 No more worrying about being viewed from your good side. The back of this coat is as stylish as the front. Any angle that you're viewed from will be a good one. It's impossible to look bad in this double breasted coat. Fasten the buttons, tie the belt, and strut your stuff!
Price: $101 at asos.com
---
4

J.Crew Collection Cape Trench

This oversized coat is meant for a cozy afternoon. It's not too fancy, so you're better off wearing it on a casual outing. Heading to the park to read your favorite book? Going out for a stroll with your new boy? Throw on this coat and enjoy your relaxation time.

Price: $795 at jcrew.com
---
5

Gryphon Timeless Coat with Leather Collar

The detachable leather collar and belt makes this coat versatile. You could wear it two days in a row without anyone noticing, because it'll look completely different when you opt to take off the belt or lose the collar. On different days, we feel like rocking different styles. This coat allows you to be as fickle as you want. Whenever you want to change up your look, you're free to do so!

Price: $999 at shopbop.com
---
6

Zara Printed Cotton Trench Coat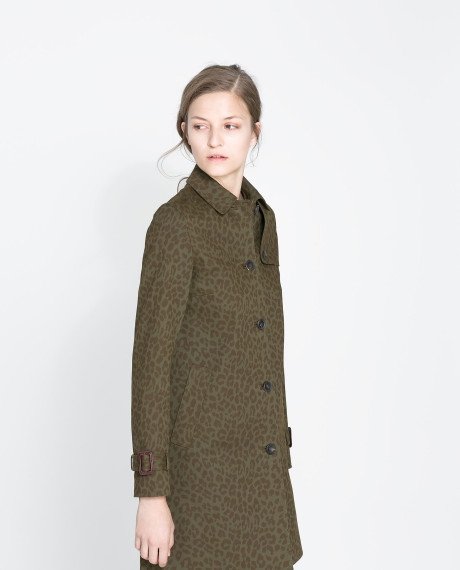 Bored of tan colored trench coats? In the mood for something with a pattern? Try out this unique design. From far away, it's barely noticeable. But the closer you step, the clearer you can see the design. It's an excuse for your crush to come hither.
Price: $119 at lyst.com
---
7

3.1 Phillip Lim Layered Two-Piece Cotton Trenchcoat

Here's another coat with two looks in one! The jacket is detachable for instant changeability. When the weather turns nice, you can wear a sleeveless outfit. When the coldness hits, stick on the jacket so the sleeves can keep you warm. When you have this on, it's impossible for Mother Nature to ruin your day.

Price: $570 at 31philliplim.com
---
8

Rachel Zoe London Belted Trench Coat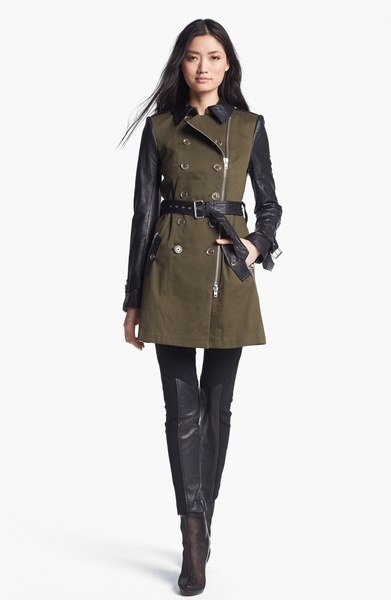 Are you a leather lover? Instead of wearing the fabric all around, try wearing it only on your sleeves. The rest of the coat is made out of cotton, but has an army-like feel with its multiple zippers. Donning this coat is guaranteed to make you feel like a strong, independent woman. When you wear this, you don't take orders--you give them.
Price: $695 at shop.nordstrom.com
---
9

Thakoon Addition Leather Panel Trench Coat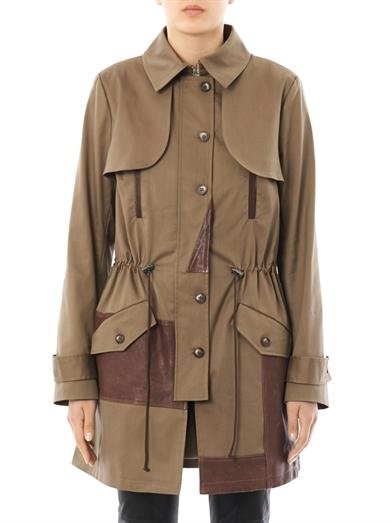 No matter what the weather throws at you, this coat will be able to handle it. The thick material will protect you from the wind, rain, and snow. Don't worry about ruining it. It's made to endure even the harshest weather. Don't be afraid to wear it when the weather gets brutal.
Price: $790 at matchesfashion.com
---
10

Mango Leather Appliques Trench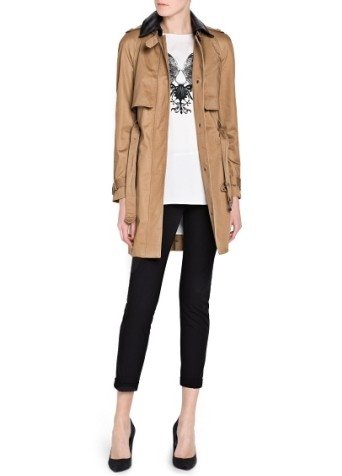 On your way to work? This coat will get you there while looking fab. Going to a party? This coat will protect your fanciest dress. It's long enough to cover your outfit, so when you strip down, everyone will be surprised. They won't have a clue what you're wearing until you take the coat off.
Price: $170 at shop.mango.com
---
11

Tommy Hilfiger Jacket, Soft-Shell Fleece-Lined Trench Coat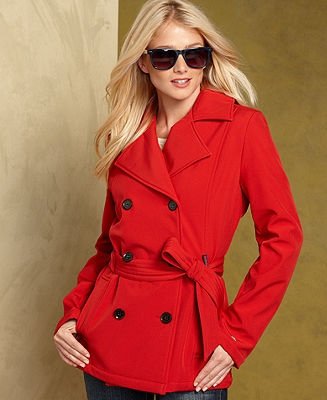 The leaves aren't the only ones who can pop with color. Wear this stylish red coat in order to capture the world's attention. Make sure you look your best when you step out of the house in this, because all eyes will be on you. No one will miss you as you pass by. You'll be the star of the show.
Price: $150 at macys.com
---
12

Victoria's Secret Wool Trench Coat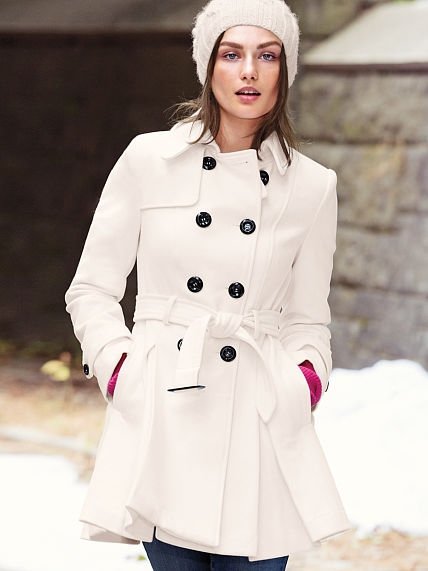 Victoria's Secret sells more than lingerie. Step out of the house in this white trench coat that's both dressy and sexy. It's perfect for a first date or a night out with friends. Just don't get it dirty. You have to be careful when wearing white.
Price: $168 at victoriassecret.com
---
13

Burberry London Lace Trench Coat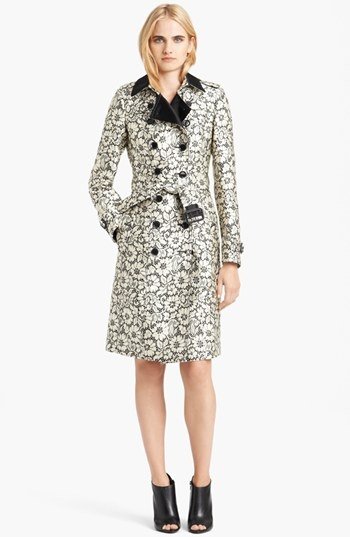 Keep spring alive by wearing this floral trench coat. It has white flowers with black buttons that pop. When you arrive at your destination, you won't even want to remove your coat. It's too precious to put away. You'll want to keep it on all day to show it off.
Price: $2,495 at shop.nordstrom.com
If you're not the proud owner of a trench coat, you need to splurge on a trendy one. You'll put it to good use, so the money you spend will be worth it. Which one of these trench coats do you like the best?
More
---
Comments
Popular
Recent